Abstract
Background
It is clinically important to evaluate the severity of right ventricular (RV) overload in patients with chronic obstructive pulmonary disease (COPD), which is often associated with changes in the structure and the function of the right ventricle. Noninvasive and reliable assessment of RV function would be an essential determinant of RV load and a clinically useful factor for assessing cardiovascular risk in COPD patients.
Objective
The aim of this study was to investigate the clinical application value of right ventricular outflow tract (RVOT) systolic function measured by transthoracic echocardiography in patients with COPD.
Patients and methods
We prospectively investigated COPD male patients and compared them with healthy controls. In addition to RV conventional echocardiographic parameters, RVOT size and fractional shortening (RVOT-FS) parameters were also assessed.
Results
Fifty-five COPD patients (all men; mean age, 62 ± 9 years) participated in the study, and were compared with a control group consisting of 21male, healthy, nonsmoking subjects with a mean age of 58 ± 11 years. The RVOT-FS was impaired in COPD patients than healthy controls (27.8 ± 15.5 vs. 57.5 ± 8.6, p < 0.001), and was correlated positively with tricuspid annular plane systolic excursion (TAPSE; r = 0.583, p < 0.001) and pulmonary acceleration time (r = 0.666, p < 0.001) and inversely with pulmonary artery systolic pressure (r = 0.605, p < 0.001) and functional capacity(r = − 0.589, p < 0.001). There was a statistically significant difference in RVOT-FS among the COPD subgroups with regard to New York Heart Association functional classification (p < 0.001).
Conclusion
The RVOT-FS is a noninvasive easily applicable measure of RV systolic function and is well correlated with functional capacity in COPD patients. Its combination with long-axis measurements via TAPSE and transtricuspid Doppler analysis may provide a comprehensive evaluation of the RV performance in COPD patients.
Zusammenfassung
Hintergrund
Klinisch ist es wichtig, den Schweregrad der rechtsventrikulären (RV-)Belastung bei Patienten mit chronisch obstruktiver Lungenerkrankung (COPD) zu bestimmen, der oft mit Veränderungen der RV-Struktur und -Funktion einhergeht. Eine nichtinvasive und verlässliche Messung der RV-Funktion wäre ein essenzieller Parameter der RV-Belastung und von klinischem Nutzen zur Bestimmung des kardiovaskulären Risikos bei COPD-Patienten.
Ziel
Ziel der vorliegenden Studie war zu untersuchen, welche klinische Bedeutung die systolische Funktion des RV-Ausflusstrakts (RVOT) bei Messung mittels transthorakaler Echokardiographie für Patienten mit COPD hat.
Methoden
Prospektiv wurden männliche COPD-Patienten untersucht und mit gesunden Kontrollen verglichen. Zusätzlich zu den herkömmlichen echokardiographischen RV-Parametern wurden RVOT-Größe und -Parameter der fraktionellen Verkürzung (RVOT-FS) bestimmt.
Ergebnisse
Es nahmen 55 COPD-Patienten (alle männlich, Durchschnittsalter: 62 ± 9 Jahre) an der Studie teil und wurden mit einer Kontrollgruppe aus 21 männlichen, gesunden Nichtrauchern mit einem Durchschnittsalter von 58 ± 11 Jahren verglichen. Die RVOT-FS war bei COPD-Patienten mehr beeinträchtigt als bei gesunden Kontrollen (27,8 ± 15,5 vs. 57,5 ± 8,6; p < 0,001) und war positiv mit der systolischen Exkursion der Trikuspidalringebene (TAPSE; r = 0,583; p < 0,001) und der pulmonalen Beschleunigungszeit (r = 0,666; p < 0,001) korreliert sowie invers mit dem systolischen Pulmonalarteriendruck (r = 0,605; p < 0,001) und der funktionellen Kapazität (r = − 0,589; p < 0,001). Es bestand ein statistisch signifikanter Unterschied hinsichtlich der RVOT-FS unter den COPD-Subgruppen in Bezug auf die funktionelle Klassifikation gemäß New York Heart Association (p < 0,001).
Schlussfolgerung
Die RVOT-FS ist ein nichtinvasiver, leicht anwendbarer Parameter der systolischen RV-Funktion und gut mit der funktionellen Kapazität bei COPD-Patienten korreliert. Ihre Kombination mit der Längsachsenmessung via TAPSE und der transtrikuspidalen Doppleruntersuchung könnte eine umfassende Bewertung der RV-Leistungsfähigkeit bei COPD-Patienten erlauben.
Access options
Buy single article
Instant access to the full article PDF.
US$ 39.95
Tax calculation will be finalised during checkout.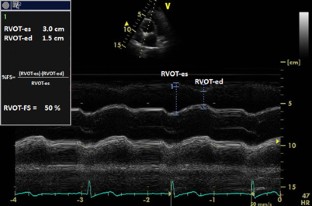 References
1.

Rudski LG, Lai WW, Afilalo J et al (2010) Guidelines for the echocardiographic assessment of the right heart in adults: a report from the American Society of Echocardiography endorsed by the European Association of Echocardiography, a registered branch of the European Society of Cardiology, and the Canadian Society of Echocardiography. J Am Soc Echocardiogr 23:685–713

2.

Vitarelli A, Terzano C (2010) Do we have two hearts? New insights in right ventricular function supported by myocardial imaging echocardiography (2010) Heart Fail Rev 15:39–61

3.

Higham MA, Dawson D, Joshi J et al (2001) Utility of echocardiography in assessment of pulmonary hypertension secondary to COPD. Eur Respir J 17:350–355

4.

Loiske K, Hammar S, Emilsson K (2010) Echocardiographic measurements of the right ventricle: right ventricular outflow tract 1. Clin Res Cardiol 99:429–435

5.

Calcutteea A, Chung R, Lindqvist P et al (2011) Differential right ventricular regional function and the effect of pulmonary hypertension: three-dimensional echo study. Heart 97:1004–1011

6.

Fernandez-Friera L, Garcia-Alvarez A, Guzman G et al (2011) Apical right ventricular dysfunction in patients with pulmonary hypertension demonstrated with magnetic resonance. Heart 97:1250–1256

7.

Kukulski T, Hu¨bbert L, Arnold M et al (2000) Normal regional right ventricular function and its change with age: a Doppler myocardial imaging study. J Am Soc Echocardiogr 13:194–204

8.

Geva T, Powell A, Crawford E et al (1998) Evaluation or regional differences in right ventricular systolic function by acoustic quantification echocardiography and cine magnetic resonance imaging. Circulation 98:229–345

9.

Weidemann F, Eyskens B, Jamal F et al (2002) Quantification of regional left and right ventricular radial and longitudinal function in healthy children using ultrasound-based strain rate and strain imaging. J Am Soc Echocardiogr 15:20–28

10.

Kutty S, Zhou J, Gauvreau K et al (2011) Regional dysfunction of the right ventricular outflow tract reduces the accuracy of Doppler tissue imaging assessment of global right ventricular systolic function in patients with repaired tetralogy of Fallot. J Am Soc Echocardiogr 24:637–643

11.

Lindqvist P, Henein M, Kazzam E (2003) Right ventricular outflow-tract fractional shortening: an applicable measure of right ventricular systolic function. Eur J Echocardiogr 4:29–35

12.

Asmer I, Adawi S, Ganaeem M et al (2012) Right ventricular outflow tract systolic excursion: a novel echocardiographic parameter of right ventricular function. Eur Heart J Cardiovasc Imaging 13:871–877

13.

Gómez FP, Rodriguez-Roisin R (2002) Global Initiative for Chronic Obstructive Lung Disease (GOLD) guidelines for chronic obstructive pulmonary disease. Curr Opin Pulm Med 8:81–86

14.

Pellegrino R, Viegi G, Brusasco V et al (2005) Interpretative strategies for lung function tests. Eur Respir J 26:948–968

15.

Yock PG, Popp RL (1984) Noninvasive estimation of right ventricular systolic pressure by Doppler ultrasound in patients with tricuspid regurgitation. Circulation 70:657–662

16.

Bossone E, Rubenfire M, Bach DS et al (1999) Range of tricuspid regurgitation velocity at rest and during exercise in normal adult men: implications for the diagnosis of pulmonary hypertension. J Am Coll Cardiol 33:1662–1666

17.

Kaul S, Tei C, Hopkins JM et al (1984) Assessment of right ventricular function using two dimensional echocardiography. Am Heart J 128:301–307

18.

Gao Y, Du X, Liang L et al (2012) Evaluation of right ventricular function by 64-row CT in patients with chronic obstructive pulmonary disease and cor pulmonale. Eur J Radiol 81:345–353

19.

Gao Y, Du X, Qin W et al (2011) Assessment of the right ventricular function in patients with chronic obstructive pulmonary disease using MRI. Acta Radiol 52:711–715

20.

Weitzenblum E, Chaouat A, Oswald M (1996) Pulmonary hypertension due to chronic hypoxic lung disease. In: Peacock AJ (ed) Pulmonary Circulation. Chapman & Hall, London pp 157–170

21.

Barberà JA, Blanco I (2009) Pulmonary hypertension in patients with chronic obstructive pulmonary disease: advances in pathophysiology and management. Drugs 69:1153–1171

22.

Arcasoy SM, Christie JD, Ferrari VA et al (2003) Echocardiographic assessment of pulmonary hypertension in patients with advanced lung disease. Am J Respir Crit Care Med 167:735–740

23.

Tramarin R, Torbicki A, Marchandise B et al (1991) Doppler echocardiographic evaluation of pulmonary artery pressure in chronic obstructive pulmonary disease. A European multicentre study. Working Group on Noninvasive Evaluation of Pulmonary Artery Pressure. European Office of the World Health Organization, Copenhagen. Eur Heart J 12:103–111

24.

British Thoracic Society (1997) BTS guidelines for the management of chronic obstructive pulmonary disease. Diagnosis and management of stable COPD. Thorax 52(Suppl 5):S7–S15

25.

Sheehan F, Redington A (2008) The right ventricle: anatomy, physiology and clinical imaging. Heart 94:1510–1515

26.

Bleeker GB, Steendijk P, Holman ER et al (2006) Assessing right ventricular function: the role of echocardiography and complementary technologies. Heart 92:i19–i26

27.

Lindqvist P, Calcutteea A, Henein M (2008) Echocardiography in the assessment of right heart function. Eur J Echocardiogr 9:225–234

28.

Haddad F, Hunt SA, Rosenthal DN et al (2008) Right ventricular function in cardiovascular disease, part I: Anatomy, physiology, aging, and functional assessment of the RV. Circulation 117:1436–1448

29.

Dell'Italia LJ (1991) The right ventricle: anatomy, physiology, and clinical importance. Curr Probl Cardiol 16:653–720

30.

Geva T, Powell AJ, Crawford EC et al (1998) Evaluation of regional differences in right ventricular systolic function by acoustic quantification echocardiography and cine magnetic resonance imaging. Circulation 98:339–345
Compliance with ethical guidelines
Conflict of interest. B. Geyik, N. Tarakci, O. Ozeke, C. Ertan, M. Gul, S. Topaloglu, D. Aras, A.D. Demir, O. Tufekcioglu, Z. Golbasi, and S. Aydogdu state that there are no conflicts of interest. All studies on humans described in the present manuscript were carried out with the approval of the responsible ethics committee and in accordance with national law and the Helsinki Declaration of 1975 (in its current, revised form). Informed consent was obtained from all patients included in studies.
Additional information
Additional material onlineThis article includes two additional videos. You will find this supplemental at dx.doi.org/10.1007/s00059-013-3978-9. The abstract section of this study was presented at the 29th Annual Congress of the Turkish Society of Cardiology (26–29 October 2013, Antalya, Turkey).
Electronic supplementary material
Video 1. Modified subcostal short-axis view showing three distinct part of the right ventricle as the "inflow", "trabeculated apical" and "outflow tract" compartments (AVI 3,14MB)
Video 2. Parasternal short-axis view at the level of the aortic root showing the right ventricular outflow tract contractile function (AVI 10,8MB)
About this article
Cite this article
Geyik, B., Tarakci, N., Ozeke, O. et al. Right ventricular outflow tract function in chronic obstructive pulmonary disease. Herz 40, 624–628 (2015). https://doi.org/10.1007/s00059-013-3978-9
Received:

Revised:

Accepted:

Published:

Issue Date:
Keywords
Right ventricular outflow tract

Right ventricular function

Chronic obstructive pulmonary disease

Transthoracic echocardiography

Evaluation
Schlüsselwörter
Rechtsventrikulärer Ausflusstrakt

Rechtsventrikuläre Funktion

Chronisch obstruktive Lungenerkrankung

Transthorakale Echokardiographie

Untersuchung