Abstract
Purpose
The purpose of this study was to evaluate the arch form changes in class II Caucasian patients treated with Invisalign® (Align Technology, San José, CA, USA).
Methods
A total of 27 class II patients, for whom a maximum of 4 mm arch expansion was planned, were selected. Both maxillary and mandibular digital casts were compared at three different times: pretreatment (T0), accepted set-up (T1), and retention phase (T2). Each digital model was imported into GOM Inspect© software (GOM GmbH, Braunschweig, Germany) to identify teeth crown facial axis (FA) and cusp points to create a coordinate system. In each model the origin of the coordinates was located at the contact point of central incisors and a system of Cartesian axes was constructed. Using the FA points, an average arch form was obtained for each clinical step and then the following comparisons were performed for each class group: T0–T1, T0–T2, and T1–T2.
Results
T1 showed wider maxillary and mandibular dental arches compared to T0 with maximum movements observed in the premolar regions (maximum movement 1.94 mm for tooth 15; P < 0.0001). In the T1–T2 comparison, a more buccal position of tooth 22, tooth 23, and tooth 24 (maximum movement 0.56 mm; P < 0.05) and a more lingual position of tooth 37 (maximum movement 0.81 mm; P < 0.01), tooth 36, and tooth 47 were observed at T1 with respect to T2.
Conclusions
Although Invisalign® treatment resulted in a significant increase in arch width according to the prescription, some of the outcomes were different than those planned especially in relation to the final position of the lower molars.
Zusammenfassung
Zweck
Ziel dieser Studie war es, die Veränderungen der Bogenform bei kaukasischen Klasse-II-Patienten, die mit Invisalign® (Align Technology, San José/CA, USA) behandelt wurden, zu untersuchen.
Methoden
Insgesamt wurden 27 Klasse-II-Patienten ausgewählt, für die maximal 4 mm Zahnbogenerweiterung geplant waren. Sowohl der Ober- als auch der Unterkiefer-Digitalabdruck wurden zu 3 verschiedenen Zeitpunkten verglichen: Vor Behandlung (T0), akzeptiertes Set-up (T1) und Retentionsphase (T2). Jedes digitale Modell wurde in die Software GOM Inspect© (GOM GmbH, Braunschweig, Deutschland) importiert, um die faziale Achse (FA) der Zahnkrone sowie die Höckerpunkte zu identifizieren und ein Koordinatensystem zu erstellen. In jedem Modell wurde der Ursprung der Koordinaten am Kontaktpunkt der zentralen Schneidezähne lokalisiert und ein System von kartesianischen Achsen wurde erstellt. Unter Verwendung der FA-Punkte wurde für jeden klinischen Schritt eine durchschnittliche Bogenform erhalten und dann die folgenden Vergleiche für jede Klassengruppe durchgeführt: T0–T1, T0–T2 und T1–T2.
Ergebnisse
T1 zeigte im Vergleich zu T0 breitere Ober- und Unterkiefer-Zahnbögen mit maximalen Bewegungen im Bereich der Prämolaren (maximale Bewegung 1,94 mm für Zahn 15; p < 0,0001). Im T1–T2-Vergleich wurden bei T1 eine weiter bukkale Position von Zahn 22, Zahn 23 und Zahn 24 (maximale Bewegung 0,56 mm; p < 0,05) und eine mehr linguale Position von Zahn 37 (maximale Bewegung 0,81 mm; p < 0,01), Zahn 36 und Zahn 47 in Bezug auf T2 beobachtet.
Schlussfolgerungen
Obwohl die Invisalign®-Behandlung zu einer signifikanten Erhöhung der Bogenbreite gemäß der Prescription führte, waren einige der Ergebnisse anders als geplant, insbesondere in Bezug auf die Endposition der unteren Molaren.
This is a preview of subscription content, log in to check access.
Access options
Buy single article
Instant access to the full article PDF.
US$ 39.95
Price includes VAT for USA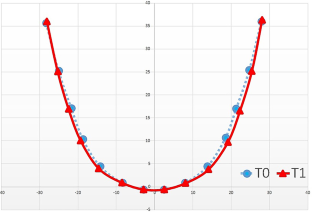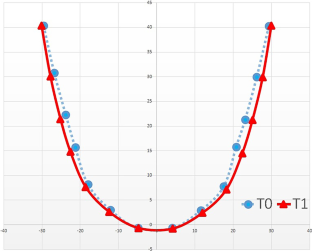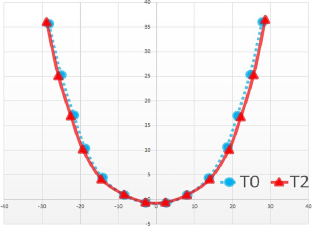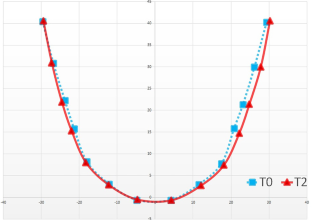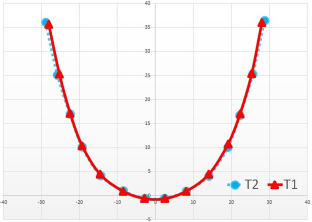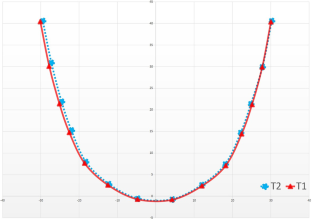 References
1.

Al Harbi S, Alkofide EA, AlMadi A (2008) Mathematical analyses of dental arch curvature in normal occlusion. Angle Orthod 78(2):281–287

2.

Al Khateeb SN, Abu Alhaija ES (2006) Tooth size discrepancies and arch parameters among different malocclusions in a Jordanian sample. Angle Orthod 76(3):459–465

3.

Andrews LF (1975) The straight-wire appliance: syllabus of philosophy and techniques. LF Andrews

4.

Ball RL, Miner RM, Will LA, Arai K (2010) Comparison of dental and apical base arch forms in Class II Division 1 and Class I malocclusions. Am J Orthod Dentofacial Orthop 138(1):41–50

5.

Bayome M, Sameshima GT, Kim Y, Nojima K, Baek SH, Kook YA (2011) Comparison of arch forms between Egyptian and North American white populations. Am J Orthod Dentofacial Orthop 139(3):e245–e252

6.

Bishara SE, Chadra JM, Potter RE (1973) Stability of intercanine width, overbite and overjet correction. Am J Orthod 63(6):588–595

7.

Brader AC (1972) Dental arch form related with intraoral forces: PR=C. Am J Orthod 61(6):541–561

8.

Brash JC (1956) The etiology of irregularity and malocclusion of the teeth, 2nd edn. Dental Board of the United Kingdom, London

9.

Braun S, Hnat WP, Frender D, Legan HL (1998) The form of the human dental arch. Angle Orthod 68:29–36

10.

Burke SP, Silveira AM, Goldsmith LJ, Yancey JM, Van Stewart A, Scarfe WC (1998) A meta-analysis of mandibular intercanine width in treatment and postretention. Angle Orthod 68(1):53–60

11.

Casko JS, Vaden JL, Kokich VG, Damone J, James RD, Cangialosi TJ et al (1998) Objective grading system for dental casts and panoramic radiographs. Am J Orthod Dentofacial Orthop 114(5):589–599

12.

Cattaneo PM, Dalstra M, Melsen B (2009) Strains in periodontal ligament and alveolar bone associated with orthodontic tooth movement analyzed by finite element. Orthod Craniofac Res 12(2):120–128

13.

Chuck GC (1934) Ideal arch Form. Angle Orthod 4:312–327

14.

Comba B, Parrini S, Rossini G, Castroflorio T, Deregibus A (2017) A three-dimensional finite element analysis of upper-canine distalization with clear aligners, composite attachments, and class II elastics. J Clin Orthod 51(1):24

15.

De la Cruz A, Sampson P, Little RM, Artun J, Shapiro PA (1995) Long-term change in arch form after orthodontic treatment and retention. Am J Orthod Dentofacial Orthop 107(5):518–530

16.

Djeu G, Shelton C, Maganzini A (2005) Outcome assessment of Invisalign and traditional orthodontic treatment compared with the American Board of Orthodontics objective grading system. Am J Orthod Orthop 128(3):292–298

17.

Felton JM, Sinclair PM, Jones DL, Alexander RG (1987) A computerized analysis of the shape and stability of mandibular arch form. Am J Orthod Dentofacial Orthop 92(6):478–483

18.

Gafni Y, Tzur-Gadassi L, Nojima K, McLaughlin RP, Abed Y, Redlich M (2011) Comparison of arch forms between Israeli and North American white populations. Am J Orthod Dentofacial Orthop 139(3):339–344

19.

Hawley CA (1905) Determination of the normal arch and its implication to Orthodontia. Dent Cosmos 47(2):541–552

20.

Heiser W, Richter M, Niederwanger A, Neunteufel N, Kulmer S (2008) Association of the canine guidance angle with maxillary and mandibular intercanine widths and anterior alignment relapse: extraction vs nonextraction treatment. Am J Orthod Dentofacial Orthop 133(5):669–680

21.

Hennessy J, Garvey T, Al-Awadhi EA (2016) A randomized clinical trial comparing mandibular incisor proclination produced by fixed labial appliances and clear aligners. Angle Orthod 86(5):706–712

22.

Kassas W, Al-Jewair T, Preston BC, Tabbaa S (2013) Assessment of Invisalign treatment outcomes using the ABO Model Grading System. J World Fed Orthod 2(2):e61–e64

23.

Kook YA, Nojima K, Moon HB, McLaughlin RP, Sinclair PM (2004) Comparison of arch forms between Korean and North American white populations. Am J Orthod Dentofacial Orthop 126(6):680–686

24.

Kravitz ND, Kusnoto B, Agran B, Viana G (2008) Influence of attachments and interproximal reduction on the accuracy of canine rotation with Invisalign: a prospective clinical study. Angle Orthod 78(4):682–687

25.

Kuncio D, Maganzini A, Shelton C, Freeman K (2007) Invisalign and traditional orthodontic treatment postretention outcomes compared using the American Board of Orthodontics objective grading system. Angle Orthod 77(5):864–869

26.

Lee KJ, Trang VTT, Bayome M, Park JH, Kim Y, Kook YA (2013) Comparison of mandibular arch forms of Korean and Vietnamese patients by using facial axis points on three-dimensional models. Korean J Orthod 43(6):288–293

27.

Little RM (1990) Stability and relapse of dental arch alignment. Br J Orthod 17(3):235–241

28.

Little RM (2002) Stability and relapse: early treatment of arch length deficiency. Am J Orthod Dentofacial Orthop 121:578–581

29.

Lombardo L, Fattori L, Molinari C, Mirabella D, Siciliani G (2013) Dental and alveolar arch forms in a Caucasian population compared with commercially available archwires. Int Orthod 11(4):389–421

30.

Nie Q, Lin J (2006) A comparison of dental arch forms between Class II Division 1 and normal occlusion assessed by Euclidean distance matrix analysis. Am J Orthod Dentofacial Orthop 129:528–535

31.

Nojima K, McLaughlin RP, Isshiki Y, Sinclair PM (2001) A comparative study of Caucasian and Japanese mandibular clinical arch Forms. Angle Orthod 71:195–200

32.

Noroozi H, Hosseinzadeh NT, Saeeda R (2001) The dental arch form revisited. Angle Orthod 71(5):386–389

33.

Ravera S, Castroflorio T, Garino F, Daher S, Cugliari G, Deregibus A (2016) Maxillary molar distalization with aligners in adult patients: a multicenter retrospective study. Prog Orthod 17(1):12

34.

Raucci G, Pachêco-Pereira C, Grassia V, d'Apuzzo F, Flores-Mir C, Perillo L (2015) Maxillary arch changes with transpalatal arch treatment followed by full fixed appliances. Angle Orthod 85(4):683–689

35.

Rossini G, Parrini S, Castroflorio T, Deregibus A, Debernardi CL (2014) Efficacy of clear aligners in controlling orthodontic tooth movement: a systematic review. Angle Orthod 85(5):881–889

36.

Rossini G, Parrini S, Deregibus A, Castroflorio T (2017) Controlling orthodontic tooth movement with clear aligners. J Aligner Orthod 1(1):7–20

37.

Sayin MO, Turkkahraman H (2004) Comparison of dental arch and alveolar widths of patients with Class II, Division 1 malocclusion and subjects with Class I ideal occlusion. Angle Orthod 74:356–360

38.

Scott JH (1957) The shape of the dental arches. J Dent Res 36(6):996–1003

39.

Shapiro PA (1974) Mandibular dental arch form and dimension. Treatment and postretention changes. Am J Orthod 66(1):58–70

40.

Simon M, Keilig L, Schwarze J, Jung BA, Bourauel C (2014) Treatment outcome and efficacy of an aligner technique–regarding incisor torque, premolar derotation and molar distalization. BMC Oral Health 14:68

41.

Staley RN, Stuntz WR, Peterson LC (1985) A comparison of arch widths in adults with normal occlusion and adults with Class II, Division 1 malocclusion. Am J Orthod 88:163–169

42.

Taner T, Ciger S, Ei H, Germec D, Es A (2004) Evaluation of dental arch width and form after orthodontic treatment and retention with a new computerized method. Am J Orthod Dentofacial Orthop 126:464–475

43.

Uysal T, Memili B, Usumez S, Sari Z (2005) Dental and alveolar arch widths in normal occlusion, Class II Division 1 and Class II Division 2. Angle Orthod 75:941–947
Ethics declarations
Conflict of interest
A. Deregibus, L. Tallone, G. Rossini, S. Parrini, M. Piancino and T. Castroflorio declare that they have no competing interests.
Ethical standards
The research protocol was approved by the local ethics board (No. 3732015, CIR Dental School, Turin University). All subjects (or their parents) gave written informed consent.
About this article
Cite this article
Deregibus, A., Tallone, L., Rossini, G. et al. Morphometric analysis of dental arch form changes in class II patients treated with clear aligners . J Orofac Orthop 81, 229–238 (2020). https://doi.org/10.1007/s00056-020-00224-8
Received:

Accepted:

Published:

Issue Date:
Keywords
Orthodontic treatment

Malocclusion, Angle class 2

Orthodontic appliances, removable

Invisalign

Virtual casts
Schlüsselwörter
Kieferorthopädische Behandlung

Angle-Klasse-II-Malokklusion

Herausnehmbare kieferorthopädische Apparaturen

Invisalign

Virtuelle Abdrücke