Abstract
This paper considers the process of how the image of Mount Sumeru, the axis mundi of the Indian Buddhist cosmology, was transmitted from the Indo-Iranian cultural sphere to the Chinese cultural sphere in the fifth and sixth centuries. The research focus is mainly on the representations of Mt. Sumeru in the wall paintings of two monumental Buddhist sites from this period, the Kizil Grottoes (Kucha) and the Mogao Grottoes (Dunhuang), with reference to a relevant image in the Yungang Grottoes (Datong). As the monks of Kucha were in direct intellectual contact with contemporaneous India via the Sanskrit language, it is a purely Indian Buddhist cosmological worldview that is reflected in early Kizil paintings. In Dunhuang, on the other hand, the earliest-extant Sumeru representation clearly shows the visual syncretism of Buddhist and Taoist cosmologies. These visual symbols of the "World" are composites of multiple historical factors, such as languages, geopolitical situation of regional powers, and ideological trends of the regions.
Zusammenfassung
Dieser Artikel betrachtet, wie die Darstellung des Berges Sumeru/Meru – die Weltachse der indischen buddhistischen Kosmologie – vom indoiranischen Kulturbereich in den chinesischen Kulturraum im 5. und 6. Jahrhundert übertragen wurde. Der Forschungsschwerpunkt liegt hauptsächlich auf den Darstellungen des Meru in den Wandgemälden zweier monumentaler buddhistischer Stätten aus dieser Zeit, und zwar den Höhlenklöstern von Kizil (Kucha) und von Mogao (Dunhuang im Vergleich mit einem relevanten Relief im Höhlentempel von Yungang/Datong). In Kucha, wo Mönche über das Sanskrit in direktem intellektuellem Austausch mit dem zeitgenössischen Indien standen, war es eine rein indisch-buddhistische kosmologische Weltanschauung, die sich in den frühen Wandmalereien von Kizil widerspiegelt. In Dunhuang hingegen zeigt die früheste Darstellung des Meru eindeutig einen visuellen Synkretismus buddhistischer und taoistischer Kosmologien. Diese Symbole der "Welt" reflektieren den Einfluss verschiedener historischer Faktoren, wie etwa Sprachen, geopolitische Situation der Regionalmächte sowie ideologische Strömungen in jeder Region.
This is a preview of subscription content, log in to check access.
Access options
Buy single article
Instant access to the full article PDF.
US$ 39.95
Price includes VAT for USA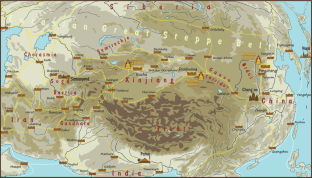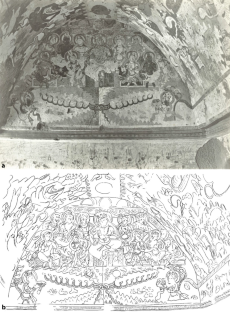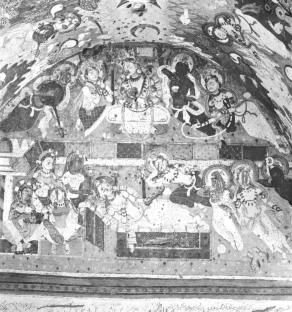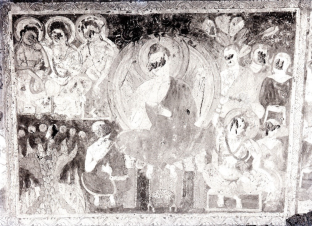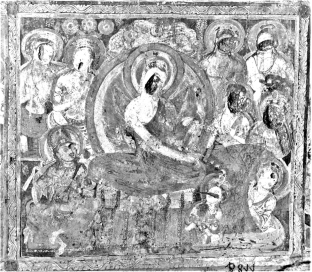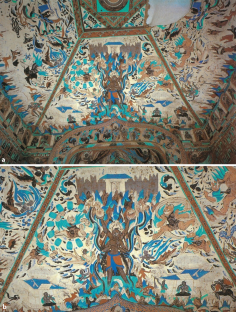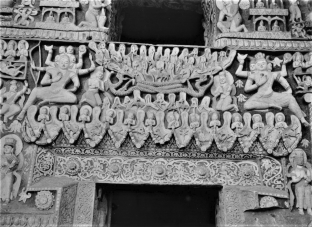 Notes
1.

2.

For representations of inhabitants of the celestial layers of the Kāma- and Rūpadhātu in Buddhist art, see Zin (2015). Beings of the Ārūpyadhātu (sphere of non-form) exist only as discarnate intellects and therefore cannot be visualized.

3.

For the analysis of the Sumeru world system (which is called the Cakravāla Cosmology by Kloetzli after the name of the mountain ranges encircling the entire world) as described in canonical literatures of early Buddhist schools, see (Kirfel 1920: 178–207); Kloetzli (1983: 23–50); Dietz (1994); Dietz (2003); Sadakata (2011: 201–245). Another recommended reading is Huntington (2019), providing the overview of textual accounts about Buddhist cosmology (especially in Chapter I) with helpful pictograms and rich illustrations of relevant visual arts, mainly from Himalayan regions.

4.

The classification of Kuchean paintings of the regional style into the "First Indo-Iranian style" and "Second Indo-Iranian style", and the dating of each of them respectively as around 500 and after 600 was proposed in the pioneer study by Waldschmidt (1933). This view had been challenged by a number of scholars (for example Klimburg 1974; Su 1983; Howard 1991; and so forth). At least concerning the "First style", however, recent studies by Hiyama (2016; 2018) argue that some specific motifs typically depicted in the paintings of this style can be dated to around 500 AD on the basis of comparison to the better datable materials in surrounding areas.

5.

For the detailed record of this cave in the condition of 1906 see Grünwedel 1912: 102–112. The wall paintings of this cave were partly detached by the third and fourth German expeditions, and brought to Berlin. About a half of the detached paintings was damaged during the WWII; the rest of the mural fragments are presently kept in Berlin and St. Petersburg.

6.

7.

8.

Since Nāgas often symbolize water in Buddhist visual art, these two Nāgas could have symbolized the surrounding ocean as well. In this case, the lower half of the mountain under the "knot" of the coiling Nāgas could be intended to represent the subterranean sphere.

9.

Several canonical texts narrate the following story; once an Asura king, the ruler of the subterranean territory, was jealous of the sun, moon, and celestial beings who fly around the Trāyastriṃśa heaven above his head. Accompanied by his Asura army, he attempted an invasion of heaven. At that time, two Nāga kings, Nanda and Upananda, coiled themselves around Mr. Sumeru sevenfold and shook the mountain causing it to rain. They also struck the ocean, so that the sea level rose up to the top of Sumeru. Due to these unusual events, the inhabitants of the heaven were warned of the invasion. Cf. Howard (1986: 15–16); Hiyama (2010: 366–367); Hiyama (2012: 148–149).

10.

These two commentaries of the Abhidharmakośa are the works of Puguang (T 1821: 189a11–26) and of Fabao (T 1822: 618b19–23), two disciples of the prominent monk Xuanzang in the seventh century. Both texts explicitly describe the shape of Mt. Sumeru with the top in the same width as the base, and the middle part narrower than the top and the base —as compared to the shape of a hand drum in the former. The text that these two commentaries reference, namely the Chinese translation of the Abhidharmakośa by Xuanzang (T 1558), is a translation of the Sanskrit original text by Vasubhandu. It is tricky, because neither the description of this Chinese translation (T 1558: 59a16–60a26) nor its Sanskrit original text (for English translation see Pruden 1988: vol. 2, 462, verses 63–64) refer to the hour-glass shape of Mt. Sumeru.

11.

12.

The wall paintings of Mogao Cave 249 are closely related to those of Mogao Cave 285 from the stylistic and iconographical perspective, the level of similarity is such that the same artisan group may have participated in creating both caves. The latter includes the donative inscriptions referring to the Year 4 and 5 of Dadai Dawei Datong = 538 and 539 AD. For the recent study on these inscriptions, see Ishimatsu (2010).

13.

14.

15.

For the extensive survey of Yungang Cave 10 see Mizuno and Nagagiro (1952), especially see pp. 17, 45, pls. 22–23, fig. 12 for the documentation on the Sumeru representation. Also see Su (1989) for the chronology of the site. Even though the chronology of the Yungang Grottoes is still under discussion, there is a general consensus about dating the pair of Caves 9 and 10 to the 480s. For the iconographical studies on this Sumeru image, see Yagi (1994: 6–7); Li (2003: 39–40). The author expresses her deep gratitude to Prof. Hidenori Okamura (Kyoto University) for generously providing the digital data of the original photograph used for pl. 23 of Mizuno & Nagahiro (1952), kept at the Institute for Research in Humanities of Kyoto University.

16.

Among numerous prominent studies, especially notable contributions are He (1982); Duan (1983); Ning (1990); Koyama (1995); Saito (1995); He (2006); Tabayashi (2011: 240–241). In addition, the author expresses the deepest gratitude to Dr. Daniel R. Tuzzeo (Stanford University) for sharing his unpublished paper which summarizes the previous studies and elaborates the Buddhological reading of this representation. The publication of his dissertation, Crafting Cosmologies: Buddhist Cartography and the Spatial Imagination in Medieval China (successfully defended at Stanford University in May 2019), from which this paper was developed, will greatly benefit the field.

17.

Since Mount Kunlun was also regarded as the world axis linking the earth and heaven, the imagery on Kunlun and Sumeru could overlap with less conflict. In fact, in the tenth volume of Shi Yi Ji (Forgotten Tales), a mythological treatise compiled by a Taoist writer Wang Jia in the late fourth century, explicitly mentions that Mt. Kunlun is called Mt. Sumeru in the West. See Saito (1995: 51).

18.

Saito rather associated this motif of heavenly gate with Tuṣita heaven by comparing it with the same motif depicted in the middle of the balcony with heavenly musicians, which can be found on the northern wall of Mogao Cave 248 (1995: 53–54). It is a fact that the worship for Bodhisattva Maitreya in the Tuṣita heaven became a religious fashion in China in the fifth to sixth centuries. Nevertheless, whether the representation in Cave 248, and the related wall paintings in Kizil Caves that Saito cites as the evidence for her argument (based on the interpretation by Miyaji 1992: Chapter III-2), indeed illustrate specifically the Tuṣita heaven, needs a careful reexamination, since the musicians on the balcony can also belong to other heavenly layers such as the Trāyastriṃśa heaven.

19.

In fact, Yuan Rong seems to have carried out another attempt along the same lines in Mogao Cave 285, another representative cave from the Western Wei period, for presenting the syncretistic visions of heavens by amalgamating astral motifs of Buddhism, Taoism, and even Brahmanism/Hinduism into one visual system. See Hiyama (in press a, in press b).

20.

By describing it as an intermediate form, the present argument is simplified by focusing on the silhouette of Mt. Sumeru and the shape of the Nāgas coiling around it. The element that specifically appears in Yungang Cave 10 is the animal figures inserted within each mountain range forming Sumeru, and two Indian-looking deities carved at each side of Sumeru. The former seems to derived from the Han art tradition (Mizuno & Nagahiro 1952: 45); especially related type of art object could be the so-called Chinese Hill Censer or Boshan-lu, a traditional incense burner in a form of mythical mountain inhabited by various animals (Saito 1995: 48). This had been another established visual symbol of the worldly mountain since Han dynasty (Rawson 2006). The Han connotation of the Sumeru representation and its relationship with two Indian-looking deities flanking Sumeru needs further in-depth study.
References
Alram, Michael 2016. Das Antlitz des Fremden: Die Münzprägung der Hunnen und Westtürken in Zentralasien und Indien. Vienna: Verlag der Österreichischen Akademie der Wissenschaften.

De la Vaissière, Étienne 2005. Sogdian Traders. Leiden: Brill.

Dietz, Siglinde 1994. Das Weltbild des indischen Buddhismus. In: Andreas Resch (ed.): Die Welt der Weltbilder. Innsbruck: Resch: 237–296.

Dietz, Siglinde 2003. Die Kosmologie nach den buddhistischen Sanskrit-Texten aus Zentralasien. In: Sven Bretfeld and Jens Wilkens (eds.): Indien und Zentralasien: Sprach- und Kulturkontakt, Vorträge des Göttinger Symposions vom 7. Mai bis 10. Mai 2001. Wiesbaden: Harrassowitz: 207–226.

Duan, Wenjie 1983. Lüe lun Mogao ku di 249 ku bihua neirong he yishu (A brief account of the content and the artistic style of the murals in Cave 249 of Mogaoku). Dunhuang yanjiu (12): 1–9.

Dunhuang Wenwu Yanjiusuo (ed.) 1981, Dunhuang Mogaoku (Dunhuang Grottoes). Vol. 1. Beijing: Wenwu Chubanshe.

Grenet, Franz 2002. Regional interaction in Central Asia and Northwest India in the Kidarite and Hephtalite periods. Indo-Iranian languages and peoples = Proceedings of the British Academy (116): 203–224.

Grünwedel, Albert 1912. Altbuddhistische Kultstätten in Chinesisch-Turkistan. Berlin: Reimer.

Grünwedel, Albert 1920. Alt-Kutscha. Berlin: Elsner.

He, Shizhe 1982. Dunhuang Mogao ku di 249 ku kuding xi po bihua neirong kaoshi (The study of iconographical programme of the chief motif on the ceiling of Cave 249 of Mogao Grottoes). Dunhuang xue ji kan (3): 28–32.

He, Shizhe 2006. Dunhuang Tuxiang Yanjiu: Shiliuguo Beichao juan (Iconographical study on Dunhuang: Volume for Sixteen Kingdoms and Northern Dynasties). Langzhou: Gansu Jiaoyu Chubanshe.

Hiyama, Satomi 2010. Kizil Sekkutsu dai 118 kutsu (Kaibakutsu) no Hekiga Shudai: Māndhātar ou Setsuwa wo Tegakarini (The wall paintings of Kizil cave 118: the story of King Māndhātar as a new identification). Bijutsushi = Journal of the Japan Art History Society (168): 358–372.

Hiyama, Satomi 2012. New identification of murals in Kizil Cave 118 as the story of King Māndhātar. Journal of Inner Asian Art and Archaeology (5): 145–170.

Hiyama, Satomi 2016. The Wall Paintings of the "Painters' Cave (Kizil Cave 207)". PhD dissertation at Freie Universität Berlin. Ketsch: microfiche publication.

Hiyama, Satomi 2017. Kizil dai 207 kutsu (Gaka kutsu) no Butsu Seppozu no Shinkaishaku (New interpretation of the Buddha's sermon scenes in Kizil Cave 207 (the Painters' Cave)). In: Akira Miyaji (ed.): Asia Bukkyo Bijutsu Ronshu (I),Chuo Asia. Tokyo, Chuo Koron Bijutsu Shuppan: 367–398.

Hiyama, Satomi 2018. Untangling the Textiles in the Murals: A Study on the Monks' Robes depicted in the First Indo-Iranian Style Paintings of Kucha. Journal of World Buddhist Cultures (1): 59–94.

Hiyama, Satomi (forthcoming a). New Identification of Astral Deities Represented in the Western Wall of Mogao Cave 285, Dunhuang. In: Imre Galambos (ed.): Dunhuang and Cultural Contact along the Silk Road. Budapest: Hungarian Academy of Sciences, 2020.

Hiyama, Satomi (forthcoming b). Overlapping heavens in the wall paintings of Mogao Cave 285 in Dunhuang—An art-historical study on the syncretistic images on its west wall and ceiling. In: Bill M. Mak and Eric Huntington (eds.): Overlapping Cosmologies in Asia, 2020.

Howard, Angela F. 1986. The Imagery of the Cosmological Buddha. Leiden: Brill.

Howard, Angela F. 1991. In Support of a New Chronology for the Kizil Mural Paintings. Archives of Asian Art (44): 68–83.

Huntington, Eric 2019. Creating the Universe: Depictions of the Cosmos in Himalayan Buddhism. Seattle: University of Washington Press.

Ishimatsu, Hinako 2010. Tonko Bakko-kutsu dai 285 kutsu Hokuheki no Kuyosha-zo to Kuyosha Daiki (The donor figures and donative inscriptions on the northern wall of Mogao Cave 285, Dunhuang). Ryukoku Shidan (131): 43–87.

Kirfel, Willibald 1920. Die Kosmographie der Inder. Nach den Quellen dargestellt. Bonn: Schroeder.

Klimburg, Max 1974. Die Entwicklung des zweiten indo-iranischen Stils von Kutscha. In: Georg Hazai and Peter Zieme (eds.): Sprache und Geschichte und Kultur der altaischen Völker: Protokollband der XII. Tagung der Permanent International Altaistic Conference 1969in Berlin. Berlin: Akademie-Verlag: 317–325.

Kloetzli, Randy 1983. Buddhist cosmology: From single world system to pure land. Science and theology in the images of motion and light. Delhi: Motilal Banarsidass.

Konczak-Nagel, Ines (2020). Painted Buddhist Cosmology: The Pictorial Programme of Central Pillar Caves in Kucha. In: Essays and Studies on Kucha I, Leipziger Kuča-Studien I. Delhi: DEV Publisher: 1–10.

Koyama, Mitsuru 1995. Tonko Bakkokutsu dai 249 kutsu no Kucchou Hekiga (On the Mural Paintings in the Ceiling of Cavern 249 of the Dun-huang). The Journal of the Asia Studies of Soka University (16): 25–38.

Li, Jingjie 2003. Unko dai 9, 10 kutsu no Zuzo Kosei ni tsuite (The arrangement of deities in the paintings in Yungang Grottoes No. 9 and 10). Ars Buddhica (267): 33–58.

Li, Zhengyu 2013. Xina xiaohua Huabi weiwo—Tan Mogaoku Beiciao Dongku 'Shenhua, Daojiao Ticai' de Shuxing (Learning for the Purpose of Application—on the Property of "Mythological and Taoist Themes" in the Northern Dynasties Caves at the Mogao Grottoes). Dunhuang Yanjiu (139): 47–50.

Miyaji, Akira 1992. Nehan to Miroku no Zuzogaku (Iconography of Mahāparinirvāṇa and Maitreya). Tokyo: Yoshikawa Kobunkan.

Mizuno, Seiichi and Nagahiro, Toshio 1952. Yun-Kang: The Buddhist Cave-Temples of the Fifth Century A.D. in North China. Detailed Report of the Archaeological Survey Carried out by the Mission of the Tōhōbunka kenkyūsho 1938–1945. Volume VII Cave Ten. Kyoto: Kyoto University.

Mural Paintings in Xinjiang of China 2009 = Zhongguo Xinjiang bihua yishu bianji weiyuanhui 2009. Zhongguo Xinjiang bihua yishu (Mural Paintings in Xinjiang of China). Urumqi: Xinjiang meishu sheying chubanshe.

Nattier, Jan 1990. Church Language and Vernacular Language in Central Asian Buddhism. Numen 37 (2): 195–219.

Neelis, Jason 2010. Early Buddhist Transmission and Trade Networks. Mobility and Exchange within and beyond the Northwestern Borderlands of South Asia. Leiden: Brill.

Ning, Qiang 1990. Shangshi dengxian tu yu Weimojie jingbian—Mogaoku di 249 ku Kuding bihua Zaitan. Dunhuang Yanjiu (1): 30–37.

Pruden, Leo M 1988. Abhidharmakośabhāsyam. Berkeley: Asian Humanities Press.

Rawson, Jessica 2006. The Chinese Hill Censer, bo shan lu: A note on origins, influences and meanings. Arts asiatiques (61): 76–86.

Rong, Xinjiang 2013. Eighteen lectures on Dunhuang. Leiden/Boston: Brill.

Sadakata, Akira 2011. Indo Uchuron Taizen (Encyclopedia of Indian Cosmology). Tokyo: Shunjusya.

Saito, Rieko 1995. Tonko dai 249 kutsu Tenjo ni okeru Chugoku teki Zuzo no Juyo Keitai (The form of understanding the iconographic Sinism on the ceiling paintings in No. 249 Cave at Dunhuang). Ars Buddhica (218): 39–56.

Su, Bai 1983. Kizil Sekkutsu no Keishiki Kubun to sono Nendai (Classification and dating of the cave temples of Kizil). In: Chugoku Sekkutsu Kizil Sekkutsu I. Tokyo: Heibonsha/Bunbutsu Shuppansha: 162–178.

Su, Bai 1986. Liangzhou Shiku Yiji he "Liangzhou Moshi" (The cave sites in Liangzhou and "the Liangzhou-style"). Kaogu Xuebao (4): 435–446.

Su, Bai 1989. Pincheng Shili de Jiju he "Yungang Moshi" de Xingcheng yu Fazhan (Political power of Pincheng and the formation and development of "Yungang Style"). In: Su Bai et al. Zhongguo Shiku Yungang Shiku (Caves of China: Yungang Grottoes). Beijing: Wenwu Chubanshe: 176–197.

Sudo, Hirotoshi 1989. Zenjo Biku Zuzo to Tonko dai 285 kutsu (Paintings of Buddhist priests in meditative concentration, and the 285th cave of Dunhuang). Ars Buddhica (183): 11–27.

Tabayashi, Kei 2011. Tonko Bakko-kutsu dai 285 kutsu no Bukkyo Sekai ni tsuite—Tenjo Hekiga wo Chushin to shite (The Buddhist realm depicted in ceiling paintings of Mogao Cave 285 at Dunhuang). Bijutsushi = Journal of the Japan Art History Society (170): 229–245.

Tabayashi, Kei 2013. Tonko Bakkokutsu dai 285 kutsu Kaisaku no Haikei ni kanshite (Study on the historical background of the creation of Mogao Cave 285, Dunhuang). In: Donohashi Akio Sensei Taishoku Kinen Kentei Ronbunshu Kanko Inkai (ed.): Bijutsushi Rekisan. Tokyo: Chuo Koron Bijutsu Shuppan: 501–518.

Tuzzeo, Daniel R. (forthcoming). Mapping the Buddhist Cosmos at Dunhuang. A New Interpretation of the Western Ceiling Slope of Mogao Cave 249. Unpublished paper under review.

Waldschmidt, Ernst 1933, Über den Stil der Wandgemälde. In: Albert von Le Coq und Ernst Waldschmidt (eds.): Die buddhistische Spätantike in Mittelasien VII, Neue Bildwerke 3. Berlin: Reimer und Vohsen: 24–31.

Wang, Huimin 2017. Dunhuang Fojiao yu Shiku Yingjian (Dunhuang Buddhism and the making of cave temples). Lanzhou: Gansu Jiaoyu Chubanshe.

Yagi, Haruo 1994. Unko Sekkutsu ni okeru Sangaku Monyo ni tsuite I (The mountain figures in Yun Kang caves 1). Museum (524): 4–14.

Yoshida, Yutaka 2011. Sogdojin to Sogdo no Rekishi (Sogdian and the history of Sogdiana). In: H. Sofugawa and Y. Yoshida (eds.): Sogdojin no Bijutsu to Gengo (Sogdian art and language). Kyoto: Rinsen Shoten: 7–78.

Zin, Monika 2015. Pictures of Paradise for Good Luck and Prosperity. Depictions of Themes Irrelevant for Enlightenment in the Older Buddhist Tradition (with special reference to the paintings of Ajanta). In: V. Kumar and B. Rawat (eds.): Mani-Sushma: Archaeology and Heritage (Dr. B.R. Mani Festschrift). Vol. I. Delhi: B. R. Publishing Corporation: 125–156.

Zin, Monika 2020. Crossing the Ocean of saṃsāra: Berlin, Museum für Asiatische Kunst, no. III 9023. In: Proceedings of the 7th International Conference of Oriental Studies Polish Academy of Sciences: Collections of Texts and Artefacts, held in Cracow on October 22–24, 2018, Rocznik Orientalistyczny 72.2.

Zin, Monika 2021. The Complex Contents of Unpretentious Pictures: Narrative Paintings in Kucha. In: Naomi Appleton (ed.): Narrative Visions and Visual Narratives in Indian Buddhism, Sheffield: Equinox Publishing: Chapter 4.

Zin, Monika (forthcoming). The "parinirvāṇa space" in Kucha, an attempt to define its function, with a brief comparison of the painted caves in Kucha and Ajanta. In: The Image as Instrument and as Reflection of Ritual in Central Asia and the Himalaya: from Antiquity to the Present. Proceedings of the Fifth International SEECHAC Colloquium, Università degli Studi di Napoli "L'Orientale" Naples, 5–7 November 2018.
Additional information
Publisher's Note
Springer Nature remains neutral with regard to jurisdictional claims in published maps and institutional affiliations.
About this article
Cite this article
Hiyama, S. Transmission of the "World": Sumeru Cosmology as Seen in Central Asian Buddhist Paintings Around 500 AD. N.T.M. (2020). https://doi.org/10.1007/s00048-020-00245-9
Keywords
Buddhist cosmology

Dunhuang

Kucha

Silk road cultural history

Sumeru

Yungang
Schlüsselwörter
Buddhistische Kosmologie

Dunhuang

Kucha

Kulturgeschichte der Seidenstraße

Sumeru/(Berg) Meru

Yungang