Abstract
Salicylic acid (SA) remains one of the most fruitful natural compounds to generate drug molecules with versatile activities. In this study, effective synthesis of SA and acetylsalicylic acid (ASA) derivatives with a carrier triphenylphoshonium (TPP) group was proposed. A series of SA and ASA conjugates linked with the TPP group via alkyl chain linker (C3-C10) was synthesized. The conjugates showed enhanced TPP-mediated cytotoxicity towards MCF-7, Caco-2, PC-3 cells in proportion to the linker length. 7e, 8e (C9), and 7f (C10) were the most active against the cancer cells with IC50 = 0.6–1.9 µM while were less toxic for HSF. Similarly, antibacterial (bactericidal) activity of the compounds against S. aureus increased with the linker elongation. The lowest MIC for SA and ASA derivatives were 4 and 1 µM, respectively. The TPP conjugates induced early linker length-dependent mitochondria depolarization and concurrent superoxide radical production in the cancer cells. The most lipophilic conjugates were found to specifically interact with ROS probe 2′,7′-dichlorofluorescin diacetate, forming mixed aggregates with the probe and inhibiting its fluorescence upon oxidation. These interactions were exploited to probe the compounds inside living cells. The results identify 7e and 7f as promising mitochondria-modulating and anticancer agents with increased cellular availability.

We're sorry, something doesn't seem to be working properly.
Please try refreshing the page. If that doesn't work, please contact support so we can address the problem.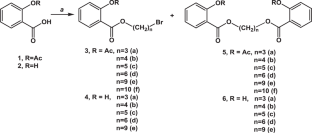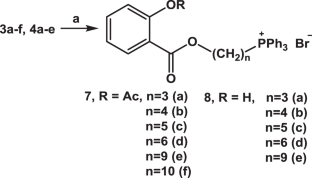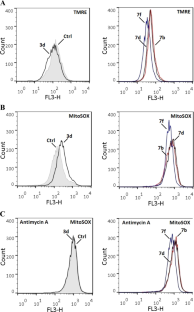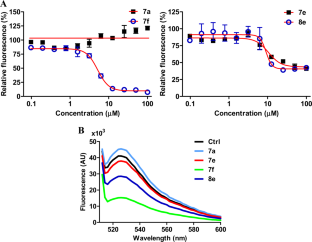 Acknowledgements
This work was supported by the Ministry of Education and Science of the Russian Federation (subsidies allocated to FRC Kazan Scientific Center of RAS and Kazan Federal University for the state assignments in the sphere of scientific activities (0671-2020-0063)), the Russian Foundation for Basic Research (grant no. 20-33-70194), and also performed according to the Russian Government Program of Competitive Growth of Kazan Federal University. RI acknowledges RFBR project No 19-34-90139 (analysis of oxidative stress in cell monolayers). The authors gratefully acknowledge the CSF-SAC FRC KSC RAS and Interdisciplinary Centre for Shared Use of Kazan Federal University.
Ethics declarations
Conflict of interest
The authors declare that they have no conflict of interest.
Additional information
Publisher's note Springer Nature remains neutral with regard to jurisdictional claims in published maps and institutional affiliations.
Supplementary information
About this article
Cite this article
Tsepaeva, O.V., Salikhova, T.I., Grigor'eva, L.R. et al. Synthesis and in vitro evaluation of triphenylphosphonium derivatives of acetylsalicylic and salicylic acids: structure-dependent interactions with cancer cells, bacteria, and mitochondria. Med Chem Res (2021). https://doi.org/10.1007/s00044-020-02674-6
Received:

Accepted:

Published:
Keywords
Phosphonium salts

Salicylic acid

Acetylsalicylic acid

Anticancer activity

Anticancer activity

Mitochondrial potential