Abstract
A series of new C28-amino-lupanes bearing A-azepano- and A-seco-3-amino-fragments was synthesized from 3,28-dioximino-betulin and evaluated for cytotoxicity toward the NCI-60 cancer cell line panel and antimicrobial activity against key ESKAPE pathogens. A-azepano-28-amino-betulin exhibited remarkable activities with GI50 ranging from 1.16 to 2.27 μM against all panel with the highest activity toward leukemia, colon cancer, non-small cell lung cancer and breast cancer. The replacement of the hydroxyl group at C28 in the structure of azepanobetulin to the amino group did not show a strong effect on the cytotoxic activity. Both compounds were ∼5 and ∼4 times more active than doxorubicin against colon cancer HCT-15 and ovarian cancer NCI/ADR-RES cell lines, thus these A-azepano-lupane triterpenoids are the promising agents for future anticancer drug development. The ability of A-azepanobetulin to inhibit cell growth may be associated with its cytostatic effect, which, depending on the cell line, is associated with the arrest either S or G1 phase of cell cycle. 3-Amino-3,4-seco-28-amino-lup-4(23),20(29)-dien exhibited significant bacteriostatic effect against methicillin-resistant Staphylococcus aureus (MIC ≤ 0.25 μg/mL) that exceeds the effect of the clinically used antibiotic vancomycin.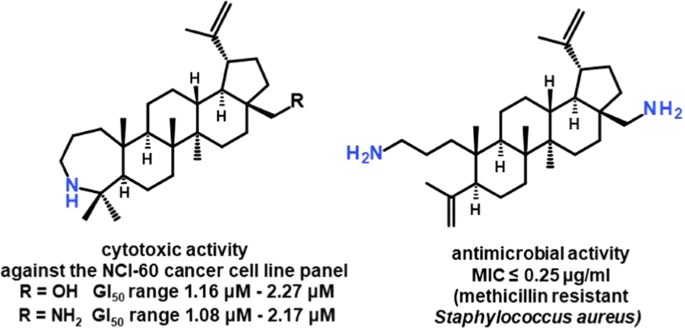 This is a preview of subscription content, log in to check access.
Access options
Buy single article
Instant access to the full article PDF.
US$ 39.95
Price includes VAT for USA
Subscribe to journal
Immediate online access to all issues from 2019. Subscription will auto renew annually.
US$ 99
This is the net price. Taxes to be calculated in checkout.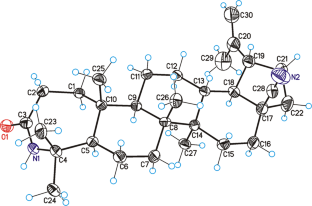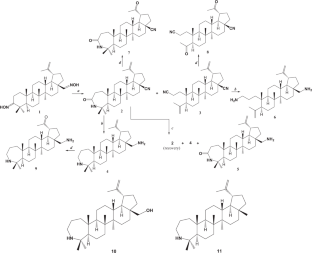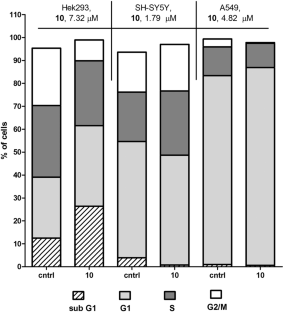 References
Ali-Seyed M, Jantan I, Vijayaraghavan K, Bukhari SNA (2016) Betulinic acid: recent advances in chemical modifications, effective delivery, and molecular mechanisms of a promising anticancer therapy. Chem Biol Drug Des 87(4):517–536. https://doi.org/10.1111/cbdd.12682

Bednarczyk-Cwynar B, Zaprutko L, Froelich A (2013) Beckmann rearrangement of oxime obtained from oleanolic acid. Structure elucidation of the initial oxime. J Mol Str 1053:115–121. https://doi.org/10.1016/j.molstruc.2013.09.006

Bildziukevich U, Özdemir Z, Wimmer Z (2019) Recent achievements in medicinal and supramolecular chemistry of betulinic acid and its derivatives. Molecules 24(19):3546. https://doi.org/10.3390/molecules24193546

Boyd MR, Paul KD (1995) Some practical considerations and applications of the National Cancer Institute in vitro anticancer drug discovery screen. Drug Res Rep. 34:91–109

Bruker (2014) APEX2 and SAINT. Bruker AXS Inc, Madison, WI

Catteau GL, Zhu L, Bambeke FV, Quetin-Leclercq J (2018) Natural and hemi-synthetic pentacyclic triterpenes as antimicrobials and resistance modifying agents against Staphylococcus aureus: a review. Phytochem Rev 17:1129–1163. https://doi.org/10.1007/s11101-018-9564-2

Chung PY (2019) Novel targets of pentacyclic triterpenoids in Staphylococcus aureus: a systematic review. Phytomedicine: 152933. https://doi.org/10.1016/j.phymed.2019.152933

Csuk R (2014) Betulinic acid and its derivatives: a patent review (2008–2013). Expert Opin Ther Pat 24:913–923. https://doi.org/10.1517/13543776.2014.927441

Flekhter OB, Ashavina OY, Boreko EI, Karachurina LT, Pavlova NI, Kabal'nova NN, Savinova OV, Galin FZ, Nikolaeva SN, Zarudii FS, Baltina LA, Tolstikov GA (2002) Synthesis of 3-O-acetylbetulinic and betulonic aldehydes according to Svern and the pharmacological activity of related oximes. Pharm Chem J 36:303–306. https://doi.org/10.1023/A:1020824506140

Grever MR, Schepartz SA, Chabner BA (1992) The National Cancer Institute: cancer drug discovery and development program. Semin Oncol 19:622–638

Giniyatullina GV, Kazakova OB, Baikova IP, Yamansarov EY, Osterman IA, Komarova ES, Skvortsov DA, Saltikova IV, Majouga AG, Ivanenkov YA (2019) Synthesis and cytotoxicity of N-methylpiperazinylamide azepanobetulinic acid. Nat Prod Comm 14:1–5. https://doi.org/10.1177/1934578X19860670

Giniyatullina GV, Mustafin AG, Kazakova OB (2020) Synthesis and antitumor activity of 3-amino-3,4-Seco-Lupa-4(23),20(29)-Diene Derivatives. Chem Nat Comp 1:84–88. https://doi.org/10.1007/s10600-020-02951-1

Hoz ADe la, Cortés JA (2019) Bacterial and atypical infections in critically Ill cancer patients. Oncol Crit Care: 379–1400. https://doi.org/10.1007/978-3-319-74588-6_123

Kazakova OB, Brunel JM, Khusnutdinova EF, Negrel S, Giniyatullina GV, Lopatina TV, Petrova AV (2019b) A-ring modified triterpenoids and their spermidine-aldimines with strong antibacterial activity. Molbank: M1078. https://doi.org/10.3390/M1078

Kazakova OB, Giniyatullina GV, Medvedeva NI, Lopatina TV, Baikova IP, Tolstikov GA, Apryshko GN (2014) Synthesis and cytotoxicity of triterpenoids seven members cyclic amines. Russ J Bioorg Chem 40:217–225. https://doi.org/10.1134/s106816201402006x

Kazakova OB, Rubanik LV, Smirnova IE, Savinova OV, Petrova AV, Poleschuk NN, Khusnutdinova EF, Boreko EI, Kapustsina YM (2019a) Synthesis and in vitro activity of oleanane type derivatives against Chlamydia trachomatis. Org Commun 12:169–175. https://doi.org/10.25135/acg.oc.66.19.07.1352

Khusnutdinova EF, Petrova AV, Thi Thu HN, Thi Tu AL, Thanh TN, Ba Thi C, Babkov DA, Kazakova OB (2019) Structural modifications of 2,3-indolobetulinic acid: design and synthesis of highly potent α-glucosidase inhibitors. Bioorg Chem 88:102957. https://doi.org/10.1016/j.bioorg.2019.102957

Khusnutdinova EF, Smirnova IE, Giniyatullina GV, Medvedeva NI, Yamansarov EY, Kazakov DV, Kazakova OB, Linh PT, Viet Q, Huong DT (2016) Inhibition of alpha-glucosidase by synthetic derivatives of lupane, oleanane, ursane and dammarane triterpenoids. Nat Prod Comm 11:33–35. https://doi.org/10.1177/1934578X1601100112

Krasutsky PA (2006) Birch bark research and development. Nat Prod Rep. 23:919–942

Kumar S, Misra N, Raj K, Srivastava K, Puri SK (2008) Novel class of hybrid natural products derived from lupeol as antimalarial agents. Nat Prod Res 22(4):305–319. https://doi.org/10.1080/14786410701766349

Lopatina TV, Medvedeva NI, Baikova IP, Iskhakov AS, Kazakova OB (2019) Synthesis and cytotoxicity of O- and N-acyl derivatives of azepanobetulin. Russ J Bioorg Chem 45:292–301. https://doi.org/10.1134/S106816201904006X

Medvedeva NI, Kazakova OB, Lopatina TV, Smirnova IE, Giniyatullina GV, Baikova IP, Kataev VE (2018) Synthesis and antimycobacterial activity of triterpenic A-ring azepanes. Eur J Med Chem 143:464–472. https://doi.org/10.1016/j.ejmech.2017.11.035

Monks A, Scudiero DA, Johnson GS, Paull KD, Sausville EA (1997) The NCI anti-cancer drug screen: a smart screen to identify effectors of novel targets. Anticancer Drug Des 12:533–541

Monks A, Scudiero D, Skehan P, Shoemaker R, Paull KD, Vistica D, Hose C, Langley J, Cronise P, Vaigro-Wolff A, Gray-Goodrich M, Campbell H, Mayo J, Boyd MJ (1991) Feasibility of a highflux anticancer drug screen using a diverse panel of cultured human tumor cell lines. Nat Cancer Inst 183:757–766

Montoya A, Quiroga J, Abonia R, Nogueras M, Cobo J, Insuasty B (2014) Synthesis and in vitro antitumor activity of a novel series of 2-pyrazoline derivatives bearing the 4-aryloxy-7-chloroquinoline fragment. Molecules 19:18656–18675. https://doi.org/10.3390/molecules191118656

Sheldrick GM (2015) Crystal structure refinement with SHELXL. Acta Crystallogr C71:3–8

Smirnova IE, Petrova AV, Kazakova OB (2019) Synthesis and cytotoxicity of A-azepanodammaradiene. Chem Nat Compd 55:883–889. https://doi.org/10.1007/s10600-019-02838-w

Sousa JLC, Freire CSR, Silvestre AJD, Silva AMS (2019) Recent developments in the functionalization of betulinic acid and its natural analogues: a route to new bioactive compounds. Molecules 24(2):355. https://doi.org/10.3390/molecules24020355

Tolmacheva IA, Nazarov AV, Eroshenko DV, Grishko VV (2018) Synthesis, cytotoxic evaluation, and molecular docking studies of the semi-synthetic "triterpenoid-steroid" hybrids. Steroids 140:131–143. https://doi.org/10.1016/j.steroids.2018.10.005

Tolstikov GA, Flekhter OB, Shul'ts EE, Baltina LA, Tolstikov AG (2005) Betulin and its derivatives. Chemistry and biological activity. Khim Interes Ustoich Razvit 13:1–30

Tolstikova TG, Sorokina IV, Tolstikov GA, Tolstikov AG, Flekhter OB (2006) Biological activity and pharmacological prospects of lupane terpenoids: I. natural lupane derivatives. Russ J Bioorg Chem 32:37–49. https://doi.org/10.1134/S1068162006010031

Weinstein JN, Myers TG, O'Connor PM, Friend Jr. SH, Fornace AJ, Kohn KW, Fojo T, Bates SE, Rubinstein LV, Anderson NL, Buolamwini JK, van Osdol WW, Monks AP, Scudiero DA, Sausville EA, Zaharevitz DW, Bunow B, Viswanadhan VN, Johnson GS, Wittes RE, Paull KD (1997) An information-intensive approach to the molecular pharmacology of cancer. Science 275:343–349. https://doi.org/10.1126/science.275.5298.343

Yli-Kauhaluoma J, Alakurtti S, Minkkinen J, Sarcerdoti-Sierra N, Jaffe CL, Heiska T (2010) Betulin derived compounds useful as antiprotozoal agents. US Patent 2010190795, filled 6 June 2007, issued 28 Oct 2010

Zhang DM, Xu HG, Wang L, Li YJ, Sun PH, Wu XM, Wang GJ, Chen WM, Ye WC (2015) Betulinic acid and its derivatives as potential antitumor agents. Med Res Rev 35:1127–1155. https://doi.org/10.1002/med.21353
Acknowledgements
This work was supported by Federal programs (N AAAA-A20-120012090023-8, AAAA-A20-120012090029-0, and AAAA-A17-117011910028-7). The synthesis of compounds 2, 4, 5, and 9-11 and evaluation of their biological activity were supported by the Russian Foundation for Basic Research (project no. 18-33-00364 for TVL). We thank National Cancer Institute for the screening of cytotoxicity of compounds 2–11. The antimicrobial screening was performed by CO-ADD (The Community for Antimicrobial Drug Discovery) and funded by the Wellcome Trust (UK) and The University of Queensland (Australia).
Ethics declarations
Conflict of interest
The authors declare that they have no conflict of interest.
Additional information
Publisher's note Springer Nature remains neutral with regard to jurisdictional claims in published maps and institutional affiliations.
About this article
Cite this article
Kazakova, O.B., Lopatina, T.V., Baikova, I.P. et al. Synthesis, evaluation of cytotoxicity, and antimicrobial activity of A-azepano- and A-seco-3-amino-C28-aminolupanes. Med Chem Res 29, 1507–1519 (2020). https://doi.org/10.1007/s00044-020-02577-6
Received:

Accepted:

Published:

Issue Date:
Keywords
Triterpenoids

Lupane

Betulin

Beckmann rearrangement

Lactame

Azepane

Cytotoxicity

Antimicrobial activity