Abstract
This study aims to explain the records of seismicity before the onset of the 2018 Mw 7.5 Palu earthquake, concerning the timing of earthquake nucleation of a large strike-slip supershear earthquake. The mainshock was preceded by two distinct series of foreshock sequences, seven months before the mainshock and three hours before the mainshock. The foreshock seismicity took place on a distinguishing isolated zone surrounding the epicenter of the impending mainshock, near the northern edge of the total rupture. Cross-correlating the regional seismogram indicates that the foreshocks were not repeated ruptures of the same patch by fault creep. Neither low-frequency signals nor an extended initiation phase were observed immediately before the impending rupture. The foreshocks were attributed to a cascade model, that is, the Palu mainshock was triggered by a cascade of foreshocks, not by a slow-slip transient. This is explained by the Coulomb stress changes model imparted by the largest foreshock (Mw 6.1). However, it is also possible that the mainshock initial break was instantaneously triggered by the dynamic seismic wave of the very last foreshock.
This is a preview of subscription content, log in to check access.
Access options
Buy single article
Instant access to the full article PDF.
US$ 39.95
Price includes VAT for USA
Subscribe to journal
Immediate online access to all issues from 2019. Subscription will auto renew annually.
US$ 199
This is the net price. Taxes to be calculated in checkout.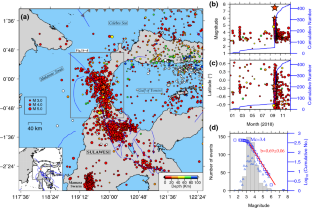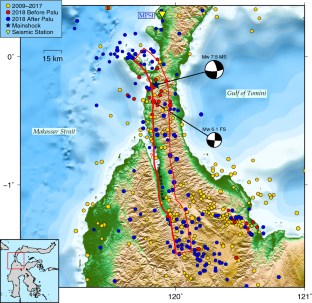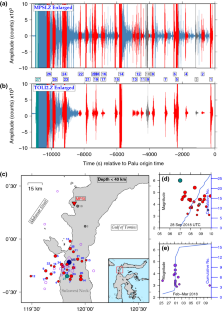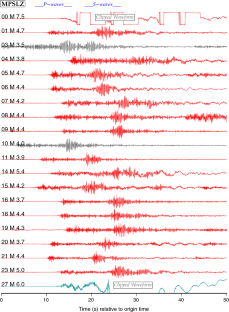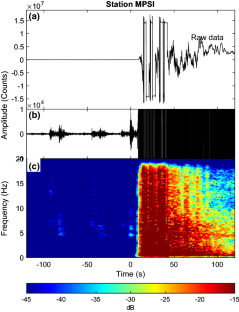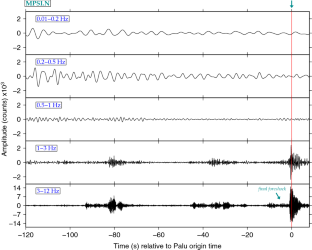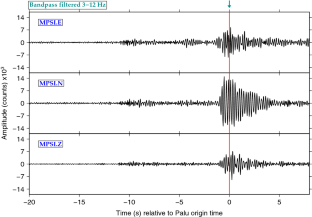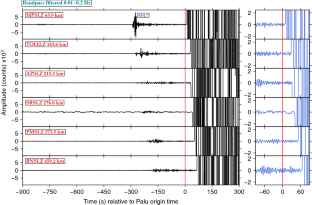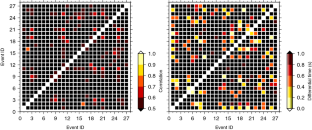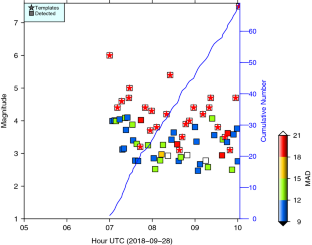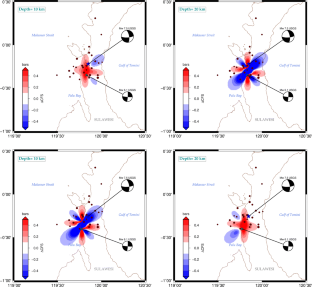 References
Ando, R., & Imanishi, K. (2011). Possibility of Mw 9.0 mainshock triggered by diffusional propagation of after-slip from Mw 7.3 foreshock. Earth Planets Space,63(7), 767–771.

Bao, H., Ampuero, J. P., Meng, L., Fielding, E. J., Liang, C., Milliner, C. W., et al. (2019). Early and persistent supershear rupture of the 2018 magnitude 7.5 Palu earthquake. Nature Geoscience,12(3), 200–205.

Bouchon, M., Karabulut, H., Aktar, M., Özalaybey, S., Schmittbuhl, J., & Bouin, M. P. (2011). Extended nucleation of the 1999 Mw 7.6 Izmit earthquake. Science,331(6019), 877–880.

Bouchon, M., Durand, V., Marsan, D., Karabulut, H., & Schmittbuhl, J. (2013). The long precursory phase of most large interplate earthquakes. Nature Geoscience,6(4), 299–302.

Bürgmann, R. (2018). The geophysics, geology and mechanics of slow fault slip. Earth and Planetary Science Letters,495, 112–134.

Crotwell, H. P., Owens, T. J., & Ritsema, J. (1999). The TauP Toolkit: Flexible seismic travel-time and ray-path utilities. Seismological Research Letters,70(2), 154–160.

Dodge, D. A., Beroza, G. C., & Ellsworth, W. L. (1996). Detailed observations of California foreshock sequences: Implications for the earthquake initiation process. Journal of Geophysical Research: Solid Earth,101(B10), 22371–22392.

Ellsworth, W. L., & Beroza, G. C. (1995). Seismic evidence for an earthquake nucleation phase. Science,268(5212), 851–855.

Ellsworth, W. L., & Bulut, F. (2018). Nucleation of the 1999 Izmit earthquake by a triggered cascade of foreshocks. Nature Geoscience,11(7), 531–535.

Fang, J., Xu, C., Wen, Y., Wang, S., Xu, G., Zhao, Y., et al. (2019). The 2018 Mw 7.5 Palu earthquake: A supershear rupture event constrained by InSAR and broadband regional seismograms. Remote Sensing,11(11), 1330.

Gomberg, J. (2018). Unsettled earthquake nucleation. Nature Geoscience,11(7), 463–464.

Gulia, L., & Wiemer, S. (2019). Real-time discrimination of earthquake foreshocks and aftershocks. Nature,574(7777), 193–199.

Jaya, A., Nishikawa, O., & Jumadil, S. (2019). Distribution and morphology of the surface ruptures of the 2018 Donggala-Palu earthquake, Central Sulawesi, Indonesia. Earth, Planets and Space,71(1), 1–13.

Kato, A., & Nakagawa, S. (2014). Multiple slow-slip events during a foreshock sequence of the 2014 Iquique, Chile Mw 8.1 earthquake. Geophysical Research Letters,41(15), 5420–5427.

Kato, A., Obara, K., Igarashi, T., Tsuruoka, H., Nakagawa, S., & Hirata, N. (2012). Propagation of slow slip leading up to the 2011 Mw 9.0 Tohoku-Oki earthquake. Science,335(6069), 705–708.

Kennett, B. L., Engdahl, E. R., & Buland, R. (1995). Constraints on seismic velocities in the Earth from traveltimes. Geophysical Journal International,122(1), 108–124.

Lee, S. J., Wong, T. P., Lin, T. C., & Liu, T. Y. (2019). Complex triggering supershear rupture of the 2018 Mw 7.5 Palu, Indonesia, earthquake determined from teleseismic source inversion. Seismological Research Letters,90(6), 2111–2120.

Masuda, K., Ide, S., Ohta, K., & Matsuzawa, T. (2020). Bridging the gap between low-frequency and very-low-frequency earthquakes. Earth, Planets and Space,72, 1–9.

Meng, X., Peng, Z., & Hardebeck, J. L. (2013). Seismicity around Parkfield correlates with static shear stress changes following the 2003 Mw6.5 San Simeon earthquake. Journal of Geophysical Research: Solid Earth,118(7), 3576–3591.

Meng, X., Yang, H., & Peng, Z. (2018). Foreshocks, b value map, and aftershock triggering for the 2011 Mw 5.7 Virginia Earthquake. Journal of Geophysical Research: Solid Earth,123(6), 5082–5098.

Mignan, A. (2014). The debate on the prognostic value of earthquake foreshocks: A meta-analysis. Scientific Reports,4, 4099.

Peng, Z. (2013). Introduction to Seismic Analysis Code (SAC), 2013 beta version. https://geophysics.eas.gatech.edu/people/zpeng/Teaching/SAC_Tutorial/. Accessed Mar 2020.

Peng, Z., Long, L. T., & Zhao, P. (2011). The relevance of high-frequency analysis artifacts to remote triggering. Seismological Research Letters,82(5), 654–660.

Scherbaum, F. (2013). Of Poles and ZEROS: Fundamentals of Digital Seismology (Vol 15). Berlin: Springer Science & Business Media.

Socquet, A., Hollingsworth, J., Pathier, E., & Bouchon, M. (2019). Evidence of supershear during the 2018 magnitude 7.5 Palu earthquake from space geodesy. Nature Geoscience,12(3), 192–199.

Song, X., Zhang, Y., Shan, X., Liu, Y., Gong, W., & Qu, C. (2019). Geodetic observations of the 2018 Mw 7.5 Sulawesi earthquake and its implications for the kinematics of the Palu fault. Geophysical Research Letters,46(8), 4212–4220.

Tape, C., West, M., Silwal, V., & Ruppert, N. (2013). Earthquake nucleation and triggering on an optimally oriented fault. Earth and Planetary Science Letters,363, 231–241.

Tape, C., Holtkamp, S., Silwal, V., Hawthorne, J., Kaneko, Y., Ampuero, J. P., et al. (2018). Earthquake nucleation and fault slip complexity in the lower crust of central Alaska. Nature Geoscience,11(7), 536–541.

Uchida, N. (2019). Detection of repeating earthquakes and their application in characterizing slow fault slip. Progress in Earth and Planetary Science,6(1), 40.

Ulrich, T., Vater, S., Madden, E. H., Behrens, J., van Dinther, Y., Van Zelst, I., et al. (2019). Coupled, physics-based modeling reveals earthquake displacements are critical to the 2018 Palu. Sulawesi Tsunami. Pure and Applied Geophysics,176(10), 4069–4109.

Wessel, P., Smith, W. H., Scharroo, R., Luis, J., & Wobbe, F. (2013). Generic mapping tools: improved version released. Eos, Transactions American Geophysical Union,94(45), 409–410.

Wiemer, S. (2001). A software package to analyze seismicity: ZMAP. Seismological Research Letters,72(3), 373–382.
Acknowledgements
The regional seismograms are retrieved and available from Badan Meteorologi, Klimatologi, dan Geofisika (BMKG), upon request. The earthquake catalog used in this study can be downloaded from BMKG repository (https://repogempa.bmkg.go.id/repo_new/repository.php). The author thanks Anne Socquet, Jin Fang, Xiaogang Song, Yongzhe Wang, and Qi Li for sharing the slip model of the Palu earthquake based on their works. Figures are created by using the Generic Mapping Tools (Wessel et al. 2013) and Seismic Analysis Codes (SAC). Comments and suggestions from Daryono (BMKG) are greatly appreciated. The author thanks the editor and two anonymous reviewers for their comments and suggestions that improved the quality of this paper.
Additional information
Publisher's Note
Springer Nature remains neutral with regard to jurisdictional claims in published maps and institutional affiliations.
Electronic supplementary material
Below is the link to the electronic supplementary material.
About this article
Cite this article
Sianipar, D. Immediate Foreshocks Activity Preceding the 2018 Mw 7.5 Palu Earthquake in Sulawesi, Indonesia. Pure Appl. Geophys. 177, 2421–2436 (2020). https://doi.org/10.1007/s00024-020-02520-1
Received:

Revised:

Accepted:

Published:

Issue Date:
Keywords
Earthquake nucleation

foreshocks

Palu earthquake