Abstract
This study reports the application of the novel supervised learning approach called vanishing component analysis (VCA) for the classification of lithologies from well log signal data. Geophysical well log data is always non-linear due to anisotropy and heterogeneity of the earth. The main purpose of this study is to test the applicability of the VCA algorithm on non-linear geophysical data of Siraj South-01, Middle Indus Basin, Pakistan for classification of lithologies/facies. We demonstrate the performance and stability of the novel approach on a case study before applying it on well log data. Our analysis demonstrates that VCA algorithm is able to linearly separate such a complex non-linear well log data and clearly distinguish between different classes of well log data coming from different rock units. Furthermore, we show that the average accuracies of the classification methods of linear support vector machines, eXtreme gradient boosting, random forest, neural network and linear discriminant analysis on the VCA feature space are much better than the average accuracy obtained by the same methods on the original data.
This is a preview of subscription content, log in to check access.
Access options
Buy single article
Instant access to the full article PDF.
US$ 39.95
Price includes VAT for USA
Subscribe to journal
Immediate online access to all issues from 2019. Subscription will auto renew annually.
US$ 199
This is the net price. Taxes to be calculated in checkout.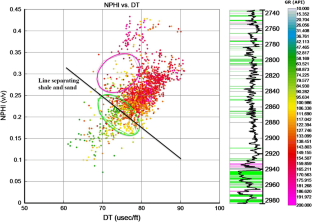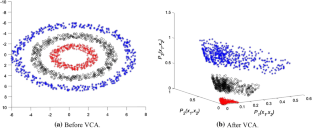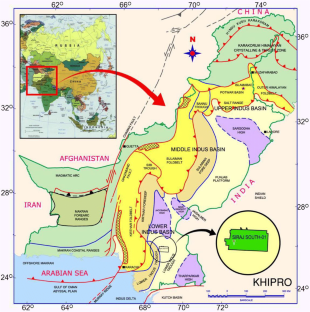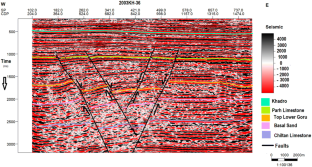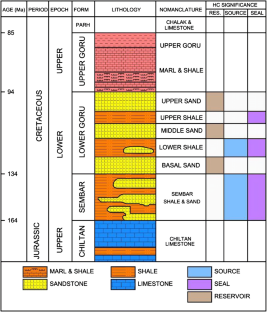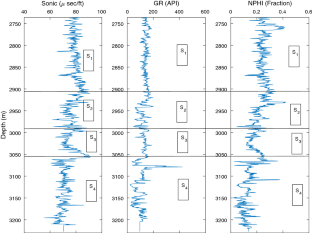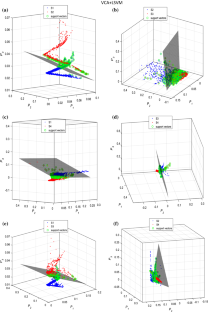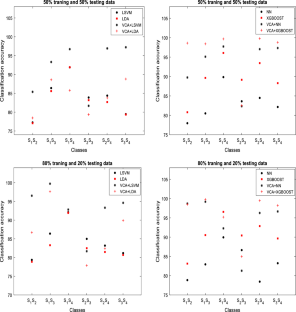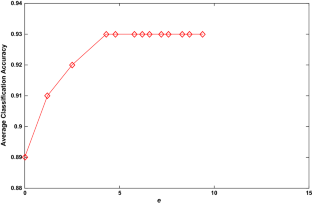 References
Abbasi, S. A., Kalwar, Z., & Solangi, S. H. (2016). Study of structural styles and hydrocarbon potential of RajanPur area, middle indus Basin, Pakistan. BU J ES,1(1), 36–41.

Abbasi, A. H., Mehmood, F., & Kamal, M. (2014). Shale oil and gas: Lifeline for Pakistan (pp. 85–87). Islamabad: Sustainable Development Policy Institute.

Ali, A., Alves, T. M., Saad, F. A., Ullah, M., Toqeer, M., & Hussain, M. (2018). Resource potential of gas reservoirs in South Pakistan and adjacent Indian subcontinent revealed by post-stack inversion techniques. Journal of Natural Gas Science and Engineering,49, 41–55.

Ali, A., Hussain, M., Rehman, K., & Toqeer, M. (2016). Effect of shale distribution on hydrocarbon sands integrated with anisotropic rock physics for AVA modelling: A case study. Acta Geophysica,64(4), 1139–1163.

Alves, T. M., Kurtev, K., Moore, G. F., & Strasser, M. (2014). Assessing the internal character, reservoir potential, and seal competence of mass-transport deposits using seismic texture: A geophysical and petrophysical approach. AAPG Bulletin,98(4), 793–824.

Anxionnaz, H., Delfiner, P., & Delhomme, J. P. (1990). Computer-generated corelike descriptions from open-hole logs (1). AAPG Bulletin,74(4), 375–393.

Aster, R. C., Borchers, B., & Thurber, C. H. (2005). Parameter estimation and inverse problems. Oxford: Elsevier.

Aziz, O., Hussain, T., Ullah, M., Bhatti, A. S., & Ali, A. (2018). Seismic based characterization of total organic content from the marine Sembar shale, Lower Indus Basin, Pakistan. Marine Geophysical Research,39(4), 491–508.

Baldwin, J. L., Bateman, R. M., & Wheatley, C. L. (1990). Application of a neural network to the problem of mineral identification from well logs. The Log Analyst,31(05), 279–293.

Bender, F. K., & Raza, H. A. (1995). Geology of Pakistan. Cambridge: Cambridge University Press.

Burke, J. A., Campbell Jr, R. L., & Schmidt, A. W. (1969). The lithoporosity crossplot: Society of professional well log analysts tenth annual logging symposium transactions, pp. 1–29.

Chenping, H., Feiping, N., & Dacheng, T. (2016). Discriminative vanishing component analysis. In Proceeding of the thirtieth AAAI conference on artificial intelligence.

Collinson, J. D. (1969). The sedimentology of the Grindslow shales and the kinderscout Grit: A deltaic complex in the Namurian of northern England. Journal of Sedimentary Petrology,39, 194–221.

Cox, D. A., Little, J., & O'Shea, D. (2007). Ideals, varieties, and algorithms: An introduction to computational algebraic geometry and commutative algebra. Berlin: Springer.

Doveton, J. H. (1986). Log analysis of subsurface geology: Concepts and computer methods (p. 273). New York: Wiley.

Doveton, J. H. (1994). Geological log analysis using computer methods. Journal of Petroleum Science and Engineering,12(2), 168–169.

Ellis, D. V., & Singer, J. M. (2007). Well logging for earth scientists. Berlin: Springer.

Griffiths, C. H., & Bakke, S. (1988). Semi-automated well matching using gene-typing algorithms and a numerical lithology derived from wire-line logs. In SPWLA 29th Annual Logging Symposium. Society of Petrophysicists and Well-Log Analysts, pp. 1–24.

Guguen, Y., & Palciauskas, V. (1994). Introduction to the physics of rocks. Princeton: Princeton University Press.

Hall, B. (2016). Facies classification using machine learning. The Leading Edge. Geophisical tutorial. Octuber 2016.

Harilal, Biswal, S. K., Sood, A., & Rangachari, V. (2008). Identification of reservoir facies within a carbonate and mixed carbonate-siliciclastic sequence: Application of seismic stratigraphy, seismic attributes, and 3D visualization. The Leading Edge,27(1), 18–29.

Humphreys, B., & Lott, G. K. (1990). An investigation into nuclear log responses of North Sea Jurrasic reservoirs using mineralogical analysis. In A. Hurst, M. A. Lovell, & A. C. Morton (Eds.), Geological applications of well logs (Vol. 48, pp. 223–240). London: Geological Society of London Special Publication.

Hurst, A., Lovell, M. A., & Morton, A. C. (1990). Geological application of wire-line logs. Geological Society of London Special Publication,48, 357–371.

Kazmi, A. H., & Abbasi, I. A. (2008). Stratigraphy & historical geology of Pakistan (p. 524). Department & National Centre of Excellence in Geology.

Kazmi, A. H., & Snee, L. W. (1989). Geology of world emerald deposits: A brief review (pp. 165–228). The Netherland: Van Nostrand Reinhold publishers.

Krygowski. D.A. (2003). Guide to petrophysical interpretation: Austin Texas USA.

Li, P., & Zhang, Y. (2001). Facies characterization of a reservoir in the North sea using machine learning techniques. Geophysics,66, 1157–1176.

Liu, S., Zhan, R., Zhang, J., & Zhuang, Z. (2014). Radar automatic target recognition based on sequential vanishing component analysis. Progress in Electromagnetics Research,145, 241–250.

Livni, R., Lehavi, D., Schein, S., Nachliely, H., Shalev-Shwartz, S., & Globerson, A. (2013). Vanishing component analysis. In Proceedings of the 30th International Conference on Machine Learning (ICML-13) (pp. 597–605).

Moline, G. R., Drzewiecki, P. A., & Bahr, J. M. (1991). Identification and characterization of pressure seals through the use of wireline logs: A multivariate statistical approach. AAPG Bulletin Log Analyst,33(4), 362–372.

Mollajan, A., Memarian, H., & Nabi-Bidhendi, M. (2018). Fuzzy classifier fusion: An application to reservoir facies identification. Neural Computing and Applications,30, 825–834.

Mwenifumbo, C. J. (1993). Kernel density estimation in the analysis and of borehole geophysical data. The Log Analyst,34(05), 34–45.

Passey, Q.R., Creaney, S., Kulla, J.B., Moretti, F.J., & Stroud, J.D. (1990). A practical Model for the Organic richness from porosity and resistivity logs. American association of petroleum geologists (AAPG) Bulletin, Vol. 74.

Raynolds, A. D. (1993). Sequence Stratigraphy from core and wire-line log data: The Viking Formation, Albian, South central Alberta, and Canada. Marine and Petroleum Geology,11, 258–282.

Rider, M. (2002). The geological interpretation of well logs (2nd ed.). London: Rider-French Consulting Limited.

Rita, J., Sanjeev, L., Manoj, K., Bharat, S., Asim, S., & Cewell, O. (2013). A new approach to interpret Shaly/Silty reservoirs. In 10th Biennial international conference and exposition, pp 53–59.

Serra, O. E. (1983). Fundamentals of well-log interpretation. United States: N. p., Web.

Serra, O. T., & Abbott, H. T. (1982). The contribution of logging data to sedimentology and stratigraphy. Society of Petroleum Engineers Journal,22(01), 117–131.

Tarantola, A. (2005). Inverse problem theory and methods for model parameter estimation. Philadelphia: Society for Industrial and Applied Mathematics.

Tiab, D., & Donaldson, E. C. (2015). Petrophysics: Theory and practice of measuring reservoir rock and fluid transport properties. Houston: Gulf Professional Publishing.

Van Wagoner, J. C., Mitchum, R. M., Campion, K. M., & Rahmanian, V. D. (1990). Siliciclastic sequence stratigraphy in well logs, cores, and outcrops: Concepts for high-resolution correlation of time and facies. III-55.

Walker, R. G., & James, N. P. (1992). Facies models "Response to sea-level Change". Geological Association of Canada,992, 7–23.

Wolf, M. & Pelissier-Combescure, J. (1982). Faciolog-automatic electrofacies determination. In SPWA 23rd annual logging symposium. Society of petrophysicists and well log analysts, pp 1–23.

Zhang, X. (2018). Improvement on the vanishing component analysis by grouping strategy. Journal of Wireless Networking,2018, 111. https://doi.org/10.1186/s13638-018-1112-7.
Acknowledgements
We thank the anonymous referees for their valuable comments and suggestions. The authors thank the Directorate General of Petroleum Concessions (DGPC), Pakistan, being a data source for this work. The authors would also like to thank Hiroshi Tsukahara for making the Matlab code available and for useful scientific discussions.
Ethics declarations
Conflict of interest
The authors declare that they do not have any conflict of interest.
Additional information
Publisher's Note
Springer Nature remains neutral with regard to jurisdictional claims in published maps and institutional affiliations.
Appendix: Matlab Code for the Toy Example
Appendix: Matlab Code for the Toy Example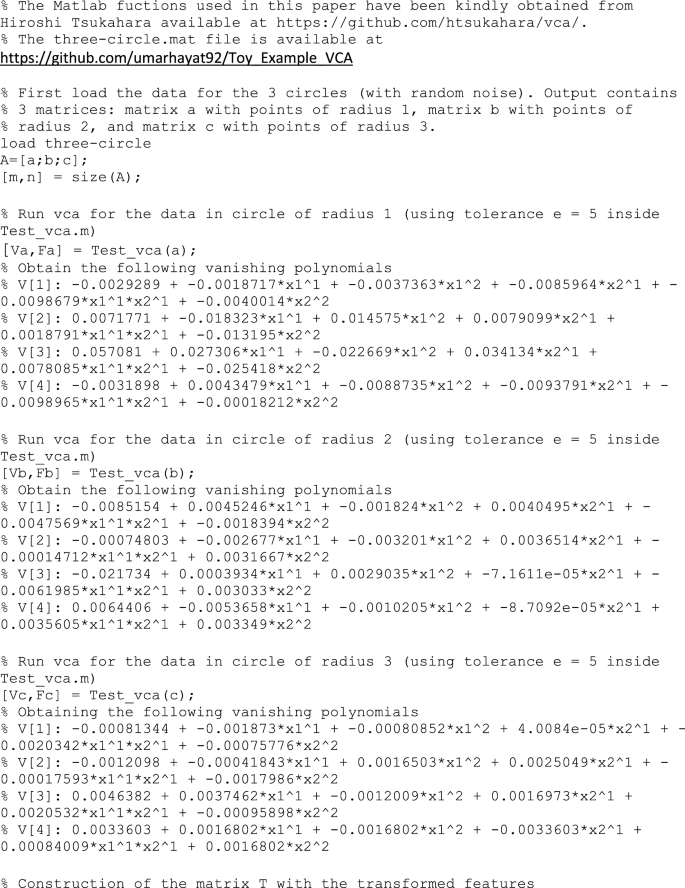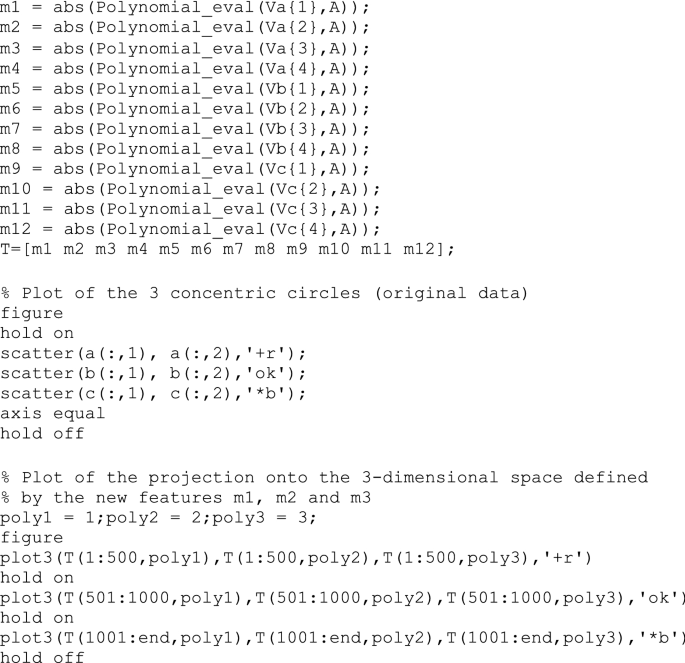 About this article
Cite this article
Hayat, U., Ali, A., Murtaza, G. et al. Classification of Well Log Data Using Vanishing Component Analysis. Pure Appl. Geophys. 177, 2719–2737 (2020). https://doi.org/10.1007/s00024-019-02374-2
Received:

Revised:

Accepted:

Published:

Issue Date:
Keywords
Vanishing component analysis

feature extraction

classification of lithologies

classification algorithms

reservoir

geophysical logs