Abstract
Pregnane X receptor (PXR) is activated by chemicals to transcriptionally regulate drug disposition and possibly decrease drug efficacy and increase resistance, suggesting therapeutic value for PXR antagonists. We previously reported the antagonist SPA70 and its analog SJB7, which unexpectedly is an agonist. Here, we describe another unexpected observation: mutating a single residue (W299A) within the PXR ligand-binding domain converts SPA70 to an agonist. After characterizing wild-type and W299A PXR activity profiles, we used molecular dynamics simulations to reveal that in wild-type PXR, agonists stabilize the activation function 2 (AF-2) helix in an "inward" position, but SPA70 displaces the AF-2. In W299A, however, SPA70 stabilizes the AF-2 "inward", like agonists. We validated our model by predicting the antagonist SJC2 to be a W299A agonist, which was confirmed experimentally. Our work correlates previously unobserved ligand-induced conformational changes to PXR cellular activity and, for the first time, reveals how PXR antagonists work.
Access options
Buy single article
Instant access to the full article PDF.
US$ 39.95
Tax calculation will be finalised during checkout.
Subscribe to journal
Immediate online access to all issues from 2019. Subscription will auto renew annually.
US$ 119
Tax calculation will be finalised during checkout.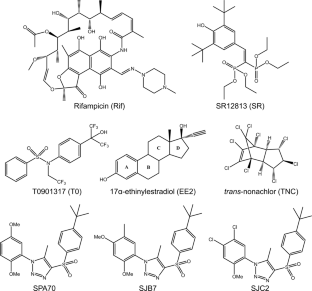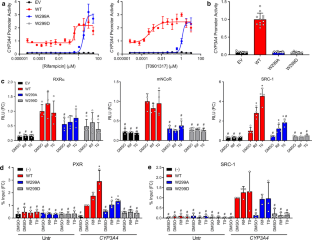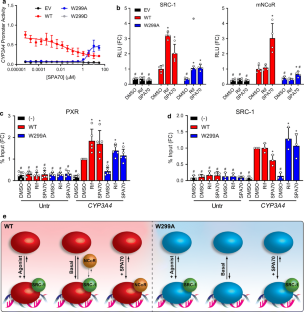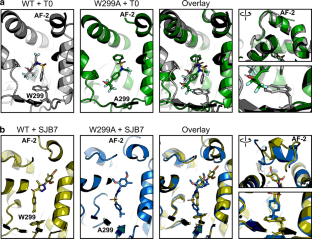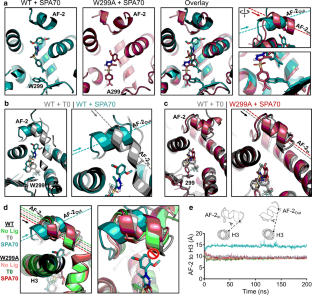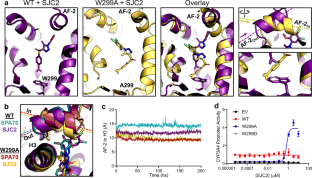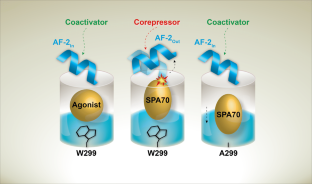 References
1.

Blumberg B, Sabbagh W Jr, Juguilon H, Bolado J Jr, van Meter CM, Ong ES, Evans RM (1998) SXR, a novel steroid and xenobiotic-sensing nuclear receptor. Genes Dev 12(20):3195–3205

2.

Bertilsson G, Heidrich J, Svensson K, Asman M, Jendeberg L, Sydow-Backman M, Ohlsson R, Postlind H, Blomquist P, Berkenstam A (1998) Identification of a human nuclear receptor defines a new signaling pathway for CYP3A induction. Proc Natl Acad Sci USA 95(21):12208–12213

3.

Kliewer SA, Moore JT, Wade L, Staudinger JL, Watson MA, Jones SA, McKee DD, Oliver BB, Willson TM, Zetterstrom RH, Perlmann T, Lehmann JM (1998) An orphan nuclear receptor activated by pregnanes defines a novel steroid signaling pathway. Cell 92(1):73–82

4.

Xie W, Barwick JL, Downes M, Blumberg B, Simon CM, Nelson MC, Neuschwander-Tetri BA, Brunt EM, Guzelian PS, Evans RM (2000) Humanized xenobiotic response in mice expressing nuclear receptor SXR. Nature 406(6794):435–439. https://doi.org/10.1038/35019116

5.

Lehmann JM, McKee DD, Watson MA, Willson TM, Moore JT, Kliewer SA (1998) The human orphan nuclear receptor PXR is activated by compounds that regulate CYP3A4 gene expression and cause drug interactions. J Clin Invest 102(5):1016–1023. https://doi.org/10.1172/JCI3703

6.

Burk O, Koch I, Raucy J, Hustert E, Eichelbaum M, Brockmoller J, Zanger UM, Wojnowski L (2004) The induction of cytochrome P450 3A5 (CYP3A5) in the human liver and intestine is mediated by the xenobiotic sensors pregnane X receptor (PXR) and constitutively activated receptor (CAR). J Biol Chem 279(37):38379–38385. https://doi.org/10.1074/jbc.M404949200

7.

Goodwin B, Moore LB, Stoltz CM, McKee DD, Kliewer SA (2001) Regulation of the human CYP2B6 gene by the nuclear pregnane X receptor. Mol Pharmacol 60(3):427–431

8.

Chen C, Staudinger JL, Klaassen CD (2003) Nuclear receptor, pregname X receptor, is required for induction of UDP-glucuronosyltranferases in mouse liver by pregnenolone-16 alpha-carbonitrile. Drug Metab Dispos 31(7):908–915. https://doi.org/10.1124/dmd.31.7.908

9.

Synold TW, Dussault I, Forman BM (2001) The orphan nuclear receptor SXR coordinately regulates drug metabolism and efflux. Nat Med 7(5):584–590. https://doi.org/10.1038/87912

10.

Geick A, Eichelbaum M, Burk O (2001) Nuclear receptor response elements mediate induction of intestinal MDR1 by rifampin. J Biol Chem 276(18):14581–14587. https://doi.org/10.1074/jbc.M010173200

11.

Nallani SC, Goodwin B, Maglich JM, Buckley DJ, Buckley AR, Desai PB (2003) Induction of cytochrome P450 3A by paclitaxel in mice: pivotal role of the nuclear xenobiotic receptor, pregnane X receptor. Drug Metab Dispos 31(5):681–684

12.

Luo G, Cunningham M, Kim S, Burn T, Lin J, Sinz M, Hamilton G, Rizzo C, Jolley S, Gilbert D, Downey A, Mudra D, Graham R, Carroll K, Xie J, Madan A, Parkinson A, Christ D, Selling B, LeCluyse E, Gan LS (2002) CYP3A4 induction by drugs: correlation between a pregnane X receptor reporter gene assay and CYP3A4 expression in human hepatocytes. Drug Metab Dispos 30(7):795–804

13.

Moore LB, Goodwin B, Jones SA, Wisely GB, Serabjit-Singh CJ, Willson TM, Collins JL, Kliewer SA (2000) St. John's wort induces hepatic drug metabolism through activation of the pregnane X receptor. Proc Natl Acad Sci USA 97(13):7500–7502. https://doi.org/10.1073/pnas.130155097

14.

Mani S, Dou W, Redinbo MR (2013) PXR antagonists and implication in drug metabolism. Drug Metab Rev 45(1):60–72. https://doi.org/10.3109/03602532.2012.746363

15.

Xie Y, Xu M, Deng M, Li Z, Wang P, Ren S, Guo Y, Ma X, Fan J, Billiar TR, Xie W (2019) Activation of pregnane X receptor sensitizes mice to hemorrhagic shock-induced liver injury. Hepatology 70(3):995–1010. https://doi.org/10.1002/hep.30691

16.

Lin W, Wang YM, Chai SC, Lv L, Zheng J, Wu J, Zhang Q, Wang YD, Griffin PR, Chen T (2017) SPA70 is a potent antagonist of human pregnane X receptor. Nat Commun 8(1):741. https://doi.org/10.1038/s41467-017-00780-5

17.

Wang H, LeCluyse EL (2003) Role of orphan nuclear receptors in the regulation of drug-metabolising enzymes. Clin Pharmacokinet 42(15):1331–1357. https://doi.org/10.2165/00003088-200342150-00003

18.

Oladimeji P, Cui H, Zhang C, Chen T (2016) Regulation of PXR and CAR by protein-protein interaction and signaling crosstalk. Expert Opin Drug Metab Toxicol 12(9):997–1010. https://doi.org/10.1080/17425255.2016.1201069

19.

Buchman CD, Chai SC, Chen T (2018) A current structural perspective on PXR and CAR in drug metabolism. Expert Opin Drug Metab Toxicol 14(6):635–647. https://doi.org/10.1080/17425255.2018.1476488

20.

Watkins RE, Wisely GB, Moore LB, Collins JL, Lambert MH, Williams SP, Willson TM, Kliewer SA, Redinbo MR (2001) The human nuclear xenobiotic receptor PXR: structural determinants of directed promiscuity. Science 292(5525):2329–2333. https://doi.org/10.1126/science.1060762

21.

Ostberg T, Bertilsson G, Jendeberg L, Berkenstam A, Uppenberg J (2002) Identification of residues in the PXR ligand binding domain critical for species specific and constitutive activation. Eur J Biochem 269(19):4896–4904. https://doi.org/10.1046/j.1432-1033.2002.03207.x

22.

Chrencik JE, Orans J, Moore LB, Xue Y, Peng L, Collins JL, Wisely GB, Lambert MH, Kliewer SA, Redinbo MR (2005) Structural disorder in the complex of human pregnane X receptor and the macrolide antibiotic rifampicin. Mol Endocrinol 19(5):1125–1134. https://doi.org/10.1210/me.2004-0346

23.

Tirona RG, Leake BF, Podust LM, Kim RB (2004) Identification of amino acids in rat pregnane X receptor that determine species-specific activation. Mol Pharmacol 65(1):36–44. https://doi.org/10.1124/mol.65.1.36

24.

Jones SA, Moore LB, Shenk JL, Wisely GB, Hamilton GA, McKee DD, Tomkinson NC, LeCluyse EL, Lambert MH, Willson TM, Kliewer SA, Moore JT (2000) The pregnane X receptor: a promiscuous xenobiotic receptor that has diverged during evolution. Mol Endocrinol 14(1):27–39. https://doi.org/10.1210/mend.14.1.0409

25.

Ngan CH, Beglov D, Rudnitskaya AN, Kozakov D, Waxman DJ, Vajda S (2009) The structural basis of pregnane X receptor binding promiscuity. Biochemistry 48(48):11572–11581. https://doi.org/10.1021/bi901578n

26.

Banerjee M, Chai SC, Wu J, Robbins D, Chen T (2016) Tryptophan 299 is a conserved residue of human pregnane X receptor critical for the functional consequence of ligand binding. Biochem Pharmacol 104:131–138. https://doi.org/10.1016/j.bcp.2016.02.009

27.

Li L, Welch MA, Li Z, Mackowiak B, Heyward S, Swaan PW, Wang H (2019) Mechanistic insights of phenobarbital-mediated activation of human but not mouse pregnane X receptor. Mol Pharmacol 96(3):345–354. https://doi.org/10.1124/mol.119.116616

28.

Delfosse V, Dendele B, Huet T, Grimaldi M, Boulahtouf A, Gerbal-Chaloin S, Beucher B, Roecklin D, Muller C, Rahmani R, Cavailles V, Daujat-Chavanieu M, Vivat V, Pascussi JM, Balaguer P, Bourguet W (2015) Synergistic activation of human pregnane X receptor by binary cocktails of pharmaceutical and environmental compounds. Nat Commun 6:8089. https://doi.org/10.1038/ncomms9089

29.

Hariparsad N, Chu X, Yabut J, Labhart P, Hartley DP, Dai X, Evers R (2009) Identification of pregnane-X receptor target genes and coactivator and corepressor binding to promoter elements in human hepatocytes. Nucleic Acids Res 37(4):1160–1173. https://doi.org/10.1093/nar/gkn1047

30.

Lin W, Liu J, Jeffries C, Yang L, Lu Y, Lee RE, Chen T (2014) Development of BODIPY FL vindoline as a novel and high-affinity pregnane X receptor fluorescent probe. Bioconjug Chem 25(9):1664–1677. https://doi.org/10.1021/bc5002856

31.

Martinez Molina D, Jafari R, Ignatushchenko M, Seki T, Larsson EA, Dan C, Sreekumar L, Cao Y, Nordlund P (2013) Monitoring drug target engagement in cells and tissues using the cellular thermal shift assay. Science 341(6141):84–87. https://doi.org/10.1126/science.1233606

32.

Jafari R, Almqvist H, Axelsson H, Ignatushchenko M, Lundback T, Nordlund P, Martinez Molina D (2014) The cellular thermal shift assay for evaluating drug target interactions in cells. Nat Protoc 9(9):2100–2122. https://doi.org/10.1038/nprot.2014.138

33.

Martinez NJ, Asawa RR, Cyr MG, Zakharov A, Urban DJ, Roth JS, Wallgren E, Klumpp-Thomas C, Coussens NP, Rai G, Yang SM, Hall MD, Marugan JJ, Simeonov A, Henderson MJ (2018) A widely-applicable high-throughput cellular thermal shift assay (CETSA) using split Nano Luciferase. Sci Rep 8(1):9472. https://doi.org/10.1038/s41598-018-27834-y

34.

Wang H, Li H, Moore LB, Johnson MD, Maglich JM, Goodwin B, Ittoop OR, Wisely B, Creech K, Parks DJ, Collins JL, Willson TM, Kalpana GV, Venkatesh M, Xie W, Cho SY, Roboz J, Redinbo M, Moore JT, Mani S (2008) The phytoestrogen coumestrol is a naturally occurring antagonist of the human pregnane X receptor. Mol Endocrinol 22(4):838–857. https://doi.org/10.1210/me.2007-0218

35.

Motta S, Callea L, Giani Tagliabue S, Bonati L (2018) Exploring the PXR ligand binding mechanism with advanced molecular Dynamics methods. Sci Rep 8(1):16207. https://doi.org/10.1038/s41598-018-34373-z

36.

Waterhouse AM, Procter JB, Martin DM, Clamp M, Barton GJ (2009) Jalview Version 2—a multiple sequence alignment editor and analysis workbench. Bioinformatics 25(9):1189–1191. https://doi.org/10.1093/bioinformatics/btp033

37.

Robert X, Gouet P (2014) Deciphering key features in protein structures with the new ENDscript server. Nucleic Acids Res 42(Web Server issue):W320–W324. https://doi.org/10.1093/nar/gku316

38.

Lin W, Wu J, Dong H, Bouck D, Zeng FY, Chen T (2008) Cyclin-dependent kinase 2 negatively regulates human pregnane X receptor-mediated CYP3A4 gene expression in HepG2 liver carcinoma cells. J Biol Chem 283(45):30650–30657. https://doi.org/10.1074/jbc.M806132200

39.

Banerjee M, Chen T (2013) Differential regulation of CYP3A4 promoter activity by a new class of natural product derivatives binding to pregnane X receptor. Biochem Pharmacol 86(6):824–835. https://doi.org/10.1016/j.bcp.2013.07.023

40.

Goodwin B, Hodgson E, Liddle C (1999) The orphan human pregnane X receptor mediates the transcriptional activation of CYP3A4 by rifampicin through a distal enhancer module. Mol Pharmacol 56(6):1329–1339

41.

Pondugula SR, Brimer-Cline C, Wu J, Schuetz EG, Tyagi RK, Chen T (2009) A phosphomimetic mutation at threonine-57 abolishes transactivation activity and alters nuclear localization pattern of human pregnane × receptor. Drug Metab Dispos 37(4):719–730. https://doi.org/10.1124/dmd.108.024695

42.

Banerjee M, Chen T (2014) Thiazide-like diuretic drug metolazone activates human pregnane X receptor to induce cytochrome 3A4 and multidrug-resistance protein 1. Biochem Pharmacol 92(2):389–402. https://doi.org/10.1016/j.bcp.2014.08.025

43.

Wang YM, Chai SC, Lin W, Chai X, Elias A, Wu J, Ong SS, Pondugula SR, Beard JA, Schuetz EG, Zeng S, Xie W, Chen T (2015) Serine 350 of human pregnane X receptor is crucial for its heterodimerization with retinoid X receptor alpha and transactivation of target genes in vitro and in vivo. Biochem Pharmacol 96(4):357–368. https://doi.org/10.1016/j.bcp.2015.06.018

44.

Jenster G, Spencer TE, Burcin MM, Tsai SY, Tsai MJ, O'Malley BW (1997) Steroid receptor induction of gene transcription: a two-step model. Proc Natl Acad Sci USA 94(15):7879–7884. https://doi.org/10.1073/pnas.94.15.7879

45.

Li H, Redinbo MR, Venkatesh M, Ekins S, Chaudhry A, Bloch N, Negassa A, Mukherjee P, Kalpana G, Mani S (2013) Novel yeast-based strategy unveils antagonist binding regions on the nuclear xenobiotic receptor PXR. J Biol Chem 288(19):13655–13668. https://doi.org/10.1074/jbc.M113.455485

46.

Kamentsky L, Jones TR, Fraser A, Bray MA, Logan DJ, Madden KL, Ljosa V, Rueden C, Eliceiri KW, Carpenter AE (2011) Improved structure, function and compatibility for Cell Profiler: modular high-throughput image analysis software. Bioinformatics 27(8):1179–1180. https://doi.org/10.1093/bioinformatics/btr095

47.

Lamprecht MR, Sabatini DM, Carpenter AE (2007) Cell Profiler: free, versatile software for automated biological image analysis. Biotechniques 42(1):71–75. https://doi.org/10.2144/000112257

48.

Carpenter AE, Jones TR, Lamprecht MR, Clarke C, Kang IH, Friman O, Guertin DA, Chang JH, Lindquist RA, Moffat J, Golland P, Sabatini DM (2006) Cell Profiler: image analysis software for identifying and quantifying cell phenotypes. Genome Biol 7(10):R100. https://doi.org/10.1186/gb-2006-7-10-r100

49.

Harder E, Damm W, Maple J, Wu C, Reboul M, Xiang JY, Wang L, Lupyan D, Dahlgren MK, Knight JL, Kaus JW, Cerutti DS, Krilov G, Jorgensen WL, Abel R, Friesner RA (2016) OPLS3: a force field providing broad coverage of drug-like small molecules and proteins. J Chem Theory Comput 12(1):281–296. https://doi.org/10.1021/acs.jctc.5b00864

50.

Friesner RA, Murphy RB, Repasky MP, Frye LL, Greenwood JR, Halgren TA, Sanschagrin PC, Mainz DT (2006) Extra precision glide: docking and scoring incorporating a model of hydrophobic enclosure for protein-ligand complexes. J Med Chem 49(21):6177–6196. https://doi.org/10.1021/jm051256o

51.

Zhao W, Sachsenmeier K, Zhang L, Sult E, Hollingsworth RE, Yang H (2014) A new bliss independence model to analyze drug combination data. J Biomol Screen 19(5):817–821. https://doi.org/10.1177/1087057114521867
Acknowledgements
We thank all members of the Chen research laboratory and the High-Throughput Bioscience Center for valuable discussions of the paper, the Hartwell Center at St. Jude Children's Research Hospital for DNA sequencing, and Drs. Bert W. O'Malley and Sridhar Mani for plasmids. This work was supported in part by ALSAC and by the National Institutes of Health (Grants R35-GM118041 [to TC] and P30-CA21765 [to the St. Jude Cancer Center to support Cancer Center shared resources]). The content is solely the responsibility of the authors and does not necessarily represent the official views of the National Institutes of Health.
Ethics declarations
Conflict of interest
Authors Taosheng Chen and Wenwei Lin have filed the following patent: Chen T, Lin W, Wang Y. PCT/US2017/021949: 1,4,5-Substituted 1,2,3-Triazole Analogues as Antagonists of the Pregnane X Receptor. International Patent Application published September 28, 2017 as WO/2017/165139; US Patent Application published March 14, 2019 as US 2019/0077770 A1.
Additional information
Publisher's Note
Springer Nature remains neutral with regard to jurisdictional claims in published maps and institutional affiliations.
Electronic supplementary material
Below is the link to the electronic supplementary material.
About this article
Cite this article
Huber, A.D., Wright, W.C., Lin, W. et al. Mutation of a single amino acid of pregnane X receptor switches an antagonist to agonist by altering AF-2 helix positioning. Cell. Mol. Life Sci. 78, 317–335 (2021). https://doi.org/10.1007/s00018-020-03505-y
Received:

Revised:

Accepted:

Published:

Issue Date:
Keywords
Nuclear receptor

Drug metabolism

Corepressor

Coactivator

Cytochrome P450

Xenobiotics