Abstract
Motivated by the concept of well-covered graphs, we define a graph to be well-bicovered if every vertex-maximal bipartite subgraph has the same order (which we call the bipartite number). We first give examples of them, compare them with well-covered graphs, and characterize those with small or large bipartite number. We then consider graph operations including the union, join, and lexicographic and cartesian products. Thereafter we consider simplicial vertices and 3-colored graphs where every vertex is in triangle, and conclude by characterizing the maximal outerplanar graphs that are well-bicovered.
Access options
Buy single article
Instant access to the full article PDF.
US$ 39.95
Tax calculation will be finalised during checkout.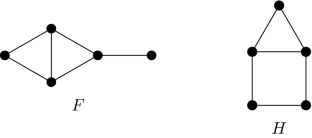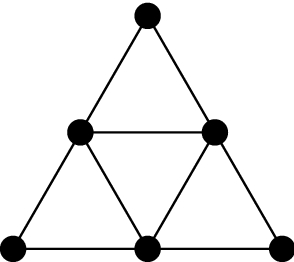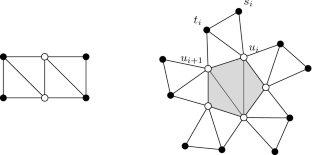 References
1.

Campbell, S.R., Ellingham, M.N., Royle, G.F.: A characterisation of well-covered cubic graphs. J. Comb. Math. Comb. Comput. 13, 193–212 (1993)

2.

Finbow, A., Hartnell, B., Nowakowski, R.J.: A characterization of well covered graphs of girth \(5\) or greater. J. Comb. Theory Ser. B 57, 44–68 (1993)

3.

Hartnell, B.L., Rall, D.F.: On the Cartesian product of non well-covered graphs. Electron. J. Comb. 20(2) (2013) Paper 21, 4

4.

Plummer, M.D.: Some covering concepts in graphs. J. Comb. Theory 8, 91–98 (1970)

5.

Prisner, E., Topp, J., Vestergaard, P.D.: Well covered simplicial, chordal, and circular arc graphs. J. Graph Theory 21, 113–119 (1996)

6.

Ravindra, G.: Well-covered graphs. J. Comb. Inf. Syst. Sci. 2, 20–21 (1977)

7.

Topp, J., Volkmann, L.: On the well-coveredness of products of graphs. Ars Comb. 33, 199–215 (1992)

8.

Zhu, X.: Bipartite subgraphs of triangle-free subcubic graphs. J. Comb. Theory Ser. B 99, 62–83 (2009)
Additional information
Publisher's Note
Springer Nature remains neutral with regard to jurisdictional claims in published maps and institutional affiliations.
About this article
Cite this article
Goddard, W., Kuenzel, K. & Melville, E. Graphs in which all maximal bipartite subgraphs have the same order. Aequat. Math. 94, 1241–1255 (2020). https://doi.org/10.1007/s00010-020-00700-x
Received:

Revised:

Published:

Issue Date:
Keywords
Well-covered graph

Bipartite subgraph

Maximal
Mathematics Subject Classification