Abstract
In the city of Valencia (Spain), domes covered by blue-glazed roofing tiles are common, but there is one that stands out above all others; the dome of the Escuelas Pías, one of the largest single-shell domes of Christianity. This dome is pending repair due to the appearance of large cracks. The present contribution aims to take us closer to the construction of the dome. By following a historical trajectory, we broaden its formal analysis providing a constructive approach that determines some factors on which some questions and controversies have been raised. Thus, we intend to solve these issues and others based on the results obtained from a high-precision graphic survey carried out by the authors. Based on the analysis of this graphic survey, new contributions regarding to its current morphology and the construction system used will be facilitated, revealing some unknowns that enable the understanding of its structural functioning and its constructive technology.
This is a preview of subscription content, log in to check access.
Access options
Buy single article
Instant access to the full article PDF.
US$ 39.95
Price includes VAT for USA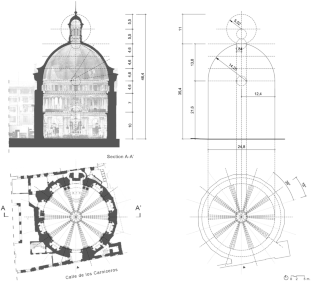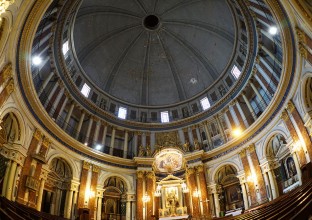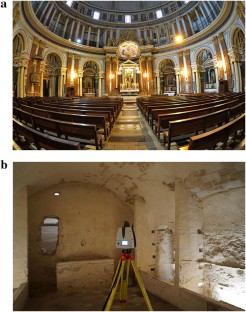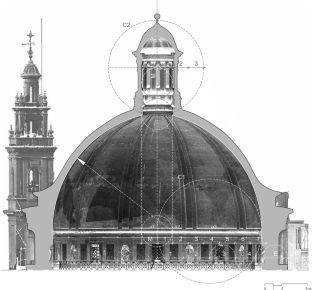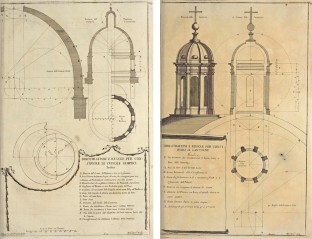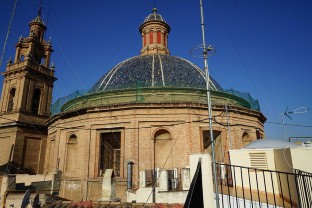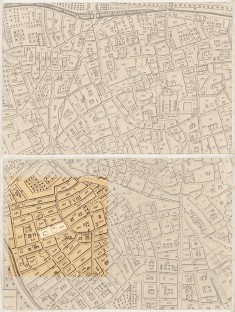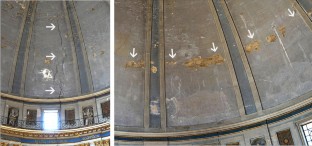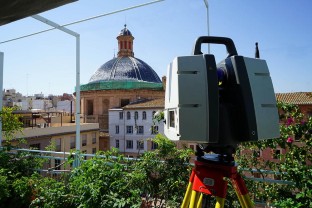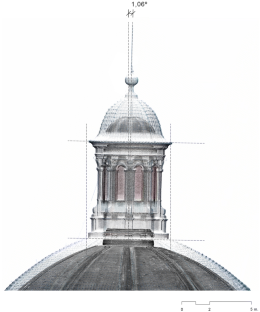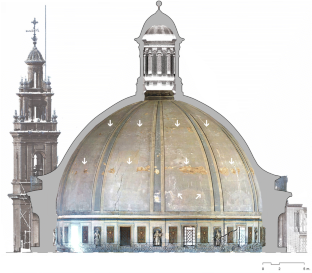 References
Bails, Benito. 1796. Elementos de matemáticas. Que trata de la arquitectura civil, Tom. IX, parte 1, 2ª ed. Madrid: Imprenta de la Viuda de D. Joaquín Ibarra.

Bérchez, Joaquín. 1983. Iglesia de las Escuelas Pías. In: Catálogo de Monumentos y conjuntos de la Comunidad Valenciana, vol. 2, ed. Joaquín Bérchez, 492–504. Valencia: Generalitat Valenciana, Conselleria de Cultura, Educació i Ciència.

Corbín Ferrer, José-Luis. 2001. Origen e historia de las calles del centro histórico de Valencia, vol. 1. Valencia: Fundación de Aguas de Valencia.

Cortés Meseguer, Luis. 2018. La reforma neóclasica de la Catedral de Valencia: diseño y ejecución. In: Thesaurus Ecclesiae, Thesaurus Mundi. Las Jornadas sobre el Patrimonio Cultural de la Iglesia, Xàtiva, 2016, ed. J. I. Pérez Giménez, 67–92. Xátiva: Iglesia Colegial Basílica de Santa María de Xàtiva.

Ferrer, Francisco. 1831. Plano geométrico de la ciudad de Valencia llamada del Cid. Dedicado a la Real Sociedad Económica de la misma por D. Francisco Ferrer Académico de mérito en la clase de Arquitectura de la Real de Nobles Artes de S. Carlos, AÑO 1831. Biblioteca Valenciana Digital. https://bv2.gva.es/es/consulta/registro.do?id=7310.

Fontana, Carlo. 1694. Il Tempio Vaticano e sua origine, 399–401. Rome: Nella Stamparia di Gio. Francesco Buagni.

Guastavino, Rafael. 1893. Essay on the theory and history of cohesive construction, applied especially to the timbrel vault, 2ª ed. Boston: Ticknor and company.

Huerta Fernández, Santiago. 2007. Oval Domes: History, Geometry and Mechanics. Nexus Network Journal 9(2): 211-248. https://doi.org/10.1007/s00004-007-0040-3.

Montoliu Soler, Violeta. 1983. Escuelas Pías. In: Catalogo monumental de la ciudad de Valencia, ed. F. M. Garín Ortiz de Taranco, 355–356. Valencia: Caja de Ahorros de Valencia.

Murphy, Maurice, Sara Pavia, Eugene McGovern. 2015. Correlation of Laser-scan Surveys of Irish Classical Architecture with Historic Documentation from Architectural Pattern Books. In: Architecture and Mathematics from Antiquity to the Future, eds. Kim Williams and Michael J. Ostwald, vol. II, 541–550. Basel: Birkhäuser.

Rodríguez-Navarro, Pablo. 2012. Automated Digital photogrammetry versus the systems based on active 3D sensors – La Fotogrametría Digital Automatizada frente a los sistemas basados en sensores 3D activos. Revista EGA, 20, año 17: 100–111.

Soler Verdú, Rafael. 1993. Escuelas Pías Master plan. Valencia: not published.

Soler Verdú, Rafael. 1996. Cúpulas en la arquitectura valenciana de los siglos XVI a XVIII. In: Actas del Primer Congreso Nacional de Historia de la Construcción, eds. A. de las Casas, S. Huerta, E. Rabasa, 491–498. Madrid: I. Juan de Herrera, CEHOPU.

Soler Verdú, Rafael and Alba Soler Estrela. 2015. Tipología de cúpulas tabicadas. Geometría y construcción en la Valencia del siglo XVIII. Informes de la Construcción. http://dx.doi.org/10.3989/ic.13.180.

Soler Blázquez, Víctor José. 2017. Origen y establecimiento de las Escuelas Pías en Valencia (1735–1742). Tesis Doctoral. Universidad CEU Cardenal Herrera. Valencia. https://repositorioinstitucional.ceu.es/bitstream/10637/8539/1/Origen%20y%20establecimiento%20de%20las%20Escuelas%20P%c3%adas%20en%20Valencia_1735-1742.pdf

Spallone, Roberta, and Marco Vitali. 2017. Volte stellari e planteriane negli atri barocchi in Torino. Canterano: Aracne.

Verdiani, Giorgio. 2019. Digital survey: from new technology to everyday use, a knowledge path and challenge for scholars. EGE Revista de Expresión Gráfica en la Edificación 11: 94-105.

Zacarés, José María. 1849. Antigüedades y bellezas de Valencia. Colegio Andresiano e Iglesia de las Escuelas Pías. Revista Edetana, 369–371, 401–403. Valencia: Jose Ruis.
Acknowledgements
We would like to thank Professor Rafael Soler Verdú, conservation architect of the Escuelas Pías of Valencia, for all the information provided and the interesting discussions we had a chance to share with him. We would also like to thank architect Alba Soler Estrela, for entrusting us the dome surveys by means of laser scanning and photogrammetry. Likewise, we thank architects Luis Cortés Meseguer and Ricardo Perelló Roso for the information provided to prepare this article. And finally, our acknowledgment to the Escuelas Pías of Valencia for facilitating the access to its premises to carry out the graphic survey work.
Additional information
Publisher's Note
Springer Nature remains neutral with regard to jurisdictional claims in published maps and institutional affiliations.
About this article
Cite this article
Rodriguez-Navarro, P., Gil-Piqueras, T. New Contributions on the Escuelas Pías Dome in Valencia. Nexus Netw J (2020). https://doi.org/10.1007/s00004-020-00500-5
Keywords
Dome

Neoclassicism

Structural systems

Escuelas Pías

Geometric analysis