Abstract
In Germany, there are numerous legal regulations that address radioactivity in food, animal feed and environmental sources. With regard to the accident-relevant radionuclides 137Cs and 90Sr, the Radiation Protection Act is of particular importance. When calculating the consumer's exposure to radiation, all relevant entry paths, e.g. air, feed, crop or cow milk must be taken into account. Compliance with the limits of the effective dose and of individual partial body doses is controlled and ensured by a variety of regulations, including, but not limited to strict regulations and requirements for the operation of nuclear facilities. A comprehensive monitoring of radioactivity from various environmental and dietary sources is mandatory in order to ensure consumer's safety.
Access options
Buy single article
Instant access to the full article PDF.
US$ 39.95
Tax calculation will be finalised during checkout.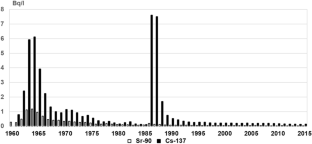 References
Annual Report (1990–2015) Environmental radioactivity and radiation exposure. Reports of the years 1990–2015, publisher: Federal Ministry for the Environment, Nature Conservation and Nuclear Safety, Bonn

AVV-IMIS (2006) General administrative regulation for the integrated measurement and information system for the monitoring of radioactivity in the environment (IMIS) according to the Radiation Prevention Act (AVV-IMIS) of December 13, 2006- Appendix 1: Measurement program for normal operation (routine measurement program)- Appendix 2: Measurement program for intensive operation (intensive measurement program) - Appendix 3: Federal List of Descriptors (Federal list of descriptors (BEDL) Version 8.0)

Codex Guideline, Codex Alimentarius Commission (1989) Contaminants: guideline levels for radionuclides in food following accidental nuclear contamination for use in international trade. Supplement to Codex Alimentarius Volume XVII, 1st ed. Rome: Joint FAO/WHO Food Standards Programme

Commission Implementing Regulation (EU) (2017/2058) of 10 November 2017 amending Implementing Regulation (EU) 2016/6 imposing special conditions governing the import of feed and food originating in or consigned from Japan following the accident at the Fukushima nuclear power

Council Regulation (2008) EC No. 733/2008 of 15 July 2008 on import conditions for agricultural products originating in third countries after the accident at the Chernobyl nuclear power plant

Council Regulation (2016/52/Euratom) of 15 January 2016 laying down maximum levels of radioactivity in food and feed in the event of a nuclear accident or other radiological emergency and repealing Regulation (Euratom) No. 3954/87 of the Council and of Regulations (Euratom) No 944/89 and (Euratom) No 770/90

Deutsche Gesellschaft für Ernährung DGE (2020) 10 Regeln der DGE für eine vollwertige Ernährung. https://www.dge.de/ernaehrungspraxis/vollwertige-ernaehrung/10-regeln-der-dge/. Accessed 18 Sept 2020

Directive (2013/59/Euratom) of the council of the European Union of 5 December 2013 laying down basic safety standards for protection against the dangers of exposure to ionizing radiation and repealing Directives 89/618/Euratom, 90 / 641 / Euratom, 96/29 /Euratom, 97/43/Euratom and 2003/122/Euratom

Implementing Regulation (2011) EU No 961/2011 of the Commission of September 27, 2011 on the adoption of special regulations for the import of food and feed, the origin or origin of which is Japan, after the accident at the Fukushima nuclear power plant and on the repeal of Regulation (EU) No. 297/2011

Implementing Regulation (2012) EU No. 284/2012 of the Commission of 29 March 2012 laying down special provisions for the import of food and feed, the origin or origin of which is Japan, after the accident at the Fukushima nuclear power plant and to repeal the implementing regulation (EU) No. 961/2011

Radiation Protection Act, StrlSchG (2017) for protection against the harmful effects of ionizing radiation of June 27, 2017 (in force from October 1, 2017)

Regulation (EC) (2002) No 178/2002 of the European Parliament and of the Council of 28 January 2002 laying down the general principles and requirements of food law, establishing the European Food Safety Authority and laying down procedures in matters of food safety

StrVG (1986) for preventive protection of the population against radiation exposure (Radiation Protection Precautionary Act—StrVG) of December 19, 1986 (Federal Law Gazette I p. 2610), last amended by Article 91 of the Ordinance of August 31, 2015 (Federal Law Gazette I p. 1474) (repealed by Article 4 of the Law of June 27, 2017 (Federal Law Gazette I p. 1966) 1.10.2017

StrlSchV (2018) on protection from the harmful effects of ionizing Radiation. Date of issue: 11/29/2018, (Federal Law Gazette I p. 2034, 2036)

Willet WC, Ludwig DS (2020) Milk and health. N Engl J Med 382(7):644–652
Additional information
Publisher's Note
Springer Nature remains neutral with regard to jurisdictional claims in published maps and institutional affiliations.
Supplementary Information
Below is the link to the electronic supplementary material.
About this article
Cite this article
Haase, G., Vagt, T. & Fritsche, J. Monitoring environmental radionuclide activity of the incident-relevant radionuclides 137Cs und 90Sr in animal feed and foodstuffs consumed in Germany. J Consum Prot Food Saf (2021). https://doi.org/10.1007/s00003-020-01309-7
Keywords
Food

Feed

Environmental radioactivity

Monitoring

Radiation Protection Act