Abstract
Beer is one of the oldest alcoholic beverages; however, it may be contaminated by aflatoxin B1 (AFB1), a highly toxic mycotoxin. The content of AFB1 in 384 samples from 16 trademarks of clear lager beers, produced by two Mexican breweries, was evaluated and physicochemical parameters were determined. Samples were collected (4 canned or bottled beers per trademark per month) from July to December 2014 in Sonora, Northwest Mexico. Overall, results showed that all beers contained AFB1 in a range of 0.203–0.2408 μg/L. pH values, total acidity and alcohol level were significantly different (p < 0.05) between breweries; while colour and bitterness units showed no statistical differences. The Pearson correlation test revealed a significant positive (p < 0.05) relationship between the alcohol content and AFB1 levels. Although Maximum Residue Levels (MRL) have not been established for AFB1 in beer, there is a limit for processed cereals; accordingly, none of the samples exceeded the MRL of AFB1 set by Mexican standard (20 μg/L) or by the European Community (2 μg/L) for cereals and cereal-based products. However, the estimated exposure for heavy and very heavy beer consumer (0.0011, and 0.0013 μg kg/bodyweight/day, respectively) suggested that they may be exposed to significant levels of this toxin. Nonetheless, further research is still needed to determine if heavy beer consumption (> 1 L per day) represents a serious health hazard for consumers.
This is a preview of subscription content, log in to check access.
Access options
Buy single article
Instant access to the full article PDF.
US$ 39.95
Price includes VAT for USA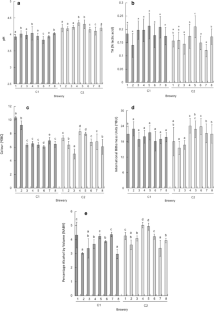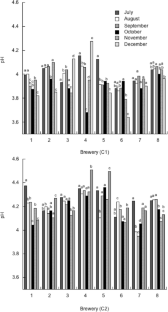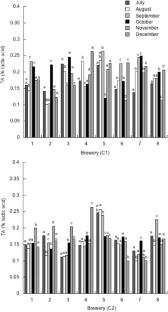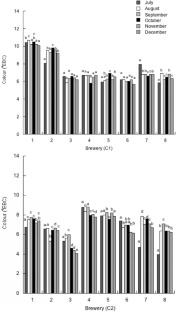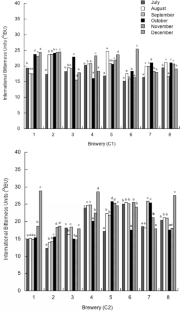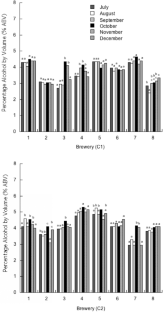 References
Adekoya I, Obadina A, Adaku CC, Boevre MD, Okoth S, Saeger SD, Njobeh P (2018) Mycobiota and co-occurrence of mycotoxins in South African maize-based opaque beer. Int J Food Microbiol 270:22–30

Alshannaq A, Yu J-E (2017) Occurrence, toxicity, and analysis of major mycotoxins in food. Int J Environ Res Public Health 14:632. https://doi.org/10.3390/ijerph14060632

ASBC (1992) Beer-8. Total acidity. In: ASBC methods of analysis, 8th edn. American Society of Brewing Chemists, St. Paul, Minnesota

Bamforth CW (2002) Nutritional aspects of beer—a review. Nutr Res 22:227–237

Bauer JI, Gross M, Gottschalk C, Usleber E (2016) Investigations on the occurrence of mycotoxins in beer. Food Control 63:135–139

Bernhoft A, Torp M, Clasen P-E, Løes A-K, Kristoffersen AB (2012) Influence of agronomic and climatic factors on Fusarium infestation and mycotoxin contamination of cereals in Norway. Food Addit Contam Part A 29(7):1129–1140

Bertuzzi T, Rastelli S, Mulazzi A, Donadini G, Pietri A (2011) Mycotoxin occurrence in beer produced in several European countries. Food Control 22:2059–2064

Briggs DE, Boulton CA, Brookes PA, Steven R (2004) Brewing: science and practice. Woodhead Publishing Limited and CRC Press, Cambridge

Bucio C, Cabriales J, Guzmán de Peña D (2001) Producción de aflatoxinas en maíz in vitro. Rev Mex Fitopatol 19:218–222

Bullerman LB, Bianchini A (2007) Stability of mycotoxins during food processing. Int J Food Microbiol 119(1–2):140–146

Burdaspal PA, Legarda TM (2013) Survey of aflatoxin in beer sold in Spain and other European countries. World Mycotoxin J 6:93–101

Case GA, Distefano S, Logan BK (2000) Tabulation of alcohol content of beer and malt beverages. J Anal Toxicol 24:202–210

Chu FS, Chang CC, Ashoor SH, Prentice N (1975) Stability of aflatoxin B1 and ochratoxin A in brewing. Appl Microbiol 29:313–316

Colen L, Swinnen J (2016) Economic growth, globalization and beer consumption. J Agric Econ 67:186–207

Coote N, Kirsop BH (1974) The content of some organic acids in beer and other fermented media. J Inst Brew 80:474–483

Cotty PJ, Jaime-Garcia R (2007) Influences of climate on aflatoxin production fungi and aflatoxin contamination. Int J Food Microbiol 119:109–115

Desjardins AE, Manandhar G, Plattner RD, Maragos CM, Shrestha K, McCormick SP (2000) Occurrence of Fusarium species and mycotoxins in Nepalese maize and wheat and the effect of traditional processing methods on mycotoxin levels. J Agric Food Chem 48:1377–1383

Dresel M, Vogt C, Dunkel A, Hofmann T (2016) The bitter chemodiversity of Hops (Humulus lupulus L.). J Agric Food Chem 64:7789–7799

EBC (2010) Methods. Available from: http://www.analytica-ebc.com/index.php?mod=contents&scat=16

Enevoldsen BS (1985) Determining pasteurization units from residual melibiase activity in lager beer. Am Soc Brew Chem J 43:183–189

European Commission (2010) Commission regulation (EU) No 165/2010 of 26 February 2010 amending regulation (EC) No 1881/2006 setting maximum levels for certain contaminants in foodstuffs as regards aflatoxins. OJEU L50:8–12

Fakruddin M, Chowdhury A, Hossain MN, Ahmed MM (2015) Characterization of aflatoxin producing Aspergillus flavus from food and feed samples. Springerplus 4:159. https://doi.org/10.1186/s40064-015-0947-1

Furukawa SA, Kunzb T, Cortés RN, MacKinlaya J, Hughes P, Frank-Jürgen M (2011) Impact of colour adjustment on flavour stability of pale lager beers with a range of distinct colouring agents. Food Chem 123:850–859

García S, Heredia N (2006) Mycotoxins in Mexico: epidemiology, management, and control strategies. Mycopathologia 162(3):255–264

Gauss S, Beatty E (2014) The world´s beer: the historical geography of brewing in Mexico. In: Patterson M, Hoalst-Pullen N (eds) The geography of beer. Springer, Dordrecht, pp 57–65

Gohil K, Enhoffer D (2014) Modest growth seen in epilepsy market. Pharm Therp 39:786–787

Guyot-Declerck C, Fran N, Ritter C, Govaerts B, Collin S (2005) Influence of pH and ageing on beer organoleptic properties. A sensory analysis based on AEDA data. Food Qual Prefer 16:157–162

Guzmán de Peña D (2007) Exposure to aflatoxin B1 in experimental animals and its public health significance. Salud Publ Mex 49:227–235

Hart FL, Fisher HJ (1971) Alcoholic beverages. In: Hart FL, Fisher HJ (eds) Modern food analysis. Springer, New York, pp 28–51

Hlywka JJ, Bullerman LB (1999) Occurrence of fumonisins B1 and B2 in beer. Food Addit Contam 16:319–324

Huang DB, Sanchez AP, Triana E, Jiang ZD, DuPont HL, Ericson CD (2004) United States male students who heavily consume alcohol in Mexico are at greater risk of travelers´ diarrhea than their female counterparts. J Travel Med 11:143–147

IARC - International Agency for Research on Cancer (1988) Monographs on the evaluation of carcinogenic risks to humans, no 44, chemical Composition of alcoholic beverages, additives and contaminants. Available from: https://www.ncbi.nlm.nih.gov/books/NBK531662/

IARC - International Agency for Research on Cancer (2002) Monographs on the evaluation of carcinogenic risks to humans, vol 82. IARC Press, Lyon, pp 171–275

Inoue T, Nagatomi Y, Uyama A, Mochizuki N (2013) Fate of mycotoxins during beer brewing and fermentation. Biosci Biotechnol Biochem 77(7):1410–1415

Jager AV, Tedesco MP, Souto PC, Oliveira CAF (2013) Assessment of Aflatoxin intake in Sao Paulo, Brazil. Food Control 33:37–92

JEFCA-Joint FAO/WHO Expert Committee on Food Additives (2001) Safety evaluation of certain mycotoxins in food. In: Prepared by the fifty sixty meeting of the Joint FAO/WHO Expert Committee on food additives in food additives series (Vol 47) WHO, Geneva

Kenning D, Jackson R (2006) Beers of world. Parragon Books Ltd, London

Koleoso OA, Olatunji O (1992) Sorghum malt/adjunct replacement in clear (lager) beer: policy and practice in Nigeria. In: Gomez MI, House IR, Rooney LW, Dendy DAV (eds) Utilization of sorghum and millets. International Crops Research Institute for the Semi-Arid Tropics, Patancheri, pp 41–45

Kostelanska M, Hajslova J, Zachariasova M, Malachova A, Kalachova K, Poustka J, Fiala J, Scott PM, Berthiller F, Krska R (2009) Occurrence of deoxynivalenol and its major conjugate, deoxynivalenol-3-glucoside, in beer and some brewing intermediates. J Agric Food Chem 57:3187–3194

Kuiper-Goodman T (1998) Food safety, mycotoxins and phycotoxins in perspective. In: Miragila M, van Egmond HP, Brera C, Gilbert J (eds) Mycotoxins and phycotoxins: developments in chemistry, toxicology and food safety. Alaken, Rome, pp 25–48

Kushiro M, Hatabayashi H, Yabe K, Loladze A (2018) Detection of Aflatoxigenic and Atoxigenic Mexican Aspergillus strains by the Dichlorvos–Ammonia (DV–AM) Methods Toxin 10(7):263. https://doi.org/10.3390/toxins10070263

Leblanc JC, Tard A, Volatier JL, Verger P (2005) Estimated dietary exposure to principal food mycotoxins from the First French Total Diet Study. Food Addit Contam 22:652–672

Lewis L, Onsongo M, Njapau H, Schurz-Rogers H, Luber G, Kieszak S, Nyamongo J, Backer L, Dahiye AM, Misore A et al (2005) Aflatoxin contamination of commercial maize products during an outbreak of acute aflatoxicosis in eastern and central Kenya. Environ Health Perspect 113:1763–1767

Mably M, Mankotia M, Cavlovic P, Tam J, Wong L, Pantazopoulos P, Calway P, Scott PM (2005) Survey of aflatoxins in beer sold in Canada. Food Addit Contam 22:1252–1257

Matumba L, Van Poucke C, Biswick T, Monjerezi M, Mwatseteza J, De Saeger S (2014) A limited survey of mycotoxins in traditional maize based opaque beers in Malawi. Food Control 36:253–256

Mbugua SK, Gathumbi JK (2004) The contamination of Kenyan lager beers with Fusarium mycotoxins. J Inst Brew 110:227–229

Medina-Mora ME, Villatoro-Velázquez JA, Fleiz-Bautista C, Téllez-Rojo MM, Mendoza-Alvarado LR, Romero-Martínez M, Gutiérrez-Reyes JP, Castro-Tinoco M., Hernández-Ávila M, Tena-Tamayo C et al (2011) Encuesta Nacional de Adicciones 2011. Reporte de alcochol. INSP-Instituto Nac Salud Pública. http://www.uade.inpsiquiatria.edu.mx/pagina_contenidos/ENA%202011/ena%20completa%20alcohol%20memm2_copia.pdf. Accessed 15 Jan 2018

Ministerio de Agricultura, Pesca y Alimentación-Cerveceros de España (2017) Informe socioeconómico del sector de la cerveza en España. https://cerveceros.org/uploads/5b30d4612433a__Informe_Cerveceros_2017.pdf Accessed 15 Jan 2018

Montanari L, Perretti G, Natella F, Guidi A, Fantozzi P (1999) Organic and phenolic acids in beer. Lebensm Wiss u Technol 32:535–539

Nakajima M, Tsubouchi H, Miyabe M (1999) A survey of ochratoxin A and aflatoxins in domestic and imported beers in Japan by immunoaffinity and liquid chromatography. J AOAC Int 82:897–902

Nakazato M, Morozumi S, Saito K, Fujinuma KNT, Kasai N (1990) Interconversion of aflatoxin B1 and aflatoxicol by several fungi. Appl Environ Microbiol 56:1465–1470

Nakazato M, Morozumi S, Saito K, Fujinuma K, Nishima T, Kasai N (1991) Production of aflatoxins and aflatoxicols by Aspergillus flavus and Aspergillus parasiticus and metabolism of aflatoxin B1 by aflatoxin-non-producing Aspergillus flavus. Eisei Kagaku 37:107–116

Nangolo C, Musingwini C (2011) Empirical correlation of mineral commodity prices with exchange-traded mining stock prices. J S Afr Inst Min Metall 111:459–468

Niessen L (2017) Fungal contamination of barley and malt. In: Bokulich NA, Bamforth CW (eds) Brewing microbiology—current research, omics and microbial ecology. Caister Academic Press, Norfolk, pp 197–244

Nigussie A, Bekele T, Gemede HF, Woldegiorgis AZ (2018) Level of aflatoxin in industrially brewed local and imported beers collected from Ethiopia market. Cogent Food Agric 4:12453317

Nimubona D, Blanco CA, Caballero I, Rojas A, Andrés-Iglesias C (2013) An approximate shelf life prediction of elaborated lager beer in terms of degradation of its iso-α-acids. J Food Eng 116:138–143

Mexican Official Standard NOM-188-SSA1-2002 (2002) Products and services. Control aflatoxins in cereals for human and animal consumption. Sanitary specifications. http://www.salud.gob.mx/unidades/cdi/nom/188ssa12.html. Accessed 15 Jan 2018

Mexican Official Standard NOM-247-SSA1-2008 (2008) Products and services. Cereals and their products. Cereals, flour, semolina. Food product made from: cereals, edible seeds, flour, semolina, or their blends. Bakery products. Sanitary and nutritional guidelines and specifications. Test methods. http://www.salud.gob.mx/cdi/nom/compi/Mod-NOM-247-SSA1-2008_271212.pdf. Accessed 15 Jan 2018

Oladokun O, Tarrega A, James S, Smart K, Hort J, Cook D (2016) The impact of hop bitter acid and polyphenol profiles on the perceived bitterness of beer. Food Chem 15:212–220

Papadopoulou-Bouraoui A, Vrabcheva T, Valzacchi S, Stroka J, Anklam E (2004) Screening survey of deoxynivalenol in beer from the European market by an enzyme-linked immunosorbent assay. Food Addit Contam 21:607–617

Peters J, Dam RV, Doorn RV, Katerere D, Berthiller F, Haasnoot W, Nielen MWF (2017) Mycotoxin profiling of 1000 beer samples with a special focus on craft beer. PLoS One 2(10):e0185887. https://doi.org/10.1371/journal.pone.0185887

Piacentini KC, Savi GD, Olivo G, Scussel VM (2015) Quality and occurrence of deoxynivalenol and fumonisins in craft beer. Food Control 50:925–929

Pietri A, Bertuzzi T, Agosti B, Donadini G (2010) Transfer of aflatoxin B1 and fumonisin B1 from naturally contaminated raw materials to beer during an industrial brewing process. Food Addit Contam 27:1431–1439

Plasencia J (2004) Aflatoxins in maize: a Mexican perspective. J Toxicol Toxin Rev 23(2–3):155–177

Poreda A, Czarnik A, Zdaniewicz M, Jakubowski M, Antkiewicz P (2014) Corn grist adjunct – application and influence on the brewing process and beer quality. J Inst Brew 120:77–81

Prospectra (2012) ¿Cuánto mide México? Medidas corporales de la población mexicana. Boletín Intel Prospect 2:1–24

Puddey IB, Beilin LJ, Vandongen R, Rouse IL, Rogers P (1985) Evidence for a direct effect of alcohol consumption on blood pressure in normotensive men. A randomized controlled trial. Hypertension 7:707–713

Rooney LW, Serna-Saldivar SO (2003) Sorghum. In: Caballero B, Finglas PM, Toldra F (eds) Encyclopedia of food science and nutrition, 2nd edn. Academic Press, San Diego, pp 5370–5375

Ruiz-Medina A, Fernández de Cordova ML (2015) Aflatoxin B1 in beer at different stages of production. In: Preedy V (ed) Processing and impact on active components in food. Elsevier, San Diego, pp 517–523

Scott PM, Lawrence GA (1997) Determination of aflatoxins in beer. J AOAC Int 80:1229–1234

Shellhammer TH (2009) Beer color. In: Bamforth CW (ed) Beer: a quality perspective. Academic Press, Burlington, Massachusetts, pp 213–227

Shephard GS, Van Der Westhuizen L, Gatyeni PM, Somdyala NIM, Burger HM, Marasas WFO (2005) Fumonisin mycotoxins in traditional Xhosa maize beer in South Africa. J Agric Food Chem 53:9634–9637

Shrivastava A, Gupta VB (2011) Methods for the determination of limit of detection and limit of quantification of the analytical methods. Chron Young Sci 2(1):21–25

Soriano del Castillo JM, Moltó JC, Mañes J (2007) Micotoxinas en alimentos. Ediciones Diez de Santos, Madrid

Spedding G (2011) Acidity. In: Oliver G (ed) The oxford companion to beer. Oxford University Press, New York, pp 7–8

Strunin L, Díaz-Martínez LR, Díaz-Martínez A, Heeren T, Winter M, Kuranz S, Hernández-Ávila CA, Fernández-Varela H, Solís-Torres C (2015) Parental monitoring and family relations: associations with drinking patterns among male and female Mexican students. Addict Behav 51:143–151

Suárez-Bonnet E, Carvajal M, Méndez-Ramírez I, Castillo-Urueta P, Cortés-Eslava J, Gómez-Arroyo SM-VJ (2013) Aflatoxin (B1, B2, G1, and G2) Contamination in rice of Mexico and Spain, from local sources or imported. J Food Sci 78:1822–1829

Usunier JC (2018) Comparative thick description: Articulatin similarities and differences in local beer consumption experience. In: Leonidou LC, Katsikeas CS, Samiee S, Aykol B (eds) Advances in global marketing—a research anthology. Springer, Geneva, pp 189–212

Varga E, Malachova A, Schwartz H, Krska R, Berthiller F (2013) Survey of deoxynivalenol and its conjugates deoxynivalenol-3-glucoside and 3-acetyl-deoxynivalenol in 374 beer samples. Food Addit Contam Part A 30:137–146

Verhagen LC (2010) Beer flavour. In: Mander L, Liu H-W (eds) Comprehensive natural products II—chemistry and biology, vol 3. Development and modification of bioactivity. Elsevier, UK, pp 967–997

Viejo CG, Fuentes S, Howell K, Torrico DD, Dunshea FR (2019) Integration of non-invasive biometrics with sensory analysis techniques to assess acceptability of beer by consumers. Physiol Behav 200:139–147

Villa K (2011) Color units EBC. In: Oliver G (ed) The oxford companion to beer. Oxford University Press, New York, pp 259–260

Wieme AD, Spitaels F, Aerts M, De Bruyne K, Van Landschoot A, Vandamme P (2014) Identification of beer-spoilage bacteria using matrix-assisted laser desorption/ionization time-of-flight mass spectrometry. Int J Food Microbiol 18(185):41–50
Acknowledgements
The authors express their appreciation to Ricardo Reyes-Díaz (Department of Food Technology of Animal Origin) of CIAD, Mexico, for his valuable technical assistance.
Ethics declarations
Conflict of interest
The authors declare no conflict of interest.
Human and animal rights statement
This study does not contain any studies with human participants or animals performed by any of the authors.
Additional information
Publisher's Note
Springer Nature remains neutral with regard to jurisdictional claims in published maps and institutional affiliations.
Electronic supplementary material
Below is the link to the electronic supplementary material.
About this article
Cite this article
Álvarez-Segovia, K., García-Varela, R., García, H.S. et al. Determination of AFB1 in clear lager beer samples from Mexico and the possible correlation between physicochemical parameters and AFB1 levels. J Consum Prot Food Saf 15, 121–133 (2020). https://doi.org/10.1007/s00003-019-01238-0
Received:

Revised:

Accepted:

Published:

Issue Date:
Keywords
Lager beer

Mycotoxins

Aflatoxin B1

Physicochemical beer parameters

Mexican-produced beers