Abstract
The aim of the present work was to report on the occurrence of contaminants and trace elements in organically grown commercial cereal products, available in the Greek market. Moreover, the level of contamination of domestic organic cereals was compared with that of imported ones. To this end, the level of contamination by heavy metals (Pb, Cd), nitrates, trace elements (Cu, Fe, Mn, Zn, Cr, Ni, Co) and mycotoxins (aflatoxins, deoxynivalenol, zearalenone, ochratoxin, and T-2) were reported. Seventy-six organic cereals and derived products of domestic and imported origin were tested including rice, barley, oat, wheat, maize and two samples made of a mixture of grains. The levels of contamination were calculated and compared to the recommended or regulated maximum levels. The maximum levels were exceeded for lead (2), cadmium (1), aflatoxins (4), and ochratoxin (1). Contamination of samples by nitrate was below the allowed level. The level of contamination in domestic organic samples was similar to that of imported ones, except for cadmium with imported samples being more contaminated. The findings of this study are important in terms of risk to human health, but they do not support nor reject the hypothesis that organic cereals are less contaminated than the conventional ones.
This is a preview of subscription content, log in to check access.
Access options
Buy single article
Instant access to the full article PDF.
US$ 39.95
Price includes VAT for USA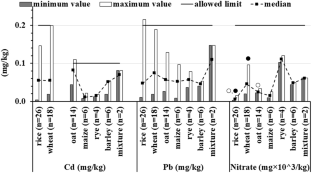 References
Al-Saleh I, Shinwari N (2001) Report on the levels of cadmium, lead, and mercury in imported rice grain samples. Biol Trace Elem Res 83:91–96

Arslanbaş E, Baydan E (2013) Metal levels in organically and conventionally produced animal and vegetable products in Turkey. Food Addit Contam B 6:130–133

Baydar T, Erkekoglu P, Sipahi H, Sahin G (2007) Aflatoxin B1, M1 and ochratoxin A levels in infant formulae and baby foods marketed in Ankara, Turkey. J Food Drug Anal 15:89–92

Biffi R, Munari M, Dioguardi L, Ballabio C, Cattaneo A, Galli CL, Restani P (2004) Ochratoxin A in conventional and organic cereal derivatives: a survey of the Italian market, 2001–02. Food Addit Contam 21:586–591

Brizio P, Benedetto A, Squadrone S, Curcio A, Pellegrino M, Ferrero M, Abete MC (2016) Heavy metals and essential elements in Italian cereals. Food Addit Contam B 9:261–267

Dong Phuong T, Kokot S, Van Chuong P, Tong Khiem D (1999) Elemental content of Vietnamese rice Part 1. Sampling, analysis and comparison with previous studies. Analyst 124:553–560

EC (2006) Commission Regulation (EC) No.1881/2006 of 19 December 2006 setting maximum levels for certain contaminants in foodstuffs. OJ L 364:5–24

EC (2007) Commission Regulation (EC) No.1126/2007 of 28 September 2007 amending Regulation (EC) No.1881/2006 setting maximum levels for certain contaminants in foodstuffs as regards Fusarium toxins in maize and maize products. OJ L 255:14–17

EC (2008) Commission Regulation (EC) No 629/2008 of 2 July 2008 amending Regulation (EC) No 1881/2006 setting maximum levels for certain contaminants in foodstuffs. OJ L 173:6–9

EC (2010) Commission Regulation (EC) No.165/2010 of 26 February 2010 amending Regulation (EC) No.1881/2006 setting maximum levels for certain contaminants in foodstuffs as regards aflatoxins. OJ L 50:8–12

EC (2015) Commission Regulation (EU) 2015/1005 of 25 June 2015 amending Regulation (EC) No 1881/2006 as regards maximum levels of lead in certain foodstuffs. OJ L 161:9–13

Fu J, Zhou Q, Liu J, Liu W, Wang T, Zhang Q, Jiang G (2008) High levels of heavy metals in rice (Oryza sativa L.) from a typical E-waste recycling area in southeast China and its potential risk to human health. Chemosphere 71:1269–1275

Hamnér K, Kirchmann H (2015) Trace element concentrations in cereal grain of long-term field trials with organic fertilizer in Sweden. Nutr Cycl Agroecosyst 103:347–358

Harcz P, De Temmerman L, De Voghel S, Waegeneers N, Wilmart O, Vromman V, Schmit JF, Moons E, Van Peteghem C, De Saeger S, Schneider YJ, Larondelle Y, Pussemier L (2007) Contaminants in organically and conventionally produced winter wheat (Triticum aestivum) in Belgium. Food Addit Contam 24:713–720

Hernández-Martínez R, Navarro-Blasco I (2010) Aflatoxin levels and exposure assessment of Spanish infant cereals. Food Addit Contam B 3:275–288

Hernández-Martínez R, Navarro-Blasco I (2012) Estimation of dietary intake and content of lead and cadmium in infant cereals marketed in Spain. Food Control 26:6–14

Hoefkens C, Verbeke W, Aertsens J, Mondelaers K, van Camp J (2009) The nutritional and toxicological value of organic vegetables: consumer perception versus scientific evidence. Br Food J 111:1062–1077

IARC (1993) Some naturally occurring substances: food items and constituents, heterocyclic aromatic amines and mycotoxins. World Health Organization, Lyon

Irakli MN, Skendi A, Papageorgiou MD (2017) HPLC-DAD-FLD method for simultaneous determination of mycotoxins in wheat bran. J Chromatogr Sci 18:1–7

IUPAC (1995) International Union of Pure and Applied Chemistry. Nomenclature in evaluation of analytical methods including detection and quantification capabilities. Pure Appl Chem 67:1699–1723

Kabak B (2009) Ochratoxin A in cereal-derived products in Turkey: occurrence and exposure assessment. Food Chem Toxicol 47:348–352

Kabak B (2012) Determination of aflatoxins and ochratoxin A in retail cereal products from Turkey by high performance liquid chromatography with fluorescence detection. Food Control 28:1–6

Karavoltsos S, Sakellari A, Dimopoulos M, Dasenakis M, Scoullos M (2002) Cadmium content in foodstuffs from the Greek market. Food Addit Contam 19:954–962

Karavoltsos S, Sakellari A, Dassenakis M, Scoullos M (2008) Cadmium and lead in organically produced foodstuffs from the Greek market. Food Chem 106:843–851

Kubo K, Watanabe Y, Oyanagi A, Kaneko S, Chono M, Matsunaka H, Seki M, Fujita M (2008) Cadmium concentration in grains of japanese wheat cultivars: genotypic difference and relationship with agronomic characteristics. Plant Prod Sci 11:243–249

Kuzdraliński A, Solarska E, Mazurkiewicz J (2013) Mycotoxin content of organic and conventional oats from southeastern Poland. Food Control 33:68–72

Magkos F, Arvaniti F, Zampelas A (2003) Putting the safety of organic food into perspective. Nutr Res Rev 16:211–222

Malmauret L, Parent-Massin D, Hardy JL, Verger P (2002) Contaminants in organic and conventional foodstuffs in France. Food Addit Contam 19:524–532

Martins C, Assunção R, Cunha SC, Fernandes JO, Jager A, Petta T, Oliveira CA, Alvito P (2018) Assessment of multiple mycotoxins in breakfast cereals available in the Portuguese market. Food Chem 239:132–140

McNaraara AS, Klepper LA, Hageman RH (1971) Nitrate content of seeds of certain crop plants, vegetables, and weeds. J Agric Food Chem 19:540–542

Perrier F, Yan B, Candaudap F, Pokrovsky OS, Gourdain E, Meleard B, Bussière S, Coriou C, Robert T, Nguyen C, Cornu JY (2016) Variability in grain cadmium concentration among durum wheat cultivars: impact of aboveground biomass partitioning. Plant Soil 404:307–320

Pleadin J, Vasilj V, Kudumija N, Petrović D, Vilušić M, Škrivanko M (2017) Survey of T-2/HT-2 toxins in unprocessed cereals, food and feed coming from Croatia and Bosnia & Herzegovina. Food Chem 224:153–159

Powers KM, Smith-Weller T, Franklin GM, Longstreth WT Jr, Swanson PD, Checkoway H (2003) Parkinson's disease risks associated with dietary iron, manganese, and other nutrient intakes. Neurology 60:1761–1766

Rahman MA, Rahman MM, Reichman SM, Lim RP, Naidu R (2014) Heavy metals in Australian grown and imported rice and vegetables on sale in Australia: health hazard. Ecotox Environ Saf 100:53–60

Rembiałkowska E (2007) Quality of plant products from organic agriculture. J Sci Food Agric 87:2757–2762

Şengül U, Yalçin E, Şengül B, Çavuşoğlu K (2016) Investigation of aflatoxin contamination in maize flour consumed in Giresun, Turkey. Qual Assur Saf of Crop 8:385–391

Skendi A, Irakli MN, Papageorgiou MD (2016) Optimized and validated high-performance liquid chromatography method for the determination of deoxynivalenol and aflatoxins in cereals. J Sep Sci 39:1425–1432

Škrbić B, Đurišić-Mladenović N, Cvejanov J (2005) Principal component analysis of trace elements in Serbian wheat. J Agric Food Chem 53:2171–2175

Tsoumbaris P, Tsoukali-Papadopoulou H (1994) Heavy metals in common foodstuff: quantitative analysis. B Environ Contam Tox 53:61–66

Zaccone C, Di Caterina R, Rotunno T, Quinto M (2010) Soil-farming system-food-health: effect of conventional and organic fertilizers on heavy metal (Cd, Cr, Cu, Ni, Pb, Zn) content in semolina samples. Soil Till Res 107:97–105
Acknowledgements
This work was supported by the European Social Fund and national resources through the Public Investment Program, Research Project ARCHIMEDES III, subproject ΟΠΣ 383572 "Monitoring mycotoxins and radioactivity level in cereal products of Greece".
Ethics declarations
Conflict of interest
The authors declare that they have no conflict of interest.
Additional information
Publisher's Note
Springer Nature remains neutral with regard to jurisdictional claims in published maps and institutional affiliations.
Electronic supplementary material
Below is the link to the electronic supplementary material.
About this article
Cite this article
Skendi, A., Papageorgiou, M., Irakli, M. et al. Presence of mycotoxins, heavy metals and nitrate residues in organic commercial cereal-based foods sold in the Greek market. J Consum Prot Food Saf 15, 109–119 (2020). https://doi.org/10.1007/s00003-019-01231-7
Received:

Revised:

Accepted:

Published:

Issue Date:
Keywords
Heavy metals

HPLC

Mycotoxins

ICP-OES

Organic cereal products