Using flow cytometry and Bacteroidales 16S rRNA markers to study the hygienic quality of source water
Announcements and Reports
Abstract
Six source water fountains in the community of Berne, Switzerland were sampled monthly over the period of 1 year. The samples were tested for total counts by flow cytometry, and for fecal contamination by using the Bacteroidales 16S rRNA markers HF183, BacR and AllBac. The total counts varied considerably between the different fountains with a minimal value of 5115 counts/L and with a maximal count of 198,508 counts/L. The long-term patterns of total counts over 1 year were typical for each fountain. Comparison of rainfall data and data for the non-specific fecal marker AllBac was shown to be a suitable approach to highlight the vulnerability of sources to environmental influences. HF183, indicating contamination of human origin, occurred only sporadically and in insignificant amounts. Furthermore, as indicated by BacR, the studied fountains showed no evidence of contamination by ruminant feces. Further work is suggested in order to establish threshold values for molecular Bacteroidales markers, which could in future replace the currently used criteria for fecal indicator bacteria.
Keywords
Flow cytometry 
Bacteroidales markers 
Drinking water 
Contamination 
Source tracking 
1

Introduction

For more than 100 years, the bacterial total count measured on plate count agar (PCA) has been used as an indicator for the bacteriological quality of drinking water. Originally, plate counting was applied by Robert Koch to test the efficacy of systems for the filtration of drinking water. At the end of the nineteenth century, there was agreement among microbiologists that filtered water with a plate count of 100 colony forming units (CFU) or less could be considered as safe for the human consumption. Subsequently, microbiological criteria based on plate counts were adopted within national legislations. In Switzerland for example, the current legislation decrees that drinking water at the source should record a maximum value of 300 CFU/mL (Baumgartner 2013). However, the discriminatory power of this approach is limited since it is known that within water samples only a very small portion of the bacterial cells are cultivable on PCA. For quantitative measurement of the entire bacterial count in a water sample, flow cytometry (FCM) is becoming established as the method of choice (Robertson and Button 1989). In medical laboratories, this method has been broadly used for decades, but in the field of water microbiology, FCM is an emerging technique. To facilitate the use of FCM by water microbiologists, a standard operating procedure to measure the total bacterial count in water samples by FCM was recently developed and validated under the lead of the Swiss Federal Institute of Aquatic Science and Technology. This method has subsequently been adopted by the Swiss Food Manual as a recommended method (Kötzsch et al. 2012). In addition to the total count there are methods used to assess the hygienic quality of drinking water, enumerating bacteria such as Escherichia coli, enterococci and sulfite reducing clostridia. These bacterial parameters serve as indicators for the possible presence of pathogenic micro-organisms whilst in hygienically conforming drinking water, they should not be detectable in 100 mL. There are attempts to replace these classical tests by modern molecular methods and one possible approach is the detection of Bacteroidales 16S rRNA genetic markers. Such markers allow not only the detection of fecal pollution but also the differentiation between contaminations of human and animal origin. The aim of the present work was the microbiological profiling of individual drinking water sources (fountains) with repeated sampling over the period of 1 year. To analyze the bacteriological load and its dynamics over time, testing with flow cytometry was conducted and to assess hygienic quality, molecular tests were applied indicating fecal contaminations from humans (Seurinck et al. 2005), from ruminants such as bovine, sheep, goat or deer (Reischer et al. 2006) and non-specific fecal markers (Layton et al. 2006).
2

Methods and materials
2.1

Investigated source water fountains

Six fountains were sampled monthly from April 2012 to March 2013. These fountains are all located in an area of about 23 km2 belonging to the community and city of Berne, Switzerland. They do not belong to the communal water distribution net and release water from individual sources. In this manuscript, the fountains were designated as follows: 1 (Hans Spycher Brunnen), 2 (Glasbrunnen), 3 (Neubrückbrunnen), 4 (Stettbrunnen), 5 (Marzilibrunnen) and 6 (Dalmazibrunnen).
2.2

Sampling procedure

Water samples were collected in sterile glass bottles and transported unrefrigerated within 2 h to the laboratory where they were analyzed without delay. During every sampling occasion, the temperature of the water was recorded as was the water shed in liters per minute.
2.3

Flow cytometry tests

For flow cytometry (FCM), a Partec CyFlow ML device was used (Partec GmbH, Münster, Germany). The total cell count was measured according to a standard operating procedure published in the Swiss Food Manual (Kötzsch et al. 2012). Each sample was measured in triplicate and the mean value calculated.
2.4

Detection of 16S rRNA markers

Water samples were tested for three 16S rRNA markers: AllBac (covering humans, cattle, equine and swine) according to Layton et al. (2006), HF183 (covering humans) according to Seurinck et al. (2005) and BacR (covering ruminants) according to Reischer et al. (2006).
2.5

Rainfall data

For rainfall data, readings recorded at the measurement station "Zollikofen" (which is in close proximity to the sampled fountains) were sourced from the "Niederschlagsbulletin" (precipitation bulletin) of the Federal Office of Meteorology and Climatology, MeteoSwiss.
2.6

Statistical testing

Antecedent rainfall data (1–5 days before sampling date) were compiled from the official precipitation bulletins and used for calculation of possible correlations with the fecal indicator AllBac. Pearson product-moment correlation coefficients were calculated in Excel and the interpretation was as follows: 0.9–1: very strong; 0.7–0.89: strong; 0.5–0.69: moderate; 0.3–0.49: low; 0.16–0.29: weak and <0.16: not correlated.
3

Results and discussion

Figure 

1

shows the locations of the six sampling sites. The fountains are all located in the community of Berne and two of the six fountains are of historical importance. The "Glasbrunnen" was mentioned in the Late Middle Ages and is located near a Celtic square ditched enclosure and the earliest written reference of the "Stettbrunnen" (lat. vicus fontis), which is located in the old town of Berne, is from the year 1349 AD. The fountains are under surveillance of the official food control authority of county Bern and deliver potable source water which agree with the microbiological criteria decreed in the Ordinance on Hygiene (Federal Department of Home Affairs

2014

). These criteria are: aerobic mesophilic plate count of 300 CFU/mL,

Escherichia coli

and

Enterococci

not detectable in 100 mL.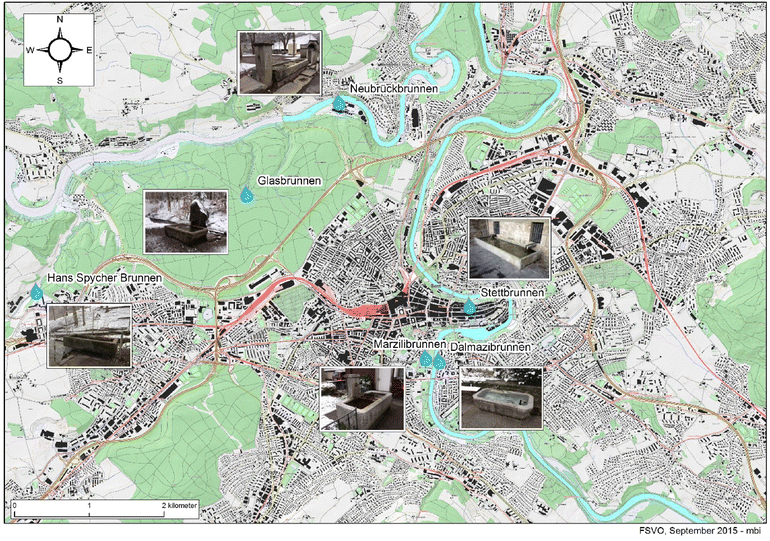 In Fig. 
2
, total counts tested by flow cytometry are presented graphically. Over the period of 1 year, each fountain was sampled monthly. This approach resulted a bacteriological profile and not only a snap-shot as it is common in routine control actions. It can be seen at first glance that the six fountains display particular profiles each which could be differentiated among each other.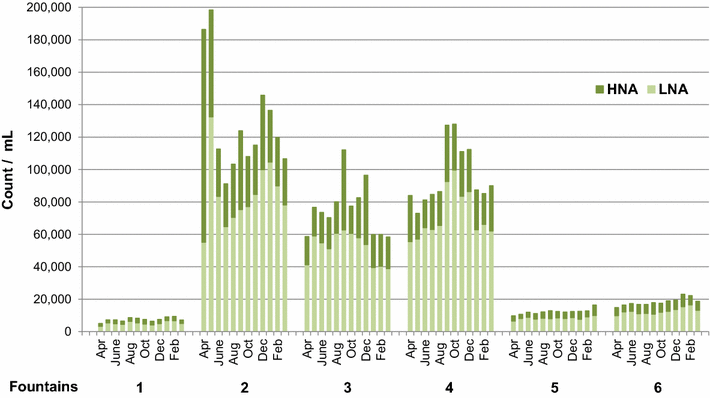 It is known that only a small portion of bacterial cells in water can be cultured on solid agar media such as plate count agar (approximately 0.1–1 %). The large majority of cells do not grow on solid media and can only be counted by flow cytometry (Egli 2010). When testing water samples using FCM, bacterial cell fractions of different size and different DNA content were identified (Robertson and Button 1989). In drinking water, two clusters occur termed high nucleic acid bacteria (HNA) and low nucleic acid bacteria (LNA). Wang et al. succeeded for the first time to cultivate LNA cells in sterile river water (Wang et al. 2009). Characterization of three LNA pure cultures by 16S rRNA sequencing showed a close relationship to the Polynucleobacter cluster. These authors also reported LNA and HNA communities in different water types from oligotrophic (alpine stream) to capiotrophic (wastewater effluent) environments, showing that LNA were numerically dominant in most of tested water samples (Wang et al. 2009). In our study, which included only potable source water, HNA and LNA fractions were demonstrated in all samples. With one exception (Fountain 2, April sample), the LNA fraction was dominating. The reason for this exception is unexplained but it is obvious that fountain 2 showed the most pronounced fluctuation of bacterial total counts (Fig. 2), indicating an environmental influence which might have shifted the LNA/HNA balance.
Table 
1
summarizes data for the watershed, temperature and total counts. As for the latter, it is interesting to notice that the counts vary considerably between the different sampling sites. The lowest count (5115 per mL) was recorded in fountain 1 and the highest count (198,508 per mL) in fountain 2 which is a difference by factor 38.8.
Table 1
Watershed, temperature and total bacterial count of source water from six fountains monthly tested over the period of 1 year
Fountain

Watershed (L/min.)

Temperature (°C)

Total count (Cells/L)

Mean

Max.

Min.

Mean

Max.

Min.

Mean

Max.

Min.

1

40.7

42.9

37.5

11.2

12.4

10.0

7593

9500

5115

2

47.9

100.0

30.0

8.7

9.9

7.6

129,049

198,508

91,270

3

12.8

16.7

7.3

10.4

16.0

6.7

75,567

112,198

58,445

4

9.8

27.3

5.0

15.2

16.4

13.6

95,936

128,038

73,005

5

8.4

10.7

2.7

13.6

15.5

9.6

12,366

16,438

9897

6

3.8

4.9

3.3

12.1

15.8

9.1

18,394

23,122

14,953
Although the six tested fountains comply with the microbiological criteria decreed in the Ordinance on Hygiene (Federal Department of Home Affairs 2014), we tested them for the occurrence of molecular markers indicating fecal pollution. Hf183, the indicator for human pollution, was found only sporadically and at very low levels. Positive results were recorded at fountain 1 with one positive sample; 402 copies per liter (CPL), fountain 2 (two positive samples; 55 and 44 CPL), fountain 3 (one positive sample; 89 CPL), fountain 4 (one positive sample; 162 CPL) and fountain 5 (one positive sample; 265 CPL). For BacR, indicating fecal contaminations from ruminants, all test results were below the limit of detection. These findings allow the conclusion that the tested waters are probably not influenced by cattle or sheep kept on farms or by ruminants living in the forests such as deer.
As shown in Table 
2
, the general
Bacteroidales
16S rRNA marker AllBac was detected in samples from all six fountains but in rather low (fountains 1–4) and very low (fountains 5 and 6) amounts. However, our findings indicate that the sampled fountains are probably subject to a slight environmental influence which is non-ruminant and mostly nonhuman. Fountain 2, where the highest value of 12,767 CPL was measured, also showed the highest variability with regard to the total count as can be seen in Fig. 
2
. This fountain is situated in a forest with wildlife and serves as a recreational area. Horseriders are often present, as are walkers and dogs, which may excrete feces into the surroundings of the waterbody.
Table 2
Occurrence of the general Bacteroides 16S rRNA marker (AllBac) in source water from six fountains, monthly tested over a 1 year period
Fountain

Bacteroides 16S rRNA marker

Meana

Maximuma

Minimuma

Positive samples

1

850

2867

293

10 of 12

2

2490

12,767

520

10 of 12

3

1366

3467

300

12 of 12

4

2520

9241

167

12 of 12

5

410

700

147

10 of 12

6

516

867

146

10 of 12
It could be demonstrated that for 4 of the 6 fountains rainfall events influenced AllBac counts as shown in Table 
3
. Notably fountains 2 and 3 seem to react quickly to rainfall, whereas fountains 1 and 4 were non-responsive to rainfall. Therefore, the occurrence of AllBac in fountains 1 and 4 remains unexplained. In this context, it should be kept in mind that rainfall data of a local station were used for calculation. However, the origin of water appearing as a source is often unknown and could be from distant areas since underground water flows can travel over long distances.
Table 3
Matrix showing the correlation between the fecal indicator AllBac and rainfall data 1–5 days prior to sampling of six fountains at different sites
| Fountain | 1 day | 2 days | 3 days | 4 days | 5 days |
| --- | --- | --- | --- | --- | --- |
| 1 | −0.10 | −0.11 | −0.02 | 0.01 | −0.08 |
| 2 | 0.84 | 0.78 | 0.70 | 0.42 | 0.33 |
| 3 | 0.52 | 0.60 | 0.58 | 0.42 | 0.28 |
| 4 | −0.02 | −0.06 | −0.10 | −0.18 | −0.27 |
| 5 | −0.10 | 0.58 | 0.58 | 0.54 | 0.46 |
| 6 | 0.54 | 0.58 | 0.58 | 0.55 | 0.41 |
With the applied set of analytic tools, we covered all four seasons and various rainfall events along the year. The test results identified individual bacteriological profiles for each sampled fountain. It was also possible to demonstrate how vulnerable some of the sources were against environmental influences such as rainfall. Furthermore, the three 16S rRNA Bacteroidales markers resulted in reliable data regarding two of the epidemiologically relevant sources of fecal pollution (humans and cattle) which were either wholly absent or present in very low concentrations. However, there remained traces of pollution which could not be assigned to these two sources. In future investigations, the application of further animal specific markers (e.g., dogs-, sheep- or horse-specific) might help to differentiate AllBac signals in the absence of BacR and HF183.
Recently, 16S rRNA markers were also successfully applied to characterize ground water aquifers in Switzerland (Diston et al. 2015). Unfortunately, these markers do not fully correlate with fecal indicator bacteria (FIB), which are generally applied by authorities to evaluate water samples for conformity with legal requirements. Nevertheless, it would be useful to determine threshold values for Bacteroidales 16S rRNA markers that would allow classification of water into quality categories (e.g., "safe for human consumption", "safe for human consumption but with minor quality defects" "unsafe for human consumption" etc.). To reach this goal, more data on the quantitative relationship of molecular markers and FIB should be generated and, in order to complete the picture, a better comprehension on the correlation between molecular markers and human pathogens would also be useful. Norovirus, which is highly prevalent in the human population, which is excreted in large numbers into waste water and which is stable in the environment might be a suitable pathogenic marker agent for such comparative tests.
Notes
Acknowledgments
We kindly acknowledge Michael Binggeli, Federal Food Safety and Veterinary Office for providing us electronic versions of geographic maps.
Copyright information
© Bundesamt für Verbraucherschutz und Lebensmittelsicherheit (BVL) 2015