Late 2002,
Abbott Laboratories
' Humira® (adalimumab) became the first fully human therapeutic monoclonal antibody (mAb) approved in the US. Since then, of the five therapeutic mAbs that have received US FDA approval, none are human mAbs. A look at mAbs in the pipeline suggests that the next approval of a human mAb might not occur until 2006 (
table I
). However, with 16 therapeutic mAbs approved in the US over the past six years, and the potential for a doubling in the number of approved mAbs, market analysts are anticipating a tripling of the global market over the next 5 years.[
1
] They are projecting the global market for mAbs to reach $US16.7 billion in 2008.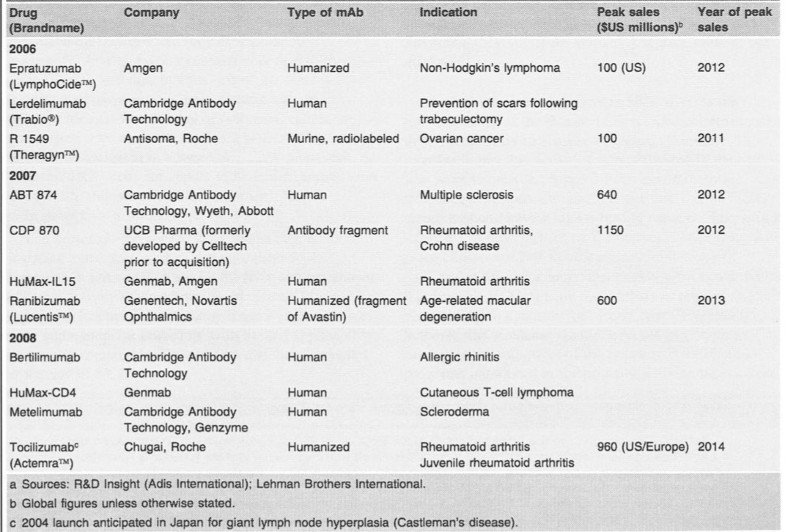 Keywords
Bevacizumab 
Remicade 
Trastuzumab 
Cetuximab 
Adalimumab 
These keywords were added by machine and not by the authors. This process is experimental and the keywords may be updated as the learning algorithm improves.
References
1.

Reichert J, Pavlou A. Monoclonal antibodies market. Nature Rev. Drug Discov 2004; 3(5): 383–4

CrossRef

Google Scholar

2.

Adhikari R. Finding opportunities in therapeutic monoclonal antibodies. New York: Frost & Sullivan, 2004. Available from URL:

http://frost.com/

[Accessed 2004 Jun 9]
Copyright information
© Adis Data Information BV 2005