Abstract
Mycetoma is a chronic, granulomatous infection mainly involving the foot and is caused either by bacteria (actinomycetoma) or fungi (eumycetoma). Eumycetoma is notoriously resistant, posing a therapeutic challenge. There are no specific treatment guidelines but generally a combination of systemic antifungals and local surgical treatment is the accepted standard. Advanced unresponsive lesions generally require amputation. We present a case of eumycetoma of 15-year duration with extensive involvement of foot including bones. Patient had been advised amputation from various tertiary care centers but we decided to give a limb salvage trial. The patient underwent soft tissue debridement along with oral antifungal therapy. Additionally, amphotericin B-impregnated bioabsorbable beads were inserted locally into the bony cavities to supplement the treatment. There has been no recurrence till date. This case is reported in view of successful limb salvage in an advanced eumycetoma case with an unprecedented use of adjunctive local antifungal delivery.
This is a preview of subscription content, log in to check access.
Access options
Buy single article
Instant access to the full article PDF.
US$ 39.95
Price includes VAT for USA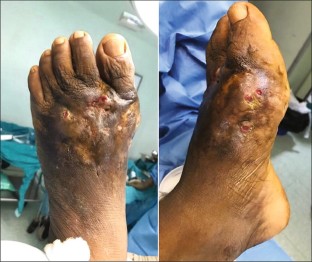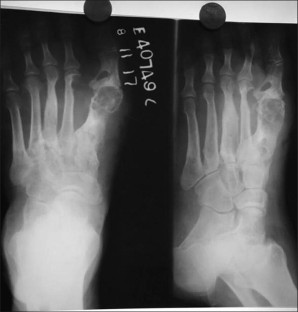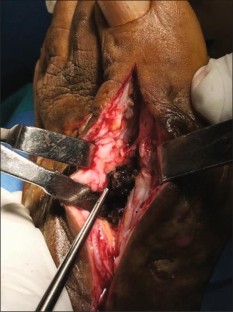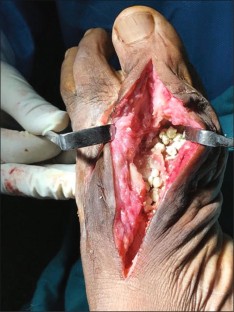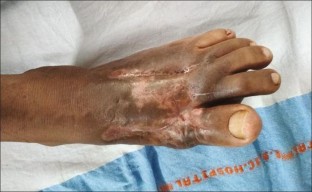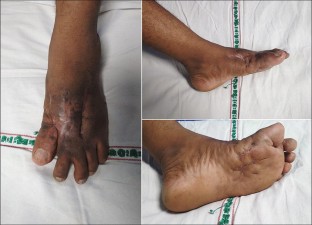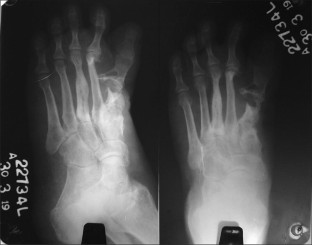 References
1.

Relhan, V., Mahajan, K., Agarwal, P., & Garg, V. K. (2017). Mycetoma: An update. Indian Journal of Dermatology,62(4), 332–340.

2.

Reis, C. M. S., & Reis-Filho, E. G. M. (2018). Mycetomas: An epidemiological, etiological, clinical, laboratory and therapeutic review. Anais Brasileiros de Dermatologia,93(1), 8–18.

3.

Fahad, A. H., Shaheed, S., & Jones, D. H. A. (2014). The orthopedic aspects of mycetoma. The Bone and Joint Journal,96-B, 420–425.

4.

Fahad, A. H. (2010). Management of mycetoma. Expert Review of Dermatology,5(1), 31–36.

5.

Suleiman, S. H., Wada Ella el, S., & Fahad, A. H. (2016). The surgical treatment of mycetoma. PLOS Neglected Tropical Diseases,10(6), e0004690.

6.

van de Sande, W. W., Luijendijk, A., Ahmed, A. O., Bakker-Woudenberg, I. A., & van Belkum, A. (2005). Testing of the in vitro susceptibilities of Madurella mycetomatis to six antifungal agents by using the Sensititre system in comparison with a viability-based 2,3-bis(2-methoxy-4-nitro-5-sulfophenyl)-5-[(phenylamino)carbonyl]-2H-tetrazolium hydroxide (XTT) assay and a modified NCCLS method. Antimicrobial Agents and Chemotherapy,49(4), 1364–1368.

7.

Marra, F., Robbins, G. M., Masri, B. A., Duncan, C., Wasan, K. M., Kwong, E. H., et al. (2001). Amphotericin B-loaded bone cement to treat osteomyelitis caused by Candida albicans. Canadian Journal of Surgery,44, 383–386.

8.

Arockiaraj, J., Balaji, G., Ashok, A., & Kokil, G. (2012). Amphotericin B cement beads: A good adjunctive treatment for musculoskeletal mucormycosis. Indian Journal of Orthopaedics,46, 369–372.

9.

Zhu, E. S., Thompson, G. R., Kreulen, C., & Giza, E. (2013). Amphotericin B-impregnated bone cement to treat refractory coccidioidal osteomyelitis. Antimicrobial Agents and Chemotherapy,57(12), 6341–6343.

10.

Kluin, O. S., van der Mei, H. C., Busscher, H. J., & Neut, D. (2013). Biodegradable vs non-biodegradable antibiotic delivery devices in the treatment of osteomyelitis. Expert Opinion on Drug Delivery,10(3), 341–351.
Ethics declarations
Conflict of interest
The authors declare that they have no conflict of interest.
Ethical standard statement
This article does not contain any studies with human or animal subjects performed by any of the authors.
Informed consent
For this type of study informed consent is not required.
Additional information
Publisher's Note
Springer Nature remains neutral with regard to jurisdictional claims in published maps and institutional affiliations.
About this article
Cite this article
Lalchandani, R., Salvi, B.V., D'souza, P. et al. Successful Limb Salvage in a Case of Advanced Long-Standing Eumycetoma of the Foot Using Adjunctive Local Amphotericin B Delivery Through Bioabsorbable Beads. JOIO (2020). https://doi.org/10.1007/s43465-019-00031-3
Received:

Accepted:

Published:
Keywords
Eumycetoma

Madura foot

Amphotericin B

Bioabsorbable beads