Abstract
Huganning, a Chinese patent medicine, has been used in clinical practice for the treatment of hepatitis in China for more than 20 years, and its main physiologically active components are polydatin and emodin. In this study, a rapid and accurate proton nuclear magnetic resonance method for the quantification of these constituents was developed. 4-Nitrochlorobenzene was selected as an internal standard, and the signals for polydatin at δ 6.44 ppm and emodin at δ 7.54 ppm were chosen for the quantification. Validation of the method was performed in terms of specificity, precision, and stability. The results indicated that the method was precise and in line with the China Food and Drug Administration guidance. The method has been successfully applied to characterize tablets and capsules obtained from six pharmaceutical companies. This study indicated that the rapid 1H NMR method is more suitable for the quality control of Huganning than the high-performance liquid chromatography method.

This is a preview of subscription content, log in to check access.
Access options
Buy single article
Instant access to the full article PDF.
US$ 39.95
Price includes VAT for USA
Subscribe to journal
Immediate online access to all issues from 2019. Subscription will auto renew annually.
US$ 100
This is the net price. Taxes to be calculated in checkout.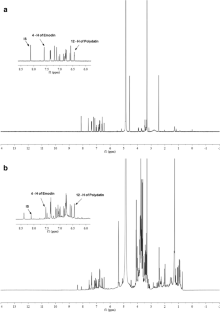 References
Bharti SK, Roy R (2012) Quantitative 1H NMR spectroscopy. TrAC Trends Anal Chem 35:5–26

CFDA (2015) Pharmacopoeia of the People's Republic of China

Chauthe SK, Sharma RJ, Aqil F, Gupta RC, Singh IP (2012) Quantitative NMR: an applicable method for quantitative analysis of medicinal plant extracts and herbal products. Phytochem Anal 23:689–696

Chen H, Tuck T, Ji X, Zhou X, Kelly G, Cuerrier A, Zhang J (2013) Quality assessment of Japanese knotweed (Fallopia japonica) grown on Prince Edward Island as a source of resveratrol. J Agric Food Chem 61:6383–6392

Dong JW, Li XJ, Cai L, Shi JY, Li YF, Yang C, Li ZJ (2018) Simultaneous determination of alkaloids dicentrine and sinomenine in Stephania epigeae by 1H NMR spectroscopy. J Pharm Biomed Anal 160:330–335

Dong MX, Jia Y, Zhang YB, Li CC, Geng YT, Zhou L, Li XY, Liu JC, Niu YC (2009) Emodin protects rat liver from CCl4-induced fibrogenesis via inhibition of hepatic stellate cells activation. World J Gastroenterol 15:4753–4762

Fang XS, Tan XM (2005) The qualitative analysis and quantitative analysis of purification of salvianolic acids by macroreticular resin. Zhongguo Zhong Yao Za Zhi 30:1331–1334

Gouilleux B, Marchand J, Charrier B, Remaud GS, Giraudeau P (2018) High-throughput authentication of edible oils with benchtop ultrafast 2D NMR. Food Chem 244:153–158

Harvey AL, Edrada-Ebel R, Quinn RJ (2015) The re-emergence of natural products for drug discovery in the genomics era. Nat Rev Drug Discov 14:111–129

Hatzakis E, Koidis A, Boskou D, Dais P (2008) Determination of phospholipids in olive oil by 31P NMR spectroscopy. J. Agric Food Chem 56:6232–6240

Huang W, Gao S, Zhang B (2010) Clinical application of the efficacy and safety of proheparinum tablet. Eval Anal Drug Use Chin Hosp 10:751–753

Jegou C, Kervarec N, Cerantola S, Bihannic I, Stiger-Pouvreau V (2015) NMR use to quantify phlorotannins: the case of Cystoseira tamariscifolia, a phloroglucinol-producing brown macroalga in Brittany (France). Talanta 135:1–6

Koneru M, Sahu BD, Gudem S, Kuncha M, Ravuri HG, Kumar JM, Kilari EK, Sistla R (2017) Polydatin alleviates alcohol-induced acute liver injury in mice: relevance of matrix metalloproteinases (MMPs) and hepatic antioxidants. Phytomedicine 27:23–32

Lin CC, Chang CH, Yang JJ, Namba T, Hattori M (1996) Hepatoprotective effects of emodin from Ventilago leiocarpa. J Ethnopharmacol 52:107–111

Pauli GF, Jaki BU, Lankin DC (2005) Quantitative 1H NMR: development and potential of a method for natural products analysis. J Nat Prod 68:133–149

Petrakis PV, Agiomyrgianaki A, Christophoridou S, Spyros A, Dais P (2008) Geographical characterization of greek virgin olive oils (cv. Koroneiki) using 1H and 31P NMR fingerprinting with canonical discriminant analysis and classification binary trees. J Agric Food Chem 56:3200–3207

Song J (2013) Evaluation on the clinical application of Huganning tablets. Eval Anal Drug Use Chin Hosp 13:105–107

Song YL, Jing WH, Chen YG, Yuan YF, Yan R, Wang YT (2014) 1H nuclear magnetic resonance based-metabolomic characterization of Peucedani Radix and simultaneous determination of praeruptorin A and praeruptorin B. J Pharm Biomed Anal 93:86–94

Tada A, Takahashi K, Ishizuki K, Sugimoto N, Suematsu T, Arifuku K, Tahara M, Akiyama T, Ito Y, Yamazaki T, Akiyama H, Kawamura Y (2013) Absolute quantitation of stevioside and rebaudioside A in commercial standards by quantitative NMR. Chem Pharm Bull 61:33–38

Tanaka R, Yamazaki M, Hasada K, Nagatsu A (2013) Application of quantitative 1H-NMR method to determination of paeoniflorin in Paeoniae radix. J Nat Med 67:657–661

Yu JQ, Bao W, Lei JC (2013) Emodin regulates apoptotic pathway in human liver cancer cells. Phytother Res 27:251–257

Zhang J, Tan Y, Yao F, Zhang Q (2012) Polydatin alleviates non-alcoholic fatty liver disease in rats by inhibiting the expression of TNF-alpha and SREBP-1c. Mol Med Rep 6:815–820

Zhang Q, Tan Y, Zhang N, Yao F (2015) Polydatin supplementation ameliorates diet-induced development of insulin resistance and hepatic steatosis in rats. Mol Med Rep 11:603–610

Zhang W, Jia Y, Huang Q, Li Q, Bi K (2007) Simultaneous determination of five major compounds in Polygonum cuspidatum by HPLC. Chromatographia 66:685–689

Zhang XL, Wang C, Chen Z, Zhang PY, Liu HB (2016) Development and validation of quantitative 1H NMR spectroscopy for the determination of total phytosterols in the marine seaweed Sargassum. J Agric Food Chem 64:6228–6232

Zhao XA, Chen G, Liu Y, Wu H, Chen J, Xiong Y, Tian C, Jia B, Wang G, Xia J, Chen Y, Wang J, Yan X, Zhang Z, Huang R, Wu C (2018) Emodin alleviates liver fibrosis of mice by reducing infiltration of Gr1(hi) monocytes. Evid Based Complement Alternat Med. https://doi.org/10.1155/2018/5738101
Funding
This work was supported by the Open Research Fund Program of Shandong Provincial Key Laboratory of Glycoscience & Glycotechnology (Ocean University of China), Fundamental Research Funds for the Central Universities (No. 201912002), and Shandong Provincial Natural Science Foundation, China (No. ZR2019BC025).
Ethics declarations
Conflict of Interest
The authors declare that they have no conflict of interest.
Protection of Human and Animal Subjects
The authors declare that no experiments were performed on humans or animals for this study.
Confidentiality of Data
The authors declare that no patient data appear in this article.
Right to Privacy and Informed Consent
The authors declare that no patient data appear in this article.
About this article
Cite this article
Wang, C., Zhang, P., Zhang, X. et al. 1H NMR Quantification of Polydatin and Emodin in Huganning, a Chinese Patent Herbal Medicine. Rev. Bras. Farmacogn. (2020). https://doi.org/10.1007/s43450-020-00031-7
Keywords
1H NMR

Huganning

Polydatin

Emodin

Quality control