Abstract
Aurantii fructus, the dried immature fruit of Citrus aurantium L., Rutaceae, or its cultivated variants, has been used in traditional Chinese medicine for thousands of years. Unprocessed Aurantii fructus can trigger various side effects, collectively known as "zao". Dry mouth is the obvious symptom. Fengyan pieces, a processed product of Aurantii fructus, can relieve dry mouth but does not affect its efficacy. In order to analyze this mechanism, the effect on the gastrointestinal tract was characterized by measuring the levels of gastrin, a vasoactive intestinal peptide, in rat serum. Chemical analysis of Aurantii fructus pieces (raw product) and Fengyan pieces was performed by ultra-performance liquid chromatography-mass spectrometry (quadrupole time-of-flight) in combination with chemometrics methods to dereplicate the characteristic components. Aquaporin 5 expression in human submandibular gland cells was measured to validate the effect of the identified components. The results showed that serum gastrin content was different between the different dose groups, and Fengyan pieces showed lower levels of serum vasoactive intestinal peptide than Aurantii fructus pieces. 3,5,6,7,8,3′,4′-Heptamethoxyflavone was the distinctive component, and it has most effectively downregulated aquaporin 5 expression in the submandibular glands of mice. It also reduced aquaporin 5 mRNA and protein expression in human submandibular gland cells. Collectively, these results suggest that processing did not affect the efficacy of Fengyan pieces, but did relieve dry mouth and that 3,5,6,7,8,3′,4′-heptamethoxyflavone was the Aurantii fructus component responsible for dry mouth. This study provides a new scientific basis for reduction of the dry mouth effects of Aurantii fructus from processing.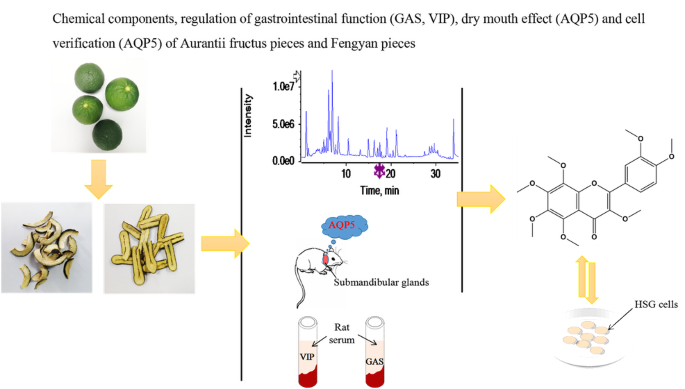 This is a preview of subscription content, log in to check access.
We're sorry, something doesn't seem to be working properly.
Please try refreshing the page. If that doesn't work, please contact support so we can address the problem.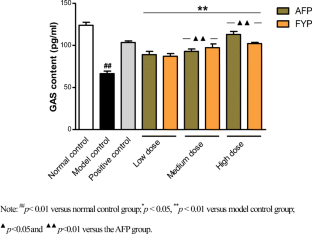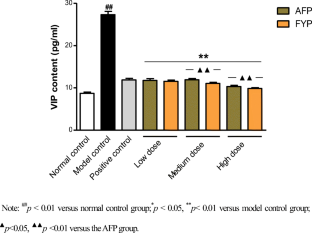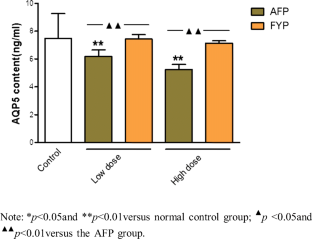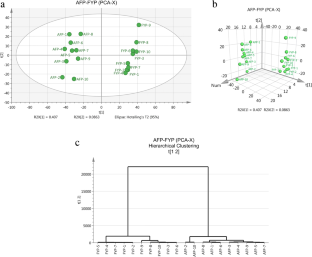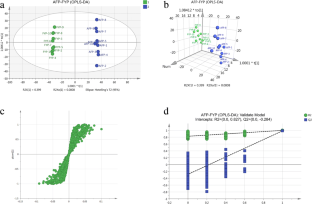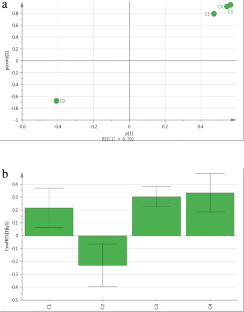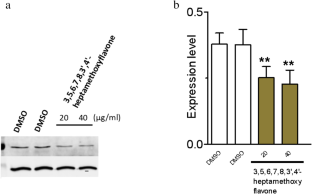 References
Azlina A, Javkhlan P, Hiroshima Y, Hasegawa T, Yao C, Akamatsu T, Hosoi K (2010) Roles of lysosomal proteolytic systems in AQP5 degradation in the submandibular gland of rats following chorda tympani parasympathetic denervation. Am J Physiol Gastrointest Liver Physiol 299:G1106–G1117

Chen Q (2006) Research methods in pharmacology of Chinese Materia Medica. People's Medical Publishing House, Beijing, p 1126

Chung IM, Kim JK, Han JG, Kong WS, Kim SY, Yang YJ, Kim SH (2019) Potential geo-discriminative tools to trace the origins of the dried slices of shiitake (Lentinula edodes) using stable isotope ratios and OPLS-DA. Food Chem 295:505–513

Cui LH (2008) Regulation of gastrointestinal hormones on colonic motility. Medical Recapitulate 14:380–382

Datta S, Nandi G, Bandyopadhyay A, Pal PK (2009) Application of PCA-based hybrid Taguchi method for correlated multicriteria optimization of submerged arc weld: a case study. Int J Adv Manuf Technol 45:276–286

Donazzolo E, Gucciardi A, Mazzier D, Peggion C, Pirillo P, Naturale M, Moretto A, Giordano G (2017) Improved synthesis of glycine, taurine and sulfate conjugated bile acids as reference compounds and internal standards for ESI-MS/MS urinary profiling of inborn errors of bile acid synthesis. Chem Phys Lipids 204:43–56

Hosoi K (2016) Physiological role of aquaporin 5 in salivary glands. Pflugers Arch 468:519–539

Krane CM, Melvin JE, Nguyen HV, Richardson L, Towne JE, Doetschman T, Menon AG (2001) Salivary acinar cells from aquaporin 5-deficient mice have decreased membrane water permeability and altered cell volume regulation. J Biol Chem 276:23413–23420

Li TJ, Wang S, Meng XS, Bao YR (2015) Study on the spectral-effect relationship of Qizhiweitong granule on gastric ulcer. Modernization of Traditional Chinese Medicine and Materia Medica-World Science and Technology 17:103–108

Lin Q, Zhang QD (2010) Study the effect of Astragali radix and Radix salvia miltiorrhizae on expression of aquaporin-5 in submandibular gland of rats with Sjogren syndrome. Stomatology 30:473–476

Ma T, Song Y, Gillespie A, Carlson EJ, Epstein CJ, Verkman AS (1999) Defective secretion of saliva in transgenic mice lacking aquaporin-5 water channels. J Biol Chem 274:20071–20074

Müller AS, Janjić K, Oberoi G, Pensch M, Kurzmann C, Moritz A, Agis H (2018) Deferoxamine but not dimethyloxalylglycine, L-mimosine, or cobalt dichloride can interfere with the MTT assay. Biomed Res Int 2018:1–6

Qiu XY, Xu S (2008) Experimental study on the effect of Huangqijianzhong decoction on gastrointestinal motility in rats with functional dyspepsia. Chin J Tradit Med Sci Technol 15:176–177

Ren Y, Lu H, Reinach PS, Zheng Q, Li J, Tan Q, Zhu H, Chen W (2017) Hyperosmolarity-induced AQP5 upregulation promotes inflammation and cell death via JNK1/2 activation in human corneal epithelial cells. Sci Rep 7:4727

Sawamoto A, Okuyama S, Yamamoto K, Amakura Y, Yoshimura M, Nakajima M, Furukawa Y (2016) 3,5,6,7,8,3′,4'-Heptamethoxyflavone, a Citrus flavonoid, ameliorates corticosterone-induced depression-like behavior and restores brain-derived neurotrophic factor expression, neurogenesis, and neuroplasticity in the hippocampus. Molecules 21. https://doi.org/10.3390/molecules21040541

Shi X, Wang B, Zhang L, Wang Y, Yang J, Liu X, Jin Y (2018) Anti-allergic activity of 3,5,6,7,8,3′,4′-heptamethoxyflavone extracted from Citri Reticulatae Pericarpium. Spectrosc Lett 51:236–243

State Pharmacopoeia Committee (2015) Pharmacopoeia of the People's Republic of China, 2015th edn. China Medical Science and Technology Press, Beijing

Wang H, Huang YS, Liu M (2013a) Relationship between disease and gastrointestinal hormones, gastrointestinal function. Medical Recapitulate 19:2735–2738

Wang J, Wang Q, Li P, Liu SQ, Huang QM (2014) Theory and research of dryness in traditional Chinese medicine. China J Chin Mater Med 39:346–349

Wang SM, Zhang J, Jia YJ, Li X (2013b) Treatment of 40 cases of postprandial discomfort syndrome type functional dyspepsia with QizhiWeitong granule. Guangming J Chinese Med 28:2560–2561

Wang YX, Chen LN, Han GQ, Wang JM, Du F (2018) Research survey on fermentation technology of traditional Chinese medicine. Inform Tradit Chin Med 35:120–124

Wu N (2019) Distinguishing the characteristics of dryness from the general theory of dryness and proved cases of dryness. Guiding J Tradit Chin Med Pharm 25:7–9

Xu L, Gao S, Guo F, Sun X (2011) Effect of motilin on gastric distension sensitive neurons in arcuate nucleus and gastric motility in rat. Neurogastroenterol Motil 23:265–e121. https://doi.org/10.1111/j.1365-2982.2010.01661.x

Yang FW, Zhang JH (2016) Systematic evaluation of the efficacy and safety of Qizhiweitong preparation in the treatment of functional dyspepsia. J Tianjin Univ Tradit Chin Med 35:11–14

Zhang QH, Jiang YH, Gong QF, Wang ZP (2010) Analysis of flavonoids from Aurantii fructus of Zhangbang processed products. Lishizhen Med Mat Med Res 21:2536–2537

Zhang JL, Liu MG, Yan DM, Sun XJ, Tu JY, Liu YJ, Li N, Gong QF (2018) Study on acute toxicity and GC-MS chemical constituent analysis of volatile oil of Aurantii fructus pieces made by methods of pharmacopoeia and Zhangbang method. China J Tradit Chin Med Pharm 33:689–693

Zhang XY, He MZ, Lei SX, Wu B, Tan T, Ouyang H, Xu W, Feng YL (2018a) An integrative investigation of the therapeutic mechanism of Ainsliaea fragrans champ. In cervicitis using liquid chromatography tandem mass spectrometry based on a rat plasma metabolomics strategy. J Pharm Biomed Anal 156:221–231

Zhang XY, Li JM, Xie B, Wu B, Lei SX, Yao Y, He MZ, Ouyang H, Feng YL, Xu W, Yang SL (2018b) Comparative metabolomics analysis of cervicitis in human patients and a phenol mucilage-induced rat model using liquid chromatography tandem mass spectrometry. Front Pharmacol 9:282

Zhao Z, Liang Z, Chan K, Lu G, Lee EL, Chen H, Li L (2010) A unique issue in the standardization of Chinese Materia Medica: processing. Planta Med 76:1975–1986

Zhao L, Yu Y, Li L, Yang WX, Chen H, Liu W, Xiang W, Xiao GH (2013) Effect of Chaishaoweiyan granule on plasma motilin and gastrin in rats with functional dyspepsia. J Southwest Med Univ 5:447–450
Acknowledgments
Special thanks to Jiangxi University of traditional Chinese medicine for its support of this research.
Funding
This work was supported by National Key R&D Program - Special Topics for Modernization of Traditional Chinese Medicine (No. 2018YFC1707206), National Natural Science foundation of China (No.81560651) and Jiangxi Province's double first-class discipline (Traditional Chinese Medicine) construction project.
Ethics declarations
Conflict of interest
The authors declare that they have no conflict of interest.
Protection of human and animal subjects
The authors declare that the procedures followed were in accordance with the regulations of the relevant clinical research ethics committee and with those of the Code of Ethics of the World Medical Association (Declaration of Helsinki).
Confidentiality of data
The authors declare that no patient data appear in this article.
Right to privacy and informed consent
The authors declare that no patient data appear in this article.
Electronic supplementary material
About this article
Cite this article
Ren, H., Luo, X., Wan, C. et al. Characterization of the Active Components of Aurantii fructus Causing Dry Mouth by Analysis of Aquaporin 5 Expression. Rev. Bras. Farmacogn. (2020). https://doi.org/10.1007/s43450-020-00001-z
Received:

Accepted:

Published:
Keywords
Aurantii fructus

Fengyan pieces

Dry mouth

Aquaporin 5

Methoxylated flavone