Abstract
Objective
The effects of prasugrel, a third-generation thienopyridine, on myocardial infarction, and ischemia-induced ventricular arrhythmias was evaluated in open-chest anesthetized rats. The role of protein kinase C and phosphoinositide 3-kinase pathways in these effects was also examined.
Methods
The effect of P2Y12 receptor inhibition by prasugrel (3–10 mg/kg, po) on infarct size after 30-min coronary artery occlusion and 120-min reperfusion or on arrhythmias after 7-min coronary occlusion and 7-min reperfusion was evaluated.
Results
In the control group, 31.25 ± 3.01% of the risk zone infarcted. At both prasugrel doses, infarct size was significantly smaller than that in the control group: 5.03 ± 0.81% for 3 mg/kg (p < 0.0001), and 8.78 ± 2.04% for 10 mg/kg (p < 0.0001). The protein kinase C antagonist chelerythrine abolished the anti-infarct effect of prasugrel at 24.77 ± 1.73% as did the phosphoinositide 3-kinase antagonist wortmannin abolished the anti-infarct effect of prasugrel at 27.45 ± 2.74%. Ten mg/kg prasugrel reduced the duration of VT (p = 0.0152 vs control), and wortmannin, but not chelerythrine, reversed the effect of prasugrel on arrhythmias (p = 0.0295).
Conclusion
The selective P2Y12 inhibitor prasugrel provides effective protection against myocardial infarction and ischemia-induced ventricular arrhythmias in rats. As in ischemic postconditioning, protein kinase C and phosphoinositide 3-kinase signaling pathways play a role in this protection.
Graphic abstract

This is a preview of subscription content, log in to check access.
Access options
Buy single article
Instant unlimited access to the full article PDF.
US$ 39.95
Price includes VAT for USA
Subscribe to journal
Immediate online access to all issues from 2019. Subscription will auto renew annually.
US$ 329
This is the net price. Taxes to be calculated in checkout.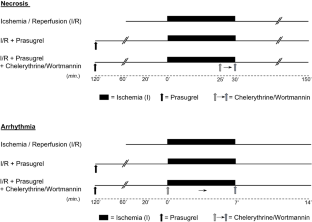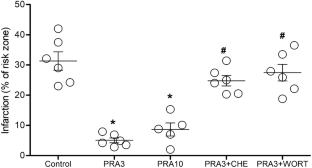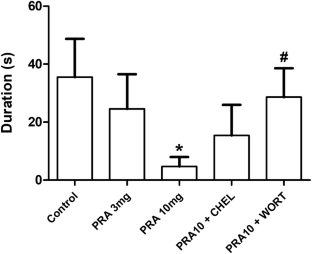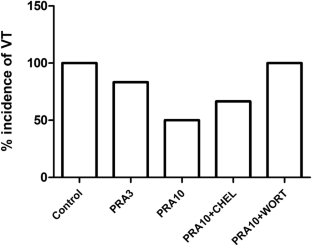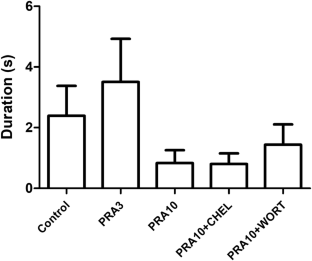 References
1.

Lecour S, Botker HE, Condorelli G, Davidson SM, Garcia-Dorado D, Engel FB, et al. ESC working group cellular biology of the heart: position paper: improving the preclinical assessment of novel cardioprotective therapies. Cardiovasc Res. 2014;104:399–411.

2.

Sugidachi A, Yamaguchi S, Jakubowski JA, Ohno K, Tomizawa A, Hashimoto M, et al. Selective blockade of P2Y12 receptors by prasugrel inhibits myocardial infarction induced by thrombotic coronary artery occlusion in rats. J Cardiovasc Pharmacol. 2011;58:329–34.

3.

Yang XM, Liu Y, Cui L, Yang X, Liu Y, Tandon N, et al. Platelet P2Y(1)(2) blockers confer direct postconditioning-like protection in reperfused rabbit hearts. J Cardiovasc Pharmacol Ther. 2013;18:251–62.

4.

Hausenloy DJ, Yellon DM. New directions for protecting the heart against ischaemia-reperfusion injury: targeting the Reperfusion Injury Salvage Kinase (RISK)-pathway. Cardiovasc Res. 2004;61:448–60.

5.

Yang XM, Cui L, Alhammouri A, Downey JM, Cohen MV. Triple therapy greatly increases myocardial salvage during ischemia/reperfusion in the in situ rat heart. Cardiovasc Drugs Ther. 2013;27:403–12.

6.

Yeung J, Apopa PL, Vesci J, Kenyon V, Rai G, Jadhav A, et al. Protein kinase C regulation of 12-lipoxygenase-mediated human platelet activation. Mol Pharmacol. 2012;81:420–30.

7.

Kalogeris T, Baines CP, Krenz M, Korthuis RJ. Cell biology of ischemia/reperfusion injury. Int Rev Cell Mol Biol. 2012;298:229–317.

8.

Kauffenstein G, Bergmeier W, Eckly A, Ohlmann P, Leon C, Cazenave JP, et al. The P2Y(12) receptor induces platelet aggregation through weak activation of the alpha(IIb)beta(3) integrin–a phosphoinositide 3-kinase-dependent mechanism. FEBS Lett. 2001;505:281–90.

9.

Nanhwan MK, Ling S, Kodakandla M, Nylander S, Ye Y, Birnbaum Y. Chronic treatment with ticagrelor limits myocardial infarct size: an adenosine and cyclooxygenase-2-dependent effect. Arterioscler Thromb Vasc Biol. 2014;34:2078–85.

10.

Birnbaum Y, Birnbaum GD, Birnbaum I, Nylander S, Ye Y. Ticagrelor and rosuvastatin have additive cardioprotective effects via adenosine. Cardiovasc Drugs Ther. 2016;30:539–50.

11.

Miki T, Itoh T, Sunaga D, Miura T. Effects of diabetes on myocardial infarct size and cardioprotection by preconditioning and postconditioning. Cardiovasc Diabetol. 2012;11:67.

12.

Wiviott SD, Antman EM, Braunwald E. Prasugrel. Circulation. 2010;122:394–403.

13.

Ogawa T, Hashimoto M, Niitsu Y, Jakubowski JA, Tani Y, Otsuguro K, et al. Effects of prasugrel, a novel P2Y(12) inhibitor, in rat models of cerebral and peripheral artery occlusive diseases. Eur J Pharmacol. 2009;612:29–34.

14.

Dobesh PP. Pharmacokinetics and pharmacodynamics of prasugrel, a thienopyridine P2Y12 inhibitor. Pharmacotherapy. 2009;29:1089–102.

15.

Gad SC, Cassidy CD, Aubert N, Spainhour B, Robbe H. Nonclinical vehicle use in studies by multiple routes in multiple species. Int J Toxicol. 2006;25:499–521.

16.

Neervannan S. Preclinical formulations for discovery and toxicology: physicochemical challenges. Expert Opin Drug Metab Toxicol. 2006;2:715–31.

17.

Curtis MJ, Hancox JC, Farkas A, Wainwright CL, Stables CL, Saint DA, et al. The Lambeth Conventions (II): guidelines for the study of animal and human ventricular and supraventricular arrhythmias. Pharmacol Ther. 2013;139:213–48.

18.

Walker MJ, Curtis MJ, Hearse DJ, Campbell RW, Janse MJ, Yellon DM, et al. The Lambeth Conventions: guidelines for the study of arrhythmias in ischaemia infarction, and reperfusion. Cardiovasc Res. 1988;22:447–55.

19.

Winter MP, Kozinski M, Kubica J, Aradi D, Siller-Matula JM. Personalized antiplatelet therapy with P2Y12 receptor inhibitors: benefits and pitfalls. Postepy Kardiol Interwencyjnej. 2015;11(4):259–80.

20.

Iliodromitis EK, Cohen MV, Dagres N, Andreadou I, Kremastinos DT, Downey JM. What is wrong with cardiac conditioning? We may be shooting at moving targets. J Cardiovasc Pharmacol Ther. 2015;20:357–69.

21.

Nylander S, Schulz R. Effects of P2Y12 receptor antagonists beyond platelet inhibition—comparison of ticagrelor with thienopyridines. Br J Pharmacol. 2016;173:1163–78.

22.

Semple JW, Freedman J. Platelets and innate immunity. Cell Mol Life Sci. 2010;67:499–511.

23.

Semple JW, Italiano JE Jr, Freedman J. Platelets and the immune continuum. Nat Rev Immunol. 2011;11:264–74.

24.

Suh DH, Trinh HK, Liu JN, le Pham D, Park SM, Park HS, et al. P2Y12 antagonist attenuates eosinophilic inflammation and airway hyperresponsiveness in a mouse model of asthma. J Cell Mol Med. 2016;20:333–41.

25.

Hagiwara S, Iwasaka H, Hasegawa A, Oyama M, Imatomi R, Uchida T, et al. Adenosine diphosphate receptor antagonist clopidogrel sulfate attenuates LPS-induced systemic inflammation in a rat model. Shock. 2011;35:289–92.

26.

Do Carmo H, Arjun S, Petrucci O, Yellon DM, Davidson SM. The caspase 1 inhibitor VX-765 protects the isolated rat heart via the RISK pathway. Cardiovasc Drugs Ther. 2018;32:165–8.

27.

Liverani E, Rico MC, Garcia AE, Kilpatrick LE, Kunapuli SP. Prasugrel metabolites inhibit neutrophil functions. J Pharmacol Exp Ther. 2013;344:231–43.

28.

Bell RM, Sivaraman V, Kunuthur SP, Cohen MV, Downey JM, Yellon DM. Cardioprotective properties of the platelet P2Y12 receptor inhibitor, cangrelor: protective in diabetics and reliant upon the presence of blood. Cardiovasc Drugs Ther. 2015;29:415–8.

29.

Cohen MV, Yang XM, White J, Yellon DM, Bell RM, Downey JM. Cangrelor-mediated cardioprotection requires platelets and sphingosine phosphorylation. Cardiovasc Drugs Ther. 2016;30:229–32.

30.

Jin ZQ, Karliner JS, Vessey DA. Ischaemic postconditioning protects isolated mouse hearts against ischaemia/reperfusion injury via sphingosine kinase isoform-1 activation. Cardiovasc Res. 2008;79:134–40.

31.

Wang C, Zhao G, Wang X, Nie S. Effect of potent P2Y12 inhibitors on ventricular arrhythmias and cardiac dysfunction in coronary artery disease: a systematic review and meta-analysis. Biomed Res Int. 2018;2018:8572740.

32.

Ni M, Ruan L, Zhang C. Antiarrhythmic peptide AAP10 prevents arrhythmias induced by protein kinase C activation in rabbit left ventricular wedges. Int Heart J. 2015;56:234–8.

33.

Zaid Y, Senhaji N, Darif Y, Kojok K, Oudghiri M, Naya A. Distinctive roles of PKC delta isozyme in platelet function. Curr Res Transl Med. 2016;64:135–9.

34.

Yang T, Meoli DF, Moslehi J, Roden DM. Inhibition of the alpha-subunit of phosphoinositide 3-kinase in heart increases late sodium current and is arrhythmogenic. J Pharmacol Exp Ther. 2018;365:460–6.

35.

Ravingerova T, Matejikova J, Pancza D, Kolar F. Reduced susceptibility to ischemia-induced arrhythmias in the preconditioned rat heart is independent of PI3-kinase/Akt. Physiol Res. 2009;58:443–7.
Acknowledgements
This work was supported by the Scientific and Technological Research Council of Turkey (TUBITAK) 1002 program (Grant number: 216S328).
Funding
This work was supported by the Scientific and Technological Research Council of Turkey (TUBITAK) 1002 program (Grant number: 216S328).
Ethics declarations
Conflict of interest
The author declares no conflicts of interests related to this study.
Ethical approval
All applicable international, national, and/or institutional guidelines for the care and use of laboratory animals were followed and approved by the Animal Care Committee of Aydin Adnan Menderes University, Turkey. No human studies were carried out for this article.
Additional information
Publisher's Note
Springer Nature remains neutral with regard to jurisdictional claims in published maps and institutional affiliations.
About this article
Cite this article
Dost, T. Cardioprotective properties of the platelet P2Y12 receptor inhibitor prasugrel on cardiac ischemia/reperfusion injury. Pharmacol. Rep (2020). https://doi.org/10.1007/s43440-019-00046-5
Received:

Revised:

Accepted:

Published:
Keywords
P2Y12 receptor

Myocardial ischemia/reperfusion injury

Arrhythmia

PKC

PI3K