Abstract
Study design
Retrospective analysis of a prospectively collected multicenter database.
Objectives
Our goal was to study unplanned return to the OR (UPROR, a postoperative complication that could not be treated without an additional anesthetic) as a function of C-EOS diagnosis and implant type.
Summary of background data
Growing concerns over the impact of multiple anesthetic events on the young brain have focused attention on limiting UPROR in early onset scoliosis (EOS).
Methods
We studied all patients with a diagnosis of EOS who had surgical implantation of growing instrumentation from October 4, 2010, to September 27, 2015, with a minimum 2-year follow-up. Among the complications requiring surgical treatment (revision for implant or anchor failure, infection, or implant removal), we analyzed all UPROR events—those that required a separate anesthetic (could not be treated as part of a planned surgical lengthening) within the first 2 years after initial implantation. UPROR was analyzed by diagnosis, deformity type, and implant strategy using the C-EOS classification.
Results
A total of 369 patients met inclusion criteria. Eighty-five of the 369 (23%) required unplanned trips to the operating room for various reasons. The C-EOS group at highest risk of an unplanned trip to the operating room is the hyperkyphotic neuromuscular (M3+, 14/85) cohort, followed closely by the congenital (C3N, 9/85) and neuromuscular (M3N, 8/85) groups with normal sagittal profiles and Cobb angles between 50° and 90°. Implant strategy was significantly related to risk of UPROR (p = .009; Table 1), with traditional implants (vertically expandable prosthetic titanium rib/traditional growing rod) being less likely to have an UPROR event.
Conclusions
Growing instrumentation to treat EOS, when considered comprehensively, results in a true unplanned reoperation rate within 2 years of implantation of 23% (85/369). UPROR events are more common with certain C-EOS groups (hyperkyphotic neuromuscular deformities) and implant strategies. Families should be counseled that unplanned anesthetics are common with any implant strategy available today.
Level of evidence
Level III, therapeutic.
This is a preview of subscription content, log in to check access.
Access options
Buy single article
Instant access to the full article PDF.
US$ 39.95
Price includes VAT for USA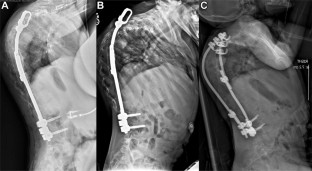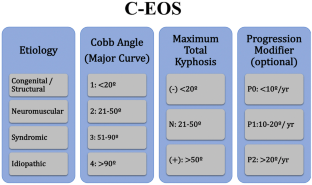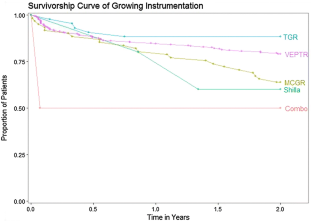 References
1.

Wessell NM, Martus JE, Halanski MA et al (2018) What's new in pediatric spine growth modulation and implant technology for early-onset scoliosis? J Pediatr Orthop 38:e3–e13

2.

McMaster MJ, Macnicol MF (1979) The management of progressive infantile idiopathic scoliosis. J Bone Jt Surg Br 61:36–42

3.

Mehta MH (2005) Growth as a corrective force in the early treatment of progressive infantile scoliosis. J Bone Jt Surg Br 87:1237–1247

4.

Campbell RM Jr, Smith MD, Mayes TC et al (2004) The effect of opening wedge thoracostomy on thoracic insufficiency syndrome associated with fused ribs and congenital scoliosis. J Bone Jt Surg Am 86:1659–1674

5.

Arkbarnia BA, Cheung K, Nordeen H et al (2013) Next generation of growth-sparing techniques: preliminary clinical results of a magnetically controlled growing rod in 14 patients with early-onset scoliosis. Spine 38:665–670

6.

Paule MG, Li M, Allen RR et al (2011) Ketamine anesthesia during the first week of life can cause long-lasting cognitive deficits in rhesus monkeys. Neurotoxicol Teratol 33:220–230

7.

Jevtovic-Todorovic V, Hartman RE, Izumi Y et al (2003) Early exposure to common anesthestic agents causes widespread neurodegenration in the developing rat brain and persistent learning deficits. J Neurosci 23:876–882

8.

Davidson AJ, Disma N, de Graff J et al (2016) Neurodevelopmental outcome at 2 years of age after general anesthesia and awake-regional anaesthesia in infancy (GAS): an international multicentre, randomised controlled trial. Lancet 387:239–250

9.

Sun LS, Li G, Miller TLK et al (2016) Association between a single general anesthetic exposure before 36 months and neurocognitive outcomes in later childhood. JAMA 315:2312–2320

10.

Williams BA, Masumoto H, McCalla DJ et al (2014) Development and initial validation of the classification of early-onset scoliosis (C-EOS). J Bone Jt Surg Am 96:1359–1367

11.

Thompson GH, Akbarnia BA, Kostial P et al (2005) Comparison of single and dual growing rod techniques followed through definitive surgery: a preliminary study. Spine 30:2039–2044

12.

Upasani VV, Parvaresh KC, Pawelek JB, Growing Spine Study Group et al (2016) Age at initiation and deformity magnitude influence complication rates of surgical treatment with traditional growing rods in early-onset scoliosis. Spine Deform 4:344–350

13.

Bess S, Arkbarnia BA, Thompson GH et al (2010) Complications of growing-rod treatment for early-onset scoliosis: analysis of one hundred and forty patients. J Bone Jt Surg Am 92:2533–2543

14.

Wantabe K, Uno K, Suzuki T et al (2013) Risk factors for complications associated with growing-rod surgery for early-onset scoliosis. Spine 38:E464–E468

15.

La Rosa G, Oggiano L, Ruzzini L (2017) Magnetically controlled growing rods for the management of early onset scoliosis: a preliminary report. J Pediatr Orthop 37:79–95

16.

Choi E, Yaszay B, Mundis G et al (2017) Implant complications after magnetically controlled growing rods for early onset scoliosis: a multicenter retrospective review. J Pediatr Orthop 37:e588–e592

17.

Kwan KYH, Alanay A, Yazici M et al (2017) Unplanned reoperations in magnetically controlled growing rod surgery for early onset scoliosis with a minimum of two-year follow up. Spine 42:E1410–E1414

18.

Lebon J, Batailler C, Wargny M et al (2017) Magnetically controlled growing rod in early onset scoliosis: a 30-case multicenter study. Eur Spine J 26:1567–1576

19.

Teoh KH, Winson DMG, James SH (2016) Do magnetic growing rods have lower complication rates compared with conventional growing rods? Spine J 16:S40–S44

20.

Goldstein MJ, Kabirian N, Pawelek JB et al (2017) Quantifying anesthesia exposure in growing rod treatment for early onset scoliosis. J Pediatr Orthop 37:e563–e566

21.

Vitale MG, Matsumoto H, Feinberg N et al (2015) Proximal rib vs proximal spine anchors in growing rods: a prospective multicenter prospective cohort study. Spine Deform 3:626–627

22.

Glotzbecker MP, St Hilaire TA, Pawelek JB et al (2017) Best practice guidelines for surgical site infection prevention with surgical treatment of early onset scoliosis. J Pediatr Orthop. https://doi.org/10.1097/bpo.0000000000001079
Ethics declarations
Conflict of interest
JBA (none), JMF (other from Biomet, other from LWW, outside the submitted work), PJC [personal fees from Biogen, Inc., NuVasive, Inc., outside the submitted work; and board or committee member in AAOS, Pediatric Orthopaedic Society of North America (POSNA), and Scoliosis Research Society (SRS); member of editorial or governing board of Journal of Bone and Joint Surgery–American and Spine Deformity], MGV (grants from Pediatric Orthopaedic Society of North America, during the conduct of the study; other from POSNA and Biomet, personal fees from Stryker, personal fees from Biomet and Medtronic; other from Wellinks, outside the submitted work), JTS (none), JAG (none), SG (other from Decision Support in Medicine; personal fees from Medtronic and Mighty Oak Medical; other from POSNA, SRS, and US News & World Report Best Children's Hospitals Orthopedics Working Group, outside the submitted work), KDB (none), Children's Spine Study Group (none).
IRB approval
John Flynn, MD; Surgery/Orthopedics, Wood Building; 2nd Floor. Effective: 8/23/2006, RE: Expedited Approval of Report of New Protocol, IRB No: 2006-8-4935, Title: The Chest Wall and Spine Deformity Registry, Sponsor: Unsponsored.
Additional information
Publisher's Note
Springer Nature remains neutral with regard to jurisdictional claims in published maps and institutional affiliations.
About this article
Cite this article
Anari, J.B., Flynn, J.M., Cahill, P.J. et al. Unplanned return to OR (UPROR) for children with early onset scoliosis (EOS): a comprehensive evaluation of all diagnoses and instrumentation strategies. Spine Deform (2020). https://doi.org/10.1007/s43390-019-00024-0
Received:

Accepted:

Published:
Keywords
Unplanned return to OR

Early onset scoliosis

C-EOS classification

Growing instrumentation