Abstract
Design
Case report (retrospective).
Objective
These two cases of paralysis secondary to aneurysmal bone cysts (ABCs) demonstrated complete neurologic recovery following decompression and posterior spinal fusion.
Summary of background data
Although neurologic injury from ABCs has been described, information about the prognosis in the pediatric population is limited.
Methods
We review two cases of paralysis caused by ABCs in the thoracic spine in pediatric patients.
Results
Two patients (aged 12 and 13 years) presented to our emergency department with inability to ambulate and 0/5 strength in their lower extremities due to spinal cord compression from ABCs in their thoracic spine. Both patients had been unable to ambulate (case 1: nonambulatory for 2 weeks before presentation; case 2: nonambulatory for 1 week before presentation). The second patient also had loss of bowel and bladder control. They were managed with decompression and posterior spinal fusion. Both patients made complete neurologic recoveries.
Conclusions
It is unclear whether age, chronicity of compression, or other factors contributed; nevertheless, the recovery in these two similar patients far exceeded initial expectations, especially in the case that presented as an American Spinal Injury Association Impairment Scale class A.
Level of evidence
Level V.
This is a preview of subscription content, log in to check access.
Access options
Buy single article
Instant access to the full article PDF.
US$ 39.95
Price includes VAT for USA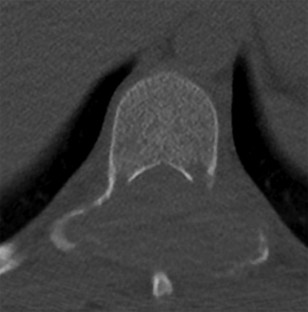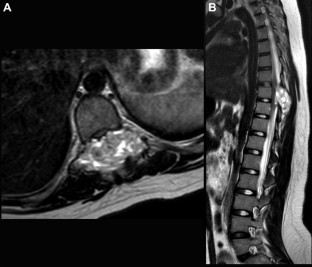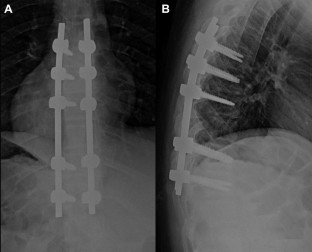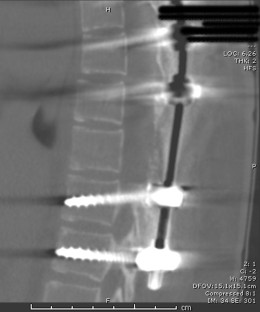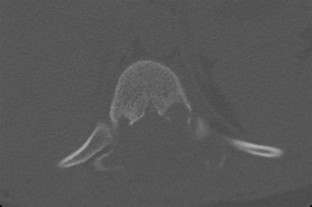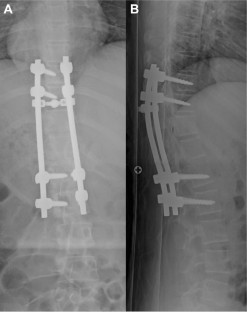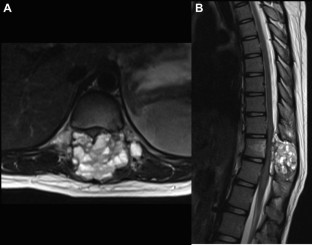 References
1.

Dahlin DC (1967) Bone tumors, 2nd edn. Charles C. Thomas, Springfield, p 285

2.

Thakur NA, Daniels AH, Schiller J et al (2012) Benign tumors of the spine. J Am Acad Orthop Surg 20:715–724

3.

Ameli NO, Abbassioun K, Saleh H, Eslamdoost A (1985) Aneurysmal bone cysts of the spine. Report of 17 cases. J Neurosurg 63:685–690

4.

Hay MC, Paterson D, Taylor TK (1978) Aneurysmal bone cysts of the spine. J Bone Joint Surg Br 60:406–411

5.

Jaiswal A, Vijay V, Kori P, Shukla R (2013) Aneurysmal bone cyst of thoracic spine: case report and brief review of literature. BMJ Case Rep 2013:bcr2013009265

6.

Raftopoulos C, Hurrel A, Ticket L et al (1994) Total recuperation in a case of sudden total paraplegia due to an aneurysmal bone cyst of the thoracic spine. Childs Nerv Syst 10:464–467

7.

Shah SA, Saller J (2016) Evaluation and diagnosis of back pain in children and adolescents. J Am Acad Orthop Surg 24:37–45

8.

Terzi S, Gasbarrini A, Fuiano M et al (2017) Efficacy and safety of selective arterial embolization in the treatment of aneurysmal bone cyst of the mobile spine: a retrospective observational study. Spine (Phila Pa 1976) 42:1130–1138

9.

Wang MY, Hoh DJ, Leary SP et al (2004) High rates of neurological improvement following severe traumatic pediatric spinal cord injury. Spine (Phila Pa 1976) 29:1493–1497 (discussion E266)

10.

Garg S, Mehta S, Dormans JP (2005) Modern surgical treatment of primary aneurysmal bone cyst of the spine in children and adolescents. J Pediatr Orthop 25:387–392
Funding
None of the authors received financial support for this study.
Ethics declarations
Conflict of interest
AB (none), DLS (grants from Pediatric Orthopaedic Society of North America [POSNA] and Scoliosis Research Society [SRS, paid to Columbia University]; Ellipse [co–principal investigator, paid to Growing Spine Foundation (GSF)]; personal fees from Zimmer Biomet, Medtronic, Zipline Medical, Inc., Orthobullets, Grand Rounds [A Healthcare Navigation Company], and Green Sun Medical; other from Zipline Medical, Inc, Green Sun Medical, and Orthobullets; nonfinancial support from Growing Spine Study Group, SRS, and GSF; personal fees from Zimmer Biomet, Medtronic, and Johnson & Johnson; other from Medtronic, Zimmer Biomet, Wolters Kluwer Health–Lippincott Williams & Wilkins, Biomet Spine, and Orthobullets [co–editor in chief], outside the submitted work), TK (none), EK (other from Pfizer, outside the submitted work), LA (personal fees from Biomet, Zimmer, Medtronic, NuVasive; other from Eli Lilly and Journal of Pediatric Orthopedics; personal fees from Orthobullets; other from POSNA and SRS, outside the submitted work).
Ethical approval
This study has been carried out with approval from the Institutional Review Board at Children's Hospital Los Angeles.
Additional information
Publisher's Note
Springer Nature remains neutral with regard to jurisdictional claims in published maps and institutional affiliations.
About this article
Cite this article
Beck, A., Skaggs, D.L., Kovach, T. et al. Two cases of paralysis secondary to aneurysmal bone cysts with complete neurologic recovery. Spine Deform (2020). https://doi.org/10.1007/s43390-019-00023-1
Received:

Accepted:

Published:
Keywords
Aneurysmal bone cyst

Compressive neuropathy

Paraplegia

Cauda equina syndrome

Pediatric spine

Urgent decompression

Instrumentation

Spinal tumors

Pathologic spinal canal compromise

Complete neurological recovery