Abstract
Intrauterine adhesion (IUA) caused by endometrial injury is one of the important causes of infertility in women of reproductive age and requires advanced treatment strategies. Increasing evidence suggests that the therapeutic effects of mesenchymal stem cells (MSC) mainly depend on their capacity to secrete paracrine factors and are mediated by MSC-derived exosomes. This study aimed to identify exosomes derived from adipose-derived mesenchymal stem cells (ADSC-exo) and explore the therapeutic potential in IUA rat models. ADSC-exo exhibited classic cup-shaped morphology with a positive expression of Alix and CD63 and were mainly concentrated at 109.5 nm. In IUA model, treatment with ADSC-exo maintained normal uterine structure, promoted endometrial regeneration and collagen remodeling, and enhanced the expression of integrin-β3, LIF, and VEGF. An improved receptivity of the regenerated endometrium was confirmed. Our findings demonstrated that ADSC-exo promoted endometrial regeneration and fertility restoration. It suggested that topical administration of ADSC-exo in uterus could be a promising strategy for patients suffering severe intrauterine adhesions and infertility.
This is a preview of subscription content, log in to check access.
Access options
Buy single article
Instant unlimited access to the full article PDF.
US$ 39.95
Price includes VAT for USA
Subscribe to journal
Immediate online access to all issues from 2019. Subscription will auto renew annually.
US$ 510
This is the net price. Taxes to be calculated in checkout.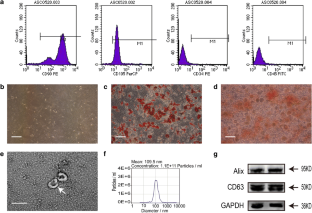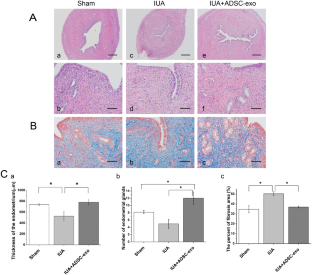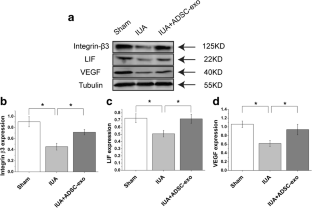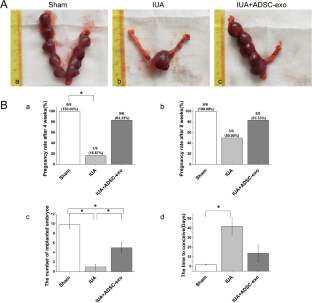 References
1.

Yu D, Wong YM, Cheong Y, Xia E, Li TC. Asherman syndrome--one century later. Fertil Steril. 2008;89(4):759–79.

2.

Lin YH, Jang TN, Hwang JL, et al. Bacterial colonization with balloon uterine stent placement in the uterus for 30 days: a randomized controlled clinical trial. Fertil Steril. 2015;103(2):513–8.e2.

3.

Myers EM, Hurst BS. Comprehensive management of severe Asherman syndrome and amenorrhea. Fertil Steril. 2012;97(1):160–4.

4.

Capella-Allouc S, Morsad F, Rongieres-Bertrand C, Taylor S, Fernandez H. Hysteroscopic treatment of severe Asherman's syndrome and subsequent fertility. Hum Reprod. 1999;14(5):1230–3.

5.

Liu L, Yang H, Guo Y, Yang G, Chen Y. The impact of chronic endometritis on endometrial fibrosis and reproductive prognosis in patients with moderate and severe intrauterine adhesions: a prospective cohort study. Fertil Steril. 2019;111(5):1002–1010.e2.

6.

Bosteels J, Weyers S, D'Hooghe TM, et al. Anti-adhesion therapy following operative hysteroscopy for treatment of female subfertility. Cochrane Database Syst Rev. 2017;11:CD011110.

7.

Makker A, Singh MM. Endometrial receptivity: clinical assessment in relation to fertility, infertility, and antifertility. Med Res Rev. 2006;26(6):699–746.

8.

Simon C, Martin JC, Pellicer A. Paracrine regulators of implantation. Baillieres Best Pract Res Clin Obstet Gynaecol. 2000;14(5):815–26.

9.

Chi Y, He P, Lei L, Lan Y, Hu J, Meng Y, et al. Transdermal estrogen gel and oral aspirin combination therapy improves fertility prognosis via the promotion of endometrial receptivity in moderate to severe intrauterine adhesion. Mol Med Rep. 2018;17(5):6337–44.

10.

Malhotra N, Bahadur A, Kalaivani M, Mittal S. Changes in endometrial receptivity in women with Asherman's syndrome undergoing hysteroscopic adhesiolysis. Arch Gynecol Obstet. 2012;286(2):525–30.

11.

Alawadhi F, Du H, Cakmak H, Taylor HS. Bone marrow-derived stem cell (BMDSC) transplantation improves fertility in a murine model of Asherman's syndrome. PLoS One. 2014;9(5):e96662.

12.

Johnson TV, Bull ND, Martin KR. Identification of barriers to retinal engraftment of transplanted stem cells. Invest Ophthalmol Vis Sci. 2010;51(2):960–70.

13.

Xue J, Li X, Lu Y, Gan L, Zhou L, Wang Y, et al. Gene-modified mesenchymal stem cells protect against radiation-induced lung injury. Mol Ther. 2013;21(2):456–65.

14.

Xu S, Liu C, Ji HL. Concise review: therapeutic potential of the mesenchymal stem cell derived secretome and extracellular vesicles for radiation-induced lung injury: progress and hypotheses. Stem Cells Transl Med. 2019;8(4):344–54.

15.

Tsuji K, Kitamura S, Wada J. Secretomes from mesenchymal stem cells against acute kidney injury: possible heterogeneity. Stem Cells Int. 2018;2018:8693137.

16.

Tan JL, Lau SN, Leaw B, Nguyen HPT, Salamonsen LA, Saad MI, et al. Amnion epithelial cell-derived exosomes restrict lung injury and enhance endogenous lung repair. Stem Cells Transl Med. 2018;7(2):180–96.

17.

Zhang Q, Sun J, Huang Y, Bu S, Guo Y, Gu T, et al. Human amniotic epithelial cell-derived exosomes restore ovarian function by transferring microRNAs against apoptosis. Mol Ther Nucleic Acids. 2019;16:407–18.

18.

Kurian NK, Modi D. Extracellular vesicle mediated embryo-endometrial cross talk during implantation and in pregnancy. J Assist Reprod Genet. 2019;36(2):189–98.

19.

Freitas D, Balmana M, Pocas J, et al. Different isolation approaches lead to diverse glycosylated extracellular vesicle populations. J Extracell Vesicles. 2019;8(1):1621131.

20.

Ebrahim N, Mostafa O, El DR, et al. Human mesenchymal stem cell-derived extracellular vesicles/estrogen combined therapy safely ameliorates experimentally induced intrauterine adhesions in a female rat model. Stem Cell Res Ther. 2018;9(1):175.

21.

Mathew B, Ravindran S, Liu X, Torres L, Chennakesavalu M, Huang CC, et al. Mesenchymal stem cell-derived extracellular vesicles and retinal ischemia-reperfusion. Biomaterials. 2019;197:146–60.

22.

Kong D, Zhang L, Xu X, Zhang J, Li Y, Huang X, et al. Small intestine submucosa is a potential material for intrauterine adhesions treatment in a rat model. Gynecol Obstet Investig. 2018;83(5):499–507.

23.

Wang J, Ju B, Pan C, Gu Y, Zhang Y, Sun L, et al. Application of bone marrow-derived mesenchymal stem cells in the treatment of intrauterine adhesions in rats. Cell Physiol Biochem. 2016;39(4):1553–60.

24.

Basu J, Ludlow JW. Exosomes for repair, regeneration and rejuvenation. Expert Opin Biol Ther. 2016;16(4):489–506.

25.

Staff NP, Jones DT, Singer W. Mesenchymal stromal cell therapies for neurodegenerative diseases. Mayo Clin Proc. 2019;94(5):892–905.

26.

Wu J, Kuang L, Chen C, et al. miR-100-5p-abundant exosomes derived from infrapatellar fat pad MSCs protect articular cartilage and ameliorate gait abnormalities via inhibition of mTOR in osteoarthritis. Biomaterials. 2019;206:87–100.

27.

Evans-Hoeker EA, Young SL. Endometrial receptivity and intrauterine adhesive disease. Semin Reprod Med. 2014;32(5):392–401.

28.

Kilic S, Yuksel B, Pinarli F, Albayrak A, Boztok B, Delibasi T, et al. Effect of stem cell application on Asherman syndrome, an experimental rat model. J Assist Reprod Genet. 2014;31(8):975–82.

29.

Chen L, Tredget EE, Wu PY, Wu Y. Paracrine factors of mesenchymal stem cells recruit macrophages and endothelial lineage cells and enhance wound healing. PLoS One. 2008;3(4):e1886.

30.

Akram KM, Samad S, Spiteri MA, Forsyth NR. Mesenchymal stem cells promote alveolar epithelial cell wound repair in vitro through distinct migratory and paracrine mechanisms. Respir Res. 2013;14:9.

31.

Cervello I, Gil-Sanchis C, Santamaria X, et al. Human CD133(+) bone marrow-derived stem cells promote endometrial proliferation in a murine model of Asherman syndrome. Fertil Steril. 2015;104(6):1552–60.e1–3.

32.

Craciunas L, Gallos I, Chu J, et al. Conventional and modern markers of endometrial receptivity: a systematic review and meta-analysis. Hum Reprod Update. 2019;25(2):202–23.

33.

Thomas K, Thomson A, Wood S, Kingsland C, Vince G, Lewis-Jones I, et al. Endometrial integrin expression in women undergoing in vitro fertilization and the association with subsequent treatment outcome. Fertil Steril. 2003;80(3):502–7.

34.

Serafini PC, Silva ID, Smith GD, et al. Endometrial claudin-4 and leukemia inhibitory factor are associated with assisted reproduction outcome. Reprod Biol Endocrinol. 2009;7:30.

35.

Salleh N, Giribabu N. Leukemia inhibitory factor: roles in embryo implantation and in nonhormonal contraception. ScientificWorldJournal. 2014;2014:201514.

36.

Sugino N, Kashida S, Karube-Harada A, Takiguchi S, Kato H. Expression of vascular endothelial growth factor (VEGF) and its receptors in human endometrium throughout the menstrual cycle and in early pregnancy. Reproduction. 2002;123(3):379–87.

37.

Schlaff WD, Hurst BS. Preoperative sonographic measurement of endometrial pattern predicts outcome of surgical repair in patients with severe Asherman's syndrome. Fertil Steril. 1995;63(2):410–3.

38.

Hunter RN, Nevitt CD, Gaskins JT, et al. Adipose-derived stromal vascular fraction cell effects on a rodent model of thin endometrium. PLoS One. 2015;10(12):e0144823.

39.

Lopatina T, Bruno S, Tetta C, et al. Platelet-derived growth factor regulates the secretion of extracellular vesicles by adipose mesenchymal stem cells and enhances their angiogenic potential. Cell Commun Signal. 2014;12:26.

40.

Hoshino D, Kirkbride KC, Costello K, Clark ES, Sinha S, Grega-Larson N, et al. Exosome secretion is enhanced by invadopodia and drives invasive behavior. Cell Rep. 2013;5(5):1159–68.

41.

Hu G, Drescher KM, Chen XM. Exosomal miRNAs: biological properties and therapeutic potential. Front Genet. 2012;3:56.

42.

Bidarimath M, Khalaj K, Kridli RT, et al. Extracellular vesicle mediated intercellular communication at the porcine maternal-fetal interface: a new paradigm for conceptus-endometrial cross-talk. Sci Rep. 2017;7:40476.
Acknowledgments
We thank the Pharmacology Department, Basic Medical College, Hebei Medical University.
Funding Information
This work was supported by the National Natural Science Foundation of China (No. 81471418).
Ethics declarations
This study was approved by the Animal Care and Use Committee of Hebei Medical University. All animal-handling procedures were carried out according to the Guide for the Care and Use of Laboratory Animals of the National Institutes of Health (NIH publication no. 85–23, revised 1996).
Conflict of Interest
The authors declare that they have no conflicts of interest.
About this article
Cite this article
Zhao, S., Qi, W., Zheng, J. et al. Exosomes Derived from Adipose Mesenchymal Stem Cells Restore Functional Endometrium in a Rat Model of Intrauterine Adhesions. Reprod. Sci. (2020). https://doi.org/10.1007/s43032-019-00112-6
Received:

Accepted:

Published:
Keywords
Mesenchymal stem cells

Exosomes

Intrauterine adhesions

Endometrial receptivity

Fertility