Abstract
Polycystic ovary syndrome (PCOS) affects 6% to 20% of reproductive age women and is the most frequent cause of anovulatory infertility. Its physiopathology may result in part from hypothalamic alterations in the pulsatile secretion of gonadotropin-releasing hormone (GnRH). The neuropeptide kisspeptin participates in the mechanism through stimulation of the hormone's production. The purpose of this study was to review the articles which compared kisspeptin levels in women with PCOS with those of controls. A systematic review of observational studies was conducted in accordance with the PRISMA (Preferred Reporting Items for Systematic Reviews and Meta-Analyses) recommendations. The selected studies encompassed a population of patients with PCOS and controls, whose serum kisspeptin levels were evaluated. The studies were retrieved from the Medline, Cochrane, and Embase databases, and four of them were chosen for the review. In most studies, the serum kisspeptin levels were higher in women with PCOS than in controls notwithstanding the BMI. One of the articles showed that circulating plasma levels of kisspeptin were significantly higher in women with PCOS whose BMI was lower than 25 than in obese and overweight women. Our data suggest a higher concentration of serum kisspeptin in women with PCOS irrespective of their BMI. Further experimental and clinical studies are needed to ascertain the role of kisspeptin in PCOS.
This is a preview of subscription content, log in to check access.
Access options
Buy single article
Instant unlimited access to the full article PDF.
US$ 39.95
Price includes VAT for USA
Subscribe to journal
Immediate online access to all issues from 2019. Subscription will auto renew annually.
US$ 510
This is the net price. Taxes to be calculated in checkout.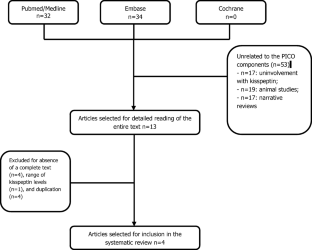 References
1.

Azziz R, Carmina E, Chen Z, Dunaif A, Laven JS, Legro RS, et al. Polycystic ovary syndrome. Nat Rev Dis Primers. 2016;2:16057. https://doi.org/10.1038/nrdp.2016.57.

2.

Tng EL. Kisspeptin signalling and its roles in humans. Singapore Med J. 2015 Dec;56(12):649–56. doi: https://doi.org/10.11622/smedj.2015183. Review.

3.

Silveira LG, Noel SD, Silveira-Neto AP, Abreu AP, Brito VN, Santos MG, et al. Mutations of the KISS1 gene in disorders of puberty. J Clin Endocrinol Metab. 2010;95(5):2276–80. https://doi.org/10.1210/jc.2009-2421.

4.

Lee JH, Miele ME, Hicks DJ, Phillips KK, Trent JM, Weissman BE, et al. KiSS-1, a novel human malignant melanoma metastasis-suppressor gene. J Natl Cancer Inst. 1996;88(23):1731–7.

5.

Ohtaki T, Shintani Y, Honda S, Matsumoto H, Hori A, Kanehashi K, Terao Y, Kumano S, Takatsu Y, Masuda Y, Ishibashi Y, Watanabe T, Asada M, Yamada T, Suenaga M, Kitada C, Usuki S, Kurokawa T, Onda H, Nishimura O, Fujino M. Metastasis suppressor gene KiSS-1 encodes peptide ligand of a G-protein-coupled receptor. Nature. 2001;411(6837):613–7.

6.

Navarro VM, Castellano JM, García-Galiano D, Tena-Sempere M. Neuroendocrine factors in the initiation of puberty: the emergent role of kisspeptin. Rev Endocr Metab Disord. 2007;8(1):11–20.

7.

de Roux N, Genin E, Carel JC, Matsuda F, Chaussain JL, Milgrom E. Hypogonadotropic hypogonadism due to loss of function of the KiSS1-derived peptide receptor GPR54. Proc Natl Acad Sci U S A. 2003;100(19):10972–6.

8.

Roseweir AK, Kauffman AS, Smith JT, Guerriero KA, Morgan K, Pielecka-Fortuna J, Pineda R, Gottsch ML, Tena-Sempere M, Moenter SM, Terasawa E, Clarke IJ, Steiner RA, Millar RP. Discovery of potent kisspeptin antagonists delineate physiological mechanisms of gonadotropin regulation.

9.

Terao Y, Kumano S, Takatsu Y, Hattori M, Nishimura A, Ohtaki T, et al. Expression of KiSS-1, a metastasis suppressor gene, in trophoblast giant cells of the rat placenta. Biochim Biophys Acta. 2004;1678(2–3):102–10.

10.

David Moher, Alessandro Liberati, Jennifer Tetzlaff, Douglas G. Preferred Reporting Items for Systematic Reviews and Meta-Analyses: the PRISMA statement. Altman, The PRISMA Group.

11.

Santos CMC, Pimenta CAM, Nobre MRC. The PICO Strategy for the research question construction and evidence search. Rev Latino-am Enfermagem.. 2007 maio-junho; 15(3).

12.

Ozay O., Ozay A.C., Acar B., Cagliyan E., Seçil M., Küme T. Role of kisspeptin in polycystic ovary syndrome (PCOS). Gynecol Endocrinol 2016 (1–5).

13.

Gorkem U, Togrul C, Arslan E, Sargin Oruc A, Buyukkayaci DN. Is there a role for kisspeptin in pathogenesis of polycystic ovary syndrome? Gynecol Endocrinol. 2018;34(2):157–60.

14.

Yilmaz SA, Kerimoglu OS, Pekin AT, Incesu F, Dogan NU, Celik C, et al. Metastin levels in relation with hormonal and metabolic profile in patients with polycystic ovary syndrome. Eur J Obstet Gynecol Reprod Biol. 2014;180:56–60.

15.

Jeon YE, Lee KE, Jung JA, Yim SY, Kim H, Seo SK, et al. Kisspeptin, leptin, and retinol-binding protein 4 in women with polycystic ovary syndrome. Gynecol Obstet Investig. 2013;75(4):268–74.

16.

Panidis D, Rousso D, Koliakos G, Kourtis A, Katsikis I, Farmakiotis D, et al. Plasma metastin levels are negatively correlated with insulin resistance and free androgens in women with polycystic ovary syndrome. Fertil Steril. 2006;85(6):1778–83.

17.

Lizneva D, Kirubakaran R, Mykhalchenko K, Suturina L, Chernukha G, Diamond MP, et al. Phenotypes and body mass in women with polycystic ovary syndrome identified in referral versus unselected populations: systematic review and meta-analysis. Fertil Steril. 2016;106(6):1510–20.

18.

Lopes IM, Maganhin CC, Oliveira-Filho RM, Simões RS, Simões MJ, Iwata MC, et al. Histomorphometric analysis and markers of endometrial receptivity embryonic implantation in women with polycystic ovary syndrome during the treatment with progesterone. Reprod Sci. 2014;21(7):930–8.

19.

Skorupskaite K, George JT, Veldhuis JD, Millar RP, Anderson RA. Interactions between neurokinin B and kisspeptin in mediating estrogen feedback in healthy women. J Clin Endocrinol Metab. 2016;101(12):4628–36.

20.

George JT, Kakkar R, Marshall J, Scott ML, Finkelman RD, Ho TW, et al. Neurokinin B receptor antagonism in women with polycystic ovary syndrome: a randomized, placebo-controlled trial. J Clin Endocrinol Metab. 2016;101(11):4313–21.

21.

Crespo RP, Bachega TASS, Mendonça BB, Gomes LG. An update of genetic basis of PCOS pathogenesis. Arch Endocrinol Metab. 2018;62(3):352–61.

22.

Owens LA, Abbara A, Lerner A, O'floinn S, Christopoulos G, Khanjani S, et al. The direct and indirect effects of kisspeptin-54 on granulosa lutein cell function. Hum Reprod. 2018;33(2):292–302.
About this article
Cite this article
Araújo, B.S., Baracat, M.C.P., dos Santos Simões, R. et al. Kisspeptin Influence on Polycystic Ovary Syndrome—a Mini Review. Reprod. Sci. (2020) doi:10.1007/s43032-019-00085-6
Received:

Accepted:

Published:
Keywords
Kisspeptin

Polycystic ovary syndrome

Anovulation

Body mass index