Exercise Training for the Elderly: Inflammaging and the Central Role for HSP70
Abstract
Inflammation is a common feature of aging tissues, being involved in most, if not all, age-related diseases. The origin of a low-grade inflammation state in aging (inflammaging) is multifactorial and may involve changes in body composition, immunosenescence, autophagy, microbiota modification and loss of proteostasis. The heat shock response pathway (HSR, and HSP70 expression) plays an important role as a mechanism of resolution of inflammation and proteostasis control. In this review, we sought to discuss the mechanisms that may lead to inflammaging, and the importance of the HSP70 in this process. Besides, we also discuss how physical exercise, particularly resistance training, can improve the HSR and the inflammatory balance of elderly people.
Keywords
Aging 
Inflammation 
Exercise training 
Cytokines 
Heat shock response 
HSP70 
Introduction
Population aging is a phenomenon related to the increasing number of elderly people within a country's overall structure [124]. People over 80 years old will represent up to 30% of the industrial countries' population and 12% of the under development ones in 2030 [124]. As such, the so called "2030 problem" represents a challenge in terms of assuring sufficient resources and effective health services by then, when elderly population will be doubled [66]. The economic and social consequences of aging are considerable, particularly regarding the burden of dependence [124].
It is widely known that aging leads to physical, biological and cognitive declines [87]. Aging is a complex process modulated by several factors such as DNA damage/repair, apoptosis, epigenetic and transcriptional changes, immune response, cellular senescence, oxidative stress, metabolic dysfunction and inflammation [59]. Inflammation, in particular, has been shown as a key player involved in the development of several aging-related diseases, such as sarcopenia, diabetes, insulin resistance, heart disease, neurodegenerative diseases (e.g. Alzheimer's Disease, AD), among others [59].
In fact, inflammation is a consistent feature of aging tissues, being involved in most, if not all, age-related diseases [48]. In the elderly, this condition has been described as "inflamm-aging", a low-grade, chronic, systemic inflammation (in the absence of infection), which is significantly associated to both mortality and morbidity [47, 48, 139]. Studies confirm inflammatory mediators, such as the cytokines interleukin (IL)-6, tumor necrosis factor alpha (TNF)-α, and IL-1β,  are dramatically increased in the bloodstream of healthy elderly in comparison to young people [16]. Also, in vitro studies have shown IL-1β stimulates IL-6 mRNA expression and myotubes proteolysis, which occurs partially through the activation of the nuclear transcriptional factor kappa B (NF-κB). This is a known trigger for muscle wasting, one of the major issues regarding physiological declines with aging, which is defined as the progressive loss of muscle mass and function (sarcopenia) [82, 85]. NF-κB is a key inflammatory mediator, its subunits are found abundant in muscle samples from elderly in comparison to young people [17, 133]. Upon activation, this transcription factor induces the expression of archetypal inflammatory cytokines, such as IL-1β and TNF-α, which increase the inflammatory cascade [78]. As such, NF-κB activation and associated cytokines released induce an inflammatory feed-forward that may be involved in age-related sarcopenia in elderly [130].
The origin of the low-grade inflammation is multifactorial. Evidences suggest that the inflammatory profile is directly connected with the unfavourable changes in body composition that occurs with aging [
75
,
107
]. For example, the expansion of the adipose tissue (specially visceral) leads to increased recruitment of blood monocytes and their polarization to inflammatory cells (M1 phenotype). Simultaneously, the known loss of lean mass that occurs with aging, particularly skeletal muscle, an important source of anti-inflammatory myokines in response to contraction, may lead to an imbalance between pro vs. anti-inflammatory cytokines (Fig. 
1
). This cause several changes and dysfunction in many tissues, including nervous system, gut, skeletal muscle, heart, lungs blood vessels, pancreas and many others, leading to a chronic unresolved inflammation [
94
]. For this reason, the maintenance of optimal body composition (↓ adipose tissue and ↑ muscle mass) may be determinant to the inflammatory status. Other important triggers of inflammaging include changes in immune function (immunosenescence) [
9
], autophagy regulation [
111
], microbiota [
19
] and loss of proteostasis [
33
].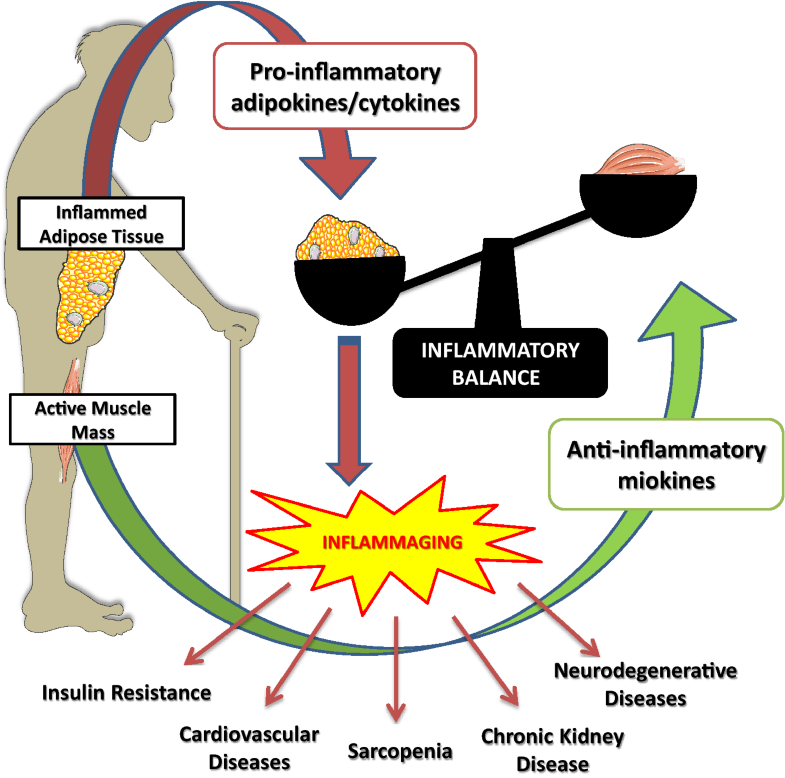 Considering the central role of inflammation in aging-related conditions (sarcopenia, T2DM, AD, etc.), activation of pathways that induce the resolution of inflammation is vital to avoid these complications. Among the mechanisms of resolution of inflammation, the heat shock protein 70 kDa family (HSP70) plays a crucial role. In this review we sought to discuss the mechanisms that leads to inflammaging and the importance of the HSP70 (and the heat shock response, HSR) on the induction and resolution of inflammation in aging. We also discuss how physical exercise, particularly resistance training, can improve the HSR and the inflammatory balance of elderly people. Finally, considering the potential benefits of amino acid and protein supplementation to improve HSR in elderly people, we suggest that the combination of resistance training along with protein supplementation may result in long term maintenance of HSR, thus preventing/reducing the incidence of inflammatory-related diseases.
Conclusions and Perspectives
Inflammaging is a complex process induced by several changes that include body composition modifications, immunosenescence, autophagy and loss of proteostasis. Failure of HSR may lead to a pro-inflammatory profile that is spread to all cells and tissues. HSR (thus HSP70) plays a key role in the resolution of inflammation, and its maintenance can be reached by physical exercise and perhaps, a combination of exercise and protein supplementation. HSR can be easily tested in different populations and its assessment should be encouraged among exercise scientists.
Notes
Acknowledegments
We thank the Federal University of Rio Grande do Sul (UFRGS), Department of Physiology and the School of Physical Education of UFRGS, for supporting this work.
Funding
This work was supported by FAPERGS and CNPq. Mauricio Krause received grant support from FAPERGS (Edital FAPERGS/Decit/SCTIE/MS/CNPq/SESRS n. 03/2017-PPSUS #17/2551-0001424-3).
Copyright information
© Beijing Sport University 2019