Abstract
Shea fruit (Vitellaria paradoxa C.F. Gaertn.) has a high potential for alleviation of hunger and poverty in Burkina Faso. The fruit pulp is an important source of food for rural communities, especially at times of food shortages. In addition, the commercial value of the shea tree enables local women to gather and sell the fruit to increase their incomes. However, stakeholders in the shea sector noted that pulp rot was a major constraint to their activity. Ripe fruit from six ethno-varieties were sampled every 2 weeks from trees in six agroforestry parks over two consecutive years (2017 and 2018). Shea fruits were then incubated in the laboratory until the emergence of adult fruit flies. Seven fruit fly species were identified, the most important of which was Ceratitis silvestrii Bezzi (54.75% of the individual fruit flies that emerged), followed by Bactrocera dorsalis Hendel (41.16%). The average rate of fruit damage differed significantly between ethno-varieties and collection dates, ranging from 2.08 to 16.23% in early shea fruits fruiting season and from 39 to 66.61% in the middle of the season, depending on the ethno-variety and the season. Ethno-varieties ripening in the mid shea fruits fruiting season suffered more fruit fly attacks than early and late ripening ethno-varieties. This study provided interesting information which will be used in the development of strategies for the control of these insect pests.
This is a preview of subscription content, log in to check access.
Access options
Buy single article
Instant unlimited access to the full article PDF.
US$ 39.95
Price includes VAT for USA
Subscribe to journal
Immediate online access to all issues from 2019. Subscription will auto renew annually.
US$ 99
This is the net price. Taxes to be calculated in checkout.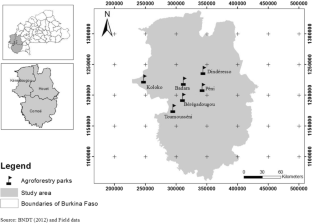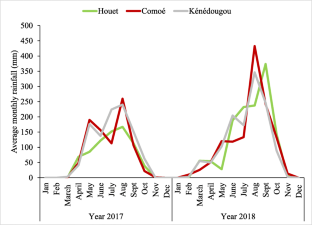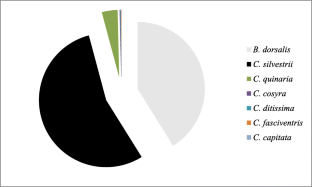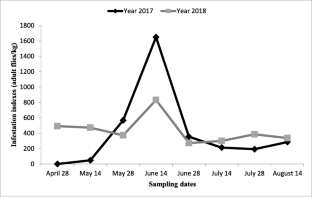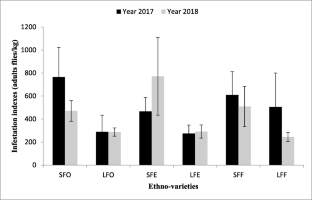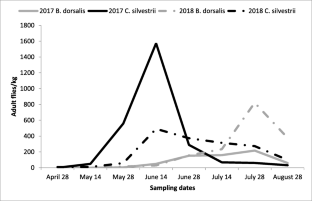 References
Allal F (2010) Patrons de variabilité chez Vitellaria paradoxa (karité): étude phylogéographique et analyse combinée de la variation des acides gras, des tocophérols et de gènes candidats. (PhD Thesis) (Montpellier 2 University) 296p

Aluja M, Mangan RL (2008) Fruit fly (Diptera: Tephritidae) host status determination: critical conceptual, methodological, and regulatory considerations. Annu Rev Entomol 53:473–502

Badii K, Billah M, Afreh-Nuamah K, Obeng-Ofori D (2014) Species composition and host range of fruit-infesting flies (Diptera: Tephritidae) in northern Ghana. Int J Trop Insect Sci 35:137–115

Carroll L E, White IM, Freidberg A, Norrbom AL, Dallwitz MJ, Thompson FC (2002) Pest fruit flies of the world: identification, descriptions, illustrations, and information retrieval, USDA-ARS, USA, 2002, http://delta-intkey.com/

Diatta P, Rey JY, Vayssières JF, Diarra K, Coly EV, Lechaudel M, Grechi I, NDiaye S, NDiaye O (2013) Fruit phenology of citruses, mangoes and papayas influences egg-laying preferences of Bactrocera invadens (Diptera: Tephritidae). Fruits 68:507–516

Ekesi S, Billah MK, Nderitu PW, Lux SA, Rwomushana I (2009) Evidence for competitive displacement of Ceratitis cosyra by the invasive fruit fly Bactrocera invadens (Diptera: Tephritidae) on mango and mechanisms contributing to the displacement. J Econ Entomol 102:981–991

José L, Cugala D, Santos L (2013) Assessment of invasive fruit fly fruit infestation and damage in Cabo Delgado Province, northern Mozambique. Afr Crop Sci J 21:21–28

Kougblénou N, Ahouansou RH, Aïssi MV, Houssou PA, Padonou W, Fandohan P, Mensah GA, Soumanou MM (2012) Caractérisation physique du fruit et valeur nutritionnelle de la pulpe de karité (Vitellaria paradoxa) collecté dans différents parcs au Bénin. Agriculture et Forêt 1025:42–49

Lamien N, Vognan G (1999) Importance of non-wood Forest products as source of rural women's income in Western Burkina Faso. In: Pasternak D, Shlissel A (eds) Combating desertification with plants. Academic/Plenium Publishers, N. Y, pp 69–79

Liquido NJ, Shinoda LA, Cunningham RT (1991) Host plants of the Mediterranean fruit fly (Diptera: Tephritidae): an annotated world review. Misc Publ Entomol Soc Am 77:1–52

Maranz S, Kpikpi W, Wiesman Z, Saint SA, Chapagain B (2004) Nutritional values and indigenous preferences for shea fruits, Vitellaria paradoxa C.F. Gaertn. in African agroforestry parklands. Econ Bot 58:588–600

Mbaiguinam K, Mbayhoudel K, Djekota C (2007) Physical and chemical characteristics of fruits, pulps, kernels and butter of Shea, Butyrospermum parkii (Sapotaceae) from Mandoul, Southern Chad. Asian J Biochem 2:101–110

Mohamed SA, Sunday Ekesi S, Hanna R (2010) Old and new host-parasitoid associations: parasitism of the invasive fruit fly Bactrocera invadens (Diptera: Tephritidae) and five African fruit fly species by Fopius arisanus, an Asian opiine parasitoid. Biocontrol Sci Tech 20:183–196

Mwatawala MW, De Meyer M, Makundi RH, Maerere AP (2006) Seasonality and host utilization of the invasive fruit fly, Bactrocera invadens (Diptera, Tephritidae) in Central Tanzania. J Appl Entomol 130:530–537

Mwatawala MW, De Meyer M, Makundi RH, Maerere AP (2009) An overview of Bactrocera (Diptera, Tephritidae) invasions and their speculated dominancy over native fruit fly species in Tanzania. Bull Entomol Res 99:629–641

Ouédraogo B (2015) Etude sur la contribution des PFNL à l'économie nationale: Cas de la filière fruit de l'arbre à karité. https://doi.org/10.13140/RG.2.1.3497.0969

Ouédraogo SN, Vayssières JF, Dabiré RA, Rouland-Lefèvre C (2010) Fruitiers locaux hôtes des mouches des fruits (Diptera: Tephritidae) inféodées au manguier dans l'ouest du Burkina Faso: identification et taux d'infestation. Fruits 4:36–41

Parkouda C, Diawara B, Ganou L, Lamien N (2007) Potentialités nutritionnelles des produits de 16 espèces fruitières locales au Burkina Faso. Science et Technique, série agronomie, 1, 13p

Rizzo R, Caleca V, Lombardo A (2012) Relation of fruit color, elongation, hardness, and volume to the infestation of olive cultivars by the olive fruit fly, Bactrocera oleae. Entomologica Experimentalis et Applicata 145:15–22

Robert PC (1986) Les relations plantes-insectes phytophages chez les femelles pondeuses : le rôle des stimuli chimiques et physiques. Une mise au point bibliographique. Agronomie 6:127–142

Rouamba PIZL (2001) Transformation dans l'organisation sociale de la filière karité et rapports de pouvoir homme et femme au Burkina Faso. Mémoire de diplômes d'études supérieures de développement. Ouagadougou, BF, 72p

Sandwidi A, Diallo BO, Lamien N, Vinceti B, Sanon K, Coulibaly P, Paré S, Sawadogo M (2018) Participatory identification and characterisation of shea butter tree (Vitellaria paradoxa C.F. Gaertn.) ethno-varieties in Burkina Faso. Fruits 73:141–152

Sarwar M, Hamed M, Yousaf M, Hussain M (2014) Monitoring of population density and fruit infestation intensity of Tephritid fruit flies (Diptera: Tephritidae) in Citrus reticulata Blanco orchard. J Zool Sci 2:1–5

Ugese FD, Baiyeri KP, Mbah BN (2008) Nutritional composition of shea (Vitellaria paradoxa) fruit pulp across its major distribution zones in Nigeria. Fruits 63:163–169

Vayssières JF, Goergen G, Lokossou O, Dossa P, Akponon C (2005) A new Bactrocera species in Benin among mango fruit fly (Diptera: Tephritidae) species. Fruits 60:371–377

Virgilio M, White IM, De Meyer M (2014) A set of multi-entry identification keys to African frugivorous flies (Diptera, Tephritidae). ZooKeys 428:97–108. https://doi.org/10.3897/zookeys.428.7366

White IM (2006) Taxonomy of the Dacina (Diptera: Tephritidae) of Africa and the Middle East. Afr Entomol 2:1–156

Yokoyama VY (2015) Olive fruit fly (Diptera: Tephritidae) in California table olives, USA: invasion, distribution, and management implications. J Integr Pest Manag 6(1):14

Zida I, Nacro S, Dabiré R et Delatte H (2019). Inventaire des parasitoïdes indigènes associés aux mouches des fruits en vue de la lutte biologique par conservation au Burkina Faso. 23rd meeting and conference of the African association insect scientists. Abidjan (Côte d'Ivoire) from 18 to 22nd November, 2019
Acknowledgements
Many thanks to Monné Georges, Ouédraogo Boukary, Sow Adama, Marcel Soubeiga and Maxime Ouattara (Institut de l'Environnement et de Recherches Agricoles) for field data collection and laboratory rearing of fruit flies. This study was conducted with funding from the International Foundation for Science (grant D/5909-1), which the authors gratefully acknowledge.
Additional information
Publisher's note
Springer Nature remains neutral with regard to jurisdictional claims in published maps and institutional affiliations.
About this article
Cite this article
Zida, I., Nacro, S., Dabiré, R. et al. Shea fruit-infesting fruit flies (Diptera: Tephritidae) and evaluation of infestation level according to the ethno-varieties in Western Burkina Faso. Int J Trop Insect Sci (2020) doi:10.1007/s42690-020-00097-9
Received:

Accepted:

Published:
Keywords
Vitellaria paradoxa
Bactrocera dorsalis
Ceratitis silvestrii

Infestation rate

Degree of infestation

Burkina Faso