Climate change challenges IUCN conservation priorities: a test with western Mediterranean amphibians
Part of the following topical collections:
Abstract
One common approach to assigning conservation priorities during the current biodiversity crisis is to identify and direct efforts to high profile, vulnerable taxa, and important biodiversity areas. We addressed the first issue by assessing the comparison between conservation status and habitat suitability under differing climate change scenarios for sixteen species of five amphibian families (Pelobatidae, Bufonidae, Alytidae, Hylidae and Ranidae) distributed on both sides of the Gibraltar Strait, with the aim of verify whether potentially sensible species under climatic change scenarios are or not considered at risk presently in the IUCN current categories. We have addressed this with an environmental niche modelling algorithm (MaxEnt) and projecting the outputs in four future climatic change scenarios. Our results demonstrate that climatic niches of some species may currently match their conservation category, with Pelobates varaldii having the narrowest distribution and being the more endangered species, but not all responses to predicted climatic change scenarios are related to conservation status. Some suggest notable changes in potential climatic habitats, with both substantial increase (7 species) and decrease (5 species) represented. Threatened species such as P. varaldii could be climatically favored whereas currently more abundant species could maintain, increase, or reduce their habitat distribution. These results have implications for current conservation strategies, and suggest that this approach deserves consideration as part of any species or habitat conservation strategy in the future.
Keywords
Alytidae
Amphibians 
Bufonidae
Climatic change 
Conservation 
Distribution 
Hylidae
Niche modeling 
Pelobatidae
Ranidae
1

Introduction

Human-induced climate change has already become a threat to biodiversity, and presents increasing concern regarding further degradation [61]. A fundamental requirement for the conservation of biodiversity is the identification of appropriate priorities, thereby allowing efficient allocation of the limited resources available [62]. Climate change has already caused, among other aspects, changes in cyclic and seasonal aspects of animal and plant life histories, and distributional patterns of both endothermic and ectothermic vertebrates [64]. Building a rigorous framework that includes predicting impacts of climate change on biomes and included species is currently one of the main challenges of science [60].

Amphibians are among those vertebrates with substantial population regression or species extinction reported [5, 29], resulting in a worldwide phenomenon recognized as "amphibian declines". Among causative factors are emergent diseases [16, 50], habitat destruction, and climate change [67]. Amphibians are especially vulnerable to climate warming [22]. As all species rely on the availability of permanent or temporary water for successful breeding, reduction in seasonal precipitation levels, coupled with increasing temperatures, may result in decreased availability of standing water necessary for tadpole development or suitable habitat necessary for the successful maturation of post-metamorphic larvae. Freshwater habitat is also among the most threatened ecosystems due to the synergic effect of overexploitation, contamination and desiccation related to climate change [1]. Endemic species with restricted distributions or niche conditions may be more vulnerable to anthropic change and its impact, and consequences arising from local and global extinctions [65]. Species such as the harlequin group of true toads (genus Atelopus) with restricted distributions in Central and South America [37] have suffered dramatic declines or become extinct.

The western Mediterranean basin represents one of the planet's 25 "hot spots" for biodiversity [42, 44], enforcing the need for identifying conservation priorities and factors representing or determining threats to endemic amphibian species. Understanding habitat suitability, based on demonstrated occupancy by the species, is considered fundamental for assessment of present and future vulnerability. However, current habitat suitability could change under a scenario of climatic and global change, with major contractions in some cases [18]. Reductions could be more intense independently of taxonomic group in specialist species [34], therefore the conservation status of specialist species is likely to be modified under future scenarios. Projections of future habitat suitability have been tested in groups as diverse as ants [45] or ticks [23], and ecological niche models (ENMs), including climatic models [43], have proved to be efficient for making decisions regarding conservation priorities [32, 54]. Such models are commonly used to assess impacts of future climatic warming, comparing distributions under current environmental variables with conditions under future projections for these same environmental variables [47]. Their interpretations should, however, also consider influences from other factors possibly acting synergistically [47], some examples being habitat destruction or physical barriers. IUCN categories were developed before climate change impacts on species were widely recognized and they do not take in any account the potential effects of climate variations. To include the climatic change vulnerability in the IUCN conservation categories have been recommended [2, 28] and the incorporation of such information into IUCN assessments of species conservation status is already in development [27]. Regarding the mentioned vulnerability of amphibians to climatic change and the importance of western Mediterranean basin, identify which of these anuran species are more vulnerable to climatic change, and in consequence a conservation priority is a fundamental task.

We have selected sixteen amphibian taxa (ten genera; five families [Pelobatidae, Alytidae, Hylidae, Ranidae and Bufonidae]), all of which presently occurring in the western Mediterranean basin. This cluster includes narrow and wide distributed species and each taxon currently holds a specific conservation designation. Using these species as sample, we assess future conservation priorities by comparing current climate suitability amplitude and identifying changes in this climatic habitat suitability distribution, and amplitude, in predicted climatic change scenarios (We consider conservation priorities not only species in "Threatened" or "Vulnerable" categories, but also Not Threatened species with predicted severe habitat suitability decreases). Our main hypotheses are:
(a)

Although current threat category may be congruent with the present conservation status of species, this category may not necessarily reflect predicted future habitat suitability changes under a climatic change scenario. We aim to test if these responses vary from the expected following the current status. As it is recommended by other authors [28], these predictions should be incorporated in the conservation status evaluation in the case of these anuran species.

 

(b)

Species with a small distribution area are expected to be more vulnerable under a climatic change scenario due to a lower capacity for adaptation to new conditions.

 

(c)

Widespread species might suffer important climatic suitability recessions in a climatic change scenario. Without adequate attention, this could derivate in an undetected or lately detected conservation problem. We aim to identify these species sensible to climatic change, in order to call attention about the importance of concentrate efforts in the conservation of the predicted suitable areas for these species. Species with current Not Threatened conservation status that show a marked decrease are considered by us as species with underestimated conservation priorities (currently Threatened or Vulnerable species are obviously considered by us as conservation priorities).

 
2

Materials and methods

Our study area in the western Mediterranean basin includes Europe's Iberian Peninsula and North Africa's western Maghreb, currently separated by the Gibraltar Strait. The biodiversity of this area has evolved throughout a history of environmental, paleo-geographic and anthropogenic change. Although the Gibraltar Strait is currently a barrier separating Africa from Europe, during the Miocene-Pliocene a variety of terrain elements emerged favoring species dispersion [11, 36]. Additionally, during the Neogene and Pleistocene (including the last glacial periods) barriers to dispersion appeared and disappeared [56], adding complexity to composition of the biota and precipitating herpetological endemism [49]. We examined the distributions of sixteen amphibian species belonging to the five anuran families represented in the region (the Pelodytidae, present on Iberia is absent from the Maghreb) and summarize these data in Supplementary material 1. These species, represented by a cluster of widespread and narrow species potentially demonstrating similar physiological requirements, are included as a "check" for possible similarities and differences in ecological requirements.

Because numerous cases of absence data could represent false negatives [51], we consider only known presence data for each species. Presence data have been extracted from: (a) unpublished data from the authors, (b) Amphibiaweb (https://amphibiaweb.org), (c) confirmed (by the authors) photographic evidence from Observation.org (https://observation.org) and the, (d) Global Biodiversity Information Facility (GBIF: https://www.gbif.org). We have selected, and included in the analyses, only points separated by at least 1 km (Supplementary Material 1) from among all available points in the distribution areas. Our using a homogeneous distribution along the Iberian Peninsula and North Africa reduces any bias introduced by considering a greater sample from Europe. Our total of 317 "presence locality" data point is inclusive of all species (localities, including geographic coordinates, are listed in Supplementary Material 2).

Climatic variables for current conditions, at a resolution of 30 arc-seconds (approximately 1 km), were obtained from WorldClim 1.4 [33]. We used data from WorldClim version 1.4 to project habitat suitability in 2050 the Global Circulation Model (GCM) of CCSM4 (http://www.worldclim.org/CMIP5) based on the 5th assessment report of IPCC (Coupled Model Inter-Comparison Project Phase 5; CMIP5). We have considered four carbon emission scenarios: (1) The RCP 2.6 scenario suggests that GHC emissions will peak between 2010 and 2020, with emissions declining substantially thereafter, it is a globalize world with a fast economic growth with a peak of population around mid-century with a fast introduction of efficient technologies. (2) In RCP 4.5 the emissions peak occurs around 2040, a heterogeneous world with a regionally oriented development and a slower technology development. (3) In RCP 6.0 scenario emissions peak around 2080 (A world with a population peak around mid-century, but with a change toward a service and information economy and the introduction of clean and efficient economy). (4) Finally, in RCP 8.5 scenario emissions continue to rise during the twenty-first century (this scenario describes a world centered in local solutions to socioeconomic and environmental sustainability). This GCM was selected based on McSweeney et al. [41] in order to reduce bias for Europe and Africa regions. WorldClim version 2.0 [25] was discarded in this study because this version does not have yet future scenarios projections (Built from the current variables data).

We used Pearson tests for correlations among variables. In the case of correlations over 0.6 one variable was discarded. Selected variables were cropped to match the study area (1. X: − 14.9, Y: 26.3: 2. X: 5.9, Y: 44.6) using QGIS [53]. Four variables were selected following tests for correlations: Annual mean temperature, mean diurnal range (average values of monthly maximum temperatures minus minimum temperatures), isothermality (mean diurnal range divided by annual temperature × 100), and mean precipitation during the wettest month. Isothermality, however, was not recommended for future projections by Bedia et al. [8], and was not included in the analysis of future climatic change scenarios.

The finally selected variables were used to construct habitat suitability models for the present, and for projections of habitat suitability under future carbon emission scenarios, for the sixteen species using MaxEnt (version 3.4.1) software [48]. This algorithm estimates the distribution of a species by finding the probability distribution of maximum entropy. We performed 100 repetitions and selected Cloglog as the format for our output. In order to evaluate models, we chose to use area under the curve (AUC), but usefulness of only this accuracy measurement has been criticised when used in presence/background models such as MaxEnt. In addition to AUC, it is recommended to present the value of specificity (real negatives predicted as negative/total of real negative) and sensitivity (real positives predicted as positive/total real positives) [38]. Specificity was calculated using the Fielding and Bell [26] method, and the threshold used to convert the MaxEent output (Continuous) in categorical was the Minimum Training Presence (MTP) given by the MaxEnt output sheet, obtaining, therefore, a maximum sensitivity (Value of 1). The true skill statistic (TSS: Sensitivity + Specificity − 1) recommended by Allouche et al. [3] is equal to specificity in this work. In addition, we used the fractional predicted area value as an indicator of the climatic habitat suitability amplitude of each species (Table 2) in the selected geographic area. We also provide the variables with a higher impact in the models (over 20% of importance).

To compare our predictions of future tendencies under differing scenarios with the currently applied conservation status, we have calculated the percentage of climatic suitability change in each species-scenario projection, obtaining a general tendency for each species. The estimation of percentage of change has been calculated using the threshold value of minimum training presence. Species with an estimated climatic suitability change of ± 5%, or with opposite results among carbon emission scenarios, were considered stable. Species with Not Threatened conservation status that show a marked decrease are proposed by us as species with underestimated conservation priorities (currently Threatened or Vulnerable species are obviously considered by us as conservation priorities). We also tested the efficiency of current conservation categories taking in account predicted habitat suitability and calculating the accuracy based in a confusion matrix opposing the current status (Threat categories as negatives and not treat categories as positives) and the predicted tendency (Decreases as negatives and increases as positives).
3

Results

Except in the cases of

Pelophylax saharicus

and

Discoglossus galganoi

, the model output for all current and future climate scenarios presented excellent AUC values (larger than 0.8; Sweets, 1988), and specificity (Table 

1

). Following Sweets, 1988, in the case of

D. galganoi,

AUC is good (0.78), being weaker for

P. saharicus

(0.66).

Table 1

AUC, specificity and variables impact for each species model (E: current climate; P: predicted climate)
| Species | AUC/SD | Specificity | Fractional predicted area | Variables (% of contribution) |
| --- | --- | --- | --- | --- |
| Pelobates cultripes | 0.869/0.159 | 0.541 | 0.459 | 13 (73.7) |
| Pelobates varaldii | 0.989/0.025 | 0.905 | 0.095 | 13 (45.5); 3 (29.5) |
| Bufo spinosus | 0.810/0.106 | 0.498 | 0.502 | 13 (94) |
| Bufotes boulengeri | 0.892/0.246 | 0.577 | 0.423 | 3 (77) |
| Epidalea calamita | 0.826/0.122 | 0.568 | 0.432 | 13 (81) |
| Sclerophrys mauritanica | 0.909/0.123 | 0.592 | 0.408 | 3 (73.8); 13 (24.1) |
| Barbarophryne brongesmai | 0.966/0.049 | 0.893 | 0.107 | 3 (81) |
| Hyla meridionalis | 0.856/0.162 | 0.471 | 0.529 | 13 (80.3) |
| Alytes cisternasii | 0.912/0.087 | 0.721 | 0.279 | 13 (74.2) |
| Alytes obstetricans | 0.894/0.120 | 0.642 | 0.358 | 13 (58.1); 2 (27.4) |
| Alytes maurus | 0.948/0.091 | 0.719 | 0.281 | 13 (80.3) |
| Alytes dickhilleni | 0.979/0.074 | 0.432 | 0.568 | 2 (44.6) |
| Discoglossus galganoi | 0.775/0.168 | 0.553 | 0.447 | 2 (89.6) |
| Discoglossus scovazzi | 0.862/0.158 | 0.432 | 0.568 | 3 (75); 13 (23.2) |
| Pelophylax perezi | 0.850/0.173 | 0.617 | 0.383 | 13 (65.3); 2 (30.2) |
| Pelophylax saharicus | 0.659/0.289 | 0.210 | 0.790 | 3 (6.2); 1 (36.8) |
In general, variables with the higher impact were the following two: precipitation during the wettest month, and isothermality (Table 
1
). Isothermality is correlated with several variables of WorldClim dataset which were excluded from analysis. Annual precipitation also appears highly correlated with precipitation of the wettest month (Pearson coefficient: 0.89). We have included the general tendency of each species under climatic change scenarios (based on results presented below) in order to achieve an overview for predicted tendencies for change and allowing a visual comparison with current conservation status (Table 
2
).
Table 2
Climatic suitability changes (%) under different scenarios in studied species. The IUCN Red List conservation category are also listed
| Species | RCP2.6 (%) | RCP4.5 (%) | RCP6.0 (%) | RCP8.5 (%) | Climatic suitable habitat trend | IUCN category |
| --- | --- | --- | --- | --- | --- | --- |
| Pelobates cultripes | + 9 | + 11 | + 7 | + 10 | Increase | NT |
| Pelobates varaldii | + 44 | + 71 | + 11 | + 11 | Increase | EN |
| Bufo spinosus | − 4 | − 7 | + 2 | + 2 | Stablility | Not evaluated |
| Bufotes boulengeri | + 7 | + 6 | − 3 | − 13 | Stability | LC |
| Epidalea calamita | − 8 | − 17 | + 1 | + 1 | Stability | LC |
| Sclerophrys mauritanica | − 13 | − 13 | − 27 | − 33 | Decrease | LC |
| Barbarophryne brongesmai | − 26 | − 24 | − 31 | 3 | Decrease | NT |
| Hyla meridionalis | − 18 | − 16 | − 26 | − 28 | Decrease | NT |
| Alytes cisternasii | + 24 | + 10 | + 5 | + 49 | Increase | LC |
| Alytes obstetricans | − 33 | − 43 | − 5 | − 38 | Decrease | LC |
| Alytes maurus | − 18 | − 17 | − 26 | − 35 | Decrease | NT |
| Alytes dickhilleni | + 40 | + 49 | + 19 | + 18 | Increase | VU |
| Discoglossus galganoi | + 22 | + 37 | + 39 | + 2 | Increase | LC |
| Discoglossus scovazzi | − 8 | + 9.6 | + 35 | + 11 | Increase | LC |
| Pelophylax perezi | + 8 | + 10 | + 14 | + 13 | Increase | LC |
| Pelophylax saharicus | − 5 | − 4 | − 4 | − 3 | Stability | LC |
Considering these variables, the climatic niche of species currently matches their conservation category, with Pelobates varaldii having thenarrower distribution, and being the more endangered species. Pelobates varaldii is the species with the lower fractional predicted area (0.01, Table 2). The second species with a low amplitude of climatic niche range is Alytes dickhilleni (0.11) followed by Barbarophryne brongesmai (0.12). The rest of the species in our dataset present higher fractional predicted area values, P. saharicus being the species with the higher value (Table 1).
Models under differing scenarios relating to carbon emissions demonstrate variability among species, and scenarios (Table 
1
, Supp. mat. 3) illustrate either increases or decreases in geographical habitat suitability (see quantitative data in Table 
2
). Species, including
P. varaldii, P. cultripes, Alytes cisternasii, D. galganoi, D. scovazzi
and
Pelophylax perezi
show a general (In at least three or more scenarios) climatic habitat suitability expansion (Fig. 
1
, Table 
2
), whereas
Sclerophrys mauritanica, Barbarophryne brongersmai, Hyla meridionalis, A. obstetricans,
and
A. maurus
show a general climatic habitat suitability decrease (Fig. 
2
, Table 
1
), and there are differences among scenarios. A pattern of stability was observed in:
Bufo spinosus
,
Bufotes boulengeri
,
Epidalea calamita,
and
P. saharicus
.
Pelobates varaldii,
within the RCP4.5 scenario, had the highest level (+71%) of climatic suitability increase, and
A. obstetricans,
also within the RCP4.5 scenario, had the largest level of decrease (− 43%) projected by these future scenarios.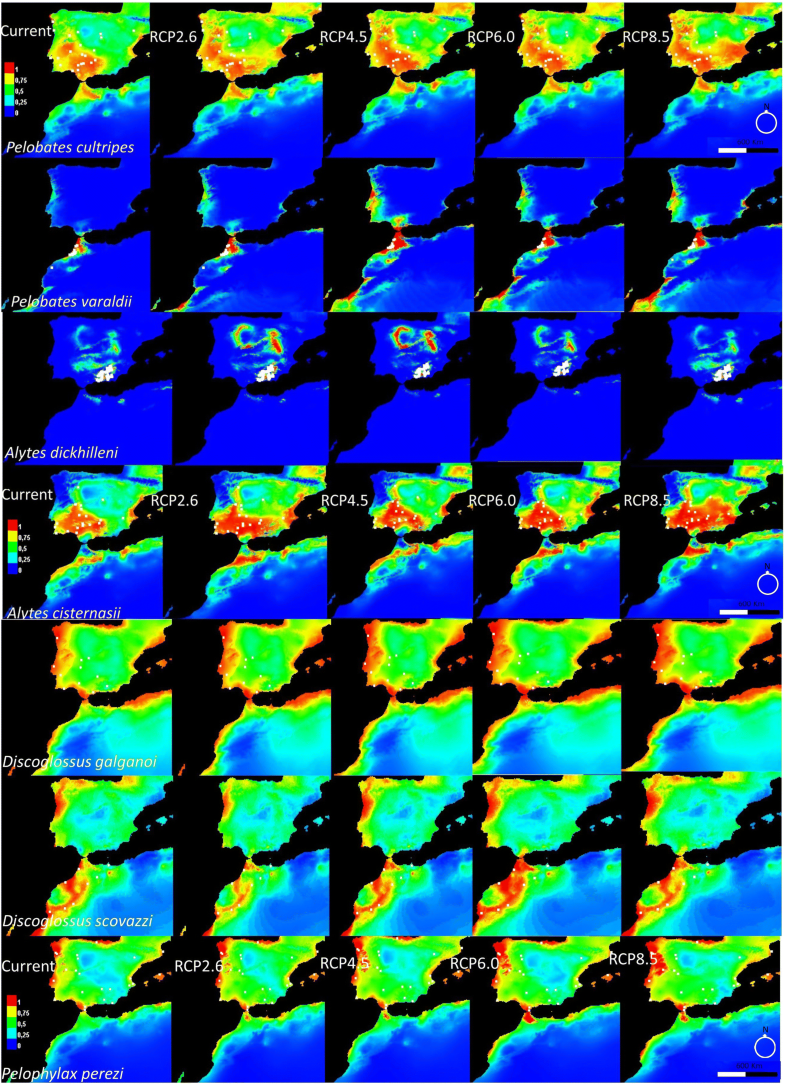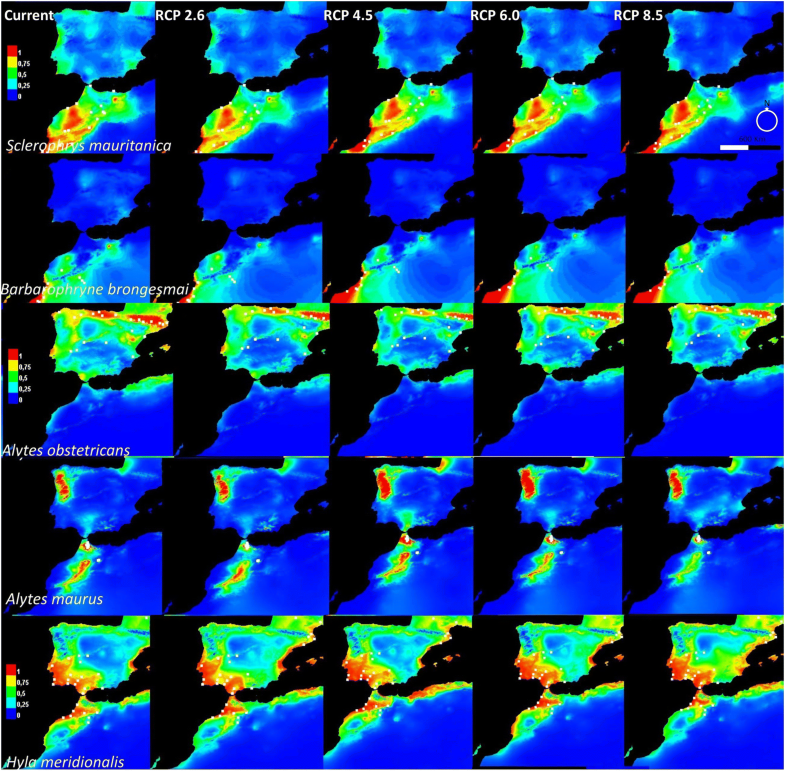 Summarizing, these results indicate that the current IUCN conservation status for these sixteen Mediterranean area species (Table 2) is not always coherent with projected climatic habitat changes; Endangered (P. varaldii) or Vulnerable (A. dickhilleni) species are predicted to experience climatic suitability increases, while some species of lower concern (A. obstetricans and S. mauritanica) are predicted to suffer severe decreases (44% of Low Concern species increase climatic suitability, 33% lose potential habitat, and 23% maintain their distributional range). The accuracy calculated for these categories' efficiency was 0.46 (values around 1 would indicate a good efficiency of the current categories to protect the species also in a climatic change scenario. This value indicates the opposite).
4

Discussion

Endemic, rare or uncommon species are more prone to extinction than more abundant and less restricted species [31, 37]. Under a climatic change scenario, these species may be made more vulnerable due to a relatively lower capacity to adapt to new conditions and, consequently demonstrate a lower level of resilience [34, 63].

Our results demonstrate that, currently, P. varaldii is the species with the lowest level of suitable climatic habitat within the study area, and, consequently, lives within a niche with the lowest climatic amplitude. This result is concordant with its current distribution [17]. Not surprisingly, this species also has the highest IUCN threat category among the selected species [59], and recent surveys suggest its situation may deteriorate further in some areas [35]. The only species catalogued by the IUCN as Vulnerable is A. dickhilleni [13], and the amplitude of its current suitable habitat is, as expected, narrow (0.11 of predicted area).

Surprisingly, our results suggest that P. varaldii could clearly increase its potential climatic range under differing climate change scenarios. This result contrasts with the decline in suitable habitat predicted for A. maurus (Near Threatened), A. obstetricans (Low Concern), E. calamita (Near Threatened) and B. spinosus (Not evaluated in IUCN). Sclerophrys mauritanica (Low Concern) presents low (but close to maintenance level) declines in predicted suitable habitat, in addition to differing scenarios of habitat suitability among some areas within its current distribution. Other species, like B. boulengeri (Low Concern), maintain habitat suitability across projected climate changes. All Near Threatened species are projected to suffer a loss of habitat suitability, and one vulnerable species, and one Endangered species is expected to experience an increase in climate suitability. Some species appear to compensate for severe reductions in some areas with incremental increases in others, seeming to be stable under future predictions (Suppl. Mat. 3). These results for amphibians complement those of Enriquez-Urzelai et al. [24], who suggested climatic niche tracking in response to climate warming.

In relation to the comparative niche amplitude analysis among species, it is important to remark that the selected the study area is separated by the Gibraltar Strait, a biogeographic barrier. The models predict suitable habitat and changes in places where the species could live regarding the climatic presence, but it is not obviously possible due to this barrier.

Araújo et al. [7] also implemented predictions for all Spanish species, but not for the species of northern Africa not present in Spanish Northern Africa territories. Our results partially agree with these authors in the predicted potential habitat in the future for some of these species (for example, the habitat suitability loss for H. meridionalis, is different from the rest of species mostly based in the percentage of change but not in the direction). The differences between our study and Araújo et al. [7] are likely due to: (a) Different environmental current and future predicted data (from projections based on data of the Agencia Estatal de Meteorología (AEMET) of the government of Spain in the case of [7]; and from WorlClim (CCSM4 global circulation model in our study). (b) Study area limits, only Iberian Peninsula in Araújo et al. [7], and areas of both sides of the Gibraltar Strait in our study. In addition, to reinforce our results we decided to implement models with four future carbon emission scenarios from WorldClim data of the Global Circulation Model CCSM4 (see Sect. 2) because they are recommended to Africa and Europe [41]. Other work assessing a similar objective is Carvalho et al. [14]. In this work, the responses under climatic change are analyzed in several herpetological species in a different study area that includes some of our tested species in Europe (A. cisternasii; A. dickhilleni and P. cultripes), for which are matching our results. D'Amen et al. [15] addressed another interesting approach, obtaining the conclusion that natural protected areas will also reduce their efficiency in these scenarios, being this another example of how climatic change are not fully considered in current conservation figures. As we mention in the introduction, further research about geographical conservation priorities inside or study area are of special interest.

Climate change could drive modifications in habitat distribution for species [51], and in consequence for populations viability [4]. In numerous cases, narrow species could suffer a reduction of suitable habitat [52], and in other cases these endangered species could benefit from change, as our models results suggest. Our data show that future increases and decreases of suitable habitat are not related with current conservation status. This information is useful to take decisions about the species we predict will be more sensible in the incoming future. In a climatic change scenario, increments or reductions in habitat suitability are not related with actual widespread or narrow character of species. Taking into account differences among carbon emission scenarios, we observe how some widespread species will be reduced its habitat suitability in the region while some narrow ones will increment it.

It is important to know that our study only analyzes climatic variables. Another factor like, for example, the substrate can influence the rain infiltration, determining the presence or absence or superficial water bodies which are necessary for amphibians reproduction. Present and future habitat predictions need also consider other environmental factors, such as the impact of future occurrence of diseases (already modelled by [57], water bodies availability, habitat fragmentation, land cover, etc. An ensemble forecasting approach could also give more precise results regarding concrete geographical areas [6], but our aim in this work was not to identify small or specific priority areas, we aimed to get an overview of general trends of species under climatic change scenarios. Another possible limitation of this work is the low number of known localities for some species. This fact could eventually induce bias if the narrow distribution is caused by non-climatic factors, although in our case there are available natural landscapes surrounding the range of these species and it is not occupied.

We are assuming that species climatic niche requirements will not change, but climatic change in other cases has been postulated to represent "the principal engine of evolutionary change" [66]. Our results are suggesting that all but one of the analysed species would experiment substantial changes in their distribution, thus providing a mechanism of differentiation, favoured by the short generation time of amphibian species. These results open a window to future studies about species adaptations to climate change, as an evolutionary approach.
5

Conclusions

One of the essential tasks in conservation biology is to identify the conservation priorities in a limited fund scenario. Environmental conditions and, thus, climate, are basic variables affecting the habitat suitability and, in consequence, the availability of niche for species. Predicted future climatic change cans strongly affect the niche of these species. Our main conclusions are that, for the amphibians of the western Mediterranean, the current conservation status is concordant with climatic niche availability, but not necessarily in a future climatic change scenario. In addition, the responses to these predicted scenarios are different among species, and it does not depend upon the status of the species. Our prediction suggests that some endemic species, with narrow current distribution could increment their habitat suitability, and some widespread species will reduce it, being essential to take preventive conservation measures. Finally, we would like to propose species conservation priorities for these species. First we obviously confirm the status of the currently Threatened and Vulnerable species (P. varaldii and A. dickhilleni) but in addition we want to propose several underestimated conservation priorities (based on our results: S. mauritanica B. brongesmai, H. meridionalis, A. obstetricans, A. maurus). We consider this information a useful tool in order to plan present and future conservation actions and strategies throughout, for example, the incorporation of these predictions in the UICN conservation status.
Notes
Acknowledgements
We thank Stephen D. Busack for the revision of English, and suggestions to improve the manuscript. We want also to acknowledge to the two anonymous reviewers for their comments.
Funding
This work was supported by the Hassan II Academy of Sciences and Technics-Morocco (ICGVSA Project. PI. T. Slimani).
Compliance with ethical standards
Conflict of interest
The authors declare that they have no conflict of interest.
Ethical approval
No live or dead animals were used in this work.
Copyright information
© Springer Nature Switzerland AG 2020