Fabrication of tungsten-iron-doped TiO2 nanotubes via anodization: new photoelectrodes for photoelectrochemical cathodic protection under visible light
Part of the following topical collections:
Abstract
The simultaneous doping of tungsten (W) and iron (Fe) into TiO2 nanotubes (W–Fe-TNTs) has been performed via one-step anodizing in different ratios of W and Fe in this work. The synthesized samples were characterized by the XRD, FE-SEM, EDX-mapping, and UV–Vis techniques which proved the appropriate formation of the doped samples. The photocathodic protection effect of the synthesized samples was also studied using electrochemical measurement techniques including OCP, chronoamperometry and Tafel polarization curves. The experimental results indicated that the samples could protect the 403SS from corrosion very well. The W–Fe-TNT sample with equal percentage of W and Fe showed the best photoelectrochemical anticorrosion effect for stainless steel under visible light illumination.
Keywords
Tungsten 
Iron 
Titanium dioxide 
Co-doping 
Anodization 
Photocathodic protection 
Corrosion 
1

Introduction

Metal corrosion is a kind of silent destruction which takes place almost for all metals in nature except for noble metals such as Au and Pt [1]. Since, the metals have many applications in industry and human life, the prevention of their corrosion is inevitable. For example, stainless steel (SS) is a crucial material used in marine equipment due to its benefits of corrosion resistance, stability and hardness. Because of the presence of chloride anion in oceans, steel is vulnerable to localized corrosion [2, 3]. According to different corrosion mechanisms, various methods have been used for metal corrosion prevention including cathodic protection and anticorrosion coatings [4, 5, 6]. Recently, semiconductors such as TiO2 have been used for the photocathodic protection of SS. Titanium dioxide is an n-type semiconductor with interesting electrochemical and photoelectrochemical activities [7, 8]. The special interest to TiO2 as semiconductor for photoelectric conversion [9] and photocatalyst [10] purposes is mainly due to its stability [11], non-toxicity [12], and low cost [13]. TiO2 nanotubes (TNTs) compared to TiO2 particles have been extensively used in solar cells, sensors, environmental purification, and photoelectrodes because of their vast surface areas, great controllability, premier electron transport properties, and supreme physicochemical property [14]. On the other hand, pure TiO2 film due to its wide energy band gap (Eg = 3.2 eV) cannot impressively absorb light in visible region. It is difficult to maintain photocathodic protection in the absence of light because of the fast recombination of the photogenerated electron–hole (e−–h+) pairs, and it is essential to prepare TNTs for extending the light absorption ranges and improve the photoelectrochemical performances of TiO2 [15].

Various strategies including doping with nonmetal or metal elements have been adopted to extend the photoresponse into visible spectral range, improve separation rate of e−–h+ and ultimately promote photocathodic protection. Ni–TiO2 samples prepared by sol–gel were used as photoanodes for PEC cathodic protection performance of 304SS and 316LSS, respectively. Liu et al. prepared Fe–TiO2 photoanodes by LPD method and showed their excellent PEC cathodic protection performance for 304SS. Also our previous studies showed that deposition of nickel–platinum on the surface of Fe-doped TiO2 nanotube films is a promising technology to improve the PEC cathodic protection to some metals such as 304SS. Usually, the doped ions create additional energy levels into the band structure, which can be used to trap electrons or holes to separate carriers from the bands, thus allowing more carriers to successfully diffuse to the surface [16, 17, 18, 19]. Yu et al. proposed a new approach for inhibiting of localized corrosion of SS by constructing a super hydrophobic WO3–TiO2 hierarchical nanoflake surface on the Fe–W amorphous alloys formed on SS [20]. Li et al. [22] enhanced the photocathodic protection of 304SS under visible light irradiation using Ag-graphene–TiO2 composite. Ren et al. synthesized polypyrrole-TiO2 nanotube arrays with excellent visible light response protection by anodic oxidation and electro-polymerization method for the photocathodic protection of coupled Q235 carbon steel under white light irradiation [23]. Sun et al. provided an approach for the design and synthesis of composite films 3D ZnIn2S4 nanosheet-TiO2 nanowire arrays and used them to enhance the photocathodic protection of 304SS [23]. Cheng et al. studied the effect of SiO2 doping on photogenerated cathodic protection of nano-TiO2 films on 304SS. They showed that the 10% SiO2–TiO2 film is the best for the photogenerated cathodic performance [24]. The NiO–TiO2 p–n heterojunction composites were synthesized by Han et al. using electroless plating and annealing, which resulted in TiO2 nanotube arrays coated with a layer of NiO particles. Produced composites exhibited great photoelectrochemical performance, which provided better photocathodic protection for 304SS [14].

In the present study, TiO2 nanotubes were simultaneously doped with Fe and W by the one-step anodizing method at different ratios of Fe and W and the prepared structures were characterized by FE-SEM, EDX-mapping, XRD, and UV–Vis techniques. In addition, their performance in photocathodic protection of 403SS under the illumination of Xe lamp in a corrosive media was investigated. To the author's knowledge, simultaneous doping of Fe and W with different ratios by the one-step anodizing method has not been reported in literature. This work is the first experimental study on the effect of simultaneous doping of two cations on photocathodic protection of 403SS.
2

Experimental section
2.1

Sample preparation

The pure Ti foils were cleaned in acetone, ethanol, and deionized water for 10 min, respectively, and dried in air. The TiO

2

nanotube films were fabricated in prepared solutions with different ratios of W and Fe (see Table

1

) by an anodic oxidation method at 40 V for 8 h with a Pt counter electrode. Then, the samples were annealed at 450

◦

C for 2 h in air at a heating rate of 5 °C min

−1

and naturally cooled down. Figure 

1

a shows, schematically, the preparation of W–Fe-TNTs.

Table 1

The experimental parameters for the synthesis of each sample
| Samples | Anodizing solution |
| --- | --- |
| K0 | 97 mL DMSO + 2 mL HF + 1 mL H2O |
| K1 | 97 mL DMSO + 2 mL HF + 1 mL H2O + 12 mM K3FeCN6 |
| K2 | 97 mL DMSO + 2 mL HF + 1 mL H2O + 9 mM K3FeCN6 + 3 mM Na2O4W |
| K3 | 97 mL DMSO + 2 mL HF + 1 mL H2O + 6 mM K3FeCN6 + 6 mM Na2O4W |
| K4 | 97 mL DMSO + 2 mL HF + 1 mL H2O + 3 mM K3FeCN6 + 9 mM Na2O4W |
| K5 | 97 mL DMSO + 2 mL HF + 1 mL H2O + 12 mM Na2O4W |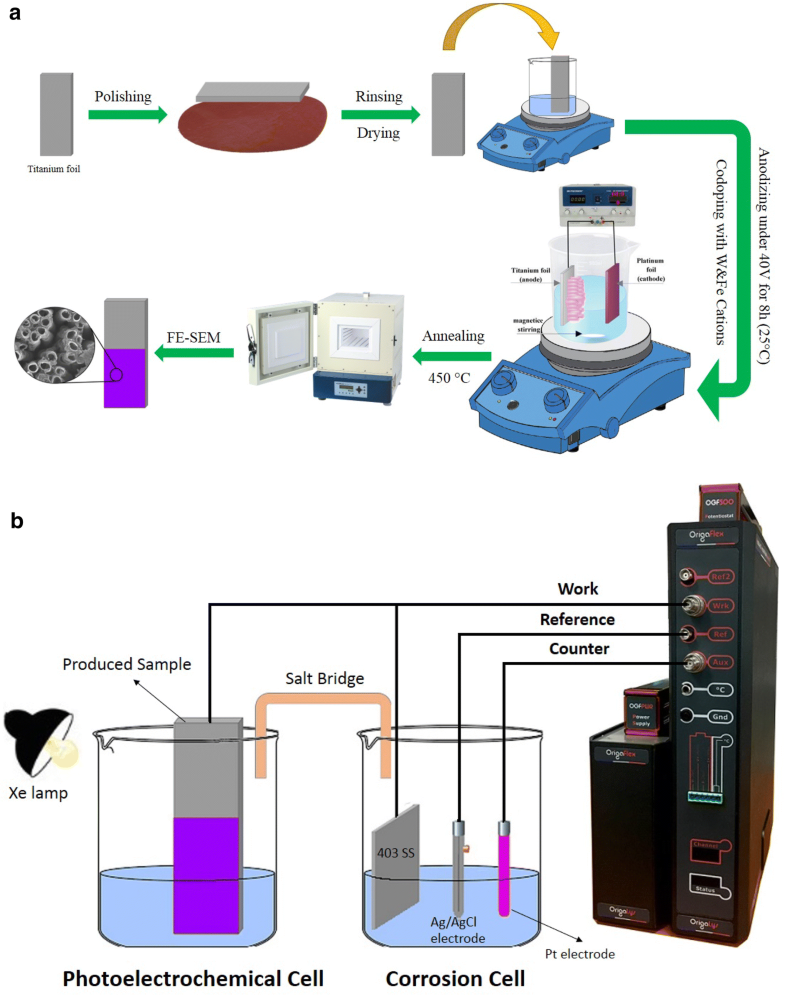 2.2

Characterization of morphology and chemical composition

The morphologies of the synthesized samples were determined by a field-emission scanning electron microscope (FE-SEM, Quanta™ 450 FEG). The chemical composition of the samples was analyzed by energy-dispersive X-ray spectroscopy (EDX: Seron AIS 2300, Korea). The crystallographic structure of the W–Fe-TNTs was examined by X-ray diffraction (XRD, Asenware AW-DX 300). A (JASCO V-570) spectrophotometer was used to record the UV–Vis light absorption spectra of the samples.
2.3

Electrochemical measurements

Electrochemical measurements were carried out at room temperature using an Origa flex electrochemical workstation (OGF500 potentiostat/galvanostat, France). The schematic of the experimental setup for the photoelectrochemical measurements is demonstrated in Fig. 1b. The electrolyte of the corrosion and PEC cells was 3.5 wt% NaCl and 0.1 mol L−1 Na2S + 0.2 mol L−1 NaOH, respectively. The connection between electrolyte solutions in these two cells was fulfilled by a salt bridge. The Ag–AgCl (reference) and Pt (counter) electrodes along with 403SS were placed in the corrosion cell. W–Fe-TNTs were placed in the PEC cell and connected to the 403SS as working electrode. In addition, a xenon lamp (55 W) with 200 mW cm−2 intensity was used as light source for illumination.
3

Results and discussion

After preparing samples and performing several characterization tests including FE-SEM, XRD, EDX-mapping, and UV–Vis, it can be concluded that the fabrication of the W–Fe-TNT films has been successfully carried out by one-step anodizing.

Figure 7b illustrates chronoamperometry curves of the 403SS, pure TiO2, and W–Fe-TNT films with several on–off cycles of light illumination. All the fabricated samples show excellent photoresponses compared to pure TiO2. When the light is turn-on, the photocurrent increases, rapidly, and its values become nearly constant during the illumination. The photocurrent decreases, rapidly, and reaches to initial values when the light is turn-off. K3 sample indicated the best result in comparison with other samples. The increase in the photocurrent is due to the considerable increase in the number of electrons and holes under the illumination. The rapid increase and decrease in photocurrent in Fig. 7b show that the charge transport occurs in the film very quickly [18, 19, 27].

Corrosion resistance of W–Fe-TNT films coupled with 403SS was measured via Tafel polarization measurements under the light illumination (see Fig. 7c). The polarization potentials of the synthesized samples showed a significant negative shift compared to bare 403SS which indicated that both pure TiO2 and W–Fe-TNTs can serve as protector to prevent the 403SS from corrosion. By co-doping of TiO2, the corrosion potential was, considerably, decreased to negative potential compared to pure TiO2 which can be a favorable path for transferring enough photogenerated electrons to the 403SS electrode. Also, the increase in polarization current densities of samples can be due to the enhancement of electrochemical reaction at the interface resulting from the polarization of photogenerated electrons [27]. K3 indicated the best result in comparison with other samples.
4

Conclusion

The W–Fe-TNT films with different W and Fe ratios have been successfully prepared via one-step anodization to inhibit 403SS corrosion. The results showed that these samples are significantly useful for the separation of photogenerated electrons and holes, as confirmed by the OCP, chronoamperometry and Tafel polarization curves. W–Fe-TNTs especially K3, showed a notable photocathodic protection effect toward the 403SS, and based on the results, it can be claimed that these samples are promising materials for metal corrosion protection.
Notes
Compliance with ethical standards
Conflict of interest
The authors declare that there is no conflict of interests regarding the publication of this article.
Copyright information
© Springer Nature Switzerland AG 2019