A comparison of homogeneous and heterogeneous Brønsted acid catalysts in the reactions of meso-erythritol with aldehyde/ketones
Part of the following topical collections:
Abstract
Brønsted acid catalyzed condensations of meso-erythritol with aldehyde/ketones were studied using meso-erythritol:aldehyde/ketone 1:3 ratio in a Dean–Stark apparatus. The selectivity among bis-ketal and 1,3-dioxolane-ether formation can be achieved by choosing between homogeneous and heterogeneous catalysts. The catalysts could be reused without appreciable loss in activity.
Keywords
meso-erythritol 
Ketal 
Ether 
Aldehydes 
Ketones 
Catalysis 
1

Introduction

The acid catalyzed conversion of aldehydes or ketones to their acetals and ketals is a well known reaction in synthetic organic chemistry, widely applied as a protecting technique for carbonyl compounds as well as for 1,2 and 1,3-diols [1]. The acetals and ketals are generally stable under basic and oxidative conditions and can be hydrolyzed under aqueous acidic conditions [1]. The susceptibility of these functionalities to controlled acidic conditions can be seen as an asset in biodegradable polymer applications. The renewed interest in this functionality in recent years may be due to numerous applications like synthesis of biodegradable smart polymer materials [2], oxygenated renewable fuel additives [3] as well as in cosmetics [4]. In recent years a number of researchers have recognized the potential of incorporating the ketal/acetal function in two classes of biodegradable polymers, firstly in environmentally compatible biodegradable polymer materials and secondly in medical applications [5, 6]. For example, Miller and co-workers have shown favorable biodegradation properties in lignin derived ketal polymers [7, 8]. Furthermore, ketal functionalized chemicals are of interest as new biodegradable surfactants and polymer additives as well; especially levulinic acid ketals as well as esters have attracted interest as eco-friendly surfactants and polymer additives [9, 10]. In medical applications, Shenoi et al. [11] has recently demonstrated that hyper branched polyglycerols with ketal groups are highly biocompatible, with favorable in vivo degradation characteristics with minimal tissue accumulation.

In the case of renewable energy and fuel applications, glycerol ketals/acetals are the most widely studied class of compounds and this may be due to the relative abundance of this natural polyol as a byproduct in the bio-diesel industry. The acetone ketal of glycerol, commonly known as solketal has been recognized as a potential replacement for the fuel additive methyl t-butyl ether [3, 12, 13]. In addition numerous researchers have studied the potential of glycerol as a monomer for the renewable carbon based polymer industry. Recently we have shown that condensation of glycerol with renewable monomers such as levulinic, 4-ketopimelic and 2,5-furan dicarboxylic acids can be used to prepare novel renewable polymers with ketal and ester functionalities [14, 15, 16]. However, the higher homolog of glycerol, erythritol has received little attention as a renewable feedstock in the chemical and polymer industry [7, 17, 18].

Since 1990s, erythritol has been produced in an industrial scale and added to beverages and foods to give sweetness, as a flavor enhancer, humectants, formulation support/stabilizer, sequestrant, thickener as well as a texture enhancer. In the US, the main use of erythritol are in chewing gum, baked sweets and in diet beverages [19]. Erythritol can be produced via numerous chemical methods such as halogenations followed by hydrolysis of 2-butene-1,4-diol, hydrogenolysis of tartaric acid esters [20] or dialdehyde starch [21], and electrolytic decarboxylation of arabinoic or ribonic acids [22]. Nevertheless, these chemical synthesis methods are not widely applied in the current industrial production of erythritol as biotechnological methods are more economically feasible and currently most of the erythritol is produced by fermentation methods using yeast-like fungi genera [19, 23]. In addition a number of other common organisms such as: Moniliella pollinis, Trichosporonoides megachiliensis and Yarrowia lipolytica have also being used in the industrial production of erythritol [23].

Erythritol with four hydroxyl groups has the potential of making a symmetrical 1,3-dioxolane

bis

-ketal system, which is more attractive as a polymer building block than glycerol since the triol can make only one ketal/acetal and leaves an unreacted primary alcohol group. However this acid catalyzed

bis

-ketal formation in

meso

-erythritol can get complicated by the possible cyclo-dehydration giving a favorable tetrahydrofuran system. Since there are many Brønsted acid catalysts that can be used in such ketal formation and cyclo-dehydration reactions, it would be interesting to compare different homogeneous and heterogeneous Brønsted acids under similar catalyst loading conditions. The comparison studies of different acid catalysts in a one chemical process is rare in the literature [

24

,

25

] and in one instance Yoon et al. [

26

] compared the trimerization of isobutene over cation exchange resins and acidic zeolites. In this study they found that zeolites are superior in recyclability in comparison to resin catalysts [

26

]. In another study Ozbay et al. [

24

] compared a series of solid acid catalysts including: Amberlyst-15, Amberlyst-16, Amberlyst-35, Amberlyst-36, Lewatit K2629, Relite EXC8D, Nafion SAC-13 and H-Mordenite in the etherification reaction of glycerol using t-butanol. In these experiments Amberlyst-15, with the highest Brønsted acidity, produced the highest yield of glycerol ethers at 90–100 °C. The Brønsted acidity and the rate of diffusion were found to be important properties of the acid catalysts in the glycerol etherification process under the batch reactor conditions used in the experiments [

24

]. In development of new renewable carbon based ketal functionalized polymer feedstocks we have recently compared the homogeneous and heterogeneous acid catalyzed esterification and ketalization of biomass derived levulinic acid with 1,2-ethane diol and 1,3-propane diol [

27

]. In these studies we have found that ketals and ketal-esters are formed in Amberlyst-15 catalyzed reactions; while esters and ketal-esters are produced in

p

-toluenesulfonic acid catalyzed reactions [

27

]. In continuation of our efforts in the development of new biomass derived feedstocks, monomers and polymeric materials [

28

,

29

,

30

,

31

,

32

] we have studied the effect of different homogeneous and heterogeneous catalysts on the

bis

-ketal formation as well as in the cyclo-dehydration reactions of

meso

-erythritol as shown in Fig. 

1

.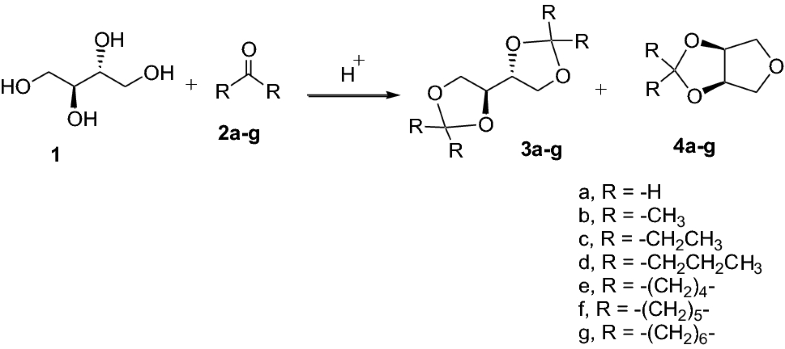 2

Results and discussion

The mono-ketals and 1,3-dioxane type ketal formations were not observed in any of the reactions. The only products observed are 1,3-dioxolane type bis-ketals and ketal-ethers with cis-2,4,7-trioxa [3.3.0] octane ring system. The cyclo-dehydration of 1,4-butanediol and meso-erythritol are known in acid catalyzed reactions [40]. In a recent study Takagaki has compared the cyclo-dehydration of erythritol using three Brønsted solid acids: HNbMoO6, H-ZSM5 and Amberlyst-15. In this study HNbMoO6 showed the highest activity for erythritol dehydration to 1,4-anhydroerythritol [40]. The only aldehyde used in our work, formaldehyde (2a) gave a mixtures of bis-acetal (3a) and cis-2,4,7-trioxa [3.3.0] octane (4a) with all homogeneous and heterogeneous catalysts tested. The best selectivity was found with the solid acid Amberlyst-15, which gave a mixture with 83% cis-2,4,7-trioxa [3.3.0] octane and only 17% of bis-acetal. Out of the three acyclic ketones 2b, c and d, acetone showed 100% selectivity towards the bis-ketal with homogeneous catalysts; whereas the use of heterogeneous catalyst SiO2–SO3H gave only the cyclo-dehydration product cis-3,3-dimethyl-2,4,7-trioxa [3.3.0] octane. In comparison, acyclic ketones in reactions using homogeneous catalyst p-TsOH the percentage of bis-ketal decreases as: 100, 98 and 73 as the size of alkyl group in the symmetrical ketone increases, indicating the sensitivity of the reaction to the size of the alkyl group. Similar trend can be found with homogeneous acidic ionic liquid catalyst as well; where bis-ketal percent decreases as: 100, 96 and 90 as the size of alkyl group increases. The preference towards the cyclo-dehydration of meso-erythritol under the heterogeneous catalysis conditions may be due to strong interactions of hydroxyl groups of meso-erythritol with multiple sulfonic acid groups on the surface of heterogeneous catalysts. Similar interactions between multiple hydroxyl and carboxylic acid groups are reported in the literature in carbohydrate systems [41]. In the case of 4-heptanone the change in homogenous catalyst from p-TsOH to Brønsted acidic ionic liquid [(HSO3)3C3C1im][Cl] showed an improvement in selectivity towards the bis-ketal product and this type of selectivity as well as reaction product changes are known in the use of acidic ionic liquids in place of classical homogeneous acid catalysts [42]. The three cyclic ketones 2e–g exclusively gave the bis-ketal products 3e–g with all catalysts tested. This is probably due to lower steric hindrance around the carbonyl group in cyclic ketones when compared to acyclic ketones as methylene groups held are away from C = O forming the ring. The poor selectivity observed with the only aldehyde used in the study, formaldehyde may be due to kinetic reasons. The reactive small aldehyde may react faster than ketones giving different product distributions and this is particularly noted when cyclic ketones are used, where only bis ketals are formed.
2.1

X-Ray structure of 2,2′-bi-1,4-dioxaspiro[4.5]decane, (R*,S*) (3f)

The X-ray structure of

meso

-erythritol-cyclohexanone bis ketal, 2,2′-bi-1,4-dioxaspiro[4.5]decane, (

R

*,

S*)

(

3f)

is shown in Fig. 

6

. The crystal packing of

3f

and geometric data (bond distances, bond angles and torsion angles) are presented in supplementary material. In the crystal structure the two dioxolane rings are positioned on the opposite sides of the central bond forming a linear molecule which allows the preparation of linear polymer chains via

bis

-ketal formation reactions. The resulting linear polymer chains may also be arranged in an ordered packed structure similar to the crystal packing structure of

3f

(electronic supplementary material). Therefore, the bis-ketal formation using cyclic ketals could be a good polymerization technique for the application of erythritol as a renewable polymer building block.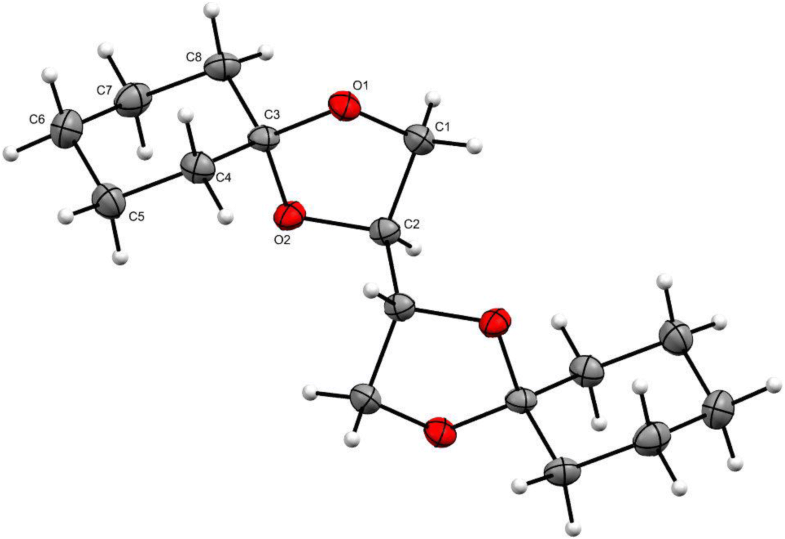 3

Conclusion

The ketalization and 1,3-dioxolane ether formation are competing reactions in acid catalyzed condensations of meso-erythritol with aldehydes and ketones. In the reaction using para-formaldehyde gave mixtures of bis-ketals and cis-2,4,7-trioxa [3.3.0] octane with all homogeneous and heterogeneous acid catalysts studied. We have found that excellent selectivity among bis-ketal and 1,3-dioxolane ether formation can be achieved in reactions with acyclic symmetrical ketones by choosing between homogeneous and heterogeneous catalysts. For instance, homogeneous acid catalysts p-toluenesulfonic acid and 1-(3-propylsulfonic)-3-methylimidazolium chloride gave meso-erythritol-acetone bis-ketal as the sole product in 95 and 92% yields respectively. On the other hand the reaction using the heterogeneous catalyst sulfonated-silica gave the 1,3-dioxolane ether product: cis-3,3-dimethyl-2,4,7-trioxa [3.3.0] octane as the sole product in 94% yield under similar catalyst loading and reaction conditions. As far as we are aware this is the first example of achieving a complete selectivity among ketal and ether formation processes in Brønsted acid catalyzed reaction between a polyol and ketones.
Notes
Acknowledgements
The authors would like to thank the National Science Foundation of the United States (NSF) (through Grant Nos. HRD-1036593, CBET-1336469, and DMR-1523611) for financial support.
Compliance with ethical standards
Conflict of interest
The authors declare that they have no conflict of interest.
Copyright information
© Springer Nature Switzerland AG 2019