Zusammenfassung
Monoklonale Antikörper gegen den CGRP-Rezeptor (Erenumab [CGRP: "calcitonin gene-related peptide"]) oder gegen CGRP (Eptinezumab, Fremanezumab, Galcanezumab) sind neue Substanzen zur prophylaktischen Behandlung der Migräne. Sie stellen eine Erweiterung der therapeutischen Optionen in der Migräneprophylaxe dar. In Zulassungsstudien wurden die Wirksamkeit und die gute Verträglichkeit dieser spezifischen Substanzen bei Patienten mit episodischer und chronischer Migräne nachgewiesen. Die folgende Empfehlung präsentiert eine Zusammenfassung der Daten aus den Zulassungsstudien. Weiterhin werden Empfehlungen zur gezielten Patientenauswahl sowie zur Beurteilung des Therapieerfolgs und der Dauer der Behandlung gegeben. Abschließend werden mögliche Anwendungseinschränkungen für diese neue Substanzgruppe diskutiert.
Abstract
Monoclonal antibodies against the calcitonin gene-related peptide (CGRP) receptor (erenumab) or against CGRP (eptinezumab, fremanezumab, galcanezumab) are new substances for the preventive treatment of migraine. They represent an extension of the therapeutic options which already exist in migraine prevention. In registration studies, the efficacy and good tolerability of these specific substances have been demonstrated in patients with episodic and chronic migraine. The following treatment recommendation presents a summary of the data from pivotal studies. Recommendations are given for the targeted selection of patients as well as for the evaluation of therapeutic success and the duration of treatment. Finally, possible restrictions in the use of this new substance group are discussed.
This is a preview of subscription content, log in to check access.
We're sorry, something doesn't seem to be working properly.
Please try refreshing the page. If that doesn't work, please contact support so we can address the problem.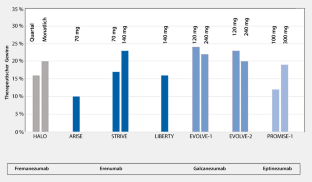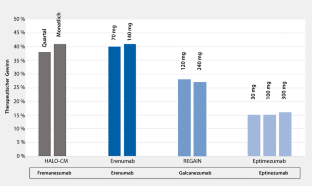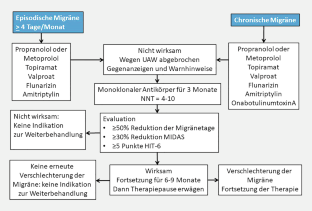 Literatur
1.

Diener H‑C, Gaul C, Kropp P et al (2018) Therapie der Migräneattacke und Prophylaxe der Migräne, S1-Leitlinie. Deutsche Gesellschaft für Neurologie, (https://www.dgn.org/leitlinien)

2.

Gemeinsamer Bundesausschuss. https://www.g-ba.de/downloads/39-261-3911/2019-08-06_AM-RL-VI-SN_Valproinsaeure-Migraeneprophylaxe.pdf

3.

Tassorelli C, Diener HC, Dodick DW, Silberstein SD, Lipton RB, Ashina M et al (2018) Guidelines of the International Headache Society for controlled trials of preventive treatment of chronic migraine in adults. Cephalalgia. https://doi.org/10.1177/0333102418758283

4.

Berger A, Bloudek LM, Varon SF, Oster G (2012) Adherence with migraine prophylaxis in clinical practice. Pain Pract 12(7):541–549

5.

Goadsby PJ, Edvinsson L (1991) Sumatriptan reverses the changes in calcitonin gene-related peptide seen in the headache phase of migraine. Cephalalgia 11(Suppl 11):3–4

6.

Goadsby PJ, Edvinsson L (1993) The trigeminovascular system and migraine: studies characterizing cerebrovascular and neuropeptide changes seen in humans and cats. Ann Neurol 33(1):48–56

7.

Eftekhari S, Salvatore CA, Calamari A, Kane SA, Tajti J, Edvinsson L (2010) Differential distribution of calcitonin gene-related peptide and its receptor components in the human trigeminal ganglion. Neuroscience 169(2):683–696

8.

Edvinsson L, Villalon CM, MaassenVanDenBrink A (2012) Basic mechanisms of migraine and its acute treatment. Pharmacol Ther 136(3):319–333

9.

Edvinsson L, Goadsby PJ, Olesen IL, Uddman R (2000) CGRP, CGRP mRNA and CGRP1 receptor mRNA and relaese from the human trigeminovascular system. In: Poyner D, Marshall I, Brain S (Hrsg) The CGRP Family: Calcitonin Gene-Related Peptide (CGRP), Amylin, and Adrenomedullin. Landes Bioscience, Georgetown, S 167–171

10.

McCulloch J, Uddman R, Kingman TA, Edvinsson L (1986) Calcitonin gene-related peptide: functional role in cerebrovascular regulation. Proc Natl Acad Sci USA 83(15):5731–5735

11.

Olesen J, Diener HC, Husstedt IW, Goadsby PJ, Hall D, Meier U et al (2004) Calcitonin gene-related peptide receptor antagonist BIBN 4096 BS for the acute treatment of migraine. N Engl J Med 350(11):1104–1110

12.

Shi L, Lehto SG, Zhu DX, Sun H, Zhang J, Smith BP et al (2016) Pharmacologic characterization of AMG 334, a potent and selective human monoclonal antibody against the calcitonin gene-related peptide receptor. J Pharmacol Exp Ther 356(1):223–231

13.

Yuan H, Spare NM, Silberstein SD (2019) Targeting CGRP for the prevention of migraine and cluster headache: a narrative review. Headache 59(Suppl 2):20–32

14.

American Headache S (2019) The American Headache Society position statement on integrating new migraine treatments into clinical practice. Headache 59(1):1–18

15.

Kosinski M, Bayliss MS, Bjorner JB, Ware JE Jr., Garber WH, Batenhorst A et al (2003) A six-item short-form survey for measuring headache impact: the HIT‑6. Qual Life Res 12(8):963–974
Ethics declarations
Interessenkonflikt
Siehe Interessenkonflikterklärung auf www.dgn.org/leitlinien
Für diesen Beitrag wurden von den Autoren keine Studien an Menschen oder Tieren durchgeführt. Für die aufgeführten Studien gelten die jeweils dort angegebenen ethischen Richtlinien.
About this article
Cite this article
Diener, H., Förderreuther, S., Gaul, C. et al. Prophylaxe der Migräne mit monoklonalen Antikörpern gegen CGRP oder den CGRP-Rezeptor, Ergänzung der S1-Leitlinie Therapie der Migräneattacke und Prophylaxe der Migräne. DGNeurologie (2020). https://doi.org/10.1007/s42451-020-00163-z
Schlüsselwörter
"Calcitonin gene-related peptide"

Migräne

Effektivität

Verträglichkeit

Patientenselektion
Keywords
Calcitonin gene-related peptide

Migraine

Treatment outcome

Drug tolerance

Patient selection