Internationale "Brain Health Initiative" und Multiple Sklerose
Qualitätsverbesserung in der klinischen Versorgung
"Brain Health Initiative" – Entstehung und Ziele
Die bei der Multiplen Sklerose (MS) auftretende irreversible und progrediente Schädigung der Myelinscheiden und Axone in Gehirn und Rückenmark kann zu unterschiedlichsten neurologischen Defiziten führen, aufgrund derer die Erkrankung im Volksmund als die
Krankheit der tausend Gesichter
bezeichnet wird [
1
]. Im frühen Stadium der MS können die im Gehirn entstehenden Defekte noch funktionell durch die sog. neurologische Reserve kompensiert werden. Dies erklärt, warum zum einen die MS im frühen Stadium häufig nicht zeitnah diagnostiziert und zum anderen auch vielfach nicht in ausreichender Form ernst genommen wird, v. a. hinsichtlich der negativen langfristigen Konsequenzen [
2
]. Mit fortschreitender Erkrankung nimmt die neurologische Reserve insbesondere dann ab, wenn die MS-Aktivität nicht ausreichend behandelt wird (Abb.
1
).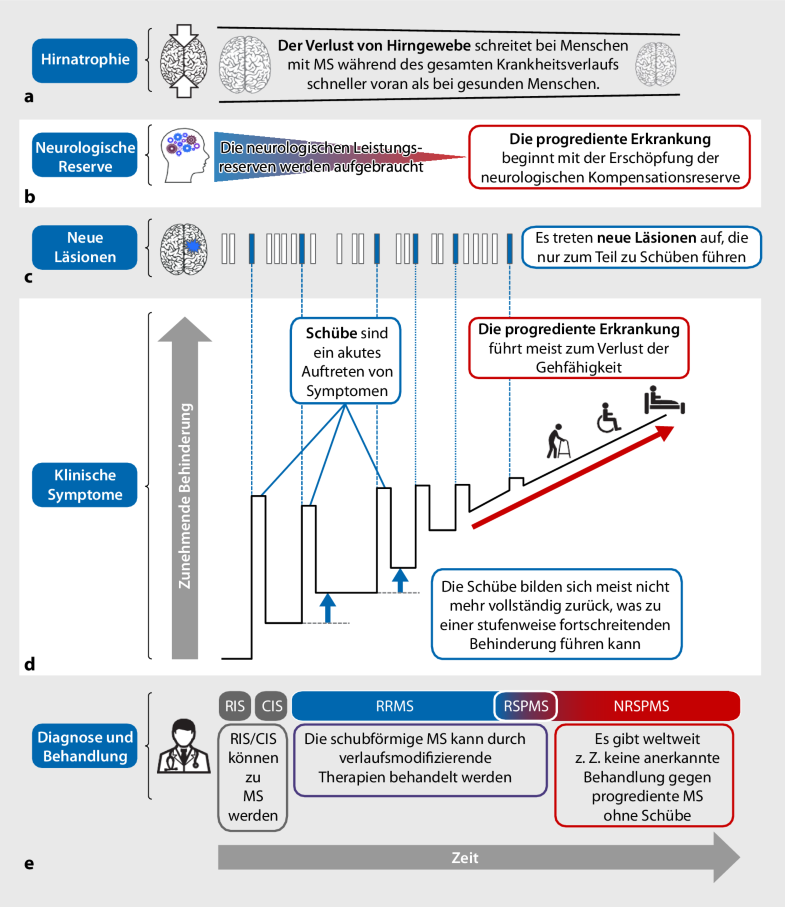 International "brain health initiative" and multiple sclerosis
Improvement in quality of clinical care
Notes
Einhaltung ethischer Richtlinien
Interessenkonflikt
T. Ziemssen erhielt Honorare für Beratungs- und Referententätigkeit bzw. Forschungsunterstützung von BayerHealthcare, BAT, Biogen, Celgene, Merck-Serono, Novartis, Roche, Sanofi-Genzyme, Teva, Bundesministerium für Bildung und Forschung, Hertie-Stiftung, Robert-Pfleger-Stiftung und Else Kröner-Fresenius-Stiftung. I. Voigt gibt an, dass kein Interessenkonflikt besteht.
Für diesen Beitrag wurden von den Autoren keine Studien an Menschen oder Tieren durchgeführt. Für die aufgeführten Studien gelten die jeweils dort angegebenen ethischen Richtlinien.
Copyright information
© Springer Medizin Verlag GmbH, ein Teil von Springer Nature 2019