Abstract
We report a high output performance of flexible nanogenerator (NG) based on the composite of PVDF and Zn:Al layered double hydroxide (LDH) nanosheets. The Zn:Al LDH nanosheets were synthesized via the most facile process by dipping the sputtered Al-doped ZnO (AZO)/Ag/AZO multilayer films into deionized water at room temperature. Here, sputtered AZO/Ag/AZO multilayer was served as a bottom electrode of the energy harvesting device as well as for the growth of Zn:Al LDH nanosheets. The PVDF based NG exhibited an output voltage of ~ 1.71 V and a current density of ~ 0.19 μA cm−2 after poling. While poled-PVDF/Zn:Al LDH composite based NGs exhibited an enhancement in the output performance with an output voltage and current density of ~ 6.24 V and ~ 0.655 μA cm−2, respectively. This simple facile approach can be feasible for the development of large-scale, flexible and an eco-friendly energy harvester that can be widely implemented in self-powered biomedical applications.
This is a preview of subscription content, log in to check access.
Access options
Buy single article
Instant unlimited access to the full article PDF.
US$ 39.95
Price includes VAT for USA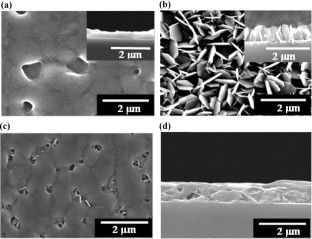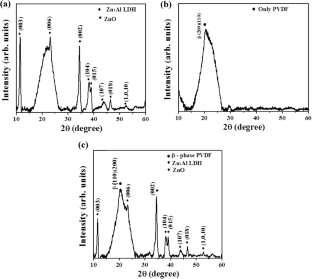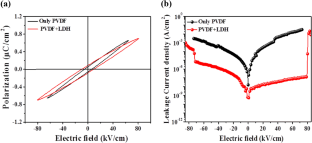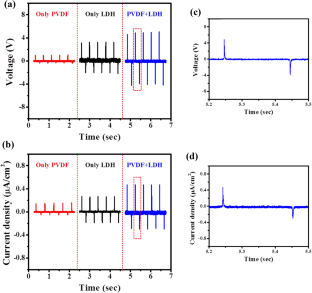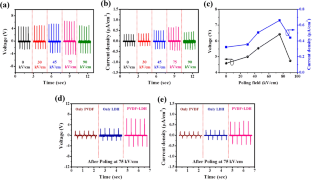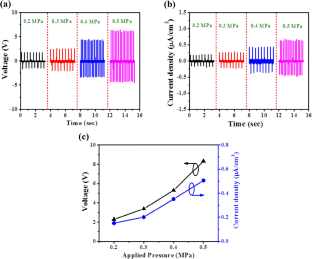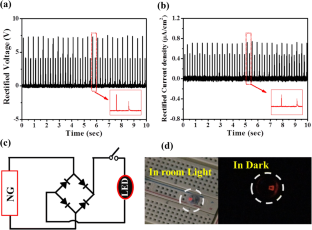 References
1.

M.R.S. Shaikh, S.B. Waghmare, S.S. Labade, P.V. Fuke, A. Tekale, A review paper on electricity generation form Solar Energy. IJRASET 5, 1884–1889 (2017)

2.

S. Chakraborty, A. Sinha, S. Dutta, N. Biswas, A review paper of wind energy, in AREST-11 (2011), pp. 202–206

3.

ChN Kumar, Energy collection via piezoelectricity. J. Phys: Conf. Ser. 662, 012031 (2015)

4.

L.W. Zhong, W. Xudong, S. Jinhui, L. Jin, G. Yifan, Piezoelectric nanogenerators for self-powered nanodevices. IEE CS 7, 49–55 (2008)

5.

M. Mishra, A. Roy, S. Dash, S. Mukherjee, Flexible nano-GFO/PVDF piezoelectric-polymer nanocomposite films for mechanical energy harvesting. IOP Conf. Ser. Mater. Sci 338, 012026 (2018)

6.

G. Darusz, Piezoelectric generators: materials and structures. Pomiary automatyka robotyka R. 17, 123–129 (2013)

7.

H.S. Huidrom, S. Simrjit, K. Neeraj, Enhanced β-phase in PVDF polymer nanocomposite and its application for nanogenerator. Polym. Adv. Technol. 29, 143–150 (2018)

8.

A.A.A. Ahmed, Z.A. Talib, M.Z. Bin Hussein, Thermal, optical and dielectric properties of Zn–Al layered double hydroxide. Appl. Clay Sci. 191, 271–278 (2012)

9.

G. Xiaoxiao, Z. Fazhi, G.E. David, D. Xue, Layered double hydroxide films: synthesis, properties and application. Chem. Commun. 46, 5197–5210 (2010)

10.

J. Xiaoning, H. Wenbin, Z. Shujun, Flexoelectric nano-generator: materials, structure and devices. Nano Energy 2, 1079–1092 (2013)

11.

M. Amin, M. Akbar, S. Amin, Hydrophobicity of silicon rubber used for outdoor insulation. Rev. Adv. Mater. Sci. 16, 10–26 (2007)

12.

B. Nagendra, K. Mohan, E.B. Gowd, Polypropylene/layered double hydroxide (LDH) nanocomposites: influence of LDH particle size on the crystallization behavior of polypropylene. ACS Appl. Mater. Interface 7, 12399–12410 (2015)

13.

F.Z. Mahjoubi, A. Khalidi, M. Abdennouri, N. Barka, Zn–Al layered double hydroxides intercalated with carbonate, nitrate, chloride and sulphate ions: synthesis, characterisation and dye removal properties. J. Taibah Univ. Sci. 11, 90–100 (2017)

14.

M. Szabados, Bús Cs, M. Ádok-Sipiczki, Z. Kónya, Á. Kukovecz, P. Sipos, I. Pálinkó, Ultrasound-enhanced milling in the synthesis of phase phase-pure, highly crystalline ZnAl-layered double hydroxide of low Zn(II) content. Particuology 27, 29–33 (2016)

15.

Y. Zhu, D. Wang, X. Yang, S. Liu, D. Liu, J. Liu, H. Xiao, X. Hao, J. Liu, Investigation of the dye-sensitized solar cell designed by a series of mixed metal oxides based on ZnAl-layered double hydroxide. Appl. Phys. A Mater. 123, 641 (2017)

16.

H.L. Shen, H. Zhang, L.F. Lu, F. Jiang, C. Yang, Preparation and properties of AZO thin films on different substrates. Prog. Nat. Sci. 20, 44–48 (2010)

17.

W.A. Yee, M. Kotaki, Y. Liu, X. Lu, Morphology, polymorphism behavior and molecular orientation of electrospun poly(vinylidene fluoride) fibers. Polymer 48, 512–521 (2007)

18.

L. Yu, P. Cebe, Crystal polymorphism in electrospun composite nanofibers of poly(vinylidene fluoride) with nanoclay. Polymer 50, 2133–2141 (2009)

19.

P. Martins, A.C. Lopes, S. Lanceros-Mendez, Electroactive phases of poly(vinylidene fluoride): determination, processing and applications. Prog. Polym. Sci. 39, 683–706 (2014)

20.

S. Lee, Y. Lim, Generating power enhancement of flexible PVDF generator by incorporation of CNTs and surface treatment of PEDOT:PSS electrodes. Macromol. Mater. Eng. 303, 1700588 (2018)

21.

O.D. Jayakumar, E.H. Abdelhamid, V. Kotari, B.P. Mandal, R. Rao, V.M. Jagannath Naik, R. Naik, A.K. Tyagi, Fabrication of flexible and self-standing inorganic–organic three phase magneto-dielectric PVDF based multiferroic nanocomposite films through a small loading of graphene oxide (GO) and Fe3O4 nanoparticles. Dalton Trans. 44, 15872–15881 (2015)

22.

C.K. Jeong, I. Kim, K.I. Park, M.H. Oh, H. Paik, G.T. Hwang, K. No, Y.S. Nam, K.J. Lee, Virus-directed design of a flexible BaTiO3 nanogenerator. ACS Nano 7, 11016–11025 (2013)
Acknowledgements
This work was supported by a National Research Foundation of Korea (NRF) grant funded by the Korean government (MSIP) (No. NRF-2013R1A4A1069528).
Electronic supplementary material
Below is the link to the electronic supplementary material.
Supplementary material 2 (AVI 15201 kb)
About this article
Cite this article
Nguyen, T.M.T., Ippili, S., Eom, J. et al. Enhanced Output Performance of Nanogenerator Based on Composite of Poly Vinyl Fluoride (PVDF) and Zn:Al Layered-Double Hydroxides (LDHs) Nanosheets. Trans. Electr. Electron. Mater. 19, 403–411 (2018) doi:10.1007/s42341-018-0075-z
Received:

Revised:

Accepted:

Published:

Issue Date:
Keywords
PVDF

Zn:Al LDH nanosheets

Spin coating

Nanogenerator