Abstract
The structural, electrical and magneto-transport properties of the La1-xCaxMnO3 (x = 0.375 and 0.625) nanoparticles (~ 50 nm) synthesized by the sol-gel method have been reported. X-Ray diffraction pattern recorded at room temperature confirms the growth of the samples in a single phase. In the absence of magnetic field, a metal to insulator (MI) transition is observed in x = 0.375 sample at 172 K (TMI), while the x = 0.625 sample shows a charge ordered (CO) behaviour at temperatures below 150 K (TCO). Both samples show a substantial negative magneto-resistance (MR). The fitting of the field-dependent MR isotherms by scaling law displays linear variation below TMI/TCO and quadratic above TMI/TCO. The fitting result suggests that a significant negative MR at low temperature is due to inter-grain spin polarized tunnelling across grain boundary and domain contribution.
This is a preview of subscription content, log in to check access.
Access options
Buy single article
Instant unlimited access to the full article PDF.
US$ 39.95
Price includes VAT for USA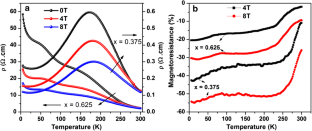 References
1.

G.H. Jonker, J.H. VanSanten, Ferromagnetic Compounds of Mangenese with Perovskite Structure. Phys. XVI(3) (1950)

2.

J.M.D. Coey, M. Viret, S. Von Molnár, Mixed-valence manganites. Adv. Phys. 58 (2009)

3.

K.S.R. Von Helmolt, J. Wecker, B. Holzapfel, L. Schultz, Giant Negative Magnetoresistance in Perovskite like La2/3Ba1/3MnO3 Ferromagnetic Films. Phys. Rev. Lett. 71 (1993)

4.

Vijaylakshmi Dayal, S. Keshri, Structural and magnetic properties of La0.67Ca0.33Mn(1-x)FexO3 (x = 0–0.07). Solid State Commun. 142 (2007)

5.

T. Sun, S. Zhao, F. Ji, X. Liu, Influence of Cu2+ Doping on the Structure, Dielectric and Magnetic Properties of NiFe2O4 Prepared by the Sol-Gel Method, Ceramics International 44 (2018)

6.

X. Yu, T. Sun, Q. Chen, Y. Duan, X. Liu, Modulation of room-temperature TCR and MR in La1-xSrxMnO3 polycrystalline ceramics via Sr doping. J Sol-gel Sci Tech. 90 (2019)

7.

C. Zener, Interaction between the d-Shells in the Transition Metals. II. Ferromagnetic Comyountls of Manganese with Perovskite Structure. Phys. Rev. 82 (1950)

8.

R.S. Jin, T.H. Tiefel, M. McCormack, R.A. Fastnach, R. Ramesh, L.H. Chen, Thousand-fold Change in Resistivity in Magnetoresistive La-Ca-Mn-O Films. Science 264 (1994)

9.

H.Y. Hwang, S. Cheong, N.P. Ong, B. Batlogg, Spin-Polarized Intergrain Tunneling in La2/3Sr1/3MnO3. Phys. Rev. Lett. 77 (1996)

10.

A. Gupta, J.Z. Sun, Spin-polarized transport and magnetoresistance in magnetic oxides. J. Magn. Magn. Mater. 200 (1999)

11.

Vijaylakshmi Dayal, Punith V. Kumar, Investigation of electrical resistivity and magnetotransport properties of the La0.67Ca0.33Mn0.99Fe0.01O3 perovskite oxide. Solid State Commun. 158 (2013)

12.

E. Muller-Hartmann, E. Dagotto, Electronic Hamiltonian for transition-metal oxide compounds. Phys. Rev. B 54, R6819 (1996)

13.

Y. Tokura, Colossal magnetoresistive oxides (Gordon and Breach Science Publishers, 2000)

14.

S. Kumari, V. Kumar, P. Kumar, M. Kar, L. Kumar, Structural and magnetic properties of nanocrystalline yttrium substituted cobalt ferrite synthesized by the citrate precursor technique. Adv. Powder Tech. 26 (2015)

15.

R.A. Young, The Rietveld Method, International Union of Crystallography, Oxford University Press, New York, (1996)

16.

Y. Guo, K. Tao, Y. Liu, H. Zhou, R. Wappling, Crystal structures and giant magnetoresistance of fluoride La2/3Ca1/3MnO3 compounds. J. Alloys Compd. 296 (2000)

17.

D.H. Manh, P.T. Phong, T.D. Thanh, L.V. Hong, N.X. Phuc, La0.7Ca0.3MnO3 perovskite synthesized by reactive milling method: The effect of particle size on the magnetic and electrical properties. J. Alloy. Compd. 491 (2010)

18.

G. Venkataiah, V. Prasad, P. Venugopal Reddy, Influence of A-site cation mismatch on structural, magnetic and electrical properties of lanthanum manganites. J. Alloy. Compd. 429 (2007)

19.

T.M. Tank, A. Bodhaye, Y.M. Mukovskii, S.P. Sanyal, Crystallographic direction dependence of electrical-transport, magneto-transport, magnetic and thermal properties of La0.7Ca0.3MnO3 single crystal. Mat. Res. Bul 83 (2016)

20.

V. Punith Kumar, R.L. Hadimani, D. Paladhi, T.K. Nath, D.C. Jiles, Vijaylakshmi Dayal, Investigation of magnetic interactions, electrical and magneto-transport properties in Ga-substituted La0.4Bi0.6MnO3 perovskite manganites. Mater. Sci. Eng. B. 209 (2016)

21.

C. N. R. Rao and B. Raveau, Colossal Magnetoresistance, Charge Ordering and Related Properties of Manganese Oxides, World scientific, Singapore (1998)

22.

A.K. Nigam, A.K. Majumdar, Magnetoresistance in canonical spin-glasses. Phys. Rev. B. 27 (1983)
Acknowledgements
GC (JRF) gratefully acknowledges SERB-DST and AKS (Project fellow) to UGC DAE CSR for fellowship. We thank Dr. Mukul Gupta and Layanta Behera for XRD, Dr. Rajeev Rawat and Sachin Kumar for resistivity/MR measurements at UGC-DAE Consortium for Scientific Research, Indore.
Funding information
This work is supported by UGC DAE CSR, Indore (CSR-IC/CRS-89/2014-2018) and SERB-DST, New Delhi (EMR/2016/005424) granted to VD.
About this article
Cite this article
Channagoudra, G., Saw, A.K. & Dayal, V. Low temperature spin polarized tunnelling magneto-resistance in La1-xCaxMnO3 (x=0.375 and 0.625) nanoparticles. emergent mater. (2020) doi:10.1007/s42247-019-00067-z
Received:

Accepted:

Published:
Keywords
Negative magnetoresistance

Metal-insulator transition

Charge ordering

Spin polarized tunnelling