Macroscopic carbon nanotube assembly/silicon carbide matrix composites produced by gas phase route
Abstract
Macroscopic carbon nanotube (CNT) self-assemblies are attractive in the field of high-performance composites for taking full advantage of outstanding physical and mechanical properties of individual CNTs at macroscopic level. In this study, macroscopic SiC ceramic matrix composites (CMCs) containing CNTs (CNT/SiC) based on the macroscopic CNT self-assemblies were fabricated using ice-segregation-induced self-assembly technique and chemical vapor infiltration process. The microstructure, macromechanical properties, electrical conductivity, and electromagnetic shielding effectiveness of the fabricated CNT/SiC composites were studied systematically.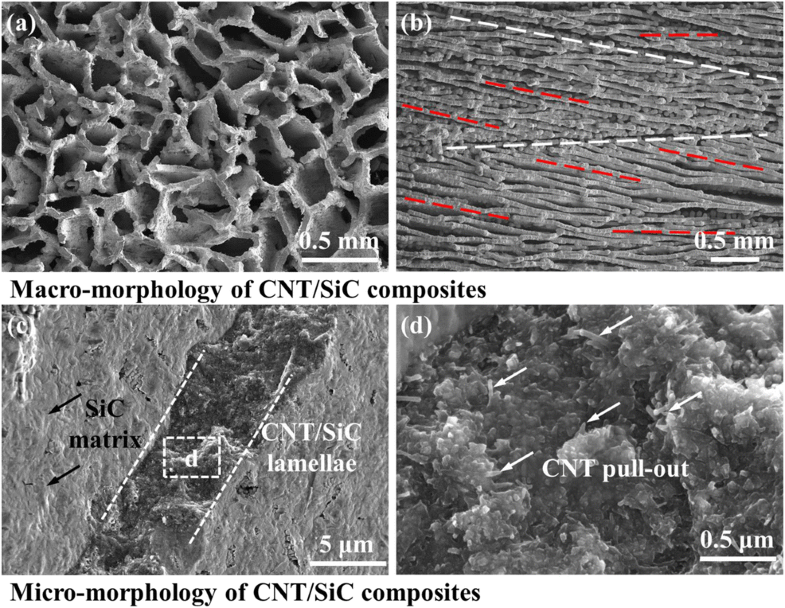 Keywords
Macroscopic carbon nanotube assembly 
Chemical vapor infiltration (CVI) 
Carbon nanotube/silicon carbide (CNT/SiC) composites 
Notes
Funding information
This work was financially supported by the National Natural Science Foundation of China (Grant Nos. 51772246, 51272210, 50902112, and U1737209), Program for New Century Excellent Talents in University (Grant No. NCET-13-0474), Fundamental Research Funds for the Central Universities (Grant Nos. 3102017jg02001 and 3102018jcc002), and National Program for Support of Top-Notch Young Professionals.
Compliance with ethical standards
Conflict of interest
The authors declare that they have no conflict of interest.
Copyright information
© Springer Nature Switzerland AG 2019