Anodizing of electrolytically galvanized steel surfaces for improved interface properties in fiber metal laminates
Abstract
The adhesive properties in metal fiber laminates (FML) are essential regarding the bond strength of hybrid materials. The surface design of the metallic component has an important influence on the adhesive bonding. This work shows how the surface of electrolytically galvanized steel surfaces can be structured in a nanometer range by anodizing and how the adhesion properties in the FML can be significantly improved. To achieve this, homogeneous, reproducible nanoporous thin layers, in a range of 70 nm to 500 nm in thickness, were prepared in an anodization process of up to 10 min in a 0.2 M potassium hydroxide solution. In order to investigate the thin layer forming process as well as the wetting behavior, the current density was varied from 1 A/dm2 to 5 A/dm2 and the anodization time from 30 s to 600 s. For the wetting study, a drop shape analysis was carried out to provide information concerning the wetting behavior of the thin layers depending on the anodization parameters. Finally, shear tensile tests showed that the anodizing layer strengthens the interface in the FML, which results in an increased bond strength.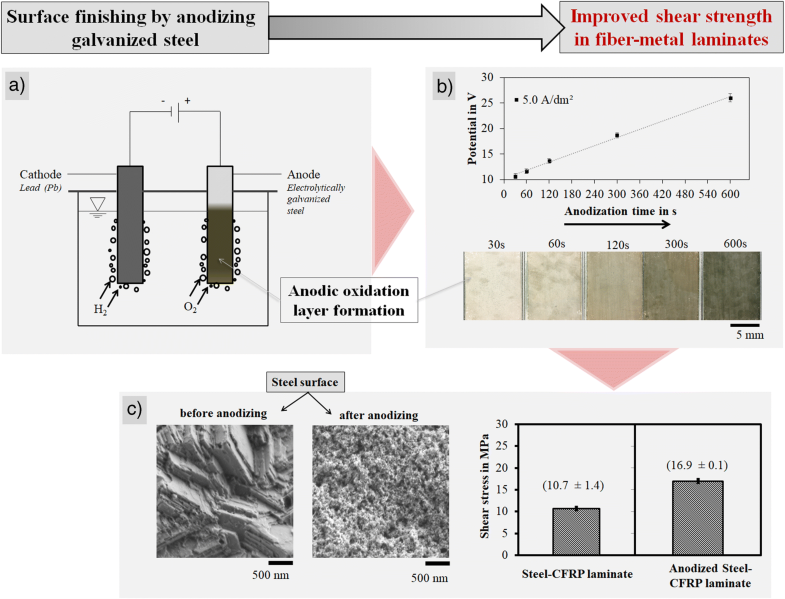 Keywords
Zinc anodization 
Electrolytically galvanized steel 
Wettability 
Adhesion 
Interface properties 
Fiber metal laminates 
Notes
Acknowledgments
The authors would like to thank to the European Regional Development Fund and the State of North Rhine-Westphalia for funding the research project "LHybS" (www.tecup.de/lhybs/) and the lead partner Jülich (PTJ). We would also like to thank all staff of the Department of Technical and Macromolecular Chemistry (Prof. Guido Grundmeier) for giving us access to their Raman spectroscope for relevant measurements. We would also like to thank all staff of the Department of Coatings, Materials and Polymers especially Nadine Buitkamp (Prof. Wolfgang Bremser,) for the execution of FIB cuts and giving us the access to their contact angle device.
Compliance with ethical standards
Conflict of interest
The authors declare that they have no conflict of interest.
Copyright information
© Springer Nature Switzerland AG 2018