Ink-based 3D printing technologies for graphene-based materials: a review
Abstract
3D printing (3DP) including light-based 3DP and ink-based 3DP is a rapidly developing technology, which has received much attention of late. Light-based 3DP provides higher feature resolution, but the appropriate materials are limited. Ink-based 3DP is compatible with numerous types of materials, which can be prepared into printable inks and thus has more potential to find novel applications. Graphene-based materials have been extensively investigated in ink-based 3DP owing to their unique properties, such as high conductivity and superior mechanical flexibility. The objects from graphene-based materials via various ink-based 3DP have been reported in many fields, such as biomedical engineering and renewable energy. Still, some practical difficulties, such as the efficiency, cost, and the feasibility of mass production, have restricted it from widespread adoption by most industries. Therefore, to deal with challenges and provide new ideas for related research work, it is critical and essential to understand the ink-based 3DP using graphene-based materials. Here, we review the recent advances of ink-based 3DP of graphene-based materials. We introduce the basic properties and preparation methods of graphene, some promising ink-based 3DP, such as inkjet printing technology, direct-write assembly, and fused deposition modeling and their characteristics. The formation methodology of graphene-based materials, the performance of the as-printed architecture, and their potential applications are emphasized. We also discuss the challenges, research directions, and future trends of ink-based 3D printed graphene-based materials.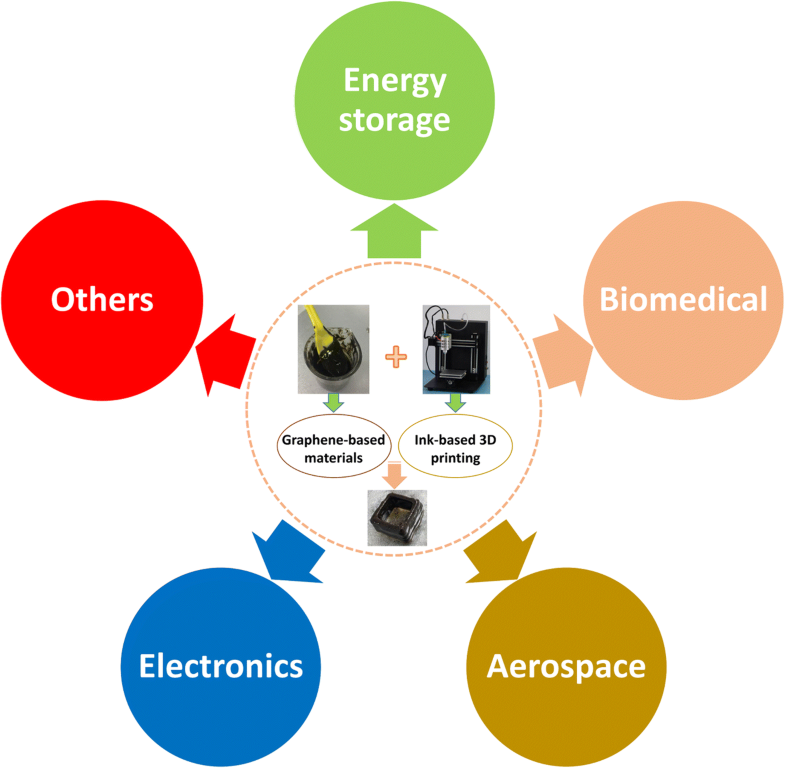 Keywords
Ink-based 3D printing 
Graphene-based material 
Graphene-based ink 
Direct-write assembly 
Printable ink 
Notes
Funding information
This work is partially supported by the National Natural Science Foundation of China (51573035 and 51790502).
Compliance with ethical standards
Conflict of interest statement
The authors declare that they have no conflict of interest.
Copyright information
© Springer Nature Switzerland AG 2019