Progress in research and development on matrix modification of continuous fiber-reinforced silicon carbide matrix composites
Abstract
Continuous fiber-reinforced SiC matrix composites, as the most common ceramic matrix composites (CMCs), have been extensively studied in the last two decades due to low density, high strength at high temperatures, good corrosion resistance, and thermal shock resistance. Matrix modification is an effective way to obtain high-performance CMCs by the combination of tailored fiber, interphase, and matrix. This paper summarized the progress on SiC-based CMCs containing modified matrix, and the advantages brought by the hybrid matrices were revealed. For different application fields, different second phases were introduced into SiC matrix, such as B-containing phases to improve the oxidation resistance, ultra-high-temperature ceramics to improve the ablation resistance, and high electrical conductivity phases to improve the electromagnetic interference shielding properties and the phases with low complex permittivity to adjust the dielectric properties to improve the electromagnetic absorbing performance. With the formation of hybrid matrices by introducing second phases, it can essentially improve the environment performance and extend the application fields of SiC-based CMCs.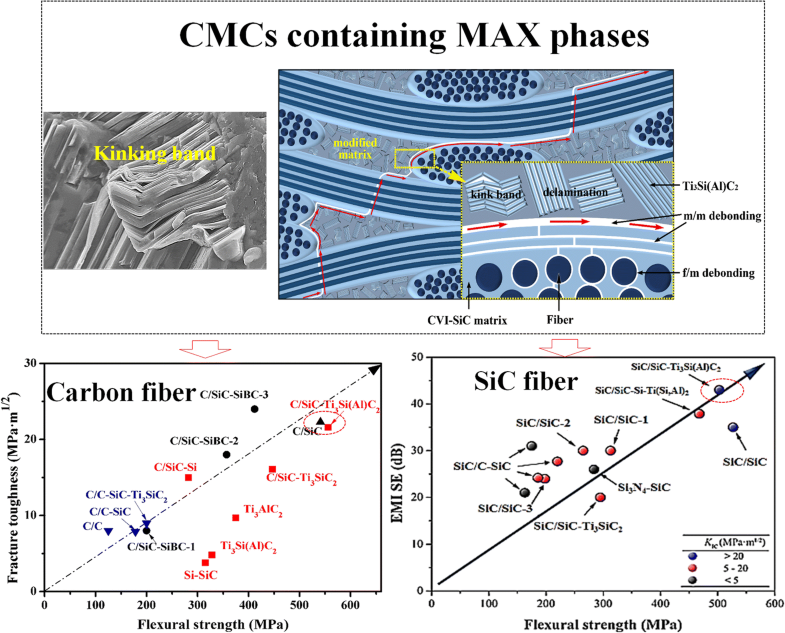 Keywords
Ceramic matrix composites 
Hybrid matrices 
Structural and functional properties 
Notes
Funding information
The authors are grateful for the supports of the Natural Science Foundation of China (Project Nos. 51725205 and 51702261) and the 111 Project (B08040).
Compliance with ethical standards
Conflict of interest
The authors declare that they have no conflict of interest.
Copyright information
© Springer Nature Switzerland AG 2018