A treatise on multiscale glass fiber epoxy matrix composites containing graphene nanoplatelets
Abstract
Multiscale composites of epoxy matrix containing glass fibers and graphene nanoplatelets were prepared to investigate the effect of incorporating nanoplatelets upon the microstructural evolution and mechanical properties of the composites. Ozone-functionalized nanoplatelets were uniformly mixed in epoxy before incorporating glass fabric in the composites and processed through vacuum molding. Three different loadings of nanoplatelets were used, i.e., 0.1, 0.3, and 0.5 wt%, while the fraction of glass fibers was kept constant at ~ 60 wt%. The dispersion of nanoplatelets was witnessed using scanning electron microscopy, while mechanical characterization was performed using tensile, compression, flexural, and shear tests. Homogeneous dispersion of nanoplatelets increased mechanical properties of the composites, i.e., tensile, compression, flexural, and shear strengths up to 75, 30, 23, and 36%, respectively; similar trend in moduli values was observed, i.e., 116, 126, and 38%, respectively. The increased bonding between glass fibers and epoxy matrix due to nanoplatelets was found to be the possible reason of the increase in mechanical performance of multiscale composites along with the generation of a nanocomposite of GNP-reinforced epoxy to act as the matrix.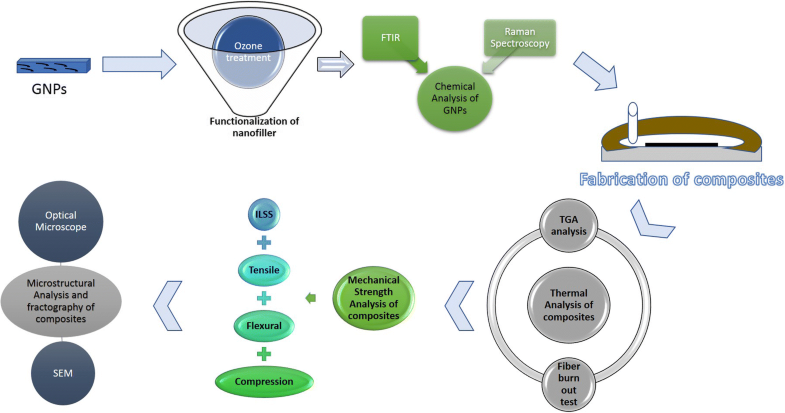 Keywords
Multiscale composite 
Graphene nanoplatelets 
Epoxy 
Functionalization 
Mechanical properties 
Notes
Acknowledgements
Authors highly acknowledge Mr. Tahir Khan for his support to complete microstructural analysis in this work.
Compliance with ethical standards
Conflict of interest
Authors of the present manuscript certify that they do not have any affiliations with any organization with any financial or non-financial interests. Authors report no conflict of interest for material explained in the manuscript.
Copyright information
© Springer Nature Switzerland AG 2018