Optical and photoelectrochemical studies on photoactive inorganic/organic/organic/interface assemblies of CdS/poly 3-(2-thienyl) aniline/poly 2,2 bithiophene
Abstract
Assemblies of poly 2,2 bithiophene, poly 3-(2-thienyl) aniline, and CdS were subjected to optical and photoelectrochemical investigation in acetate, citrate, and phosphate aqueous electrolytes. Optical conductivity and dielectric contents reflect the role of CdS on the optical properties of the assemblies. Occlusion of CdS into the organic polymer increased the electron diffusion coefficient and diffusion length by changing both the electron lifetime and electron transport time. O2 enhanced generated photocurrent in presence and in absence of a magnetic field. The magnetic field effects were explained on the basis that external magnetic fields affect the photogeneration of singlet/triplet radical pair processes. The recorded photoactivities indicate formation of hybrid sub-bands due to band alignments between each of the assembly components. The present study also shows that the use of electrolytes can affect the electron life-times at I/O/O/I and possible charge transfer processes.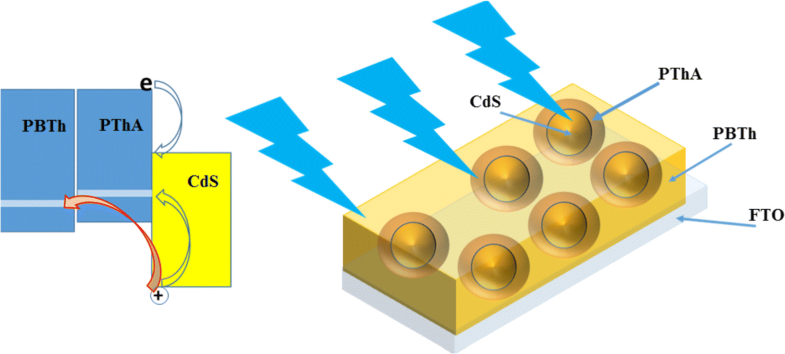 Keywords
Cadmium sulfide 
Photoelectrochemistry 
Photoactive interfaces 
Organic semiconductors 
Magnetic effects 
Notes
Acknowledgements
The authors acknowledge the Office of Academic Affairs at the Indiana University Kokomo for supporting this project.
Compliance with ethical standards
Conflict of interest
The authors declare that they have no conflict of interest.
Copyright information
© Springer Nature Switzerland AG 2018