A review on dielectric properties of biofiber-based composites
Abstract
The ever increasing consumption and subsequent disposal of electronic goods is a major concern to the environment since most electronic goods contain non-biodegradable components. Regulations on disposal of e-goods and increasing environmental awareness on their use and disposal will necessitate finding alternative materials for electronic goods in the near future. One approach of making electronic goods more environmentally friendly is by developing biodegradable electronic components using natural cellulose and protein fibers. In fact, several studies have been done on using natural fiber-based materials for various electronic components. The presence of various functional groups that are amicable to modifications and the ability to be easily fabricated into various shapes and sizes are some of the advantages of using natural fibers for electronic and electrical applications. However, natural fibers and fibrous materials have considerably high variations in their properties which makes it difficult to precisely control the properties of the products developed. Also, the type of electronic components and the fabrication and testing conditions also vary significantly between reports which makes it difficult to make a comparison between studies Dielectric materials are one of the most common and critical components in electronic goods. A comprehensive report on the type of natural fibers used in the development of dielectric materials and their electrical properties would be useful to select the appropriate fibers and conditions for specific applications. In this review, we provide an overview of the various types of natural fibers used to develop composites for dielectric applications. Dielectric constants of fibers and composites made from the fibers with and without chemical modifications and at various frequencies and fiber contents have been discussed.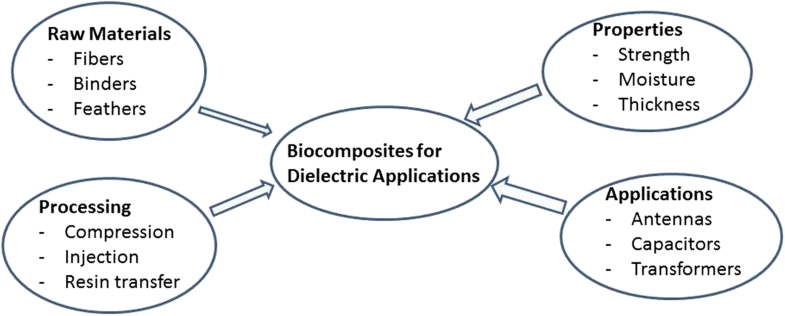 Keywords
Dielectric materials 
Natural fibers 
Biocomposites 
Electronic waste 
Biodegradable 
Notes
Acknowledgements
The authors acknowledge the Center for Incubation, Innovation, Research and Consultancy, Jyothy Institute of Technology, for their support to complete this work. Narendra Reddy expresses his thanks to the Ministry of Science and Technology, Department of Biotechnology, for the financial support through the Ramalingaswami Re-entry Fellowship.
Copyright information
© Springer Nature Switzerland AG 2018