Understanding piezoelectric characteristics of PHEMA-based hydrogel nanocomposites as soft self-powered electronics
Abstract
Piezoelectric hydrogel nanocomposites are being developed as interface for connecting biological organs and electronics because of their flexibility, biocompatibility, and electromechanical behaviours, which allow environmental stimulations to be converted into electronic signals. The vision of this work is to develop a series of piezoelectric hydrogel nanocomposites which is capable of generating electric current in aqueous condition. Conductive nanoparticles have been composited in the PHEMA-based hydrogel. Theoretical models and characterisations on the electromechanical properties of such hydrogel have been investigated to assist the understanding of the piezoelectric mechanisms. The hydrogel nanocomposite was demonstrated as a self-powered motion sensor to quantitatively detect human motion and can be considered as candidate material for soft energy harvesting electronics. Overall, the work presented in this paper provides theoretical basis, design guidelines, and technical support for the development of soft self-powered electronics, thus unlocking the potential of piezoelectric hydrogel nanocomposites.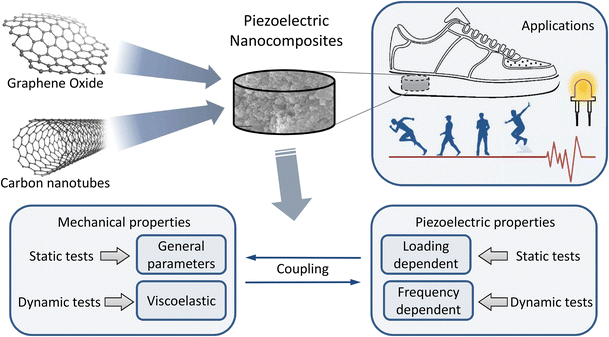 Keywords
Piezoelectricity 
PHEMA-based hydrogel 
Nanocomposites 
Self-powered sensor 
Notes
Acknowledgements
The project was supported by the National Natural Science Foundation of China (51703176, 51603079), the Fundamental Research Funds for the Central Universities (WUT2017IVA015, HUST2014XJGH009, WUT2016III035), and the Science and Technology Support Plan in Jiangsu Province of China (BE2014684). The authors wish to thank the Hubei Digital Manufacturing Key Laboratory at the WUT for performing characterisation of various samples.
Compliance with ethical standards
Conflict of interest
The authors declare that they have no conflict of interest.
Copyright information
© Springer International Publishing AG, part of Springer Nature 2018