Abstract
Microfluidic technologies are reliable methods to obtain uniform and tiny droplets, but their application is limited by the capacity of single microchannel and the difficulty in fabrication and operation of large amounts of parallel droplet generators. Here, we reported a microchannel device equipped with multiple capillaries for rupturing the dispersed fluid, which realized droplet generation frequency up to 40 kHz in a single microchannel. The microchannel was operated under jetting flow, which was robust for controlling the droplet size uniformity; therefore, the device did not need highly precise machinery and accurate installation during fabrication. 30–100 μm droplets with CV <5% were successfully prepared in a 20-capillary embedded microchannel device with high throughput, verifying the effectiveness of improving the working ability of micro-channel unit in the scale-up of microfluidic device.
This is a preview of subscription content, log in to check access.
Access options
Buy single article
Instant access to the full article PDF.
US$ 39.95
Price includes VAT for USA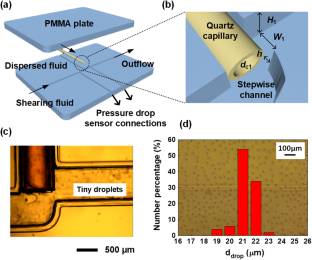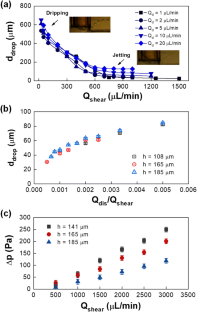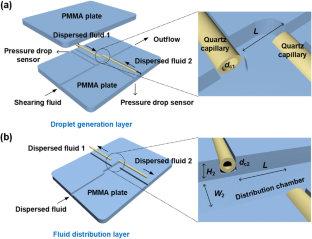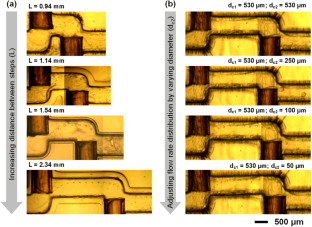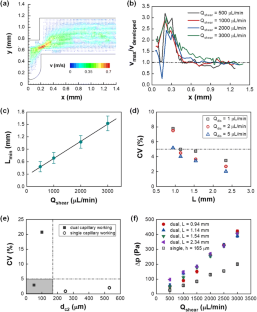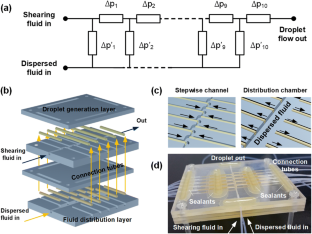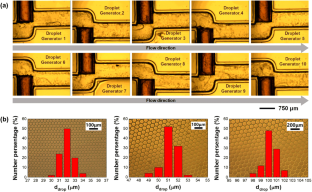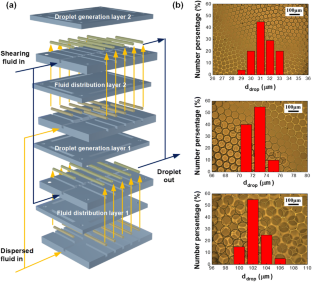 Acknowledgements
We gratefully acknowledge the supports of the National Natural Science Foundation of China (21991104, 21776150) and National Key R&D Program of China (2017YFB0307102) on this work.
Ethics declarations
Conflict of interest
The authors declare that they have no conflict of interest.
Additional information
Publisher's note
Springer Nature remains neutral with regard to jurisdictional claims in published maps and institutional affiliations.
Article Highlights
1. Mass preparation of uniform droplets at 30-100 μm was realized by using low-cost microchannel device.
2. The jetting flow pattern was robust for controlling the droplet size and uniformity.
3. Droplet generation frequency up to 40 kHz was realized for a single microchannel embedded with 10-capillaries.
About this article
Cite this article
Cui, Y., Li, Y., Wang, K. et al. High-throughput preparation of uniform tiny droplets in multiple capillaries embedded stepwise microchannels. J Flow Chem (2020). https://doi.org/10.1007/s41981-019-00051-y
Received:

Accepted:

Published:
Keywords
Droplet generation

High throughput

Microfluidics

Emulsification