Zusammenfassung
Dieser Beitrag widmet sich der Bedeutung von Omega-3-Fettsäuren in der und um die Schwangerschaft herum. Das PCOS mit erhöhter Infertilität wird ebenso thematisiert wie die Schwangerschaftskomplikationen Frühgeburt, Depression oder Diabetes sowie die Auswirkungen von Omega-3-Fettsäuren auf atopische Krankheiten der Kinder. Der Nutzen ist dabei auf die Omega-3-Fettsäuren EPA und DHA, nicht aber auf ALA zurückzuführen. Die besten Effekte wurden bei Dosen von 2 bis 3 g EPA/DHA erzielt.
Résumé
Cet article se consacre à la signification des acides gras oméga‑3 pendant et tout autour de la grossesse. Le SOPK, qui est associé à un risque accru d'infertilité, y est discuté de même que différentes complications de la grossesse telles que la naissance prématurée, la dépression ou le diabète, sans oublier l'influence des acides gras oméga‑3 sur les maladies atopiques dans l'enfance. Les bénéfices dans ce contexte sont attribuables aux acides gras oméga‑3 EPA/DHA, mais pas à l'ALA. Les meilleurs effets ont été obtenus avec des doses de 2 à 3 g d'EPA/DHA.
This is a preview of subscription content, log in to check access.
Access options
Buy single article
Instant access to the full article PDF.
US$ 39.95
Price includes VAT for USA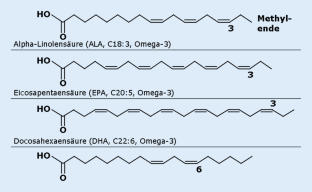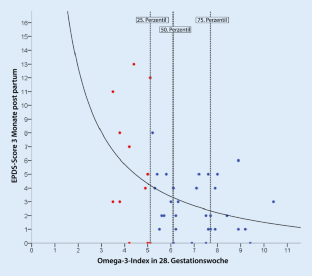 Literatur
1.

Benvenga S, Vigo MT, Metro D, Granese R, Vita R, Le Donne M (2016) Type of fish consumed and thyroid autoimmunity in pregnancy and postpartum. Endocrine 52(1):120–129. https://doi.org/10.1007/s12020-015-0698-3

2.

Best KP, Gold M, Kennedy D, Martin J, Makrides M (2016) Omega‑3 long-chain PUFA intake during pregnancy and allergic disease outcomes in the offspring: a systematic review and meta-analysis of observational studies and randomized controlled trials. Am J Clin Nutr 103(1):128–143

3.

Calder PC (2013) Omega‑3 polyunsaturated fatty acids and inflammatory processes: nutrition or pharmacology? Br J Clin Pharmacol 75(3):645–662. https://doi.org/10.1111/j.1365-2125.2012.04374.x

4.

Carlson SE, Colombo J, Gajewski BJ, Gustafson KM, Mundy D, Yeast J, Georgieff MK, Markley LA, Kerling EH, Shaddy DJ (2013) DHA supplementation and pregnancy outcomes. Am J Clin Nutr 97(4):808–815. https://doi.org/10.3945/ajcn.112.050021

5.

Furuhjelm C, Warstedt K, Fagerås M, Fälth-Magnusson K, Larsson J, Fredriksson M, Duchén K (2011) Allergic disease in infants up to 2 years of age in relation to plasma omega‑3 fatty acids and maternal fish oil supplementation in pregnancy and lactation. Pediatr Allergy Immunol 22(5):505–514

6.

Gunaratne AW, Makrides M, Collins CT (2015) Maternal prenatal and/or postnatal n‑3 long chain polyunsaturated fatty acids (LCPUFA) supplementation for preventing allergies in early childhood. Cochrane Database Syst Rev 22(7):CD10085. https://doi.org/10.1002/14651858.CD010085.pub2

7.

Jamilian M et al (2017) The effects of vitamin D and omega‑3 fatty acid co-supplementation on glycemic control and lipid concentrations in patients with gestational diabetes. J Clin Lipidol. https://doi.org/10.1016/j.jacl.2017.01.011

8.

Kaviani M, Saniee L, Azima S, Sharif F, Sayadi M (2014) The effect of omega‑3 fatty acid supplementation on maternal depression during pregnancy: a double blind randomized controlled clinical trial. Int J Community Based Nurs Midwifery 2(3):142–147

9.

Liepa GU, Sengupta A, Karsies D (2008) Polycystic ovary syndrome (PCOS) and other androgen excess-related conditions: can changes in dietary intake make a difference? Nutr Clin Pract 23(1):63–71

10.

Markhus MW, Skotheim S, Graff IE, Frøyland L, Braarud HC, Stormark KM, Malde MK (2013) Low omega‑3 index in pregnancy is a possible biological risk factor for postpartum depression. PLoS One 8(7):e67617. https://doi.org/10.1371/journal.pone.0067617

11.

Middleton P, Gomersall JC, Gould JF, Shepherd E, Olsen SF, Makrides M (2018) Omega-3 fatty acid addition during pregnancy. Cochrane Database Syst Rev 11:CD3402. https://doi.org/10.1002/14651858.CD003402.pub3

12.

Rasmussen MA, Stark KD, Olsen SF, Bønnelykke K (2016) Fish oil-derived fatty acids in pregnancy and wheeze and asthma in offspring. N Engl J Med 375(26):2530–2539. https://doi.org/10.1056/NEJMoa1503734

13.

Saccone G, Berghella V, Maruotti GM, Sarno L, Martinelli P (2015) Omega‑3 supplementation during pregnancy to prevent recurrent intrauterine growth restriction: systematic review and meta-analysis of randomized controlled trials. Ultrasound Obstet Gynecol 46(6):659–664. https://doi.org/10.1002/uog.14910

14.

Salek M, Clark CCT, Taghizadeh M, Jafarnejad S (2019) N‑3 fatty acids as preventive and therapeutic agents in attenuating PCOS complications. EXCLI J 18:558–575. https://doi.org/10.17179/excli2019–1534

15.

de Seymour JV, Simmonds LA, Gould J, Makrides M, Middleton P (2019) Omega‑3 fatty acids to prevent preterm birth: Australian pregnant women's preterm birth awareness and intentions to increase omega-3 fatty acid intake. Nutr J 18(1):74. https://doi.org/10.1186/s12937-019-0499-2

16.

Shih-Hui H et al (2017) High level of mercury in umbilical cord was 2.9 times more likely if eat fish instead of vitamin D supplements. J Chin Med Assoc. https://doi.org/10.1016/j.jcma.2016.11.005

17.

Su KP, Huang SY, Chiu TH, Huang KC, Huang CL, Chang HC, Pariante CM (2008) Omega‑3 fatty acids for major depressive disorder during pregnancy: results from a randomized, double-blind, placebo-controlled trial. J Clin Psychiatry 69(4):644–651

18.

Young GS, Conquer JA, Thomas R (2005) Effect of randomized supplementation with high dose olive, flax or fish oil on serum phospholipid fatty acid levels in adults with attention deficit hyperactivity disorder. Reprod Nutr Dev 45(5):549–558
Ethics declarations
Interessenkonflikt
V. Schmiedel hat in den letzten Jahren Vorträge zum Thema für die Firmen Biogena, Hepart, Loges, NatuGena und San Omega gehalten.
Für diesen Beitrag wurden vom Autor keine Studien an Menschen oder Tieren durchgeführt. Für die aufgeführten Studien gelten die jeweils dort angegebenen ethischen Richtlinien.
Additional information
Hinweis des Verlags
Der Verlag bleibt in Hinblick auf geografische Zuordnungen und Gebietsbezeichnungen in veröffentlichten Karten und Institutsadressen neutral.
About this article
Cite this article
Schmiedel, V. Omega-3-Fettsäuren in der Schwangerschaft. J. Gynäkol. Endokrinol. CH (2020). https://doi.org/10.1007/s41975-020-00129-0
Schlüsselwörter
EPA/DHA

Frühgeburt

Perinataler Tod

Schwangerschaftsdepression

Atopische Erkrankungen
Mots clés
EPA/DHA

Naissance prématurée

Mort périnatale

Dépression liée à la grossesse

Maladies atopiques