Abstract
Micro-electrical discharge machining (micro-EDM) is a non-contact manufacturing technology that is based upon the erosion effect of a spark. It is a significant method for machining hard-to-cut materials and fabricating micro-scale structures. However, the traditional servo-control strategy, which is widely used in micro-EDM, tends to make the process unstable due to the tiny pulse discharge energy, high pulse discharge frequency, and complex discharge state. As a result, the effective discharge ratio and processing efficiency are low, which increases the cost and so limits the application of this technology. To solve this problem, a simulation model is established in this paper to analyze the negative influence on machining efficiency by traditional servo-control strategy. Then, a self-adaptive servo-control strategy is proposed to adjust the feed speed to match up with the actual material removal rate. Simulation and experimental studies are undertaken to verify the effectiveness and validity of the proposed strategy. The results demonstrate that feed speed can converge gradually under the self-adaptive servo-control strategy and the effective discharge ratio and processing efficiency are significantly improved.
This is a preview of subscription content, log in to check access.
Access options
Buy single article
Instant unlimited access to the full article PDF.
US$ 39.95
Price includes VAT for USA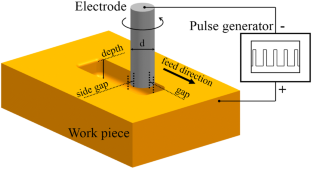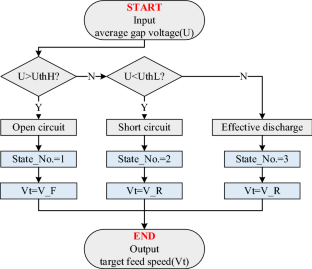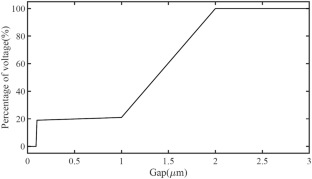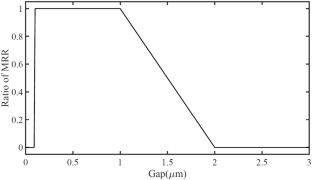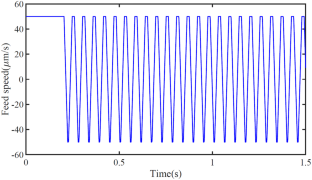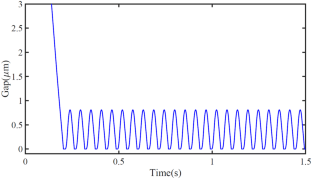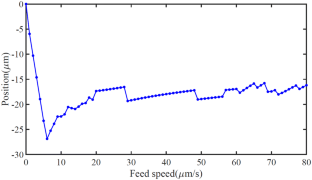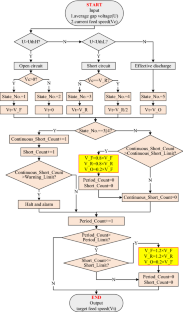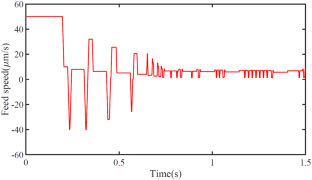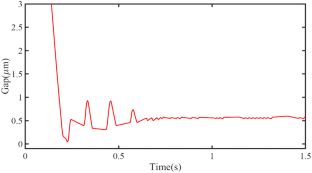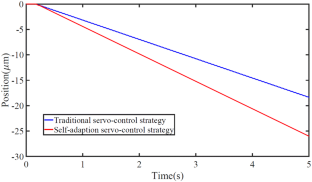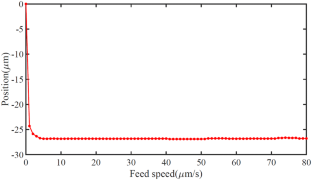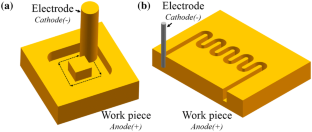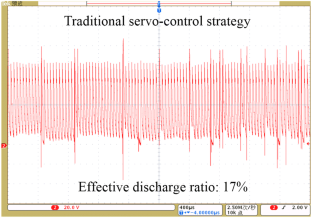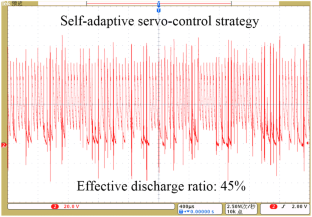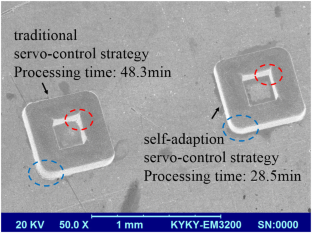 References
1.

Saxena KK, Qian J et al (2018) A review on process capabilities of electrochemical micromachining and its hybrid variants. Int J Mach Tools Manuf 127:28–56

2.

Chung DK, Shin HS et al (2011) Recent researches in micro electrical machining. Int J Precis Eng Manuf 12(2):371–380

3.

Malek CK, Saile V (2004) Applications of LIGA technology to precision manufacturing of high-aspect-ratio micro-components and -systems: a review. Microelectron J 35(2):131–143

4.

Câmara MA, Rubio JCC et al (2012) State of the art on micromilling of materials, a review. J Mater Sci Technol 28(8):673–685

5.

Hourmand M, Sarhan AAD et al (2017) Micro-electrode fabrication processes for micro-EDM drilling and milling: a state-of-the-art review. Int J Adv Manuf Technol 91(1–4):1023–1056

6.

Beigmoradi S, Ghoreishi M, Vahdati M (2018) Optimum design of vibratory electrode in micro-EDM process. Int J Adv Manuf Technol 95(9–12):3731–3744

7.

D'Urso G, Maccarini G, Ravasio C (2016) Influence of electrode material in micro-EDM drilling of stainless steel and tungsten carbide. Int J Adv Manuf Technol 85(9–12):2013–2025

8.

Jiang Y, Zhao W et al (2012) Detecting discharge status of small-hole EDM based on wavelet transform. Int J Adv Manuf Technol 61(1–4):171–183

9.

Zhang L, Jia Z et al (2012) A two-stage servo feed controller of micro-EDM based on interval type-2 fuzzy logic. Int J Adv Manuf Technol 59(5–8):633–645

10.

Paoloni C, Di Carlo A, Brunetti F et al (2011) Design and fabrication of a 1 THz backward wave amplifier. Terahertz Sci Technol 4(4):149–163

11.

Yan J, Kaneko T et al (2010) Fabricating microgrooves with varied cross-sections by electrodischarge machining. Int J Adv Manuf Technol 50(9–12):991–1002
Acknowledgements
The authors would like to express their sincere thanks for the financial support from National Key R&D Program of China (Project Nos. 2017YFA0701200, 2016YFF0102003), Shanghai Science and Technology Committee Innovation Grand (Grant No. 17JC1400601), and Science Challenging Program of CAEP (Grant No. JCKY2016212A506-0106).
About this article
Cite this article
Jing, Q., Li, J., Zhang, Y. et al. A Study of Influence of Servo-Control Strategy on Machining Efficiency in Micro-EDM. Nanomanuf Metrol (2020) doi:10.1007/s41871-019-00054-2
Received:

Revised:

Accepted:

Published:
Keywords
Self-adaptive servo control

Machining efficiency

Effective discharge ratio

Material removal rate

Micro-EDM