Abstract
Multicast communication is the simultaneous transmission of information from a single source to various destinations. It occurs extensively in telecommunication and advanced computing systems including enterprises operating datacenters. WDM optical networks act as the backbone for telecommunication and high performance networks. Wavelengths are scarce resources in WDM optical networks. Wavelengths usage in a network must be limited to decrease its cost and complexity. Optical linear array and ring networks find widespread application in interconnection networks including LAN and WAN. In this paper, wide-sense nonblocking multicast communication is analyzed in wavelength reusable multi-carrier distributed (WRMD) wavelength division multiplexing (WDM) linear array, unidirectional ring and bidirectional ring networks. The sufficient and necessary condition on the minimum wavelength number required for the network to be wide-sense nonblocking is derived for each of the above network topologies in the presence of a single multi-carrier light source (MCLS). An explicit wavelength allotment technique is also proposed for the above network topologies.
This is a preview of subscription content, log in to check access.
Access options
Buy single article
Instant access to the full article PDF.
US$ 39.95
Price includes VAT for USA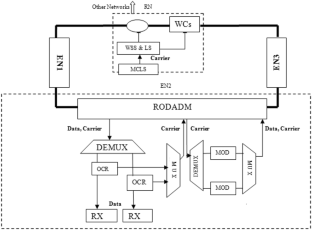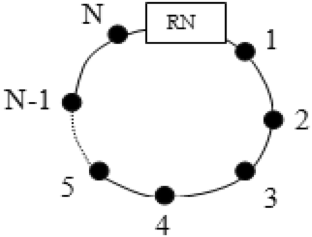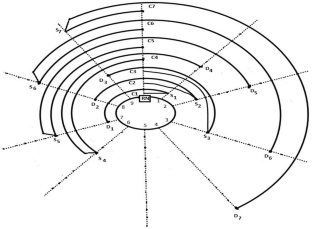 References
1.

Matsuura M, Oki E (2010) Multi-carrier distributed WDM ring network based on reconfigurable optical drop add drop multiplexers and carrier wavelength reuse. In: 2010 IEEE international conference on communications, pp 1–5

2.

Pavarangkoon P, Oki E (2015) A routing and wavelength assignment scheme supporting multiple light-source nodes in multi-carrier-distributed optical mesh networks with wavelength reuse. Opt Switch Netw 18:135–150

3.

Keri M, Oki E, Matsuura M (2011) Wavelength assignment in multi-carrier distributed optical ring networks with wavelength reuse. IEEE/OSA J Opt Commun Netw 3:281–289

4.

Pavarangkoonand P, Oki E (2014) A routing and wavelength assignment scheme supporting multiple light-source nodes in optical carrier-distributed networks. In: 2014 4th IEEE international conference on network infrastructure and digital content, pp 168–173

5.

Pavarangkoon P, Kitsuwanand N, Oki E (2015) A routing and wavelength assignment scheme in multi-carrier-distributed optical mesh networks with wavelength reuse. Opt Switch Netw 15:97–110

6.

Sabrigiriraj M (2014) Wavelength assignment for all-to-all broadcast in WRMD WDM linear array and ring. Optik-An Int J Light Electron Opt 125:2213–2216

7.

Zhou C, Yang Y (2002) Wide-sense nonblocking multicast in a class of regular optical WDM networks. IEEE Trans Comm 50:126–134

8.

Mallapur Sujata V, Patil Siddarama R, Agarkhed Jayashree V (2018) Multi-constraints reliable multicast routing protocol for group communications in MANETs. Int J Inf Technol 10(2):147–163

9.

Chander D, Kumar R (2018) Multicast error correction method to support scalability in mobile ad hoc networks. Int J Inf Technol. https://doi.org/10.1007/s41870-018-0164-6

10.

Sabrigiriraj M, Meenakshi M, Roopkumar R (2007) Wavelength assignment in WDM linear array. Electron Lett 43:1111–1113

11.

Sabrigiriraj M, Meenakshi M, Roopkumar R (2009) Wavelength assignment for all-to-all broadcast in WDM optical linear array with limited drops. Comput Commun 33:1804–1808

12.

Sabrigiriraj M, Balaji M (2014) Wavelength assignment for all-to-all broadcast in bi-directional WDM optical ring with limited drops. Optik-An Int J Light Electron Opt 125(23):6930–6941

13.

Sabrigiriraj M, Meenakshi M, Roopkumar R (2009) Wavelength assignment for all-to-all broadcast in WDM optical ring with limited drops. J Opt 38:103–123

14.

Sabrigiriraj M, Meenakshi M (2008) All-to-all broadcast in optical WDM networks under light-tree model. Comput Commun 31:2562–2565

15.

Sabrigiriraj M, Meenakshi M, Roopkumar R (2009) Wavelength assignment for all-to-all broadcast in wavelength division multiplexing optical ring. IETE J Res 55(5):236–241

16.

Constantinou CK, Manousakis K, Ellinas G (2016) Multicast routing algorithms for sparse splitting optical networks. Comput Commun 77:100–113

17.

Din D, Lien C (2017) Delay-constrained survivable multicast routing problem on WDM networks for node failure case. Comput Commun 103:165–192

18.

Kabaciński W, Michalski M, Abdulsahib M (2017) Wide-sense nonblocking elastic optical switch. Opt Switch Netw 25:71–79

19.

Ma L, Wu B, Yang B, Jiang X (2014) A study of wide-sense nonblocking multicast clos networks. In: Park J, Pan Y, Kim CS, Yang Y (eds) Future information technology. Lecture notes in electrical engineering, vol 309. Springer, Berlin

20.

Guo Z, Yang Y (2015) On nonblocking multicast fat-tree data center networks with server redundancy. IEEE Trans Comput 64(4):1058–1073

21.

Ma L, Wu B, Jiang X, Pattavina A (2017) Nonblocking conditions for (f1, f2)-cast Clos networks under balanced traffic. Opt Switch Netw 25:109–116

22.

Duan J, Guo Z, Yang Y (2015) Embedding nonblocking multicast virtual networks in fat-tree data centers. In: 2015 IEEE International Parallel and Distributed Processing Symposium, pp 123–132

23.

Kabaciński W, Kleban J, Michalski M, Żal M (2016) Strict-sense nonblocking networks with k degrees of freedom. Opt Switch Netw 22:18–25

24.

Ge M, Ye T, Lee TT, Hu W (2017) Multicast routing and wavelength assignment in AWG-based Clos networks. IEEE/ACM Trans Netw 25(3):1892–1909

25.

Rastegarfar H, Yan L, Szczerba K, Agrell E (2017) PAM performance analysis in multicast-enabled wavelength-routing data centers. J Lightwave Technol 35(13):2569–2579

26.

Guo Z, Yang Y (2015) Exploring server redundancy in nonblocking multicast data center networks. IEEE Trans Comput 64(7):1912–1926

27.

Karamitsos I, Apostolopoulos C (2018) Optical trends in data centers architectures for smart cities. Int J Inf Technol 10(1):3–9

28.

Sabrigiriraj M, Karthik R (2017) Wide-sense nonblocking multicast in optical WDM networks. Clust Comput. https://doi.org/10.1007/s10586-017-1180-1
About this article
Cite this article
Sabrigiriraj, M., Karthik, R. Wide-sense nonblocking multicast in WRMD WDM optical linear array and ring. Int. j. inf. tecnol. 12, 195–202 (2020). https://doi.org/10.1007/s41870-019-00370-2
Received:

Accepted:

Published:

Issue Date:
Keywords
Wavelength reusable multicarrier distributed (WRMD)

Optical networks

Wavelength allotment

Multicasting