Abstract
Magnetic disk drives have been used as standard storage devices in computer systems for a long time now. Since their inception in 1956 to current date, they faced many technological challenges to meet the varied storage demands of diverse systems. During their technological journey, they received many advances to improve their capacity, performance, cost, and so on. Unfortunately, their success story is always told through one single perspective, i.e. advancements to improve capacity, performance, cost, and other such features. The capacity barriers in hard disks, which surfaced after the introduction of ATA drives and Zone-bit recording, and the attempts to overcome them are seldom brought to light. This paper attempts to fill this gap in literature. The paper investigates the reasons behind the capacity barriers faced by hard disk technology between 1994 and 2001, discusses the consequences of these barriers, explains the solutions devised and highlights their flaws, and deduces the knowledge that can be used in future storage technologies to avoid such problems.
This is a preview of subscription content, log in to check access.
Access options
Buy single article
Instant access to the full article PDF.
US$ 39.95
Price includes VAT for USA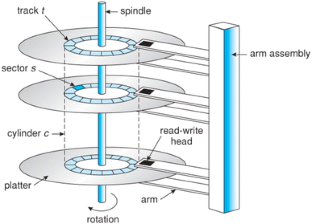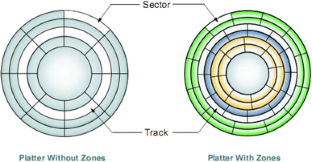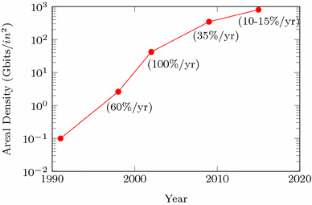 References
1.

Bhat WA, Quadri SMK (2015) Big data promises value: is hardware technology taken onboard? Ind Manag Data Syst 115(9):1577–1595

2.

Grochowski E, Halem RD (2003) Technological impact of magnetic hard disk drives on storage systems. IBM Syst J 42(2):338–346

3.

Bhat WA (2018a) Long-term preservation of big data: prospects of current storage technologies in digital libraries. Library Hi Tech https://doi.org/10.1108/LHT-06-2017-0117

4.

Bhat WA (2018b) Bridging data-capacity gap in big data storage. Fut Gen Comput Syst. https://doi.org/10.1016/j.future.2017.12.066

5.

Narayanan D, Thereska E, Donnelly A, Elnikety S, Rowstron A (2009) Migrating server storage to ssds: analysis of tradeoffs. In: Proceedings of the 4th ACM European conference on computer systems, ACM, pp 145–158

6.

Strunk JD (2012) Hybrid aggregates: combining ssds and hdds in a single storage pool. ACM SIGOPS Oper Syst Rev 46(3):50–56

7.

Soundararajan G, Prabhakaran V, Balakrishnan M, Wobber T (2010) Extending ssd lifetimes with disk-based write caches. FAST 10:101–114

8.

Leventhal AB (2008) Flash storage memory. Commun ACM 51(7):47–51

9.

Lee SW, Moon B (2007) Design of flash-based DBMS: an in-page logging approach. In: Proceedings of the 2007 ACM SIGMOD international conference on management of data, ACM, pp 55–66

10.

Limbachiya D, Gupta MK (2015) A natural data storage: a review on sending information from now to then via nature. arXiv:150504890v1

11.

Gu M, Li X, Cao Y (2014) Optical storage arrays: a perspective for future big data storage. Light Sci Appl 3(5):e177

12.

Ruan H (2014) Recent advances in holographic data storage. Front Optoelectron 7(4):450–466

13.

Land F (2010) The use of history in is research: an opportunity missed? J Inf Technol 25(4):385–394

14.

Campbell-Kelly M, Garcia-Swartz DD (2013) The history of the internet: the missing narratives. J Inf Technol 28(1):18–33

15.

Jakobs K (2013) Why then did the x. 400 e-mail standard fail? Reasons and lessons to be learned. J Inf Technol 28(1):63–73

16.

Bhat WA, Quadri SMK (2012) Open source code doesnt always help: case of file system development. Trend Inf Manag 7(2):135–144

17.

Bhat WA (2015) Achieving efficient purging in transparent per-file secure wiping extensions. In: Handbook of research on security considerations in cloud computing, IGI global, pp 345–357

18.

Bhat WA, Quadri SMK (2012) After-deletion data recovery: myths and solutions. Comput Fraud Secur 4:17–20

19.

Bhat WA, Quadri SMK (2012b) restfs: Secure data deletion using reliable and efficient stackable file system. In: Applied machine intelligence and informatics (SAMI), 2012 IEEE 10th international symposium on, IEEE, pp 457–462

20.

Quadri SMK, Bhat WA (2011) A brief summary of file system forensic techniques. In: Proceedings of 5th national conference, INDIACom, pp 499–502

21.

Bhat WA, Quadri SMK (2013a) Poster: Dr. watson provides data for post-breach analysis. In: Proceedings of the 2013 ACM SIGSAC conference on computer and communications security, ACM, pp 1445–1448

22.

Bhat WA, Quadri SMK (2013b) suvfs: a virtual file system in userspace that supports large files. In: Big Data, 2013 IEEE international conference on, IEEE, pp 7–11

23.

Bhat WA, Quadri SMK (2010) Some notable reliability techniques for disk file systems. Orient J Comput Sci Technol 3(2):269–271

24.

Bhat WA, Quadri SMK (2011a) Io bound property: a system perspective evaluation and behavior trace of file system. Glob J Comput Sci Technol 11(5):57–70

25.

Bhat WA, Quadri SMK (2011b) Benchmarking criteria for file system benchmarks. Int J Eng Sci Technol 3(1):666–671

26.

Quadri SMK, Bhat WA (2011) Choosing between windows and Linux file systems for a novice user. In: Proceedings of 5th national conference, INDIACom, pp 457–462

27.

Walter C (2005) Kryder's law. Sci Am 293(2):32–33

28.

Hoagland AS (2003) History of magnetic disk storage based on perpendicular magnetic recording. Magn IEEE Trans 39(4):1871–1875

29.

Richter H, Dobin A, Lynch R, Weller D, Brockie R, Heinonen O, Gao K, Xue J, Veerdonk RV, Asselin P et al (2006) Recording potential of bit-patterned media. Appl Phys Lett 88(22):222512

30.

Kikitsu A (2009) Prospects for bit patterned media for high-density magnetic recording. J Magn Magn Mater 321(6):526–530

31.

Amer A, Holliday J, Long DD, Miller EL, Paris J, Schwarz T (2011) Data management and layout for shingled magnetic recording. Magn IEEE Trans 47(10):3691–3697

32.

Ng SW (1998) Advances in disk technology: performance issues. Computer 31(5):75–81

33.

Bhat WA, Quadri SMK (2014) Performance augmentation of a fat filesystem by a hybrid storage system. In: Advanced computing, networking and informatics, Volume 2, Springer, pp 489–498

34.

Blount WC (2003) Why 7200 rpm mobile hard disk drives?. Tech. rep, Hitachi Global Storage Technologies

35.

Bhat WA, Quadri SMK (2014) hFAT: a high performance hybrid FAT32 file system. In: Clary T (ed) Horizons in computer science research, chap 12. Nova Science Publishers, NY, pp 285–299

36.

Zedlewski J, Sobti S, Garg N, Zheng F, Krishnamurthy A, Wang RY et al (2003) Modeling hard-disk power consumption. FAST 3:217–230

37.

Hylick A, Sohan R, Rice A, Jones B (2008) An analysis of hard drive energy consumption. In: Modeling, analysis and simulation of computers and telecommunication systems, 2008. MASCOTS 2008. IEEE international symposium on, IEEE, pp 1–10

38.

Rosenthal DS, Rosenthal DC, Miller EL, Adams IF, Storer MW, Zadok E (2012) The economics of long-term digital storage. Memory of the World in the Digital Age, Vancouver, BC

39.

Daniel ED, Mee CD, Clark MH (1999) Magnetic recording: the first 100 years. Wiley, Amsterdam

40.

Goda K, Kitsuregawa M (2012) The history of storage systems. Proc IEEE 100(Centennial–Issue):1433–1440

41.

Shiroishi Y, Fukuda K, Tagawa I, Iwasaki H, Takenoiri S, Tanaka H, Mutoh H, Yoshikawa N (2009) Future options for hdd storage. Magn IEEE Trans 45(10):3816–3822

42.

IBM-Archives (1956) Ibm 350 disk storage unit. Product Release Date–Sep' 4

43.

McCallum JC (2015) Disk drive prices (1955–2015). Available at: http://www.jcmit.com/diskprice.htm

44.

Byrne DM (2015) Prices for data storage equipment and the state of it innovation. Tech. rep, Board of Governors of the Federal Reserve System (US)

45.

Bell J (2006) https://www.cs.uic.edu/~jbell/CourseNotes/OperatingSystems/10_MassStorage.html. Accessed 14 Oct 2016

46.

Jiang Z, Hui L, Yiu SM (2008) Improving disk sector integrity using k-dimension hashing. In: IFIP International conference on digital forensics, Springer, pp 87–98

47.

Kryder MH (1989) Data storage in 2000-trends in data storage technologies. IEEE Trans Magn 25(6):4358–4363

48.

Kryder MH (1990) Advances in magneto-optic recording technology. J Magn Magn Mater 83(1–3):1–5

49.

Wang J, Hu Y (2001) Profs-performance-oriented data reorganization for log-structured file system on multi-zone disks. In: Modeling, analysis and simulation of computer and telecommunication systems, 2001. Proceedings of the 9th international symposium on, IEEE, pp 285–292

50.

Liu F, Shi X, Tong H, Qian C, Dong Z, Yan X, Barr R, Dey S, Malhotra S, Lal B et al (1999) Demonstration and characterization of 14 gb/in/sup 2/recording systems. IEEE Trans Magn 35(5):2250–2252

51.

Bhat WA, Quadri SMK (2011) A quick review of on-disk layout of some popular disk file systems. Glob J Comput Sci Technol 11(6):1–17

52.

Bhat WA, Quadri SMK (2010) Review of fat data structure of fat32 file system. Orient J Comput Sci Technol 3(1):161–164

53.

Bhat WA, Quadri SMK (2011) Efficient handling of large storage: a comparative study of some disk file systems. In: Proceedings of 5th national conference, INDIACom, pp 475–480

54.

Storage-Foundation (2014) http://sola99.tistory.com/185. Accessed 22 Jan 2017

55.

Brown R, Kyle J (1993) PC interrupts: a programmer's reference to BIOS, DOS and third-party calls. Addison-Wesley, Boston

56.

Croucher P (2001) The BIOS companion. www.Lulu.com

57.

IBM (1988) Personal system/2 and personal computer: Bios interface technical reference. International Business Machines Corporation, Tech. rep

58.

Lamers LJ (1994) At attachment interface for disk drives. Tech. rep., Technical Committee T13 AT Attachment. https://ecse.rpi.edu/courses/S15/ECSE-4780/Labs/IDE/ IDE_SPEC.PDF. Accessed 14 Oct 2016

59.

Kozierok CM (2005) PC guide. www.pcGuide.com

60.

Stevens CE (1995) Bios enhanced disk drive specification. Tech. rep., Phoenix Technologies Ltd. http://www.t10.org/ftp/t10/document.95/95-153r0.pdf. Accessed 14 OCt 2016

61.

Finch SG (1996) At attachment interface with extensions (ata-2). Tech. rep., Technical Committee T13 AT Attachment. http://hddguru.com/download/documentation/ATA-ATAPI- standard-2/d0948r4c_ATA-ATAPI-2.pdf. Accessed 14 Oct 2016

62.

Minasi M (2002) The complete PC upgrade and maintenance guide (2003 Edition). Sybex

63.

Mueller S (2003) Upgrading and repairing PCs. Que Publishing, Carmel

64.

Zynel M (2004) Multi-booting solaris and other operating systems. http://multiboot.solaris-x86.org. Accessed 22 Dec 2016

65.

Sanders D, Riley C, Cremaldi L, Summers D, Petravick D (1999) Working with arrays of inexpensive eide disk drives. arXiv preprint arXiv:hep-ex/9912067

66.

Scott M (2010) Upgrading and repairing Pcs, 19/E (Dvd). Pearson Education, India

67.

Dahl E (2004) Break the 137gb barrier. PC World 22(9):84

68.

McLean PT (2002) At attachment with packet interface—6 (ata/atapi-6). Tech. rep., Technical Committee T13 AT Attachment. http://t13.org/Documents/UploadedDocuments/project/d1410r3b- ATA-ATAPI-6.pdf. Accessed 14 Oct 2016

69.

Zhou Z, Luan H, Li B, Zhu S (2010) Detection about vulnerabilities and malicious codes for legacy bios. In: Communication systems, networks and applications (ICCSNA), 2010 2nd International conference on, IEEE, vol 1, pp 77–80

70.

Dillon S (2006) Hide and seek: concealing and recovering hard disk data. Tech. rep., James Madison University. https://pdfs.semanticscholar.org/af13/ f05749e129fb47ab8abbc9970d5cf15898c4.pdf. Accessed 02 May 2017

71.

INSIC (2016) Areal density trends. http://www.insic.org/news/2015 roadmap/15pdfs/INSIC Areal Density Trend Chart.pdf. Accessed 23 Mar 2017
About this article
Cite this article
Bhat, W.A. Capacity barriers in hard disks: problems, solutions and lessons. Int. j. inf. tecnol. 12, 155–163 (2020). https://doi.org/10.1007/s41870-018-0144-x
Received:

Accepted:

Published:

Issue Date:
Keywords
Hard disk

Capacity barrier

BIOS

CHS

LBA

INT 13H