Abstract
Smart grid is the upgradation of the existing grid in terms of cost, communication infrastructure, internet of things and reliable technologies. In ambitious flagship programme of digital India-project an initiative of India, the potential fields of the missions are identified in the area are smart energy, smart grids, smart homes and smart cities. More than 100 smart cities are planned for information and communication technology driven solutions with big data analytics in India. The exponential growth in smart grids has given certain security risks, cyber threats and protection of stored data as Nation security. Smart Grids, comprising of several communication, monitoring intelligent, metering and electrical equipment used in power grid, have a greater exposure to grid security and cyber-attacks which are potentially disrupt distribution in a city. The paper discusses the electrical grid, challenges in smart grid and the use of Advanced Encryption Standard (AES) algorithm enable with field-programmable gate array (FPGA) hardware in smart grids. The AES encryption and decryption chip is designed in Xilinx ISE 14.2 software, synthesized on SPARTAN-3E FPGA and verified with some test cases to ensure that AES can be employed in smart grid security and communication infrastructure.
This is a preview of subscription content, log in to check access.
Access options
Buy single article
Instant access to the full article PDF.
US$ 39.95
Price includes VAT for USA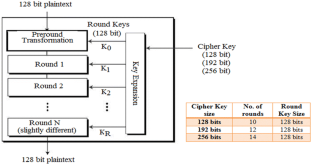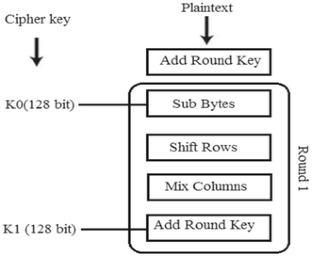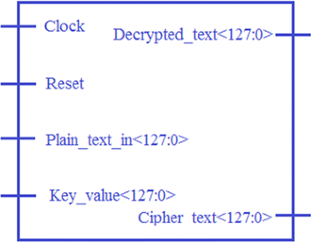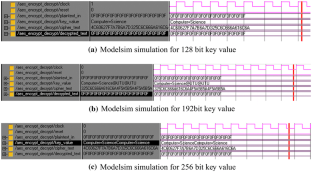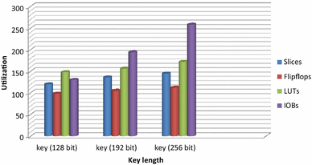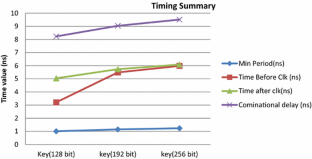 References
1.

Bari A, Jiang J, Saad W, Jaekel A (2014) Challenges in the smart grid applications: an overview. Ataul Hindawi Publishing Corporation. Int J Distrib Sensor Netw 974682:11. https://doi.org/10.1155/2014/974682

2.

Deshpande AM, Deshpande MS, Kayatanavar DN (2009) FPGA implementation of AES encryption and decryption. In: International conference on control, automation, communication and energy conservation (INCACEC 2009). IEEE, pp 1–6

3.

Hodjat A, Verbauwhede I (2006) Area-throughput trade-offs for fully pipelined 30 to 70 Gbits/s AES processors. IEEE Trans Comput 55:366–372

4.

Daemen J, Rijmen V (2013) The design of Rijndael: AES-the advanced encryption standard. Springer, Berlin

5.

Fadel E, Gungor VC, Nassef L, Nadine A, Abbas Malik MG (2015) A survey on wireless sensor networks for smart grid. Comput Netw Elsevier 71:22–33

6.

Beidou FB, Morsi WG, Diduch CP, Chang L (2010) Smart grid: challenges, research directions and possible solutions. IEEE International Symposium on Power Electronics for Distributed generation Systems, IEEE Xplorer. pp 670–672

7.

Hammad I, Sankary KE, Masry EE (2010) High-speed AES encryptor with efficient merging techniques. IEEE Embed Syst Lett 2(3):67–71

8.

Dyken JV, Delgado-Frias JG (2010) FPGA schemes for minimizing the power-throughput trade-off in executing the advanced encryption standard algorithm. J Syst Architect 56(2–3):116–123

9.

Chhaya L, Sharma P, Bhagwatikar G, Kumar A (2017) Wireless sensor network based smart grid communications: cyber attacks, intrusion detection system and topology control. Electronics 6:1–22

10.

Chhaya L, Sharma P, Kumar A, Bhagwikar G (2017) Communication theories and protocols for smart grid hierarchical network. JEEE 10:1

11.

Chhaya L, Sharma P, Bhagwatikar G, Kumar A (2018) Development of wireless data acquisition and control system for smart microgrid. ETAEERE-2016 Advances in Systems, Control and Automation Lecture Notes in Electrical Engineering

12.

Sklavos N, Papakonstinou A, Koufopavlou STO (2002) Low-power implementation of an encryption/decryption system with asynchronous techniques. VLSI Design 15(1):455–468

13.

Kumar N, Mishra VM, Kumar A (2017) Smart grid and commutation technologies. J Eng Appl Sci 12(22):5934–5938

14.

Priya SS, Karthigaikumar P, Siva Mangai NM. et al. (2017) Wireless personal communication. 94: 2259. doi: https://doi.org/10.1007/s11277-016-3385-7

15.

Iyer S (2011) Cyber security for smart grid, cryptography, and privacy. Hindawi Publishing Corporation. Int J Digit Multimed Broadcast 372020:8. https://doi.org/10.1155/2011/372020

16.

Daemen J, Rijmen V (2005) Rijndael/aes. In: van Tilborg HCA (ed) Encyclopedia of Cryptography and Security. Springer, US, pp 520–524

17.

Good T, Benaissa M (2006) Very small FPGA application-specific instruction processor for AES. IEEE Trans Circ Syst I Regul Pap 53(7):1477–1486

18.

Wang W, Lu Z (2013) Cyber security in the smart grid: survey and challenges. Comput Netw 57:1344–1371

19.

Zhang X, Parhi KK (2004) High-Speed VLSI architectures for the AES algorithm. IEEE Trans Very Large Scale Integr VLSI Syst 12(9):957–967

20.

Guo X, Liu Z, Xing J, Fan W, Zou X (2006) Optimized AES crypto design for wireless sensor networks with balanced S-box architecture: In Proceedings of International Conference on Informatics and Control Technology (ICT 2006). pp 203–208
About this article
Cite this article
Kumar, N., Mishra, V.M. & Kumar, A. Smart grid security with AES hardware chip. Int. j. inf. tecnol. 12, 49–55 (2020). https://doi.org/10.1007/s41870-018-0123-2
Received:

Accepted:

Published:

Issue Date:
Keywords
Smart grid communication

Security

FPGA synthesis

AES algorithm