Experimentelle Unfallchirurgie
EU-Erfolg für die Regensburger
Das Labor für Experimentelle Unfallchirurgie der Klinik und Poliklinik für Unfallchirurgie der Universität Regensburg hat 2018 drei hochdotierte Forschungsprojekte im Bereich des Binde- und Stützgewebes gewonnen.
Mit drei hochdotierten Forschungsprojekten im Rennen
Das erste Projekt, MATEGRA, finanziert durch EU-Fördermittel aus dem Programm für europäische territoriale Zusammenarbeit (ETZ) Freistaat Bayern — Tschechische Republik über einen Zeitraum von drei Jahren, befasst sich mit der Weiterentwicklung von porösen Biomaterialien, die mit Stammzellen funktionalisiert werden und für eine verbesserte Osteointegration sorgen sollen. Das Unfallchirurgieteam besteht aus Prof. Dr. Denitsa Docheva, Prof. Dr. Michael Nerlich, Prof. Dr. Peter Angele, Dr. Martin Loher sowie MTA Daniela Drenkard und erhält eine Fördersumme von zirka 500.000 €. Die tschechischen Kooperationspartner dieses Projekts kommen vom Zentrum für Neue Technologien der Universität Pilsen.
Das zweite Projekt ist Teil des "Horizon 2020 — The EU Framework Programme for Research and Innovation" und fördert Docheva und Angele in dem EU-Konsortium "Achilles: Overcoming specific weaknesses in tendon biology to design advanced regenerative therapies" mit einer Summe von 250.000 € über drei Jahre. Weitere Mitglieder des Konsortiums sind die Universität Do Minho, Portugal, die National University of Ireland, Galway, und die Mayo Clinic, Rochester, Minnesota, USA.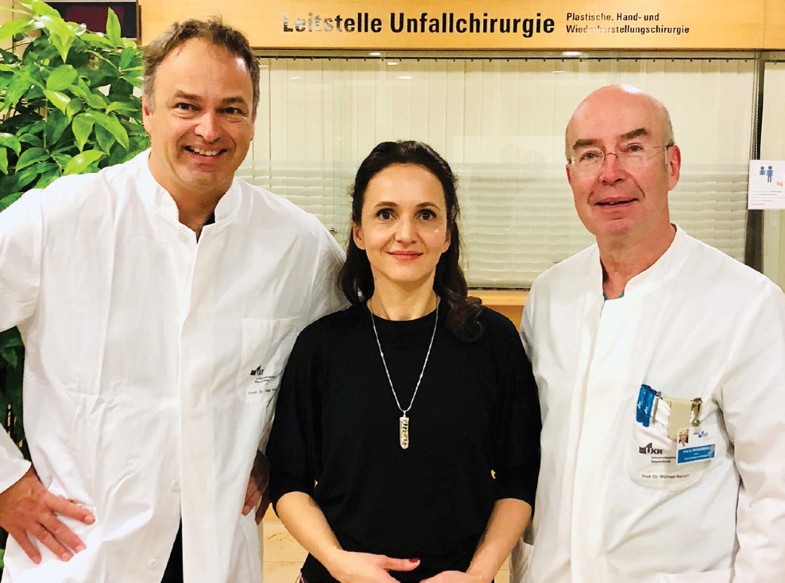 Das dritte Projekt, MEFISTO (Meniscal functionalised scaffold to prevent knee osteoarthritis onset after meniscectomy), ist ebenfalls Teil des Programms Horizont 2020. Hier setzt sich das Regensburger Team zusammen aus Angele, Docheva sowie Dr. Girish Pattappa und erhält für seinen Beitrag zirka 600.000 € über einen Förderzeitraum von fünf Jahren. MEFISTO ist ein EU-weites Konsortium aus elf Universitäten und Biotechpartnern aus der Schweiz, Italien, Deutschland, Frankreich, Großbritannien und den Niederlanden.
Die Projekte MATEGRA und Achilles starteten bereits im Oktober 2018, das MEFISTO-Projekt wird voraussichtlich im Frühjahr 2019 beginnen.