Abstract
The mycotoxins produced by filamentous molds are associated with economic losses and numerous health risks in the human food chain. Biological methods of eliminating the danger posed by mycotoxins to the health of humans and animals are being developed. In this context, kefir (i.e., milk fermented by kefir grains), kefir cell-free supernatant (CFS), and neutralized kefir CFS (CFS-pH7) were tested for their antifungal activities against Aspergillus flavus and A. carbonarius, which produce mycotoxins. Results showed that the pH increased and the titratable acidity decreased during 24 h of fermentation. Moreover, data showed that 10% kefir has the potential to inhibit the growth of A. flavus and A. carbonarius by 93.88% and 100%, respectively. Kefir CFS inhibited the growth of A. flavus and A. carbonarius by 51.11% and 46.66%, respectively. No inhibition of the growth of A. carbonarius was observed when the pH of the CFS was adjusted to 7, while minor inhibition (10%) of the growth of A. flavus was noted. The production of OTA by A. carbonarius was completely (100%) suppressed by kefir, and it reduced the production of AFB1 by A. flavus by 99.98%. CFS and CFS-pH7 reduced AFB1 and OTA production by 99.94–92.90% and 27.98–8.76%, respectively. The present findings suggest that kefir could be utilized to control A. flavus and A. carbonarius and thus the production of AFB1 and OTA, enhancing the safety of the human food chain.
This is a preview of subscription content, log in to check access.
Access options
Buy single article
Instant access to the full article PDF.
US$ 39.95
Price includes VAT for USA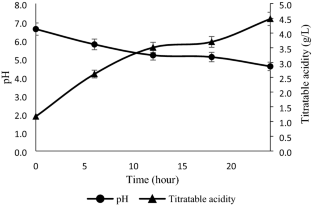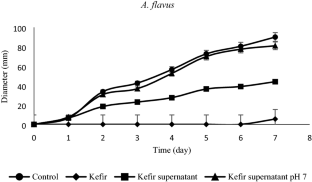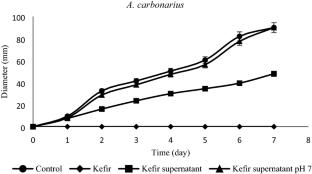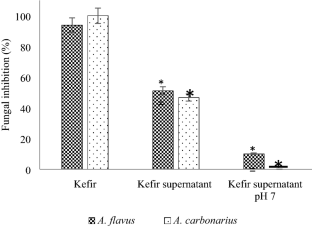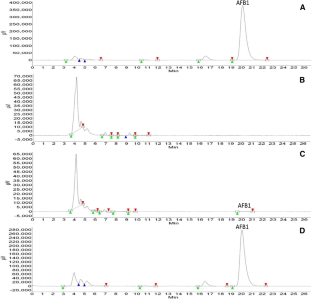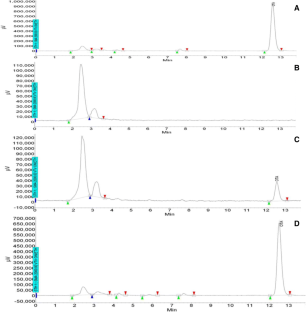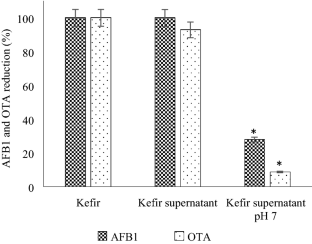 References
Abrunhosa L et al (2014) Biodegradation of ochratoxin A by Pediococcus parvulus isolated from Douro wines. Int J Food Microbiol 188:45–52

Adebayo C, Aderiye B (2011) Suspected mode of antimycotic action of brevicin SG1 against Candida albicans and Penicillium citrinum. Food Control 22:1814–1820

Ahmed Z, Wang Y, Ahmad A, Khan ST, Nisa M, Ahmad H, Afreen A (2013) Kefir and health: a contemporary perspective. Crit Rev Food Sci Nutr 53:422–434

Andrade GR et al (2017) Influence of a kefir-derived antimicrobial fraction on Zika virus cytopathic effects and lymphocyte proliferation. Juniper Online J Immuno Virol 2(2):555584

Aziz NH, Ferial M, Shahin AA, Roushy SM (2007) Control of Fusarium moulds and fumonisin B1 in seeds by gamma-irradiation. Food Control 18:1337–1342

Cortés-Zavaleta O, López-Malo A, Hernández-Mendoza A, García H (2014) Antifungal activity of lactobacilli and its relationship with 3-phenyllactic acid production. Int J Food Microbiol 173:30–35

De Bellis P, Tristezza M, Haidukowski M, Fanelli F, Sisto A, Mulè G, Grieco F (2015) Biodegradation of ochratoxin A by bacterial strains isolated from vineyard soils. Toxins 7:5079–5093

de Oliveira AP, dos Santos GA, Nomura CS, Naozuka J (2019) Elemental chemical composition of products derived from kefir fermented milk. J Food Compos Anal 78:86–90

Egal S et al (2005) Dietary exposure to aflatoxin from maize and groundnut in young children from Benin and Togo. West Afr Int J Food Microbiol 104:215–224

Eklund T (1980) Inhibition of growth and uptake processes in bacteria by some chemical food preservatives. J Appl Microbiol 48:423–432

Farnworth ER (2006) Kefir—a complex probiotic. Food Sci Technol Bull Fu 2:1–17

Gamba RR, Ni Colo C, Correa M, Astoreca AL, Alconada Magliano TM, De Antoni G, Leon Pelaez A (2015) Antifungal activity against Aspergillus parasiticus of supernatants from whey permeates fermented with kéfir grains. Adv Microbiol 5:479–492

Gamba RR, Caro CA, Martínez OL, Moretti AF, Giannuzzi L, De Antoni GL, Peláez AL (2016a) Antifungal effect of kefir fermented milk and shelf life improvement of corn arepas. Int J Food Microbiol 235:85–92

Gamba RR, De Antoni G, Peláez AL (2016b) Whey permeate fermented with kefir grains shows antifungal effect against Fusarium graminearum. J Dairy Res 83:249–255

Gamba RR, Moure C, Diosma G, Giannuzzi L, De Antoni GL, Peláez ÁML (2016c) Application of whey permeate fermented with kefir grains for the shelf-life improvement of food and feed. Adv Microbiol 6:650

Gao W et al (2015) Microbial diversity and stability during primary cultivation and subcultivation processes of Tibetan kefir. Int J Food Sci Technol 50:1468–1476

Garofalo C et al (2015) Bacteria and yeast microbiota in milk kefir grains from different Italian regions. Food Microbiol 49:123–133

Garrote GL, Abraham AG, De Antoni GL (2000) Inhibitory power of kefir: the role of organic acids. J Food Prot 63:364–369

Guimarães A, Santiago A, Teixeira JA, Venâncio A, Abrunhosa L (2018) Anti-aflatoxigenic effect of organic acids produced by Lactobacillus plantarum. Int J Food Microbiol 264:31–38

Gul O, Mortas M, Atalar I, Dervisoglu M, Kahyaoglu T (2015) Manufacture and characterization of kefir made from cow and buffalo milk, using kefir grain and starter culture. J Dairy Sci 98:1517–1525

Haskard CA, El-Nezami HS, Kankaanpää PE, Salminen S, Ahokas JT (2001) Surface binding of aflatoxin B1 by lactic acid bacteria. Appl Environ Microbiol 67:3086–3091

Ismaiel AA, Ghaly MF, El-Naggar AK (2011) Milk kefir: ultrastructure, antimicrobial activity and efficacy on aflatoxin B1 production by Aspergillus flavus. Curr Microbiol 62:1602–1609

Jo E-J, Mun H, Kim S-J, Shim W-B, Kim M-G (2016) Detection of ochratoxin A (OTA) in coffee using chemiluminescence resonance energy transfer (CRET) aptasensor. Food Chem 194:1102–1107

Kaufmann K (1997) Kefir rediscovered. Alive Books, Burnaby, p 86

Lahtinen SJ, Haskard CA, Ouwehand AC, Salminen SJ, Ahokas JT (2004) Binding of aflatoxin B1 to cell wall components of Lactobacillus rhamnosus strain GG. Food Addit Contam 21:158–164

Liu J-R, Chen M-J, Lin C-W (2005) Antimutagenic and antioxidant properties of milk-kefir and soymilk-kefir. J Agric Food Chem 53:2467–2474

Londero A, León Peláez MA, Diosma G, De Antoni GL, Abraham AG, Garrote GL (2014) Fermented whey as poultry feed additive to prevent fungal contamination. J Sci Food Agric 94:3189–3194

Luo Y, Liu X, Yuan L, Li J (2019) Complicated interactions between bio-adsorbents and mycotoxins during mycotoxin adsorption: current research and future prospects. Trends Food Sci Technol 96:127–134

Miao J et al (2014) Purification and characterization of bacteriocin F1, a novel bacteriocin produced by Lactobacillus paracasei subsp. tolerans FX-6 from Tibetan kefir, a traditional fermented milk from Tibet, China. Food Control 42:48–53

Ozcan T, Sahin S, Akpinar-Bayizit A, Yilmaz-Ersan L (2019) Assessment of antioxidant capacity by method comparison and amino acid characterisation in buffalo milk kefir. Int J Dairy Technol 72:65–73

Paiva IM et al (2016) Lactobacillus kefiranofaciens and Lactobacillus satsumensis isolated from Brazilian kefir grains produce alpha-glucans that are potentially suitable for food applications. LWT-Food Sci Technol 72:390–398

Peláez AL, Cataño CS, Yepes EQ, Villarroel RG, De Antoni G, Giannuzzi L (2012) Inhibitory activity of lactic and acetic acid on Aspergillus flavus growth for food preservation. Food Control 24:177–183

Perna A, Simonetti A, Gambacorta E (2019) Phenolic content and antioxidant activity of donkey milk kefir fortified with sulla honey and rosemary essential oil during refrigerated storage. Int J Dairy Technol 72:74–81

Piotrowska M, Masek A (2015) Saccharomyces cerevisiae cell wall components as tools for ochratoxin A decontamination. Toxins 7:1151–1162

Pitt JI, Hocking AD (2009) Fungi and food spoilage, vol 519. Springer, Berlin

Sangmanee P, Hongpattarakere T (2014) Inhibitory of multiple antifungal components produced by Lactobacillus plantarum K35 on growth, aflatoxin production and ultrastructure alterations of Aspergillus flavus and Aspergillus parasiticus. Food Control 40:224–233

Satir G, Guzel-Seydim ZB (2015) Influence of kefir fermentation on the bioactive substances of different breed goat milks. LWT-Food Sci Technol 63:852–858

Schnürer J, Magnusson J (2005) Antifungal lactic acid bacteria as biopreservatives. Trends Food Sci Technol 16:70–78

Sharifi M, Moridnia A, Mortazavi D, Salehi M, Bagheri M, Sheikhi A (2017) Kefir: a powerful probiotics with anticancer properties. Med Oncol 34:183

Soares C, Rodrigues P, Freitas-Silva O, Abrunhosa L, Venâncio A (2010) HPLC method for simultaneous detection of aflatoxins and cyclopiazonic acid. World Mycotoxin J 3:225–231

Taheur FB, Fedhila K, Chaieb K, Kouidhi B, Bakhrouf A, Abrunhosa L (2017) Adsorption of aflatoxin B1, zearalenone and ochratoxin A by microorganisms isolated from kefir grains. Int J Food Microbiol 251:1–7

Taheur FB, Kouidhi B, Al Qurashi YMA, Salah-Abbès JB, Chaieb K (2019a) Biotechnology of mycotoxins detoxification using microorganisms and enzymes. Toxicon 160:12–22

Taheur FB, Mansour C, Kouidhi B, Chaieb K (2019b) Use of lactic acid bacteria for the inhibition of Aspergillus flavus and Aspergillus carbonarius growth and mycotoxin production. Toxicon 166:15–23

Vélez C, Andrés C, León Peláez ÁM (2014) Fungal growth inhibition of Aspergillus ochraceus with "panela" fermented with water kefir grains. Vitae 21:191–200

Westby A, Reilly A, Bainbridge Z (1997) Review of the effect of fermentation on naturally occurring toxins. Food Control 8:329–339
Acknowledgements
The authors are very grateful to the Laboratory of Analysis, Treatment and Valorization of Environmental Pollutants and Products, Faculty of Pharmacy Monastir and to Monastir University for their financial support.
Ethics declarations
Conflict of interest
The authors declare that there are no conflicts of interest regarding the publication of this paper.
Additional information
Communicated by Philippe Michaud, Chief Editor.
About this article
Cite this article
Taheur, F.B., Mansour, C. & Chaieb, K. Inhibitory effect of kefir on Aspergillus growth and mycotoxin production. Euro-Mediterr J Environ Integr 5, 5 (2020). https://doi.org/10.1007/s41207-020-0141-x
Received:

Accepted:

Published:
Keywords
Aflatoxin B1 (AFB1)

Antifungal activity

Kefir

Mycotoxins

Ochratoxin A (OTA)