Abstract
The present study evaluates the performance efficiency of a wastewater treatment plant. A sewage treatment plant operating on biological treatment method (Rotating Media Bio-Reactor) with an average wastewater inflow of 6 MLD has been considered for the case study. Wastewater samples were collected at different stages of treatment units and analyzed for the major waste water quality parameters such as biological oxygen demand (BOD), chemical oxygen demand (COD), total suspended solids (TSS), and biodegradability. The performance efficiency of waste water treatment plant along with the major secondary treatment unit as Rotating Media Bio-Reactor (RMBR) was calculated. The performance analysis on above two aspects was studied over 17 weeks. Overall performance was found to meet the design and discharge/effluent criteria as prescribed by the authorities. The studies of six units of Rotating Media Bio-Reactor (RMBR) over a period of 13 weeks have shown the reduction profile of the unit in treatment of wastewater with parameters of BOD and COD. The RMBR treatment profile is useful for the design and operation of the unit.
This is a preview of subscription content, log in to check access.
Access options
Buy single article
Instant access to the full article PDF.
US$ 39.95
Price includes VAT for USA
Subscribe to journal
Immediate online access to all issues from 2019. Subscription will auto renew annually.
US$ 112
This is the net price. Taxes to be calculated in checkout.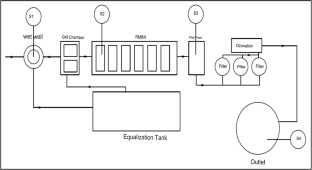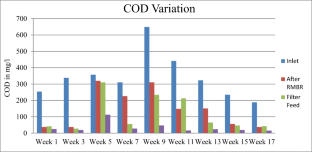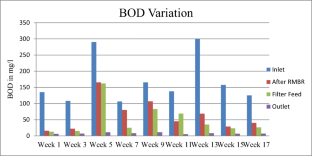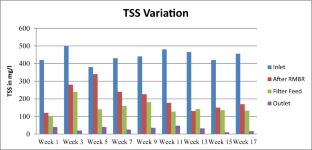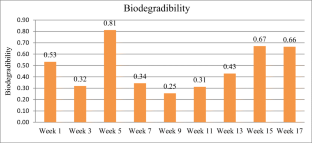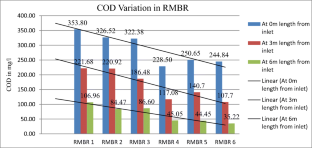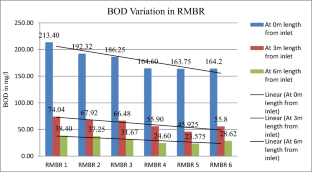 References
1.

Showkat U, Najar IA (2019) Study on the efficiency of the sequential batch reactor (SBR)-based sewage treatment plant. Appl Water Sci 9(1)

2.

Fasinmirin J, Olufayo A (2011) Development and performance evaluation of a low-cost waste-water treatment plant. Ethiop J Environ Stud Manag 2(2):0

3.

Gautam SK, Sharma D, Tripathi JK, Ahirwar S, Singh SK (2013) A study of the effectiveness of sewage treatment plants in Delhi region. Appl Water Sci 3(1):57–65

4.

Kokkinos P, Mandilara G, Nikolaidou A, Velegraki A, Theodoratos P, Kampa D, Blougoura A, Christopoulou A, Smeti E, Kamizoulis G, Vantarakis A, Mavridou A (2015) Performance of three small-scale wastewater treatment plants. A challenge for possible reuse. Environ Sci Pollut Res 22(22):17744–17752

5.

Bayo J, López-Castellanos J (2016) Principal factor and hierarchical cluster analyses for the performance assessment of an urban wastewater treatment plant in the southeast of Spain. Chemosphere 155:152–162

6.

Colmenarejo MF, Rubio A, Sánchez E, Vicente J, García MG, Borja R (2006) Evaluation of municipal wastewater treatment plants with different technologies at Las Rozas, Madrid (Spain). J Environ Manag 81(4):399–404

7.

Wang D, Guo F, Wu Y, Li Z, Wu G (2018) Technical, economic and environmental assessment of coagulation/filtration tertiary treatment processes in full-scale wastewater treatment plants. J Clean Prod 170:1185–1194

8.

Nakajima J, Fujimura Y, Inamori Y (1999) Performance evaluation of on-site treatment facilities for wastewater from households, hotels, and restaurants. Water Sci Technol 39(8):85–92

9.

Dong Q, Parker W, Dagnew M (2016) Long term performance of membranes in an anaerobic membrane bioreactor treating municipal wastewater. Chemosphere 144:249–256

10.

Performance Evaluation Of Sewage Treatment Plants Under NRCD (2013) Central Pollution Control Board (CPCB)

11.

(2013) Manual on sewerage and sewage treatment systems, Central Public Health and Environmental Engineering Organisation (CPHEEO)

12.

(2005) Performance status of common effluent treatment plants in India, Central Pollution Control Board, CPCB
Additional information
Publisher's Note
Springer Nature remains neutral with regard to jurisdictional claims in published maps and institutional affiliations.
About this article
Cite this article
Bhave, P.P., Naik, S. & Salunkhe, S.D. Performance Evaluation of Wastewater Treatment Plant. Water Conserv Sci Eng (2020). https://doi.org/10.1007/s41101-020-00081-x
Received:

Revised:

Accepted:

Published:
Keywords
Wastewater treatment plant

BOD

TSS

Biological treatment

Rotating Media Bio-Reactor

Removal efficiency