Abstract
Heterocyclic compounds having a nitrogen atom in the ring exhibit very interesting biological activities. Indole is the core structure of many bioactive compounds owing to its high affinity to bind with most biological targets. Indole is an electron-rich compound and generally prefers electrophilic rather than nucleophilic substitution. Hence, many important indole derivatives are difficult to synthesize through the conventional reactivity of indole. This limitation can be avoided by using the umpolung, from the German word meaning polarity inversion. In umpolung, the indole molecule, especially the C2 and C3 positions, behave as an electrophile. As C2-functionalized indoles have substantial importance in synthetic and pharmaceutical chemistry, this review focuses on the C2 umpolung of indoles via the indirect approach which is less explored. Unlike direct approaches of indole umpolung, indirect methods have several advantages and therefore a number of research articles have been published in this field. But no review is available up till now. This is the first review on this topic and we believe that it will surely motivate the readers to work in this area further.
This is a preview of subscription content, log in to check access.
Access options
Buy single article
Instant access to the full article PDF.
US$ 39.95
Price includes VAT for USA
Subscribe to journal
Immediate online access to all issues from 2019. Subscription will auto renew annually.
US$ 199
This is the net price. Taxes to be calculated in checkout.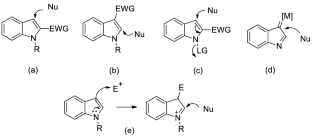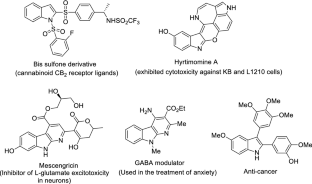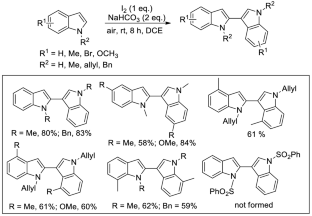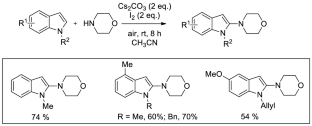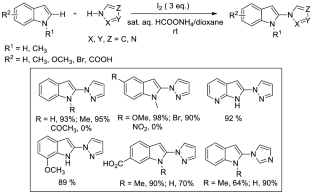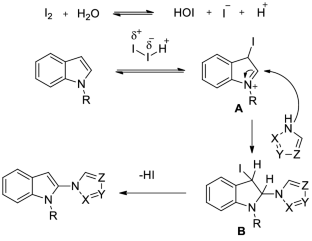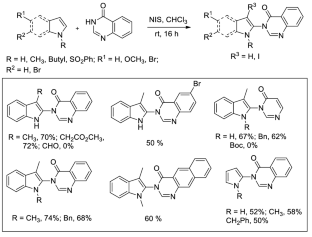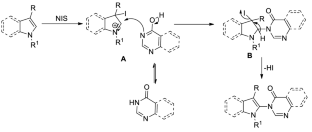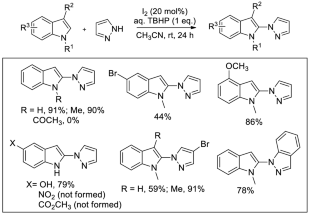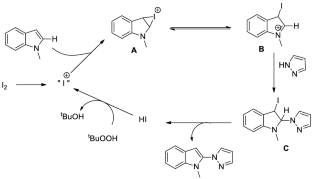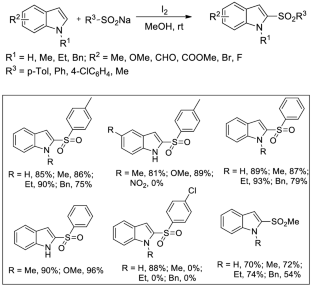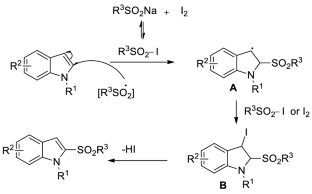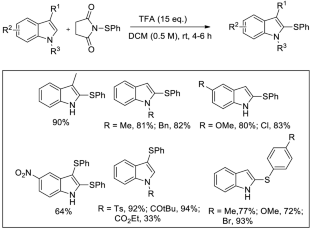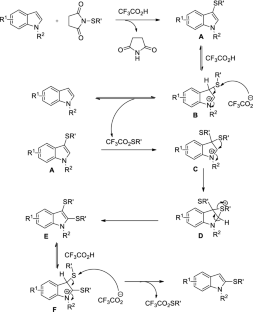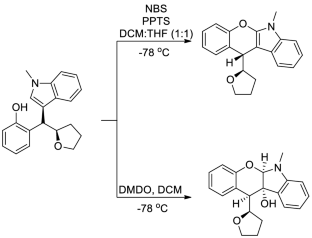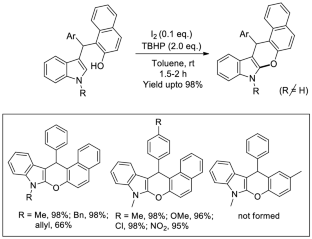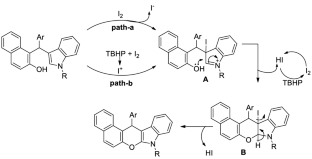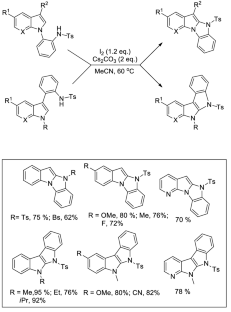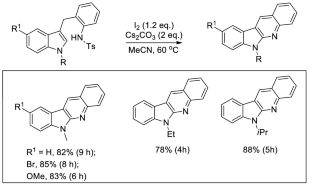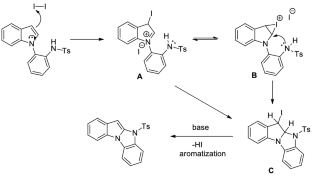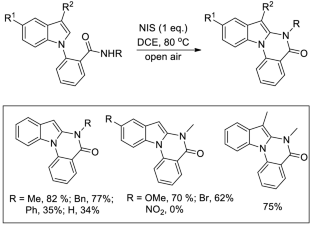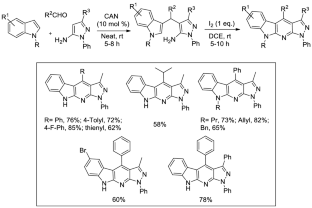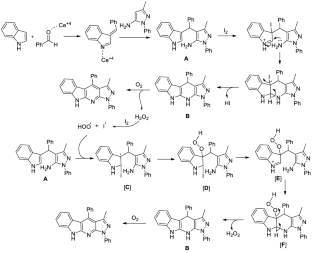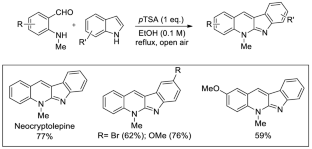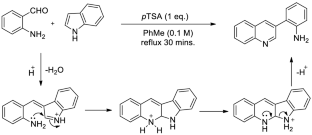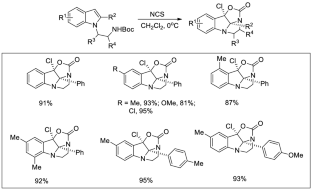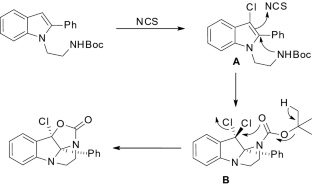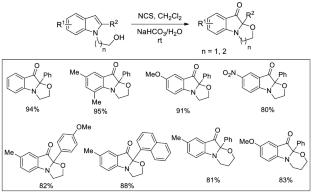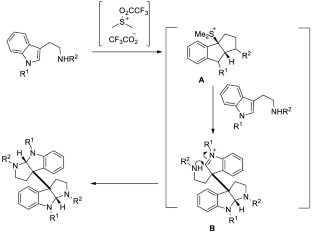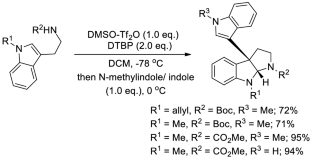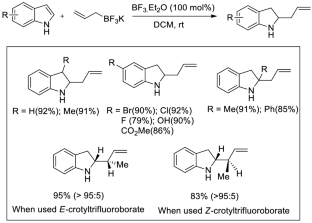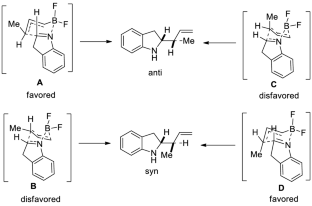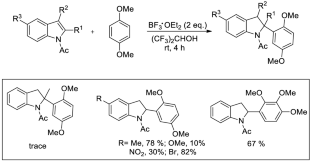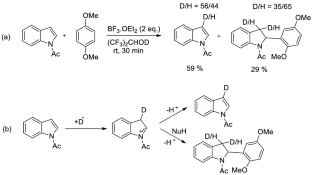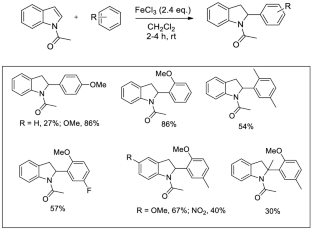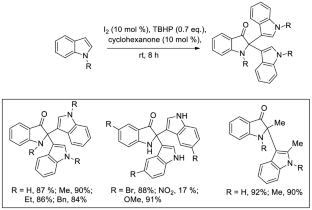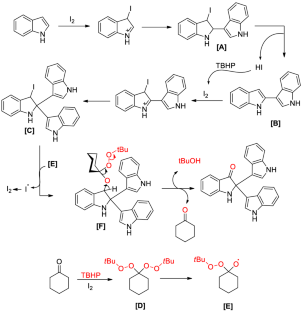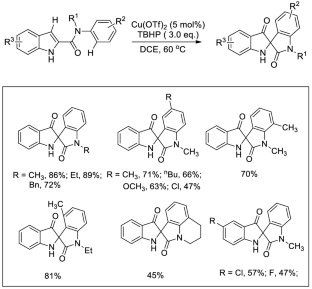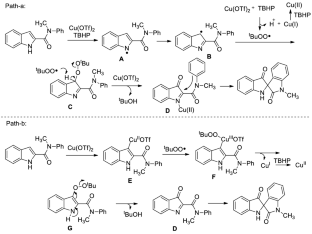 Abbreviations
Ac:

Acyl

AcOH:

Acetic acid

Ar:

Aryl

BHT:

Butylated hydroxytoluene

Bn:

Benzyl

Boc:

tert-Butyloxycarbonyl

CAN:

Ceric ammonium nitrate

DCE:

Dichloroethane

DCM:

Dichloromethane

DIB:

(Diacetoxyiodo)benzene

DMDO:

Dimethyldioxirane

DMF:

Dimethylformamide

DMSO:

Dimethyl sulfoxide

DTBP:

Di-tert-butyl peroxide

EDG:

Electron-donating group

EWG:

Electron-withdrawing group

Eq.:

Equivalent

LG:

Leaving group

NCS:

N-Chlorosuccinimide

NIS:

N-Iodosuccinimide

Nu:

Nucleophile

PPTS:

Pyridinium p-toluenesulfonate

rt:

Room temperature

TBHP:

tert-Butyl hydrogen peroxide

TBAI:

Tetrabutyl ammonium iodide

TEMPO:

2,2,6,6-Tetramethylpiperidin-1-oxyl

TFA:

Trifluoroacetic acid

pTSA:

p-Toluenesulfonic acid
References
1.

Nikoofar K, Kadivar D, Shirzadnia S (2014) Iran Chem Commun 2:300–315

2.

Ford J, Capon RJ (2000) Nat J Prod 63:1527–1528

3.

Whitehead CW, Whitesitt CA (1974) J Med Chem 17:1298–1304

4.

Cutignano A, Bifulco G, Bruno I, Casapullo A, Gomez-Paloma L, Riccio R (2000) Tetrahedron 56:3743–3748

5.

Sidhu JS, Singla R, Mayank, Jaitak V (2015) Anticancer Agents Med Chem 16:160–173

6.

Nicolaou KC, Chen JS (2009) Chem Soc Rev 38:2993–3009

7.

Touré BB, Hall DG (2009) Chem Rev 109:4439–4486

8.

Yadav DK, Patel R, Srivastava VP, Watal G, Yadav LDS (2010) Tetrahedron Lett 51:5701–5703

9.

Contractor R, Samudio IJ, Estrov Z, Harris D, McCubrey JA, Safe SH, Andreeff M, Konopleva M (2005) Cancer Res 65:2890–2898

10.

Deng J, Sanchez T, Neamati N, Briggs JM (2006) J Med Chem 49:1684–1692

11.

Reddy BVS, Reddy MR, Madan C, Kumar KP, Rao MS (2010) Bioorg Med Chem Lett 20:7507–7511

12.

de Sá Alves FR, Barreiro EJ, Fraga CAM (2009) Mini-Rev Med Chem 9:782–793

13.

Welsch ME, Snyder SA, Stockwell BR (2010) Curr Opin Chem Biol 14:347–361

14.

Abe T, Kukita A, Akiyama K, Naito T, Uemura D (2012) Chem Lett 41:728–729

15.

Cimanga K, De Bruyne T, Pieters L, Vlietinck AJ (1997) J Nat Prod 60:688–691

16.

Higuchi K, Sato Y, Tsuchimochi M, Sugiura K, Hatori M, Kawasaki T (2009) Org Lett 11:197–199

17.

Liu Y, McWhorter WW (2003) J Am Chem Soc 125:4240–4252

18.

Kawasaki T, Terashima R, Sakaguchi K, Sekiguchi H, Sakamoto M (1996) Tetrahedron Lett 37:7525–7528

19.

Fukuda Y, Itoh Y, Nakatani K, Shiro T (1994) Tetrahedron 50:2793–2808

20.

Kawasaki T, Nonaka Y, Akahane M, Maeda N, Sakamoto M (1993) J Chem Soc 1:1777–1781

21.

Buzas A, Merour JY (1989) Synthesis 1989:458–461

22.

Liu JF, Jiang ZY, Wang RR, Zheng YT, Chen JJ, Zhang XM, Ma YB (2007) Org Lett 9:4127–4129

23.

Wolfard J, Xu J, Zhang H, Chung CK (2018) Org Lett 20:5431–5434

24.

Deb ML, Bhuyan PJ (2007) Tetrahedron Lett 48:2159–2163

25.

Zhang L, Zhu Y, Yin G, Lu P, Wang Y (2012) J Org Chem 77:9510–9520

26.

Deb ML, Das C, Deka B, Saikiab PJ, Baruah PK (2016) Synlett 27:2788–2794

27.

Deb ML, Borpatra PJ, Saikia PJ, Baruah PK (2017) Synthesis 49:1401–1409

28.

Deb ML, Deka B, Saikia PJ, Baruah PK (2017) Tetrahedron Lett 58:1999–2003

29.

Deb ML, Borpatra PJ, Saikia PJ, Baruah PK (2017) Org Biomol Chem 15:1435–1443

30.

Deka B, Thakuria R, Deb ML, Baruah PK (2018) Monatsh Chem 149:2245–2252

31.

Bandini M (2013) Org Biomol Chem 11:5206–5212

32.

Yang P, Wang L, Xie X (2012) Future Med Chem 4:187–204

33.

Tong L, Shankar BB, Chen L, Rizvi R, Kelly J, Gilbert E, Huang C, Yang D, Kozlowski JA, Shih NY, Gonsiorek W, Hipkin RW, Malikzay A, Lunn CA, Lundell DJ (2010) Bioorg Med Chem Lett 20:6785–6789

34.

Barden TC (2010) Top Heterocycl Chem 26:31–46

35.

Kim JS, Shin-ya K, Furihata K, Hayakawa Y, Seto H (1997) Tetrahedron Lett 38:3431–3434

36.

Flynn BL, Hamel E, Jung MK (2002) J Med Chem 45:2670–2673

37.

Li Y, Ji K, Wang H, Ali S, Liang Y (2011) J Org Chem 76:744–747

38.

Wu WB, Huang JM (2012) Org Lett 14:5832–5835

39.

Ghosh SK, Nagarajan R (2014) RSC Adv 4:20136–20144

40.

Beukeaw D, Udomsasporn K, Yotphan S (2015) J Org Chem 80:3447–3454

41.

Katrun P, Mueangkaew C, Pohmakotr M, Reutrakul V, Jaipetch T, Soorukram D, Kuhakarn C (2014) J Org Chem 79:1778–1785

42.

Hostier T, Ferey V, Ricci G, Pardoa DG, Cossy J (2015) Chem Commun 51:13898–13901

43.

Ferrer C, Amijs CHM, Echavarren AM (2007) Chem Eur J 13:1358–1373

44.

Tokimizu Y, Oishi S, Fujii N, Ohno H (2014) Org Lett 16:3138–3141

45.

Pathak TP, Gligorich KM, Welm BE, Sigman MS (2010) J Am Chem Soc 132:7870–7871

46.

Deb ML, Pegu CD, Deka B, Dutta P, Kotmale AS, Baruah PK (2016) Eur J Org Chem 20:3441–3448

47.

Badigenchala S, Rajeshkumar V, Sekar G (2016) Org Biomol Chem 14:2297–2305

48.

Badigenchala S, Sekar G (2017) J Org Chem 82:7657–7665

49.

Deka B, Baruah PK, Deb ML (2018) Org Biomol Chem 16:7806–7810

50.

Bailly C, Laine W, Baldeyrou B, De Pauw-Gillet MC, Colson P, Houssier C, Cimanga K, Miert SV, Vlietinck AJ, Pieters L (2000) Anti-Cancer Drug Des 15:191–201

51.

Jonckers THM, Miert SV, Cimanga K, Bailly C, Colson P, De Pauw-Gillet MC, Heuvel H, Claeys M, Lemiere F, Esmans EL, Rozenski J, Quirijnen L, Maes L, Dommisse R, Lemiere GLF, Vlietinck A, Pieters L (2002) J Med Chem 45:3497–3508

52.

Lavrado J, Moreira R, Paulo A (2010) Curr Med Chem 17:2348–2370

53.

Vecchione MK, Sun AX, Seidel D (2011) Chem Sci 2:2178–2181

54.

Marcos IS, Moro RF, Costales I, Basabe P, Diez D (2013) Nat Prod Rep 30:1509–1526

55.

Rongved P, Kirsch G, Bouaziz Z, Jose J, Le BM (2013) Eur J Med Chem 69:465–479

56.

Ramirez A, Garcia-Rubio S (2003) Curr Med Chem 10:1891–1915

57.

Ruiz-Sanchis P, Savina SA, Albericio F, Alvarez M (2011) Chem Eur J 17:1388–1408

58.

Aygun A, Pindur U (2003) Curr Med Chem 10:1113–1127

59.

Roche SP, Tendoung JY, Tréguier B (2015) Tetrahedron 71:3549–3591

60.

Keane JM, Harman WD (2005) Organometallics 24:1786–1798

61.

Smith PL, Chordia MD, Harman WD (2001) Tetrahedron 57:8203–8225

62.

Magdziak D, Meek SJ, Pettus TRR (2004) Chem Rev 104:1383–1430

63.

Ghosh AK, Chen Z (2014) Org Biomol Chem 12:3567–3571

64.

Tayu M, Higuchi K, Ishizaki T, Kawasaki T (2014) Org Lett 16:3613–3615

65.

Nowrouzi F, Batey RA (2013) Angew Chem Int Ed 52:892–895

66.

Morimoto N, Morioku K, Suzuki H, Takeuchi Y, Nishina Y (2016) Org Lett 18:2020–2023

67.

Nandi RK, Ratsch F, Beaud R, Guillot R, Kouklovsky C, Vincent G (2016) Chem Commun 52:5328–5331

68.

Deka B, Deb ML, Thakuria R, Baruah PK (2018) Catal Commun 106:68–72

69.

Kong L, Wang M, Zhang F, Xu M, Li Y (2016) Org Lett 18:6124–6127
Acknowledgements
MLD is thankful to the Science and Engineering Research Board (SERB), India [Grant no. SB/FT/CS-073/2014] for the financial support under the "Fast Track" Scheme. BD acknowledges MHRD, Govt of India for research fellowship under the TEQIP-III Project.
Ethics declarations
Conflict of interest
The authors declare no competing financial interests.
Additional information
Publisher's Note
Springer Nature remains neutral with regard to jurisdictional claims in published maps and institutional affiliations.
About this article
Cite this article
Deka, B., Deb, M.L. & Baruah, P.K. Recent Advances on the C2-Functionalization of Indole via Umpolung. Top Curr Chem (Z) 378, 22 (2020). https://doi.org/10.1007/s41061-020-0287-7
Received:

Accepted:

Published:
Keywords
C-2 functionalization

Umpolung

Electrophilic indole

Dearomatization

C–X bond formation